Basketball is the quintessential all American sport. Created in an unused gym in Springfield, Massachusetts, this sport took off around the United States, turning into a cultural as well as sporting phenomenon.
---
---
It is nearly impossible to find a neighborhood today without a basketball court. These are integral to the cohesiveness of any neighborhood (or cornfield if you are in Indiana), and one of the last outdoor spaces which have not been touched by a world consumed by digitalization – and many people are happy to keep it that way.
On the professional level, the sport has achieved tons of success. From merchandising to bringing the fans of a city or a region together, basketball is a unifying factor in helping revitalize cities, and getting hometown pride shown on a national level.
Recently, basketball has begun to become a force to be reckoned with outside of the borders of the United States. Especially after the fall of the Soviet Union when American culture started seeping into place it had not been previously, basketball has started to become in vogue in places where soccer once reigned supreme.
From Bosnia and Croatia to China and even North Korea (where the rules are whatever the Dear Leader wants them to be), basketball has started to become huge.
Due to this international surge of interest, there are now tons of foreign born players coming to the United States in order to play in the NBA. In fact, there were a record 113 foreign born player hooping it up on NBA courts in the 2016-2017 season alone, and there are expected to be even more to follow in the coming years.
Therefore, we wanted to find out, who were the greatest foreign born NBA players of all time? And where are all of these players from? Well it turns out that…
[post_page_title]Steve Nash[/post_page_title]
Steve Nash is often known as the Canadian, but in fact he's a dual citizen and was born in Johannesburg, South Africa. He is regarded as one of the best foreign players, and likely overall players, who never won an NBA Championship. But that doesn't take away from his 19-season career. During those years, Nash won two MVP titles. The Canadian was chosen 15th overall by the Phoenix Suns in 1996 draft, but was traded two seasons later to the Mavericks. After playing in Dallas for six seasons he returned to Phoenix. He played in the Association until the 2013-14 season, and retired after playing for the Lakers in LA for two seasons.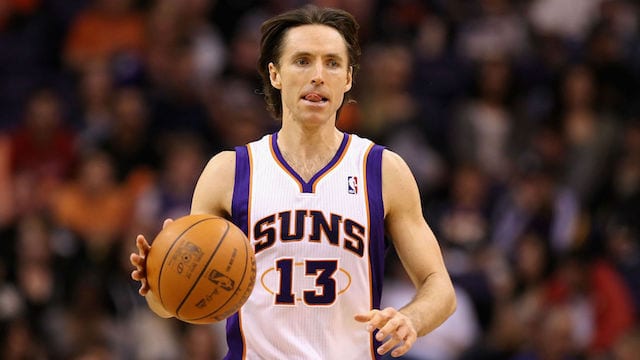 Pages:
Page

1
,
Page

2
,
Page

3
,
Page

4
,
Page

5
,
Page

6
,
Page

7
,
Page

8
,
Page

9
,
Page

10
,
Page

11
,
Page

12
,
Page

13
,
Page

14
,
Page

15
,
Page

16
,
Page

17
,
Page

18
,
Page

19
,
Page

20
,
Page

21
,
Page

22
,
Page

23
,
Page

24
,
Page

25
,
Page

26
,
Page

27
,
Page

28
,
Page

29
,
Page

30
,
Page

31
,
Page

32
,
Page

33
,
Page

34