---
Life was simpler for Blake Barnett back when he was throwing touchdown passes for Santiago High School in Corona, California. He played well enough to be rated a five-star recruit by 247Sports and the No.2 Pro-Style high school quarterback in the country for the recruiting class of 2015. He appeared primed for an incredible college career, one that would lead to a future opportunity in the NFL.
All he had to do was continue to play well and win some games for whichever college he ended up playing football.
Fast forward from the end of his high school career in 2014 to now and he has thrown a total of 24 passes in college and completed 14 of them for 259 yards, two touchdowns, and an interception. While those would look like the stats a quarterback could accumulate in a single game, it took him two years and two schools to do so.
This fall he'll be taking the field for a third program, the South Florida Bulls. A guy who was once the apple of every elite program's eye was going to fight for playing time at a mid-level program that many college football fans have never watched before.
What Happened?
As could be expected, recruiters from the nation's best college football programs wanted him. Oklahoma, Texas, USC, Notre Dame, UCLA, Michigan, Ole Miss, Cal, Alabama— just about every elite program in the country wanted him. In the end, he chose the most elite of them all: perennial national championship contender Alabama.
In the process, he became the highest rated quarterback of any Nick Saban recruit class.
With Alabama's defense, its mammoth offensive line, and bull-dozing running backs, Barnett was staring at quarterback heaven. He was going to be as protected as possible. He wasn't going to have to win games right out of the gate; they'd just need him not to lose them.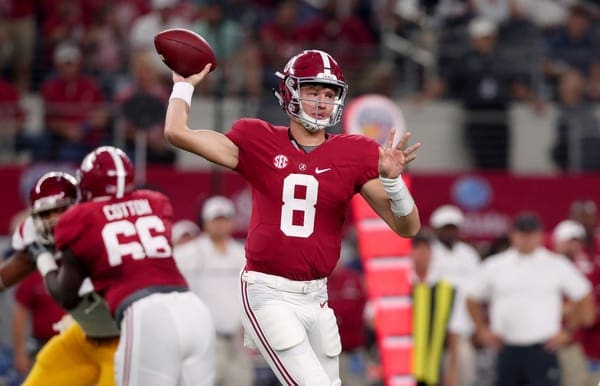 Under the tutelage of Nick Saban and then-offensive coordinator Lane Kiffin, he was in a position to really grow as a quarterback and put his skills on display. He just had to bide his time and take advantage of the opportunity when it presented itself.
After redshirting as a freshman, he competed for the starter's job leading up to the 2016 season opener with Cooper Bateman. He got the nod to start in Game 1 against 3rd-ranked USC in the opener but was pulled after two series for freshman Jalen Hurts.
While he didn't get off to a sparkling start (fumble, three and out, and three and out), Saban stuck with Hurts for the rest of the game. Hurts ended up going 6-11 for 118 yards and two touchdowns with two more on the ground.
"According to (Saban), I was their guy," Barnett said. "Once Jalen went in, I was expecting it. But then he went out on the next series, the next series, and the next series. I don't know if everything was communicated correctly."
Hurts ended up keeping the job, and Barnett transferred from Alabama within the month.
"It's not that I don't want to be here," Barnett says he told Saban. "But I want to play. I want to make the best decisions I can for my career."
Since he transferred to junior college first before transferring to Arizona State, he was eligible to play right away in 2017. But the Sun Devils had an established starter, so he was stuck in a backup role.
"I made the mistake of going to a school that already established a starting quarterback," Barnett told Sallee. "That was my fault…. I wish I would have thoroughly thought that through beforehand. That's not to say I didn't enjoy my time in Tempe; I truly love Arizona State, I think it's a great school, and I think the program is headed in the right direction."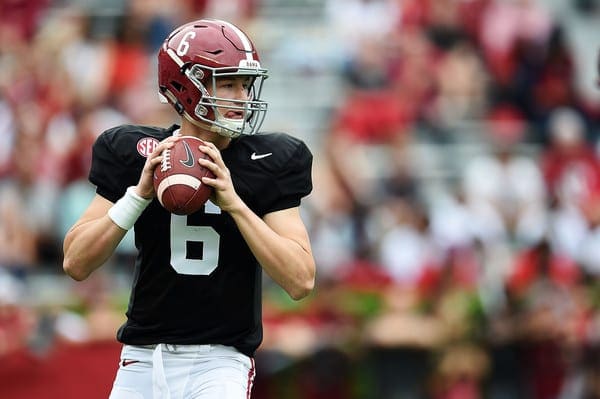 He learned from his mistake and decided to transfer to South Florida. The Bulls are coming off a 10-2 season under first-year head coach Charlie Strong. Their quarterback, Quinton Flowers, is now trying to earn a roster spot with the Cincinnati Bengals as an undrafted free agent.
That means the position is open.
But it is not necessarily his.
This time, he will not need to be concerned with eligibility rules. As a graduate transfer, he will be immediately eligible to play. The question people will have about him will be whether he remembers how.
The last time he played a game was back in high school. He saw limited action in Alabama and even less at Arizona State. Yes, he's practiced and gone up against his respective school's defense. But it has been awhile since he's had a linebacker bearing down on him out for blood.
Will those old instincts kick in when he plays? Charlie Strong probably hopes that will be the case. Otherwise, he'll go from having one of the best dual-threat quarterbacks in the nation to Chris Oladokun and Brett Kean. Both were red shirts and both were three-star recruit in high school.
Neither has had as much game experience as Barnett, who doesn't really have much to speak of either. But they have had a full season under Charlie Strong and offensive coordinator Sterlin Gilbert. That could give them an edge in the beginning.
However, it would be shocking if the 6'5" former five-star recruit were not to start the 2018 season. If Barnett does, he'll have two years to convince NFL scouts he can play at the next level. It will be harder to do so then it would have been at Alabama or Arizona State.
But at least he'll have a shot.