How much do you think you know about the Green Bay Packers? A professional football team in the NFL that was founded in the early 20th century, this team has such a long and rich history that even the most knowledgeable football fans don't know all there is to know about them. Do you think you know the Packers well? We're betting that there's a nice chunk of information in here that might surprise you. And if you're someone who doesn't feel like they know that much about the Packers or football in general for that matter, we think you'll find this information quite interesting as well.
---
---
We have gathered a collection of facts that span out from matters concerning the team itself, and onto issues that fizzled within the locker room as well, concerning the welfare of individual players. Do you think you know Brett Favre, legendary Packers quarterback and NFL Hall of Famer? Perhaps you know a lot about him, but you are about to learn about some interesting things that occurred behind closed doors that didn't exactly agree with what his fans thought they knew about him. That being said, we have all types of information, the good and the strange, so have no fear, have fun, and come learn some more about this classic NFL franchise!
Hazy injury
In the recent 2017-18 NFL season, the Packers did something that caused other teams to get upset. Aaron Rodgers had sustained some sort of an injury, which led to the Packers placing him on their injured reserve roster, where he could be retained without consequence of another team possibly signing him. The problem with this is that they're only permitted to do so if a player is projected to be out beyond six weeks – and it didn't seem like Rodgers' injury was that serious. With a player like Rodgers' stature, many teams came out of the woodworks and questioned if Green Bay's front office was doing something illegal – but no decision was made to veto it.
Smash for cash
In 1996, the Green Bay Packers were in the playoffs, and their defensive end, Hall of Famer Reggie White engaged in something that people today are calling Smash-For-Cash. He essentially rewarded his own teammates with stipends out of his own pocket every time they would tackle an opposing player successfully. The sums of money that he'd give out reportedly amounted up to $500 each, and needless to say, his teammates were probably inspired to play a little harder. What he was doing wasn't necessarily illegal, but people definitely raised their eyebrows – when playoff time comes around, sometimes you've got to do what you've got to do to inspire your team.
Illegal recruiting
There has been a substantial amount of cheating in the history of the NFL, and the Green Bay Packers, which have been around for quite a while, they certainly haven't been the exception to this fact. As far back as 1921, they engaged in questionable activities that actually temporarily got their entire franchise revoked. They had engaged in illegal recruitment methods of college players, waiting for Hunk Anderson, Hee Garvey, and Ojay Larson, Notre Dame stars, after the final game of the season.
Performance enhancers
Another method of cheating that many teams in not just the NFL, but all worldwide sports, have in engaged in, is the use of illicit performance enhancing substances. The Packers have had a handful of players to engage in this type of activity as well, and while they certainly don't speak for the values of the franchise, it certainly didn't look good. Some of the recent Packers that were caught and penalized for substance use were cornerback Demetri Goodson and defensive tackle Mike Pennel.
Football inflation
Did you know that Aaron Rodgers prefers his footballs with more air in them? Apparently he does, and this seems to be something not many other quarterbacks in the league prefer. That being said, people were interested to find out that some of the footballs that got played with in Packers game may have had slightly more air in them than normal, and people wondered if this may have been an attempt to give Rodgers and his team a slight edge.
Hello Jenn
You all know Brett Favre, former legendary quarterback of the Green Bay Packers. Well, he may have been an extremely talented individual on the field, but he is also imperfect, like the rest of us humans on this earth. In 2008, he reportedly became infatuated with Jenn Sterger, a football broadcaster, and he allegedly not only gave her his number, but sent her very inappropriate calls, voicemails, and text messages. Considering Favre is a married man, people were a bit disappointed to hear about it.
Clueless rookie
Have you ever wondered what it is about professional athletes that helps them thrive so strongly? The truth is, every single one of them works extremely hard – but not all of them focus on the same things. And in Brett Favre's case, some of the things he doesn't focus on may surprise you. When he first entered the NFL, he later admitted that he had no idea how basic defensive alignment plays were run in the Packers system – but thankfully, he was able to succeed, anyway.
Disgruntled Favre
When Favre's career was coming to an end, it was certainly hard for him to leave, and even harder when it seemed like it was time for him to pass on the torch to his replacement, Aaron Rodgers. Sports Illustrated reported that Favre wasn't initially thrilled with the Packers' drafting of Rodgers, and this type of thinking rippled over when the rookie started. It was reported that Favre wasn't very welcoming to Rodgers, and didn't do much to make his life easier as a newcomer on the team.
Heartbreaking decision
Being a coach of any sports team is hard, and to be a successful NFL coach – well, you need to be prepared to take the occasional risk, and sometimes it doesn't always yield great results. Something that Packers fans haven't forgotten too easily is the 1998 Super Bowl when they played the Broncos, and Mike Holmgren made the decision to let the opposition score. By doing this, they'd be giving themselves some time to score in return – but of course they failed to do so, and lost.
Semi-pro start
Back in the early days of the NFL, the layout of the league was not only a lot different, but many of the teams that exist now weren't around either. The Packers have been around for a while, but they weren't always a football organization on the professional level. In fact, in the two years of 1919-1920 they played on the semi-professional level, and played exclusively against teams from neighboring cities, and needless to say – these teams weren't the most talented on the block.
The Ice Bowl
One of the hard things about playing outdoors is that sometimes the weather doesn't permit the easiest conditions to play in. Sometimes, the weather is outright harsh – and in a 1967 Packers NFL Championship game against the Cowboys, there are those who recall it as being the coldest NFL game of all time. Also nicknamed the "Ice Bowl," the temperature started off at minus -48°F, which included an aggressive wind chill, and went all the way down to minus -70°F.
Epic decision
In that same game, the coldest NFL game of all time, a famous conversation between quarterback Bart Starr and legendary coach Vince Lombardi occurred in the final minutes when they were down by three measly points. They could have tied the game up with the easy field goal, but instead Lombardi told Starr to "Run it, and let's get the hell out of here." They did a quarterback sneak, winning the game, and this decision was ranked as the "gutsiest move in NFL history."
Community owned
When it comes to professional sports, the owners of the teams are generally very wealthy, and extremely popular. But one thing that separates the Green Bay Packers from any other sports team is that they are in fact owned by not one person, but an entire community of shareholders. In 2014, the ownership of the Packers was shared between 360,584 stockholders, and no one is allowed to own more than 200,000 shares – perhaps this is why their fanbase is so uniquely unified.
High school rivals
For those of you that already know that the Green Bay Packers were initially founded in 1919 by newspaper editors Curly Lambeau and George Whitney Calhoun, we applaud your depth of knowledge. You also probably know that Curly was the Packers first head coach. But here's a little something that you may not know – before they founded the team, Curly and Calhoun knew each other in high school, and they were actually very competitive football rivals.
Team name origins
Have you ever wonder how the Packers got their team name? Back when Curly Lambeau founded the team, he needed funds for the uniforms. The company this worked at was called the Indian Packing Company, and they decided to help him out. They gave him $500 to purchase the uniforms, and their only condition was that the team be name after their company – thus giving birth to Green Bay's iconic team name, the "Packers."
Long waiting list
The Packers are one of the most popular teams in the NFL, and they are the third oldest as well. They have fans that have spanned generations, with everlasting loyalty being passed down from father to son, mother to daughter, and so on. Their popularity is so strong that you were to try to get season tickets, the current wait time is 40 years. The reason for this is that there are approximately 83,881 people on the waiting list.
Cheeseheads
If you've never heard of the Packers, you may have been surprised to see them on TV with foam cheese hats on their heads, cheering their team on in the stands. But there is an origin story to this madness: Wisconsin is a state that produces a lot of cheese, and this led people from other states to call Packers fans "Cheeseheads." What these people didn't expect was that Packers fans would ultimately begin to adopt this nickname as a symbol of pride.
Quite valuable
If you needed any more convincing about what makes the Packers franchise so unique, perhaps the following fact will shed some new light for you. It's one thing for a franchise to have a lot of financial success and to be worth a lot of money when they are in a big market, but the city of Green Bay is by no means a town with a big market. This should speak volumes when you consider that they are monetarily the 26th most valuable sports team in the world.
Mutual love
What is it about the Packers that has kept fans so loyal over the years? Perhaps it is because the Packers have stayed in Green Bay throughout their entire stint as a football team, never moving to other cities with bigger markets. As the Beatle bassist once sang, "And in the end, the love you take is equal to the love you make," perhaps Packers fans recognize their organizations loyalty to them, and this is why they so happily return the favor.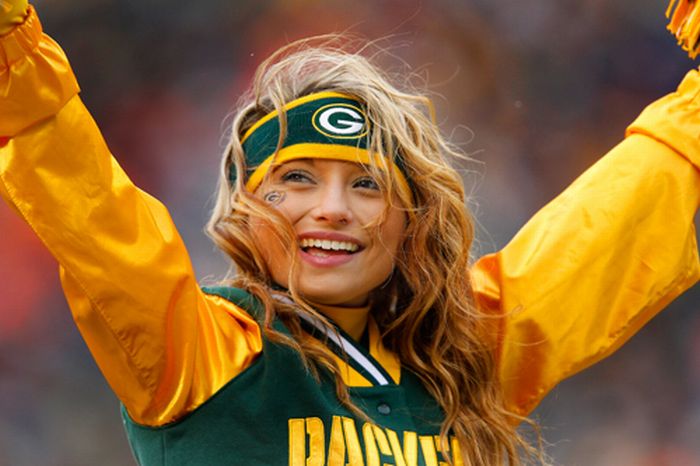 Packed house
How many Green Bay Packers Hall of Famers do you think you can name? We're betting you can't name all of them, and we're betting there's a good chance you don't know how many of them have been inducted. The answer is a whopping 153 former Packers, some of them including Curly Lambeau himself, Max McGee, Forrest Gregg, Brett Favre, and of course – the namesake of the Super Bowl trophy, legendary coach Vince Lombardi.