---
Eli Manning has had a good career. Since his rookie season in 2004, he's led the New York Giants to three division titles, six playoff berths, and two Super Bowls—both victories over the New England Patriots. He was also the MVP in both of those Super Bowls.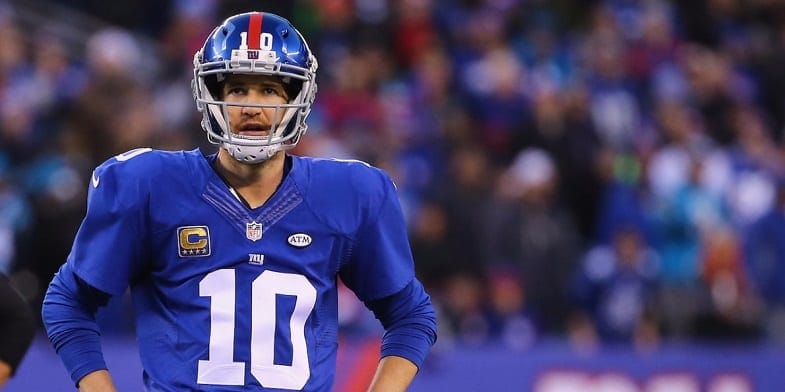 Some would say that's enough to make him a first ballot Hall of Famer once he finishes playing. How soon that ends up being may depend on how this next season plays out for him.
He'll be 37-years old. That makes him ancient by unofficial NFL standards, but that doesn't mean he can't play.  It just means most teams don't want to give you a chance. They figure you're too likely to suffer some sort of injury or lose your game due to age.
Last season was not a good one for the Giants. For a brief moment, then-head coach Ben McAdoo toyed with the idea that his quarterback could be part of the problem. So he benched him. It was an unpopular decision that made it easier for the front office to fire McAdoo in-season. Eli regained the starter's role and played well down the stretch. But that didn't stop the vultures from circling once the season ended.
Getting the stamp of approval from the new head coach, Pat Shurmur, slowed rumors of Eli's imminent demise down. But they didn't stop because many assumed the Giants would take advantage of having the No. 2 selection in the draft and take a quarterback.
Instead, they took a much-needed running back in Saquon Barkley. In the process, the sent a very clear message to their quarterback and the rest of the NFL.
The Giants intended to go all-in on Eli Manning this season.  Which at his age means one thing—this is a make or break season for Eli. If he doesn't make something— or anything – happen this season, no one is going to blame the Giants if they cut him loose.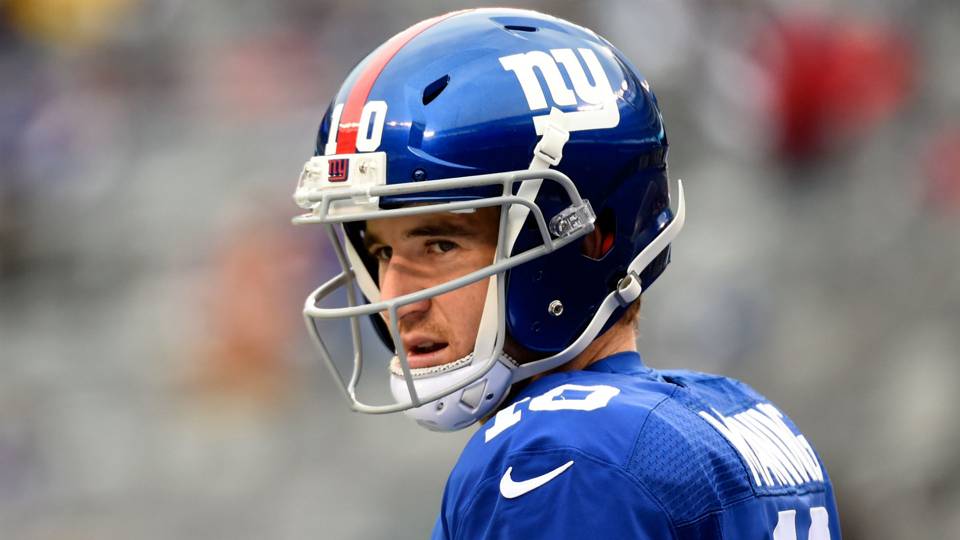 In recent years, there have been plenty of excuses for the team's lack of success (one playoff berth since 2011). The Giants have had a litany of issues– a weak defense, a terrible offensive line, ace receivers getting injured, and no running game to name a few.
They bulked up the defense a couple years ago but didn't take care of the team's other problem areas until this past offseason. Assuming he lives up to expectations, Barkley is going to give the Giants offense a significant boost. They added three players to the offensive line including one they stole from the New England Patriots, Nate Solder.
Elvin Engram and Sterling Shephard stepped up last season when Odell Beckham Jr. was injured and both played well. But getting Beckham back will take last season's mediocre passing game and turn it into a pretty decent one this season (at least).
Heading into the 2018 season, Eli is going to have better protection than he's had in years. Between Barkley and Jonathan Stewart, the running game should have a lot of punch to it this season. With one of the best wide receivers in the game to work with and a decent supporting cast, he'll have plenty of options in the passing game.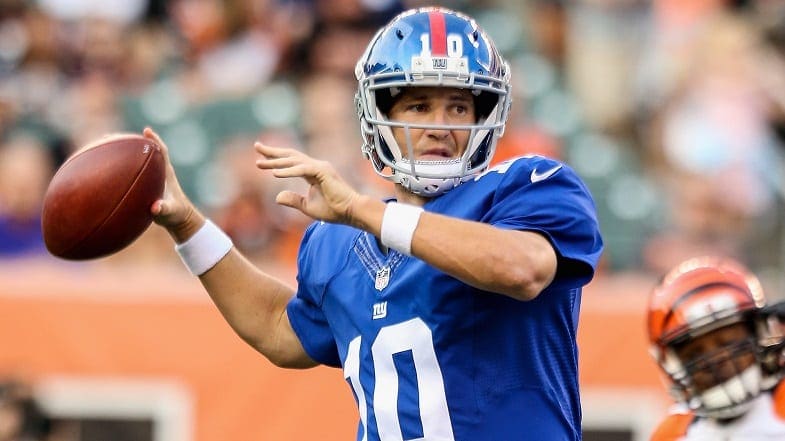 In short, if he doesn't play well this season, he'll have no excuse.
He can't blame the lack of a running game allowing defenses to focus on stopping the pass. The offensive line will at least be an improvement over what he's had, if not much, much better. With OBJ back, the passing game should become one of the better ones in the NFL.
If he can't win games with that team behind him, he can't win games.
Teams will stick with an older quarterback if he's healthy and playing well. Tom Brady (40), Drew Brees (39), and Philip Rivers (36) are proof of that. Eli didn't have a good season last year. A second mediocre year by Manning could be all the justification the front office needs to turn the page on the Manning Era.
It's up to him to decide how his career is going to end.