---
The NFL Combine, otherwise known as the 'Underwear Olympics,' takes place in late February in Indianapolis. The best players from around the country are invited to go through a series of tests that are supposed to tell coaches, GMs, and scouts something they don't already know from watching hours of film.
There is the medical examination and interview process as well (which often tends to be more enlightening than how fast or strong some guys are).
Ridiculous as it may be, for the 300 or so guys that are invited, it is as close as they'll get to the culmination of their dream until the draft. Why? It's because the guys who are invited to the Combine are ones the decision makers believe will get drafted. Does that mean the dream is over if you don't get invited to the Combine? Of course not! It just means the evaluation teams will make of you will be based on your game film (and your Pro Day).
Guys get drafted all the time that were not invited to the combine. This year will likely be no different. Last year, Grambling State wide receiver Chad Williams did not go to the Combine, and the Cardinals took him in the third round (with the No. 98 pick).
This year, it could be one of these guys.
Poona Ford, defensive tackle, Texas
At 6' and 310 pounds he is a little on the short side for an NFL defensive lineman. But during his four years at Texas, he started 46 games for the Longhorns and played well enough during his senior season to be named Big 12 Defensive Lineman of the Year. However, while he proved to be quite good at stopping the run, in four years he only registered four sacks.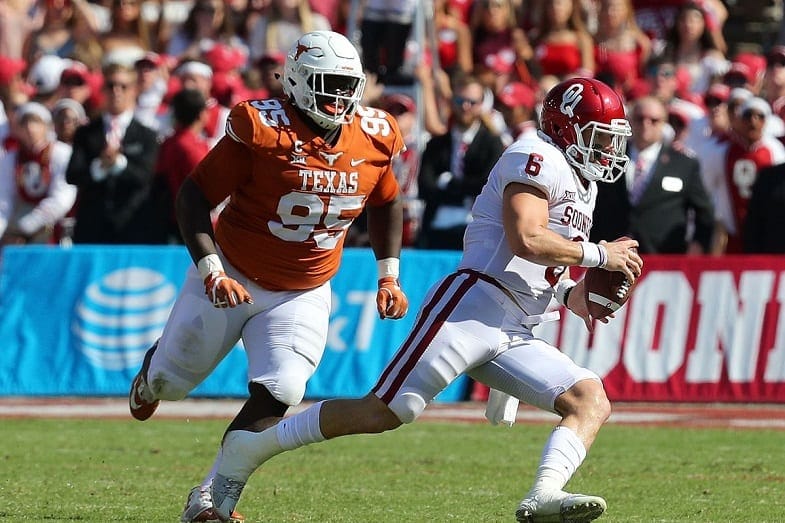 In the pass-happy NFL, that is not good. But, to be fair, the job of an interior defensive lineman is not to generate stats. It's to take up multiple blockers leaving the smaller, faster linebackers unblocked and ready to make the play.
With more teams trying harder to establish run games these days, someone will be glad to take Ford in the middle rounds of the draft. Among draft prospects, CBS Sports ranks him as the 12th best defensive tackle and the 122nd best prospect. That would have someone taking him late in the fourth round.
Cody O'Connell, guard, Washington State
At 6'8" and 365 pounds (hence being nicknamed "The Continent") he is enormous for a guard. But he must be athletic enough to get the job done since he was a two-year starter in Mike Leach's pass-happy offense.
People tend to be surprised by how nimble he is for someone so large. But if he were to play guard at the next level, the quarterback will have to be reasonably tall as well. His size alone will intrigue plenty of teams and will likely result in someone taking a shot on him late in the draft.
However, it will be surprising to see him ever take a snap at guard. Whoever he gets drafted by will try to convert him into a tackle.
Joe Ostman, defensive end, Central Michigan
How can the Combine pass on the FBS sack leader (14) from last season? Well, because he is a bit on the small side at 6' 3" and 250 pounds. There have been guys of a similar size, but what hurts him is his wingspan of 32 inches.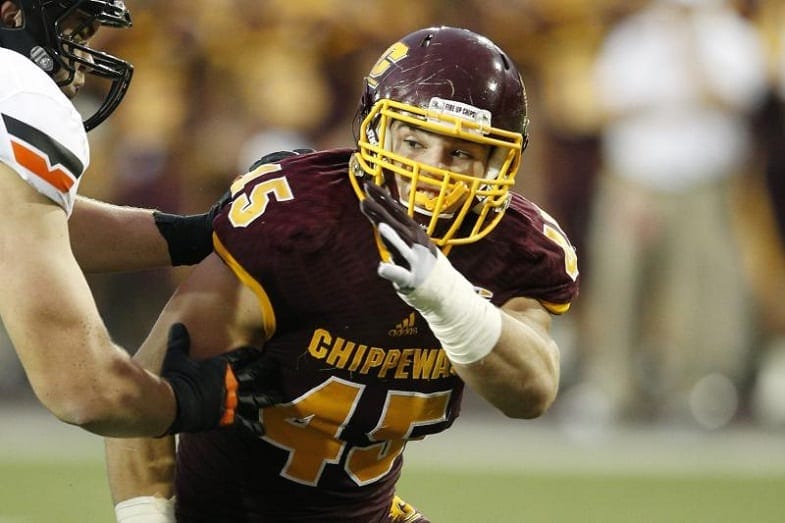 At his size, getting separation against the NFL's big tackles will be the key to his success. With such a short wingspan, he is going to have a tough time doing so. But he has a relentless motor and a good set of pass-rush moves.
He will not be an every-down player. But he sounds like someone who could become a special teams ace while also serving as a pass rush specialist (and worthy of a sixth or seventh round selection; CBS Sports ranks him 23rd among draft-eligible defensive ends).
Bradley Bozeman, center, Alabama
His exclusion from the Combine is a real mystery. At 6'4" and 315 pounds he has the size NFL offensive line coaches dream about. He was an integral part of one of the nation's top rushing attacks. Over the course of his career, he started 31 games and served as a captain last year.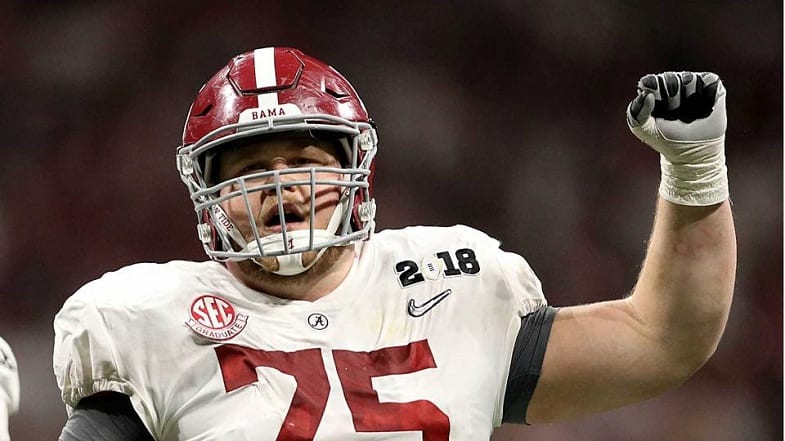 What more did this kid need to do to get an invite to the Combine? He doesn't have the fastest feet, but he does what matters most very well—block. CBS Sports rates him as the second-best center in the draft. Someone will take him either late in the second or early in the third round.
Daurice Fountain, wide receiver, Northern Iowa
Coming from an FCS school can hurt some positions. But it doesn't seem to make a difference for wide receivers. NFL teams want to see guys who can make the tough catches and do something with the ball afterward.
At 6'2" and 208 pounds he is big enough. He showed at the East-West Shrine Game that he could make plays. He had three catches for 61 yards and a pair of punt returns for 40. Fountain hoped his game performance combined with rave reviews in practice would get him an invite to the Combine. But it never came.
Anyone who can average 14.29 yards/catch is going to get attention in the draft. CBS Sports ranked him at No. 32 among draft-eligible wide receivers and 224 among all prospects.
Travin Howard, linebacker/safety, TCU
He began his career as a safety, but moved to linebacker after the team lost a pair of them back in 2015. He went on to become TCU's all-time career tackles leader with  345. So, he clearly has the athleticism and nose for the ball that NFL coaches love.


But he is small at 6'1" and 213 pounds.
His size will keep anyone from giving him serious consideration in the draft at linebacker. He'll need to prove he still has the speed and agility to play safety. If he can, it wouldn't be shocking to see someone take him in the sixth or seventh round.
Jaylen Smith, wide receiver, Louisville
His quarterback gets most of the attention, but he wasn't too bad in his own right. NFL teams are going to like his size, 6'4" and 219 pounds, and his deep ball ability. Last season he averaged 16.9 yards a catch. In today's NFL, a player like that is someone worth having.
But he had a pretty big problem throughout his college career—holding onto the ball. According to Pro Football Focus, he dropped 13 balls over three years and seven last season alone. That is not going to go over well in any team's draft room.
His measurables will get him on several draft boards, but his drops will have him far down the list. But many teams will see it as an issue they can work out of him. Someone will take a late round flyer on him. How long he lasts will depend on whether he can take care of his issue with drops.
How important is the Combine?
You may not get drafted as high as many of the guys that did go to the Combine. But you could still get drafted and go on to have a great career.
Former New England Patriots wide receiver Wes Welker certainly did. Current Patriots receiver Julian Edelman has as well. Another Patriot, defensive back Malcolm Butler, wasn't invited to the combine. Neither were Victor Cruz, Doug Baldwin, James Harrison, or Antonio Gates.
It would be easy to assume not going to the combine would preclude someone from being taken in the first round. But that is not the case. There have been three—Aaron Jones in 1988, Eric Swann in 1991, and Darrien Gordon in 1993.