The 2018 World Cup is due to be held in Russia in less than a month, with 32 teams all fighting to be named champions. It is a tournament that has been running for 88 years and is held at intervals of four years. The last World Cup was in 2014, held in Brazil, where the host nation ran the competition close, but it was Germany who prevailed above all others.
---
---
The Germans will be trying to hold onto their trophy, but will face fierce competition from some of the best teams and players in the world. The likes of Lionel Messi, Cristiano Ronaldo, and Antoine Griezmann are all looking to lead their countries to glory, but only one can be champion. While they are all great players individually, it will be the team that can play together best that stands the greatest chance of success.
With so much soccer talent in one place, many fans of the sport will be looking on eagerly in the hopes that their country can lift the famous golden trophy. We have taken a look at the squads each team will take to Russia and have assessed their chances of success. This is the definitive ranking list of all 32 participating teams in the 2018 World Cup.
Saudi Arabia – World ranking, 67th
Saudi Arabia are the lowest-ranked team to enter the tournament in Russia. With a world ranking of 67, they aren't expected to do well in the summer. They have made things hard for themselves as they have sacked two managers recently and are heading into the tournament with a new man in charge. Saudi Arabia automatically qualified for the tournament ahead of Australia and will be hoping their star player, Mohammad Al-Sahlawi, can replicate his incredible scoring feats from qualifying in the final tournament. Al-Sahlawi was the joint top scorer in qualifying with 16 goals and will hope new coach Juan Antonio Pizzi can get them out of the group stage.
Russia – World ranking, 66th
Host nation Russia will be hoping they can get through the group stage, as most countries hosting the tournament often get through to the knockout stages. But hopes are not very high for this Russian team, and without playing a competitive game in almost two years, many Russian fans will be hoping their team can make a flying start. Russia find themselves in a group with Egypt, Uruguay, and Saudi Arabia, and will have to get a good result against either Egypt of Uruguay to have any hope of getting through. They will rely on the goals from forwards Artem Dzyuba and Fyodor Smolov, and will hope legendary goalkeeper Igor Akinfeev can keep the ball out of their goal.
South Korea – World ranking, 61st
South Korea have qualified for the World Cup every time since 1986, but they are not expected to perform well in Russia. Despite having one of the Premier League's top performers in Son Heung-min, the rest of their squad looks like it is lacking in real quality. The experience of Ki Sung-yueng and Lee Chung-yong will be heavily relied upon to get them out of a group containing Germany, Mexico, and Sweden. If they can score a victory against any of these teams that would be considered a success.
Japan – World ranking, 60th
Japan had little trouble qualifying for the tournament but will probably struggle when they get to Russia. They will have to compete against strong teams in Colombia, Senegal, and Poland. Japan are lacking a star player but can rely on solid pros to make sure they are as competitive as possible. Shinji Kagawa and Shinji Okazaki will look to lead by example by bringing good club form to their national team. Their previous best place was the Round of 16, which would be impressive if they manage that again this year.
Panama – World ranking, 55th
Panama will make their first-ever appearance at a World Cup this year, qualifying at the expense of the USA. The country was granted a national holiday thanks to the team's qualification. The people of Panama will be cheering on striker Luis Tejeda, hoping he can add to the 43 goals he has already scored for his country. Felipe Balo will captain the team, and the experienced defender is expected to have to make lots of tackles against England and Belgium in a very tough group.
Nigeria – World ranking, 47th
Nigeria will have to get good results against Iceland and Croatia to have hopes of qualifying through their group, with Argentina expected to finish first. They will hope that captain John Obi Mikel can win the midfield battle to allow strikers Musa and Ighalo the chance to continue their scoring feats from their domestic seasons. With a world ranking of 47, Nigeria are not expected to feature in the latter stages of the tournament despite having some good and experienced players.
Egypt – World ranking, 46th
Egypt's success in the World Cup will depend on whether or not the incredible Mohamed Salah can bounce back from his Champions League Final injury in time to play, and influence games, in Russia. At this point, the Egyptian team says the are "confident" he will be able to play, and they are dependent on his play. Egypt hasn't qualified for the tournament since 1990, but with Salah's emergence on the world stage, things are looking up for Egyptian soccer in the future. Premier League stars Mohamed Elneny and Ahmed Hegazi should provide a solid platform to allow Salah (if he plays) to work his magic in front of the opposition goal.
Morocco – World ranking, 42nd
Morocco have a young and inexperienced team at national level. Only defender Medhi Benatia and midfielder Mbark Boussoufa have over 50 caps for their country. Moroccan fans will be hoping this youthful team can make up for their lack of experience with plenty of energy. The team plays with a solid defense and counter-attack very quickly. The key to how they play is the talented midfield of Hakim Ziyech, Younes Belhanda, and Nabil Dirar. If they work as a collective, they have a good chance of getting past the group stage.
Australia – World ranking, 40th
Australia brought a young team to the World Cup in Brazil four years ago, and the majority of that team remains. Now playing in their prime, this Australian team is expected to attack opponents with lots of energy and will be focusing mainly on trying to score as many goals as possible. They will rely on the cool head of captain Mile Jedinak to sit in midfield and try to protect Australia's defense while most of their players are in the opponent's half.
Iran – World ranking, 36th
Iran are expected to perform well in Russia thanks to a formidable defense. During their qualifying campaign, they were unbeaten and conceded few goals. They have an experienced coach in Carlos Queiroz who vowed his team would not go to Russia as tourists. Iran will be looking toward young striker Sardar Azmoun to score their goals; the 23-year-old already has 23 goals for his country. If Iran can stop group rivals Spain and Portugal from scoring against them, they might get through their group.
Serbia – World ranking, 35th
Serbia is in a wide-open group with Brazil, Costa Rica, and Switzerland. While Brazil are expected to clinch the top spot, the others will fight it out for the remaining place to get to the knockout rounds. Serbia scored plenty of goals during qualifying and will rely once again on the goals scoring ability of striker Aleksandar Mitrovic. Their captain, and legendary defender, Branislav Ivanovic, will have to bring all of his experience to help his team perform at the highest level.
Senegal World ranking, 28th
Senegal have not been to a World Cup tournament since 2002, where they lit the tournament up, reaching the quarter-finals. The team will look to Liverpool forward Sadio Mane to score the goals to get them through the group stage. Captain Cheikhou Kouyate will have to bring his experience as a Premier League player to provide some calm to what could be a frantic few games against Poland, Colombia, and Japan. The team are coached by one of the heroes of the 2002 Senegal team, Aliou Cisse.
Costa Rica – World ranking, 25th
Despite being a relatively small nation, Costa Rica managed to reach the quarter-final of the World Cup in 2014. Their goalkeeper, Keylor Navas, plays for Spanish giant Real Madrid and is expected to help give his team confidence, while striker Bryan Ruiz is their main goal-scoring threat. They are not expected to feature in the final stages of the tournament, but it would not be a surprise to anybody if they make it through their group.
Sweden – World ranking, 23rd
For many years Sweden could rely on the goalscoring talent of striker Zlatan Ibrahimovic, but now he has retired from international soccer, many people are unsure how they will perform. Looking to step into the large boots of their former striker is striker Emil Forsberg; the Swede who plays for German club Leipzig. Experienced defender Andreas Granqvist will be the captain and will have to gel the players together as their best chance of success is to play as a team.
Iceland – World ranking, 22nd
Iceland captured the hearts of many soccer fans two years ago when they overperformed in the European Championships. Following that impressive display, they are set to make their first appearance in the World Cup, as the smallest country to qualify for the tournament. They will look to Gylfi Sigurdsson to score the majority of their goals, but their captain Aron Gunnarsson will bring an experienced head to their midfield. Spectators will be looking forward to hearing Iceland fans perform their loud "Thunderclap" celebration should their team score a goal.
Croatia – World ranking, 18th
Despite having some truly great players, Croatia are an aging team and need their star players to be in top form. Luka Modric, Mario Mandzukic, and Ivan Rakitic are all experienced players, so if they all play well, Croatia can hope to get through to the knockout stages. If Modric can play like he does when wearing his club colors, few teams will be able to cope with his skill. With a host of players playing in the top European leagues, Croatia are a force to be reckoned with on their day.
Uruguay – World ranking, 17th
Uruguay have two of the best strikers in the world in Luis Suarez and Edinson Cavani. They will hope that those players are on top form because they can also play pretty poorly too. Suarez has bitten opponents several times in his career, getting red cards for the offenses. Cavani is capable of missing many chances, so his team will hope they are not left regretting those spurned opportunities as the tournament progresses. Uruguay play with energy and pace and will cause any team they face problems.
Colombia – World ranking, 16th
Colombia's James Rodriguez was the top scorer at the World Cup in Brazil, and Colombian fans will be hoping he can have a similar tournament once again. They are captained by legendary forward, Radamel Falcao and have a squad that is full of top talent. Colombia are in a favorable group and should expect to at least get through to the knockout rounds, but if they play well, they could get as far as the semi-finals.
Mexico – World ranking, 15th
Mexico find themselves in a group with Germany, so will probably finish second in the group, meaning their knockout opponents will be the winners of another group. Mexican fans will have to hope their superb striker, Javier Hernandez, is able to put the ball in the goal as regularly as he has done in the past. 39-year-old Rafael Marquez has made over 140 appearances for his national team and Mexicans will hope his leadership qualities can inspire the team to great things in Russia.
Tunisia – World ranking, 14th
Tunisia managed to end their qualification campaign unbeaten, which shows they are both resolved and talented. They will need their entire team to work together if they are going to make an impact at the World Cup this year. Lacking a real star player, their strength is in their numbers, and their captain and goalkeeper Aymen Mathlouthi is going to have to perform miracles to keep out group rivals England and Belgium. Getting through the group would be a huge mark of success for the African country.
England – World ranking, 13th
England will go into the tournament with quiet optimism. They won the World Cup back in 1966 but have failed to make a final since then. England can boast some of the top stars in the Premier League and will hope that striker Harry Kane can replicate his club form in Russia. Normally England fans expect their team to win the tournament, but expectations are much lower this year. That should allow the players to perform with less pressure than usual.
Denmark – World ranking, 12th
Coming into the tournament in good form is important, and Denmark are unbeaten in their last 11 matches. They easily qualified thanks to a brutal 5-1 victory over the Republic of Ireland in a playoff. Christian Eriksen is their main player, and the creative midfielder will have to do most of the hard work to ensure his country performs well at the World Cup. They have a pretty young squad which will help them continue playing at a high level if they go far in the competition.
Peru – World ranking, 11th
Peru have climbed to number 11 in the world rankings, despite having few household stars on their team. Their striker, Jefferson Farfan, will feel at home in the tournament as he plays his club football in the Russian Premier League. Peru will have to overcome European teams France and Denmark to make it through the group. It is likely they will be battling with Australia to see who can avoid finishing bottom of their group.
Poland – World ranking, 10th
Having one of the best strikers in the world on your team is always going to help, and Poland have got just that in Robert Lewandowski. The Polish striker plays for German giants Bayern Munich and regularly scores over 30 goals per season. If a few of his lesser-known teammates can match his performances, then Poland have a chance to get at least to the quarter-finals. Poland have a good balance of experience and youth, and are not going to be an easy match for any of their opponents.
Spain – World ranking, 8th
Despite pretty much taking over the soccer world during the last decade, there is a sense that the Spanish national team have underperformed recently. Spain have some of the best players in the world in their team including Sergio Ramos, David de Gea, and Diego Costa. If the Spanish players can gel together and replicate the football they played when winning the World Cup in 2010, then few teams will be able to cope with them. Spain will face local rivals, and a familiar opponent, in Cristiano Ronaldo's Portugal in their group.
France – World ranking, 7th
France is many people's favorites to lift the trophy in Russia. They have an incredible squad with world-class players all over the pitch. In goal they have captain Hugo Lloris, and can call upon stars of Real Madrid, PSG, Barcelona, and Chelsea to win almost any game. If they can get Paul Pogba to play to his best, then Kylian Mbappe and Antoine Griezmann will be scoring plenty of goals throughout the tournament. The French team is full of young and exciting players and will overwhelm most teams.
Switzerland – World ranking, 6th
Switzerland are the highest ranked team without a world-class star lifting their performances when the rest of the players are struggling. They rely on teamwork and hard work to get them through most games, but the demands of repeating those performances each and every match will probably be too hard for the Swiss team. Switzerland will rely on veteran midfielder Valon Behrami and their unpredictable forward Xherdan Shaqiri to excite their fans and provide the extra bit of quality they will need.
Argentina – World ranking, 5th
If you could win the World Cup just by having the best strikers, then Argentina would win, easily. Instead of just one star striker, they have four. Gonzalo Higuain, Sergio Aguero, and Paulo Dybala can all win games on their own, but there is one player who is above even them. Of course we are talking about Lionel Messi. At the end of yet another record-breaking season for his club, Barcelona, the Argentine forward will hope to inspire his country to be world champions for the third time.
Portugal – World ranking, 4th
If you think of Portuguese soccer, you think of only one man, Cristiano Ronaldo. The forward inspired his team to win the European Championships two years ago, and Portuguese fans will be hoping he can do the same again in Russia this year. Portugal are an experienced team, and if they can get Cristiano Ronaldo in front of goal, then he will score – a lot. No one will want to play Portugal if they get to the knockout stages.
Belgium – World Ranking, 3rd
Not many teams can boast as many world-class stars as Belgium. They have Kevin de Bruyne who is one of the best midfield players in the world, and then they have Eden Hazard and Romelu Lukaku to help score the goals. Thibaut Courtois is their amazing goalkeeper, and their defense is made up of three of the meanest in European football in Kompany, Alderweireld, and Vertonghen. If Belgium do not make the semi-finals at least, they can consider this tournament a failure.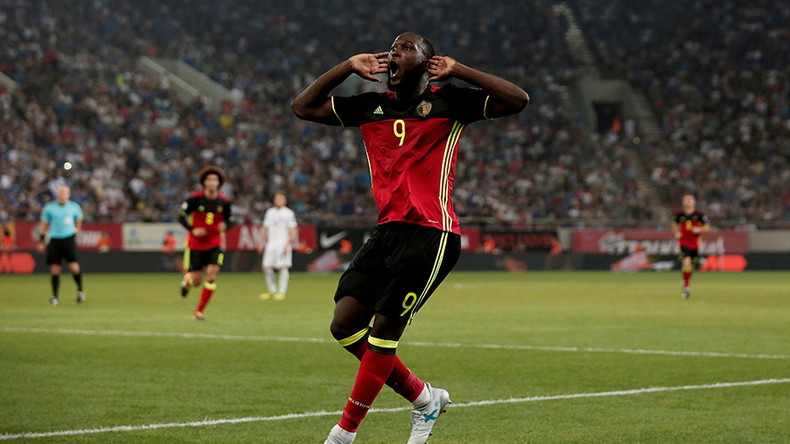 Brazil – World ranking, 2nd
Brazil are always considered one of the favorites every time they enter a tournament. Their players are so skilled that they can change the dynamics of a game in the blink of an eye. In the forward position, they have the most expensive player in soccer history, Neymar, who cost PSG $263 million last summer. Brazil's fans will expect them to reach the final and the players will hope to put being thrashed 7-1 by Germany in the semi-final last time out of their memories.
Germany – World ranking, 1st
If you want to pick a team to support who are going to go far in the World Cup, then follow Germany. They always perform at big tournaments and combine a complete team spirit with individually brilliant players. Even if you manage to break their defense, they have the best goalkeeper in the world in Manuel Neuer, who you will somehow have to try and score past. With top talent all over the field, expect Leroy Sane, Thomas Muller, and Toni Kroos to dominate Germany's games in Russia.