---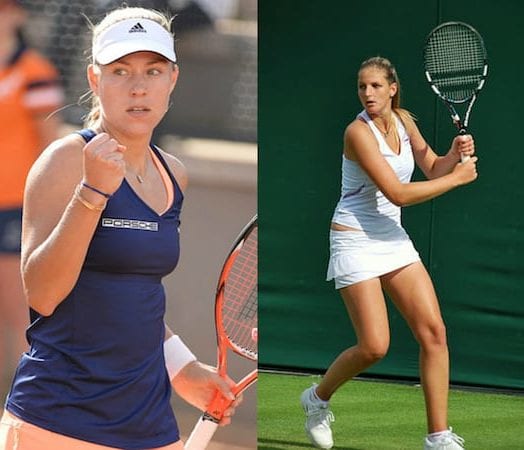 When Serena Williams announced her pregnancy back in April, the WTA changed immediately and dramatically. Williams appears to be far enough along for us to conclude that she was actually already pregnant when she won this year's Australian Open. But now she will actually be forced to miss time, first to carry her baby and then to care for him or her after birth. It will almost undoubtedly be the champion's longest stretch away from tennis in years, if not since the very day she turned pro – and that creates an almost unthinkable opportunity for the rest of the women on tour.
Rest assured, these are all exceedingly competitive women, and most of them would probably love nothing better than to beat Williams head-to-head in a big Grand Slam match. But the truth of the matter for quite some time now has been that just not that many of them can pull it off.  Serena Williams has won 23 Grand Slam titles, and an astounding nine of the last 19. She almost seems to be getting better with age, and you'd be hard pressed to find a tennis analyst who thinks she can be beaten when she's truly on top of her game.
Now, if there's anyone who could play the French Open several months pregnant, it's Serena Williams – and I'm only kind of joking. If I looked up in late May and saw her taking the clay courts in Paris, I'd only be the littlest bit surprised. But in all likelihood, she'll be out for at least the next three or four Grand Slams, if not more. And that means it's time for some of the other talented players in the WTA to step up and fight for the top spot she'll be vacating.
Who will take advantage? Frankly, that's anybody's guess. But here are some of the women who appear poised to make a run at glory in Serena's absence.
Angelique Kerber
Kerber is the clear odds-on favorite to dominate for as long as Serena Williams is out. She's already 29, which once upon a time would have meant "getting old" in women's tennis. But she's clearly as good as she's ever been, and has at times looked like the only player on tour who can challenge a healthy Williams. While Williams, as mentioned, has won nine of those last 19 Slams, Kerber has won two of the last five. She seems likely to seize the top spot in the WTA rankings and could use the next year to add nicely to her career Grand Slam collection.
Garbine Muguruza
Tabbed by many as a future number one, Muguruza may be the best under-25 player in women's tennis. She already broke through with her first Grand Slam win at the 2016 French Open, and she reached the Wimbledon final in 2015. Serena, however, hasn't really been her problem. Her issue has been earning good results at hard court events. But she's at the right point in her career to turn into a better all-courts player, and to do so without Williams looming in the draws can't hurt.
Karolina Pliskova
Ranked third in the world at age 25, Pliskova is probably Kerber's toughest competition for the top ranking if and when Williams drops down the list. She's been a slightly steadier performer than fellow 25-year-old Johanna Konta (who's ranked sixth in the world), and last fall reached the final at the U.S. Open. Pliskova could have one of the more tangible breakthroughs of the year if she's able to claim a first Grand Slam title and secure the number one ranking with Williams out of the sport.
Venus Williams
We could simply keep going down the list and name the top women in the rankings beneath Serena. But there are also other players that stand out as potential Grand Slam winners. Venus Williams is certainly one such player. She's had an extraordinary return to form in the last year or so, and seems to be able to beat everyone on tour – except her sister. That's a hurdle she just might not be able to clear anymore, and now she might not have to in order to win one last Slam.
Madison Keys
Keys hasn't quite shown the consistency needed to win Slams, but the young American has been very impressive at times, and Serena has blocked her path more than once. In three career losses to Williams, Keys has twice been dismissed by her at Grand Slams – once in the Semi-Final of the 2015 Australian Open, and later that year in the Round of 16 at the U.S. Open. Even the mental knowledge that she won't be facing an unbeatable opponent could give Keys the strength to push through a major tournament field and find herself in a Grand Slam final or two.
We don't know how long Serena Williams will be out. And in her absence there are a lot of women who could excel. The WTA appears to have a lot more parity than the ATP, and that means there could be a revolving door of major champions for the next year, or possibly even the foreseeable future if indeed we've seen the best of Serena Williams. But these are names to watch, both for potential dominance and for first-time breakthroughs.