From the moment a player gets drafted, they know they've officially made it. After hours upons hours of backbreaking hard work, they can finally say that they've achieved the greatest accomplishment of all – becoming a professional athlete. Whether it's the NBA, NFL, MLB, or any other sport for that matter, the amount of money they earn is staggering. The players on this list made tons of millions of dollars – and somehow managed to blow it all away.
You're probably thinking to yourself, "How on earth could you become a multi-millionaire and lose it all?" This is an excellent question to ask, and one that this article will answer surely. As you continue to hear the various stories of these athletes, you'll start to notice a bit of a trend. Some of them received bad advice. Some of them invested it poorly. Some were dealing with substance abuse, and gambling addictions as well.
One thing is consistent, however. They all lost track of their money, and they didn't manage it well. And they certainly can no longer afford to live the fancy lives they once used to enjoy.
Dennis Rodman – Basketball
Dennis Rodman didn't lose all of his money from coloring his hair before every basketball game – but it probably didn't help. Nicknamed the Worm for his crazy rebounding abilities, Rodman won five championships throughout his time in the NBA (two with the Pistons, three with the Bulls).
But while he made millions playing pro ball, in his later years he found himself owing up to $800,000 in unpaid child support – and his finances were far from stable.
Vin Baker – Basketball
It's tough to think about Vin Baker's story, an NBA star who played for the Milwaukee Bucks, among other teams. His career was going pretty well for a nice long while, racking up $100 million throughout his stint in the league. But later on people learned that he was abusing alcohol, and even drinking before games.
There were times where he'd drink Listerine before games to throw doctors off the scent. Eventually, his problem resulted in retirement, and after a handful of bad investments and other bad decisions, he declared for bankruptcy. Years later, he was desperate to get back on his feet, so his former boss Howard Schultz of the Sonics gave him a job as a Starbucks barista.
Bernie Kosar – Football
Reports say that when Bernie Kosar filed for bankruptcy in 2009, his bank account had only $44 inside. That's pretty crazy to think about, when you consider like he made millions upons millions of dollars throughout his illustrious NFL career.
How did he manage to mess things up so bad? Well, it turns out that when he first retired, he actually was a very good businessman, and thrived for a while off the field financially. But eventually his luck ran out, and his investments got worse. In addition to all that, he gave tons of handouts to friends and family who apparently needed help – and he never received payback from any of them.
Boris Becker – Tennis
Boris Becker is one tennis star from the 80s who was a real heartthrob back then, and he was reportedly worth up the $63 million during that time. Alas, this fortune he enjoyed so dearly was not to last, when a handful of things went wrong in the subsequent decades that followed.
One of the worst of these things was when he was unfaithful to his marriage with a model named Angela Ermakova. This resulted in a divorce that forced him to pay his ex-wife $25 million, and buy a house for the model he was intimate with as well. Add to that some tax payments, and you have a string of really unfortunate events for a former star who seemingly had it all.
William 'The Refrigerator' Perry – Football
Those who remember this NFL stud know how much of a menace he was on the field. By sheer force of weight alone, this defensive lineman was one guy you didn't want to face – and some say he was the heaviest player to ever score a touchdown.
But nowadays he actually lives in a retirement home, where he brother takes care of him. Perry is dealing with a handful of medical conditions, and he even sold his Super Bowl ring to help make ends meet.
Vince Young – Football
Vince Young was a college football sensation, doing so well in the Rose Bowl that getting a consistent job in the NFL seemed like it would be a cakewalk. That's how it was at first, but eventually he retired in 2011.
Without a steady paycheck, combined with excessive money and ignoring his finances resulted in Young declaring bankruptcy in the very same year he retired. These days he has his feet on the ground, but he's obviously a long way from where he once was.
Pete Rose – Baseball
The unfortunate story of Pete Rose is that he was supposed to be destined for the MLB Hall of Fame. His talent and performance on the field sure supported it, but sadly his actions off the field altered people's perceptions of him.
Not only did he admit to betting on games, he had a big gambling problem in general. In 1990, he was found to be guilty for false tax filings, resulting in a fine, as well as community service and doing time in a correctional facility.
Latrell Sprewell – Basketball
Latrell Sprewell also went through some tough times, but he was certainly to blame for a lot of it. While a great talent on the basketball court, it is a known fact that he choked his coach P.J. Carlesimo while on the Golden State Warriors.
Later in his career, he turned down a three year contract worth $21 million, complaining that it wasn't enough. Ironically, no other team signed him after that, and he retired from basketball. He eventually lost his fortune, on top of his mom suing him for $200 million.
Anthony Mason – Basketball
Anthony Mason was a star of the New York Knicks in the 90s, and throughout his 13-year NBA career, he made himself around a whopping $40 million. But his fortune wasn't to last.
He made a handful of investments that didn't pan out, and by the time his career was over, he owed over $1.8 million in taxes to the state of Wisconsin. He admitted that he lost his money for a lot of "different reasons" – and now he hopes to prevent younger stars from making the same mistakes he did.
Johnny Unitas – Football
The late Johnny Unitas had a terrific NFL career, but unfortunately not the greatest financial settlement when all was said and done. He was an extremely influential quarterback in the 60s, but 20 years after he retired, he found himself needing to declare bankruptcy.
Similar to others on this list, it was bad investments that left him in debt. Around a decade after he declared bankruptcy, he passed away – but people still remember his awesome talent on the field.
Warren Sapp – Football
Warren Sapp is another NFL legend whose money went bye bye. He was known for his outstanding ability as a defensive tackle, and many quarterbacks were sacked hard on his behalf.
By the end of Sapp's career, he had amassed more than $75 million, but he too was unable to hold on to it. What with a handle of lawsuits from women who had children with, and some IRS trouble, he was forced to file for bankruptcy in 2012.
Allen Iverson – Basketball
Allen Iverson was not only a basketball legend, but he was also such a big influence on the culture of the game. He made up to $150 million of dollars on contracts and endorsements during his career, but he still somehow found himself in a less-than-good financial situation in later years.
For A.I., it was a combination of gambling, drinking, and giving out handouts to friends and family. He's still "The Answer," but he's certainly not living the same life he once did.
Mark Brunell – Football
The man who once manned the Jaguars front line as a quarterback made up to $50 million while rocking the NFL, but by the time 2010 came around, he actually filed for bankruptcy. But how did he lose all his money?
Well, similar to many of the others on this list. He put his money into a series of ill informed investments, and that was basically it after that. As they say, you should never put all your eggs in one basket.
Michael Vick – Football
It's an unfortunate thing that a man who was so talented on the football field will forever be associated with something that tarnished his name forever. For those of you who don't know what we're talking about, we're referring to the only dog fighting scenario that Vick involved himself in.
After all the money he made, let's just say that this giant ugly blotch on his career added a heavy financial toll that has left him still currently in debt.
Antoine Walker – Basketball
Antoine Walker was the epitome of class when he was in the NBA. He would walk around with fancy jackets and baller sports cars. He was also a pretty awesome basketball player for that matter, and even made the All Star team.
But all the millions he racked up during his time in the league wasn't enough for him to continue that lifestyle after he retired, and very soon he found himself filing for bankruptcy in 2010, with a large amount of debt.
John Daly – Golf
We don't have many golfers on this list, but John Daly is one of our big ones. Pro golfers make a lot of money when they're good, and Daly made loads of it. Unfortunately, he reportedly lost around $50-60 million over 15 years, due to gambling. But that wasn't all.
He also struggled with substance abuse, and many endorsements that he used to have went away. Now he has child support payments, and isn't able to live the same life he once did.
Terrell Owens – Football
Here's another megastar who unfortunately squandered his money. T.O. was one of the biggest wide receivers in the NFL at one point, and he's certainly a legendary figure in the league.
But somehow he managed to blow his money, due to less than spectacular money management. He had invested in a lot of real estate, which proved really bad for him during the market crash of 2008. Nowadays he has money, but nothing compared to what he used to have.
Warren Sapp – Football
Warren Sapp spent 12 hard-working years as a hard-nosed defensive tackle, winning one Super Bowl with the Tampa Bay Bucs and making the Pro Bowl seven times. During his illustrious career, he made more than $82 million, which is enough money for him not having to work another day in his life.
Nevertheless, in 2012 – a mere five years after he retired – he filed for bankruptcy. The culprits? His lavish lifestyle, on top of alimony and child support payments to four different women. Not only that, but he lost his job as an analyst on the NFL Network in 2015 following a run-in with the law.
Delonte West – Basketball
Delonte West had a relatively short playing career, but it was a very fruitful one. He reportedly has earned around $19 million during his active years, which included eight season in the NBA. However, along with the highs, came the lows.
Since 2016, after West was supposedly seen begging for money on the streets of a Maryland suburb, there have been rumors about his financial state. He has denied the allegations, but a recent photo of him that has gone viral is making people believe he might be living on the streets.
Lenny Dykstra – Baseball
Lenny Dykstra was a well respected player who played baseball for the Philadelphia Phillies and the New York Mets. After he retired, he actually did pretty well for himself as a businessman, but soon the tide came calling for him.
He would eventually get charged with credit card fraud, leading to tailspin of payments and fees that rendered him bankrupt in 2009. To make matters worse, he was arrested in year 2011 for allegedly stealing a car.
Kenny Anderson – Basketball
Kenny Anderson was a solid NBA player who took advantage of a newly instituted salary cap that allowed him to make a lot of money during his time in the league. Unfortunately, when he retired, he didn't really look for other forms of income.
He lived the good life for years, but eventually all that money started to dwindle, and he wasn't able to afford the same perks. On a brighter note, he went back to college and got himself a degree.
Darren McCarty – Hockey
Unlike many of the other athletes on this list who lost their money after they retired, NHL player Darren McCarty went through money problems while he was still playing.
In the year 2006, he was still in the league when he filed for bankruptcy, with a fat sum of liabilities to pay that went up to $6.2 million. This all came from gambling, bad investments, and bad money management. That said, McCarty maintains that he never gambled on the games themselves.
Evander Holyfield – Boxing
People who are boxing historians think of Evander Holyfield has the guy who got his ear bitten off by Mike Tyson. But Holyfield was actually a sensational talent, and his career in the sport earned him up to $230 million overtime.
Somehow he wasn't able to hold on to it though. With a fair amount of gambling, high end purchases, child support payments, and $14 million of mortgage payments – eventually this guy had lost a good chunk of his fortune.
Lawrence Taylor – Football
A highly revered defenseman in the NFL, Lawrence Taylor made plenty of money playing football, but it was his substance abuse that turned his life around for the worse.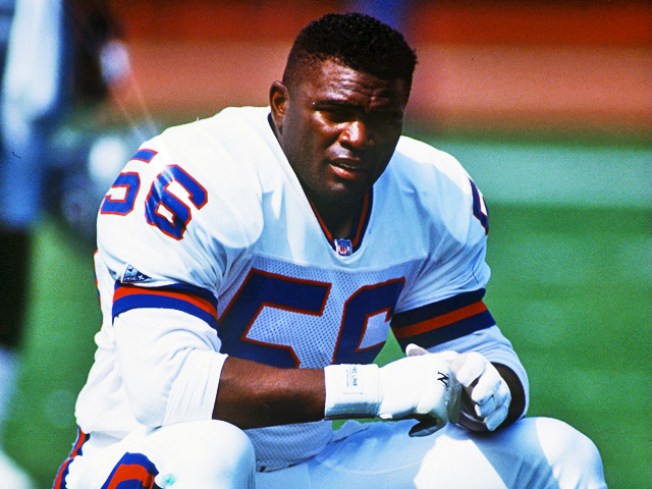 His particular substance of choice was one of the more expensive ones, and years of doing it caused him to go bankrupt 5 years after he retired. Over the years, he went through four stints of rehab – and we're happy to inform that although his financial situation isn't what it used to be, he's been sober for over a decade now.
Mike Tyson – Boxing
How does a man lose $300 million, and eventually fall into $27 million in debt? With a guy like Mike Tyson, anything's possible. The heavyweight boxing champ was forced to file for bankruptcy in 2003, and these were some of the reasons why:
He was a massive luxury spender, paying around $5 million on cars alone – and he did not manage his finances responsibly. Along with a three-year stint in jail, and a handful of other bad investments, his bank account is far from what it used to be.