---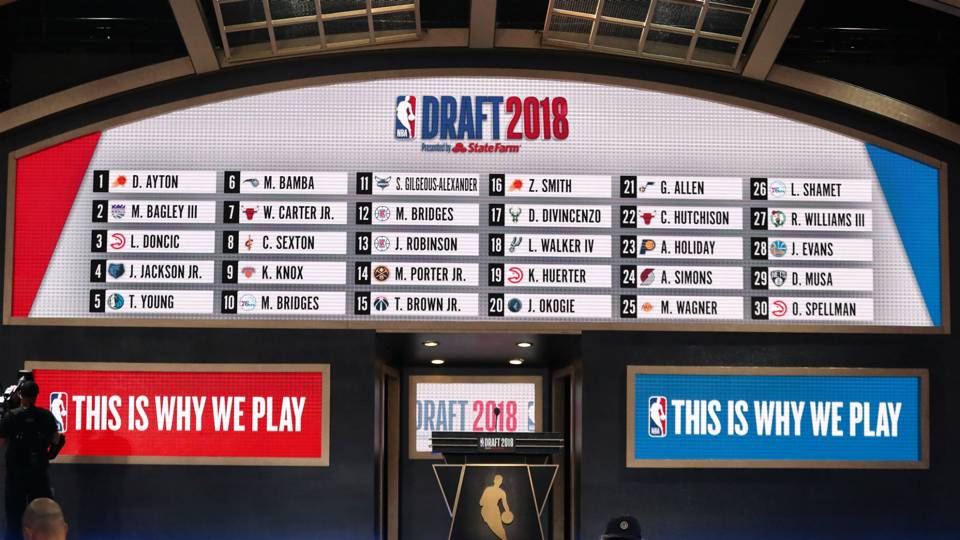 Another NBA Draft is in the books. Thursday night wasn't quite as wild as some expected – which is to say there was no Kawhi Leonard trade, the Celtics and Sixers mostly kept their own assets, and we learned nothing new about LeBron James, Paul George, or other impact free agents. But that stuff's all coming in July. Purely as a draft, Thursday night was still a lot of fun.
Really, it didn't take long for the draft we all expected to see to get shaken up a bit. As had been virtually confirmed before the draft started, DeAndre Ayton and Marvin Bagley III were the first two picks, going to the Suns and Kings respectively. But then the Hawks shocked the NBA world, predictably selecting Slovenian prodigy Luka Doncic only to super-duper-unpredictably trade him to Dallas for the #5 pick (Trae Young) and a future first rounder. To say the whole night went wild after that wouldn't be accurate; there was still a fair bit of chalk. But the trade set the tone for yet another interesting draft.
Here are some of the winners and losers from Thursday night.
WINNERS
Phoenix Suns
It would've been hard not to "win" this draft for Phoenix. DeAndre Ayton was one of a few picks that would have been understandable at #1, and he has a real chance to become the franchise cornerstone. But the Suns had a nice night beyond the #1 pick as well. After drafting Texas Tech SG Zhaire Smith at #16, they were able to trade him and a 2021 first rounder to Philadelphia for #10 pick Mikal Bridges, the small forward out Villanova. It's a steep price to move up six picks, but Bridges fills more needs and is the more complete player. He should help the Suns right away. Phoenix also got a bit of a project at #31 in French point guard Elie Okobo. I wouldn't have spent the 31st pick this way, but a lot of people seem to see more in Okobo than I do.
Dallas Mavericks
The Mavericks might wind up being the winners of the 2018 draft. Flipping the #5 pick (Oklahoma PG Trae Young) for Doncic (whom the Hawks had taken at #3 with the trade already in place) was a bold, brilliant play that completely changes the complexion of the franchise. Dallas then took Villanova PG Jalen Brunson – only the National Player of the Year –  with the 33rd pick, and even managed a late deal with Philly to bring in Kostas Antetokounmpo, who is not in the same stratosphere as his brother Giannis, but is undeniably intriguing.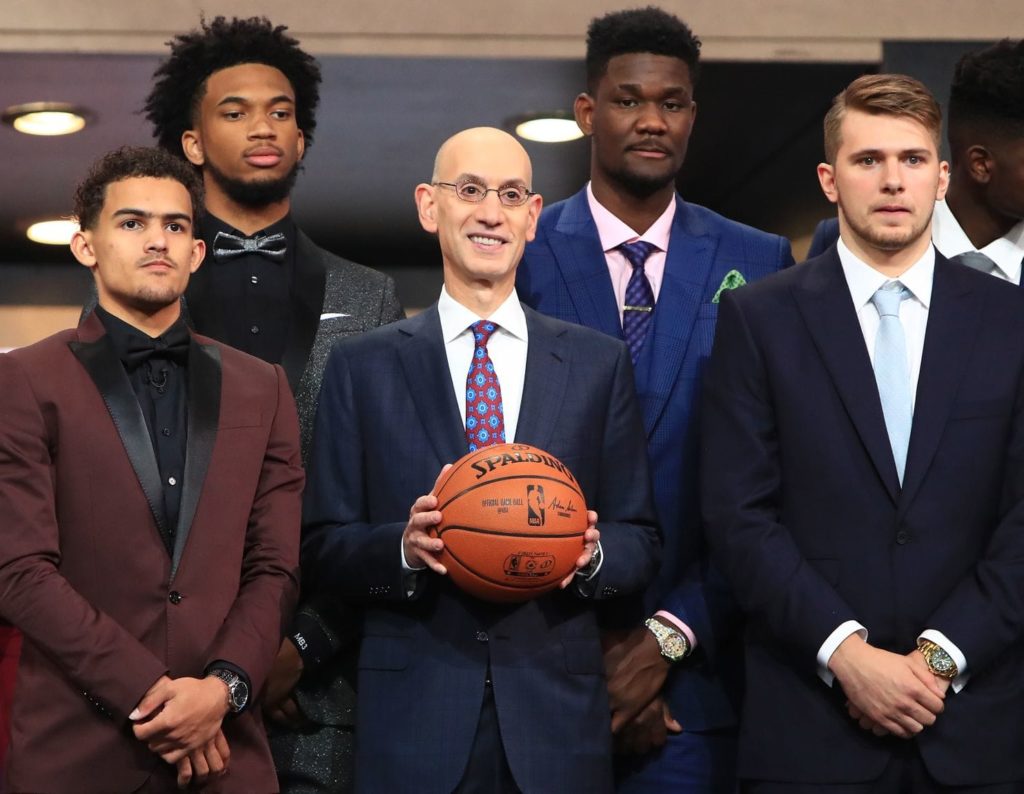 Memphis Grizzlies 
Memphis took the right guy at #4 in Jaren Jackson Jr. He adds instant defense and further floor spacing to the Grizzlies' frontcourt and has a chance to become a star. That would have been enough for a nice night, but Memphis made another great pick at #32, grabbing West Virginia PG Jevon Carter, who was manufactured in a lab to play for the Grizzlies. He's an absolute pitbull who can help resurrect "Grit n' Grind" in Memphis, and he happens to be a pretty good shooter as well. He was a great snag at #32.
Lonnie Walker IV
Miami SG Lonnie Walker IV could have gone anywhere from the late lottery to the low-20s, and he slid a bit farther than he may have expected to. But he did so only to land with the Spurs, who once again seem like they found great value at their position (#18). Walker is incomplete but wildly athletic, capable on defense, and full of energy. His shot isn't perfect, but it's good enough that the prospect of his working with San Antonio's legendary shot doctor Chip Engelland almost makes you reconsider his ceiling (as in, raise it considerably).
Robert Williams  
Falling down the boards on draft night must be miserable. Robert Williams, a forward out of Texas A&M, was expected to go as high as #12 by a lot of people, and wound up dropping way out of the lottery, ultimately being selected 27th overall. That's no fun, but falling to the Celtics – unquestionably the league's most exciting up-and-coming team, with a great coach and a need for a backup big man – must help to alleviate the disappointment. Williams has a massive opportunity in front of him, and has the talent to carve out a role.
Collin Sexton
Forget about the Cavaliers' drama for a moment. The NBA has a glut of point guards, and Alabama PG Collin Sexton just got drafted in the lottery to one of the few teams that doesn't really have one (I made an executive ruling and George Hill and Jordan Clarkson no longer count after their playoff performances). One of two things will now happen to Sexton: he'll become LeBron James's point guard, or he'll get the keys to his own franchise. Not a bad night.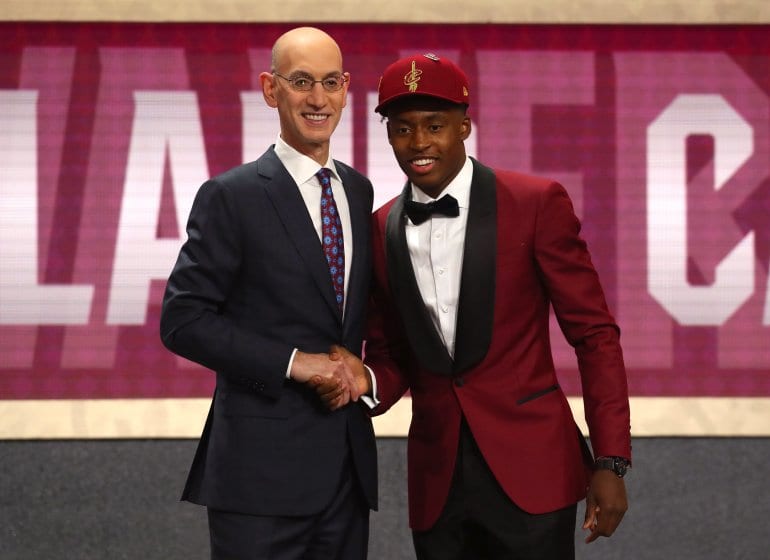 Veteran College Guards 
This was another draft dominated by one-and-dones. But from the middle of the first round through the early second, a lot of really good veteran college guards heard their names called. Donte DiVincenzo (#17 to Milwaukee), Grayson Allen (#21 to Utah), Aaron Holiday (#23 to Indiana), Landry Shamet (#26 to Philadelphia), Jevon Carter (#32 to Memphis), Jalen Brunson (#33 to Dallas), and Devonte' Graham (#34 to Atlanta; traded to Charlotte) will all have legitimate opportunities to stick in the league. That's really a pretty incredible crop of veterans for a 17-pick range in an NBA draft.
LOSERS
Guys Named Bridges
It was pretty hard to watch the Sixers-Suns trade come through. Mikal Bridges and his family, who have deep Philly ties, were elated when the 76ers chose him with the #10 pick. Mere moments later, he was traded to Phoenix. He'll be just fine there, but it had to sting. Meanwhile Miles Bridges, the forward out of Michigan State, was selected 12th by the Clippers only to be dealt to the maybe-kinda-but-not-really rebuilding Charlotte Hornets. He's now in the position of being the only definite future asset on a team that can't see itself in the mirror, and frankly I'm not sure he's good enough to be "the guy." Rough night for the Bridges boys.
Charlotte Hornets
Mitch Kupchak, the new Hornets GM who was brought in by Michael Jordan (who might be out of his mind), might be out of his mind. Days after The Bizarre And Unwinnable Dwight-For-Mozgov Trade, Kupchak was all over the place on draft night. He took a perfectly good point guard in Kentucky prospect Shai Gilgeous-Alexander, momentarily making it look as if Kemba Walker could be dealt for future assets. Then he traded SGA to the Clippers for the far-less-necessary Miles Bridges and two future second rounders. Then he traded two future second rounders away for Atlanta's #34 pick, and took Kansas PG Devonte' Graham. It was impossible to come out of this draft with any clue as to what the Hornets want to do this summer.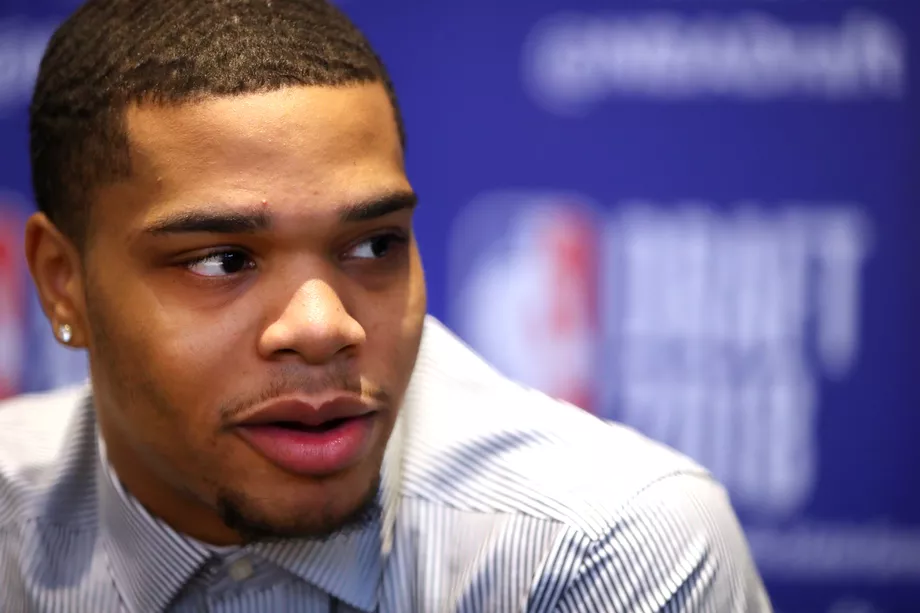 New York Knicks 
The Knicks had the #9 and #36 picks and wound up with Kevin Knox and Mitchell Robinson. That's just not good enough. A few Kentucky prospects have looked better in the NBA than in college, but Knox just doesn't strike me as a great competitor, and I have serious doubts about his ability to reach his potential. Robinson skipped college "to focus on the draft," and it only got him as far as the second round.
Philadelphia 76ers
As with the Hornets, this seemed like an indecisive draft for Philadelphia. One could argue that the team's two biggest needs this offseason were perimeter defense and shooting. So, wisely, the Sixers took two very good 3-and-D prospects in Villanova's Mikal Bridges and Creighton's Khyri Thomas. Less wisely, they then traded both of them away! Philly did make a nice selection at #26 in Wichita State's Landry Shamet, and got great value in 54th pick Shake Milton, trading picks 56 and 60 for his rights. But they could have had – in fact, did have – two players who would have addressed their most glaring needs, and they dealt them away for a raw athlete (#16 pick Zhaire Smith) and two future second rounders. I don't get it.
Michael Porter Jr.
It almost feels cheap to write it, but Michael Porter Jr. has to be included here. Once the top ranked player in the Class of 2017, Porter wound up struggling with injuries, forcing an uninspired return for the NCAA Tournament (I actually liked that he bet on himself, but it didn't go well), and, ultimately, falling to the last pick of the lottery (the Nuggets at #14). It'll be fascinating to see if he can overcome his injuries and stalled development and prove the rest of the lottery teams wrong for not taking him.