---
Sports Santa is once again gifting us with five NBA games on Christmas Day. And as has become typical, they're all fairly compelling. This year, that actually seems to be the case with just about every random regular season game. The league is so packed with stars, exciting rookies, and strong teams that there's something fun to see in just about every matchup. On Christmas however, we look for a little bit of added intrigue.
This is my wish list for 20 things Sports Santa should deliver in the Christmas games.
Philadelphia 76ers @ New York Knicks
1 – The Unicorn Duel. Or charge. Or joust. Or whatever you call it when two unicorns stampede toward each other. Joel Embiid and Kristaps Porzingis are two of the leaders of the NBA's "unicorn" class, and they've only played against each other once before. It's not a guarantee this time, as Embiid has been resting with back soreness (ever since he played 49 minutes in a 3OT game for a franchise that's evidently forgotten its own ongoing injury history). But the Sixers are unquestionably more fun to watch with Embiid on the court – and if he plays, and he and Porzingis both go off, this game will be a blast.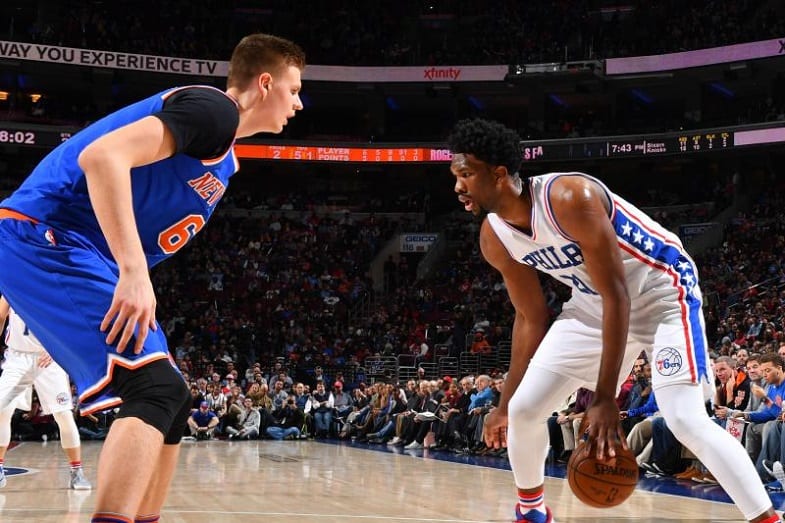 2 – A Tim Hardaway Jr. barrage. Tim Hardaway Jr. is going to fall prey to Joe Johnson Syndrome, which is to say he's going to become underrated because he's so frequently called overrated, just because one team paid him too much money. He's not nearly as good as Johnson, but he's a little better than his reputation. It would be nice for a big audience to see that on Christmas.
3 – Michael Beasley, GOAT-mode. Watching Michael Beasley go bonkers against the Celtics the other night, I became convinced that he believes he's the best player alive. And for stretches of five minutes at a time, he can almost make you believe it. (It's worth remembering he was one of the best college players this century, averaging 26.2 PTS, 12.4 REB and shooting 38% from three in his lone season at Kansas State.) Christmas NBA will be more fun if he goes GOAT mode.
4 – A max of 20 Spike Lee shots. Yes, Spike Lee, Superfan is supposedly part of the charm of Madison Square Garden. This should be a fun game though, and we should all hope the cameras stay focused on the action. A little Spike is fine; more is distracting.
Cleveland Cavaliers @ Golden State Warriors
5 – A Steph Curry sighting. Curry is inching toward returning from a minor ankle injury, and while the Warriors have every reason to take their time with the situation, basketball is always more fun when Curry's playing. Steve Kerr says he's 99.99% sure it won't happen.
6 – Peak Bron. It's a given that we all want LeBron James to play well on Christmas. It's also a given that he will, because he's LeBron James and he's sneakily having (arguably) his best season ever. It feels particularly important for him to dominate this Christmas game, however, because fans need to believe the Cavaliers can still hang with the Warriors. A big game from James in Golden State makes the rest of the season more compelling.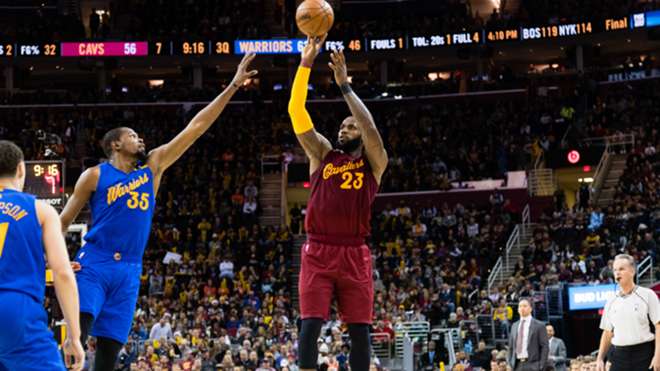 7 – A Ty Lue game plan. Throughout most of the 2017 Finals, Ty Lue seemed to want his team to try to run with the Warriors. There might not be a team in all of NBA history that could win this way (though the Rockets are probably going to try). Think about this: per Basketball Reference, the Cavs and Warriors averaged a "Pace Factor" (estimating possessions per team per 48 minutes) of 100.2 throughout the 2017 Finals, when the Cavs lost in five games and had a -34 overall point differential. In the 2016 Finals the Pace Factor was 92.0, and the Cavs won in seven with a +4 differential for the series. It would be nice to see that Lue learned this lesson and has a new plan for the Warriors. Let's see the Cavs ugly this thing up a bit.
8 – These jerseys. This isn't specific to the Cavs-Warriors game; not much more really needs to be said about a series we've seen in three consecutive Finals. For the whole of NBA Christmas, however, something resembling these concept "ugly sweater" jerseys would be fantastic.
Washington Wizards @ Boston Celtics
9 – A complete absence of funeral talk. The Celtics and Wizards haven't met since last season's playoffs; they've probably put the whole dueling "Funeral Games" thing behind them. At any rate, let's hope they have. These teams have become good, fun rivals, but wearing all black to each other's arenas in order to "bury" each other was the lamest non-Dwight Howard-related thing that's happened in the NBA in years.
10 – Big Game Kyrie. Kyrie Irving thrives in big games. It's not just tough matchups or playoff games, but rather any games for which the lights seem particularly bright: All-Star games, Team USA fixtures, opening nights, major personal matchups, and Christmas games. Here's hoping for more, because it's special every time.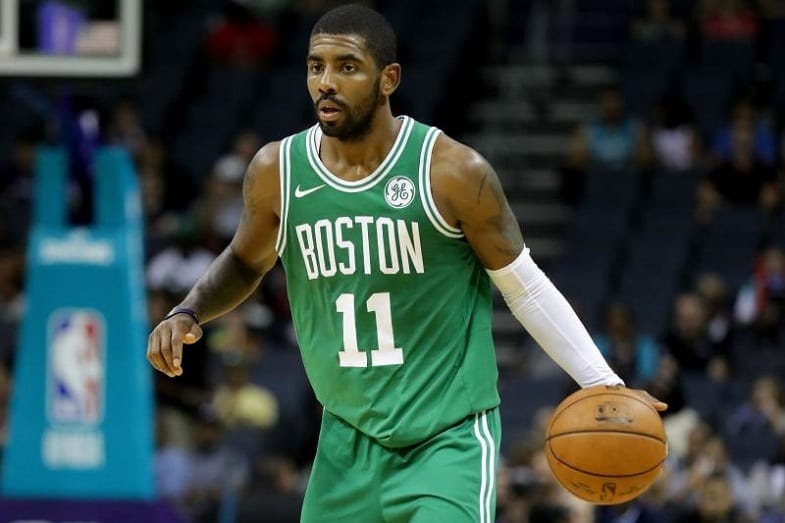 11 – A reason to buy the Wizards. Basically this just means the Wizards have to play well on a big stage. This team is at fairly serious risk of becoming the new Raptors, with a great backcourt, a decent supporting cast, and no chance whatsoever of beating real contenders in the postseason. The Eastern Conference will be more compelling if they start looking more threatening.
12 – A halftime tag-team wrestling match between Markieff Morris/Marcin Gortat and Marcus Morris/Aaron Baynes. My money's on the Boston duo. My money would also be on Baynes against the other three combined.
Houston Rockets @ Oklahoma City Thunder
13 – All of the statistics. Let's be honest: seeing James Harden and Russell Westbrook go off against each other is awesome. There's not another matchup in the NBA in which it's legitimately plausible that two opponents could both score 50 points and notch triple doubles. Let's hope for some wild stats in this one.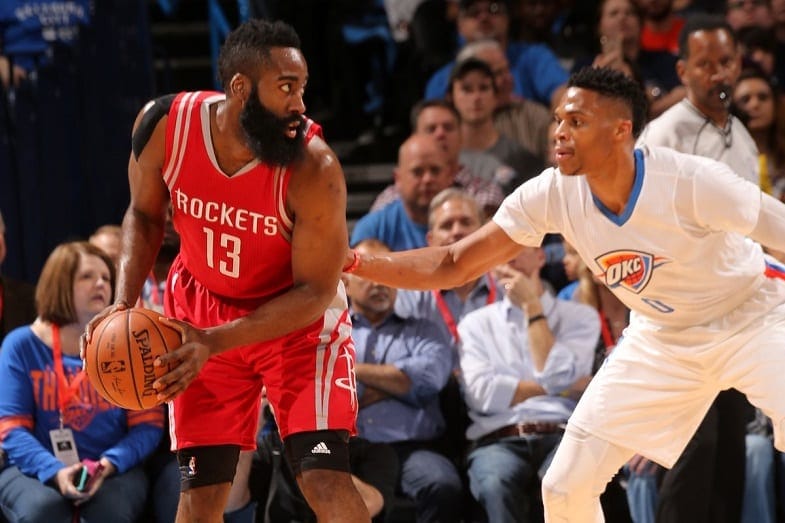 14 – Overtime. Overtime is always fun, but it tends to seem particularly intense in Oklahoma City (probably because the Thunder always seem to be clawing to stay in games with better teams). If there is to be a little extra basketball on Christmas, let it be in this game. You'll be done with pie by then anyway, plump, content, and sipping cider – flawless overtime conditions.
15 – A strong showing from Clint Capela. This is somewhat like the Tim Hardaway Jr. point above, except Capela is better, and he's more unknown to casual fans than underrated. The Swiss big man is averaging a rock solid double-double (14 PTS, 11.3 REB), blocks nearly two shots a game, and has a higher PER (27.41) than Chris Paul. He's been terrific for the Rockets, and he's only 23 years old. He deserves the attention that would follow a massive game on Christmas.
16 – A beer for Steven Adams. Apparently, part of "Kiwi Christmas" is leaving a beer out for Santa, who's ready for a nightcap by the time he's south of the equator. Everything about this, and Steven Adams, is perfect. There's never been a better time for a player to try to get away with cracking open a beer on the bench. Christmas is a time for dreams, miracles, and tradition.
Minnesota Timberwolves @ Los Angeles Lakers
17 – The good Lakers. The Lakers are probably headed for 30-35 wins. They're not very good. However, this is also a team that can be significantly more impressive than its own record, at least for a quarter or two at a time. The good Lakers are actually a lot of fun to watch, so let's hope this is the version that shows up on Christmas.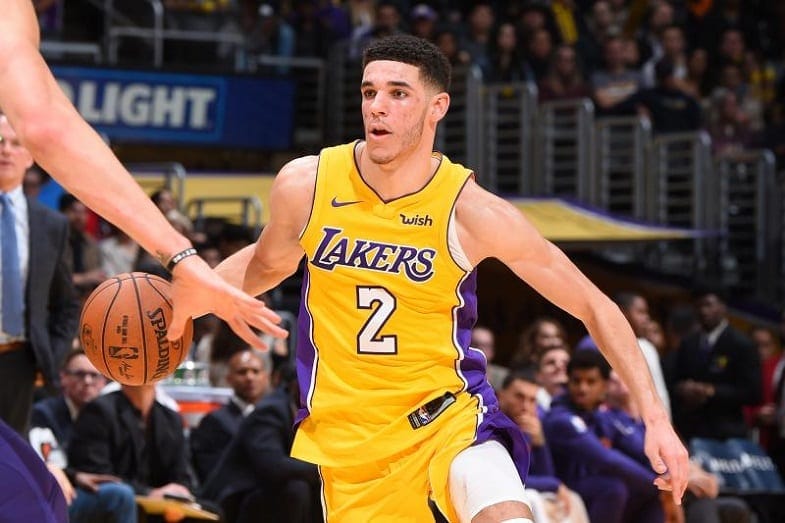 18 – LaVar Claus. Dick Vitale inadvertently ascribed Santa deeds to LaVar Ball when he recently skewered the Ball family by angrily suggesting that Santa came early when LaVar pulled his son out of the UCLA program. Yikes. Now, none of us need more LaVar Ball in our lives, but ever since this happened I haven't been able to shake the idea of LaVar having fun with it and showing up to the Christmas game in a full Santa suit, and not saying a word the entire time. It would be kind of aggressive but also semi-self-deprecating. It would also… you know what? Never mind. We don't need more LaVar. My bad.
19 – A little Minnesota defense. The Timberwolves' defense is just getting disheartening. Minnesota is 26th in team defensive rating per NBA.com. They're ranked 20th or worse in blocks, defensive rebounds, opponents' fast break points, and opponents' points in the paint per game. There's no excuse for those marks with Tom Thibodeau in charge and very capable athletes on the floor. Christmas deserves better.
20 – Good Lonzo. This falls in line with the "Good Lakers" wish above, but I want to single Lonzo Ball out. The other day, ESPN ran a front-page story proclaiming that Ball won't ever be a star. It actually had some nice things to say about Ball, mostly suggesting that his tendency to facilitate rather than score will hold him back from full-fledged stardom. Still, it seemed ridiculous. Lonzo Ball is averaging 9.6 PTS, 7.0 AST, and 7.0 REB. If Generic Rookie A had those numbers, instead of this much buzzed about rookie, we'd be drooling over the potential. Know what Jason Kidd averaged when he shared Rookie of the Year honors with Grant Hill in 1995? 11.7 PTS, 7.7 AST, and 5.4 REB. Rookie Steve Nash? 3.3 PTS, 2.1 AST, 1.0 REB (and he didn't average double-digit points until his fifth season). Let's give this kid some time and appreciate the things he does well. Ball family fatigue is completely understandable, but it's not Lonzo's fault. My last wish is that he justifies the hype on Christmas.
Make it happen Sports Santa!