---
Tennis fans just saw one of the stranger Grand Slams in recent memory. The Australian Open always carries more uncertainty than the other Slams, simply by virtue of being so early in the season. We don't know yet which players are in form, or which injured players have recovered during the winter break. This January, however, the uncertainty was amplified. Between Serena Williams and several prominent men's players, there were a lot of athletes who were either injured, recovering, or otherwise unable to compete – and it made both draws feel wide open.
On the women's side, this is always the case when Serena Williams doesn't play. Williams, who gave birth to her first child during the U.S. Open last fall, had initially planned to return in time to defend her Aussie Open title. She ultimately decided she wasn't quite ready though, and as soon as her name was taken out of the mix it felt as if about 20 women had a legitimate chance to win.
Several of those women were Williams's fellow Americans, most of whom acquitted themselves well late in 2017. Yet almost as soon as the balls started bouncing in Melbourne, things went south. Fourteen American women lost in the opening round, about half of them fairly prominent and three of them – Venus Williams (seeded 5th), Coco Vandeweghe (10) and Sloane Stephens (13) – having made the U.S. Open semis just months ago.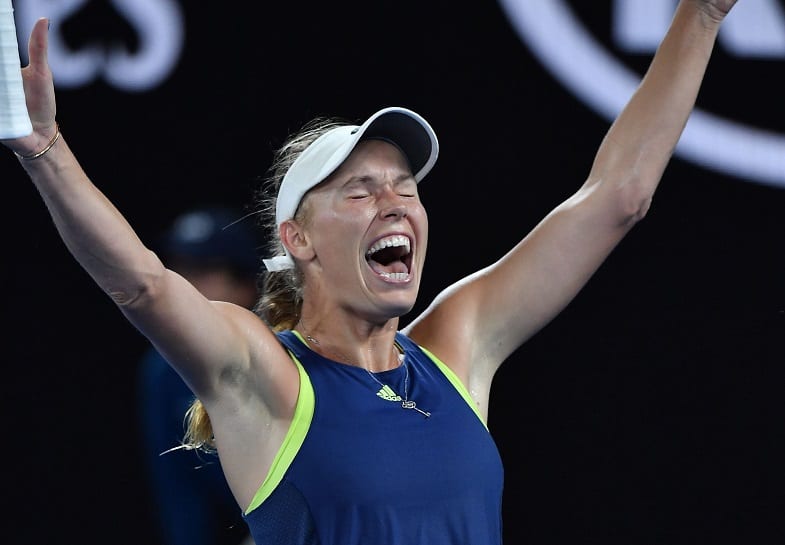 That seemed to open things up even more. While none of those women were by any means prohibitive favorites, the logical thinking was that at least one or two of them might be in the mix – particularly after how they performed at Flushing Meadows. But it just wasn't their tournament. Madison Keys (17), the fourth American U.S. Open semifinalist, made a nice run to the quarters before being demolished by an absolutely-in-the-zone Angelique Kerber (21).
If you just look at how the draw played out, you might think that none of this mattered – that the draw didn't really "open up" at all because three seeded players made it to the semifinals, and the final was contested between the top two. That said, "opening up" rarely means that a total wildcard makes it all the way to the finish line – at least in tennis. More accurately, it means that people who have never won Slams before finally find the opportunity to do so. That's just what happened last weekend in Melbourne.
Simona Halep (1) and Caroline Wozniacki (2) were two of the best players of either gender not to have won Slams. Halep has 16 singles titles, a 0.689 career winning percentage, and has reached the #2 ranking or higher in each of the last five years – at just 26 years old. Wozniacki, only 27, has 28 singles titles, a 0.715 career winning percentage, and has reached or held the #1 ranking in four separate seasons. These are simply two of the steadiest players on tour not named Williams, but two stars who have, like so many great tennis players, fallen short of the ultimate triumph.
That was the fun thing about the women's final. We knew that either way a very deserving player would earn her first Grand Slam title. What we didn't know was that they'd play arguably the best women's final we've seen in years.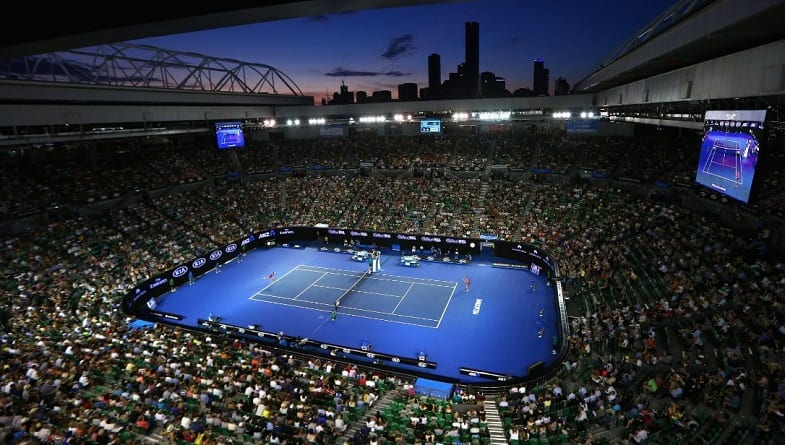 Wozniacki got the start she needed, winning a toss-up first set in a fairly dominant tiebreak. Halep came back with a 6-3 win in the second. In the third we saw that strange phenomenon that only really happens in tennis, in which the level of play seems to drop off and intensify simultaneously. A little bit of fatigue settled in and made the serving (Halep's in particular) less consistent, but the sheer desperation to gut out the win made both players pull off some incredible points. The best of those points – and probably the best of the entire tournament – was a sensational 16-shot rally won by Wozniacki with Halep serving at 4-5. It set her up for match point, which she immediately capitalized on (in another fairly long and impressive rally).
It was a match in which you had to feel awful for the runner-up. But the way Halep played, it looks like she'll earn herself some more opportunities to get over the hump. And in the meantime one of the most talented and seemingly one of the most well liked women on tour finally earned Grand Slam #1. If you want an idea of how happy the tennis world was to see Wozniacki lift the trophy, just take a look at the response from Serena Williams:
I got too nervous to watch but woke up to @CaroWozniacki new number one and aussie open champ. So awesome. So happy. Are those tears? Yup they are. ? from a year ago to today I'm so proud my friend so proud. Literally can't even sleep now

— Serena Williams (@serenawilliams) January 27, 2018

If anything, the men's side of the Australian Open was even harder to project. Andy Murray was the best player missing from action, having unfortunately succumbed to a hip surgery that seems likely to further derail his career. Actual absences aside, however (Milos Raonic and Kei Nishikori missed the tournament as well), the men's draw was filled with elite players returning to action after various injury recoveries.
Rafael Nadal entered the tournament seeded 1st overall despite some concerns over a minor knee injury. Novak Djokovic (14) was making his return after a six-month absence, attempting to follow the same model that worked so well for Roger Federer between 2016 and 2017. Stan Wawrinka was recovering from knee surgery but still seeded 9th. For perspective, those three players have won nine of the last 13 Grand Slams dating back to 2015.
So in the men's draw too, there was potential that things would open up a little bit. And in this case, for the most part, they did. The American men struggled almost as much as the women, but an unseeded journeyman whose actual name is Tennys Sandgren made a stunning run all the way to the quarterfinals. Kyle Edmund, the UK's second best player behind Murray, stormed all the way into the semifinals. And an up-and-coming 21-year-old named Hyeon Chung knocked off Alexander Zverev (4) and Djokovic (and eventually Tennys Sandgren) en route to the semis. It was almost an occasion for a completely unexpected winner to seize Grand Slam hardware.
Unfortunately for Edmund and Chung, two seasoned pros and previous Grand Slam winners also made it to the semis. Edmund was defeated in straight sets by Marin Cilic (6), and Chung ran headlong into the GOAT, which is never good. Roger Federer (2) was soundly schooling Chung when the 21-year-old unfortunately had to retire from the match with blisters on his foot. Somewhat ironically, this set up a rematch of the 2017 Wimbledon final, in which Cilic dealt with blisters in the midst of a beatdown at the hands of Federer.
This meant that even as the women's final celebrated a first Slam win, the men's became about Federer's quest for a 20th. Somehow, each one felt as exciting as the other.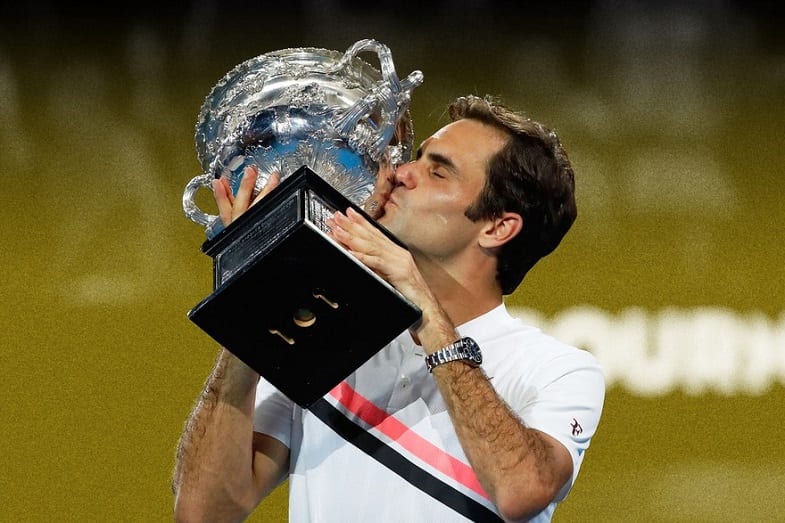 When the final started it looked like we might see a repeat of what happened at Wimbledon. Federer came out on fire, painting the lines and gliding around the court without breaking a sweat while Cilic struggled to find his game. Usually a good sport (and very friendly with Federer), Cilic would later blame his slow start on the fact that the arena's roof was closed (a first in a men's Slam final). To his credit, however, Cilic battled back and won the second set in a tiebreak – the first set anyone had taken off Federer in the tournament. Federer came back to win the third and seemed on track to finish it in the fourth before just possibly getting a little complacent. Cilic seized momentum and started to hit the big, thundering shots he can nail when he's at his best, and for a few minutes it looked like Federer's 20th Slam celebration might be put on hold.
Once Cilic forced a fifth set, however, things turned quickly. A few tight points early in the set went Federer's way, and the Swiss was ultimately able to run away with it. After three hours and three minutes against an able opponent, Federer claimed the Aussie Open title and became the first men's player to reach the 20 Grand Slam club. He lifted the cup with tears in his eyes, seemingly at the sheer magnitude of what he's accomplished. I'd say more, but there really are no more superlatives.
That moment – a 20th Grand Slam for the greatest player in history – felt like the only fitting end to a weird but wonderful tournament. And it says a lot about the state of the sport that there seemed to be little gap in entertainment or emotion between a first Grand Slam and a 20th.