---
The NBA shuffled itself up quite a bit over the offseason. Between trades, free agency, players returning from injury, and potential impact rookies, there's hardly a team that won't look significantly different come the start of the regular season in mid-October.
Because of all this change and turnover, the best teams in 2018-19 might largely be the ones that jell most quickly and effectively. That means a lot will fall on the shoulders of key players who, whether or not they're the best on their teams, might be the most instrumental in bringing rosters together, easing adjustments, or leading.
With that in mind, here's my look at the Eastern Conference's most pivotal players for the coming season.
1. Kyrie Irving (Boston Celtics)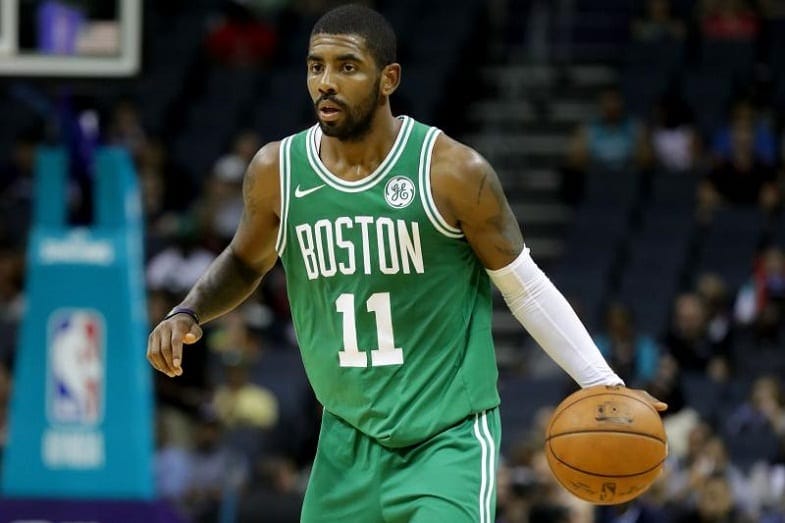 Coming back from a knee surgery that saw him miss a good chunk of last season as well as the playoffs, Kyrie Irving may in fact still be Boston's best player. He's also – by far – its most pivotal. He'll be the starting point guard on a team that looks somehow drastically better than the one he last played with in March, despite being largely unchanged. It will be his responsibility to drive an offense in which Jayson Tatum is a rising star, Gordon Hayward is an All-Star returning from injury, and he, Irving, is still the most gifted player. Many have theorized that Boston's only problem may in fact be that it has too much talent. And aside from Brad Stevens, Irving will be most responsible for balancing all of it (including his own).
2. Kevin Knox (New York Kicks)
Kevin Knox is one of just two rookies on this list. He's crucial for the Knicks this season because he might have more natural offensive skill than anyone else on the roster already (not including the injured Kristaps Porzingis), and he'll have a chance to put up some gaudy stats early. However, Knox is even more pivotal for the Knicks' future. Porzingis is already in the fourth year of his contract, after which he's likely to become a restricted free agent. It's at least conceivable that if Knox doesn't hit, and Frank Ntilikina doesn't show improvement on offense, the Knicks could hastily reboot their perpetual rebuild and attempt to cash in on Porzingis in a trade. That may be jumping a few steps ahead, but would you want to re-up Porzingis after four years if you were no better than when you drafted him?
3. Ben Simmons (Philadelphia 76ers)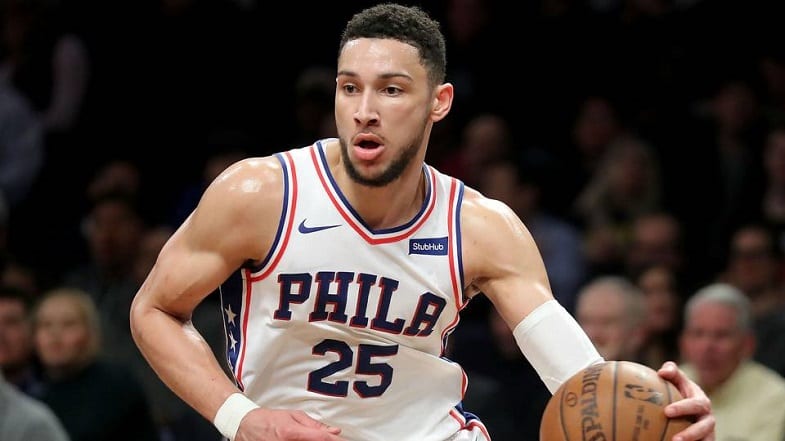 Joel Embiid and Ben Simmons hold the keys to the 76ers' future, and we've almost certainly seen Embiid closer to his ceiling. When he's healthy and on, there's very little he can't do. Simmons, on the other hand, has a few more levels to go to, not just on the court but also as a leader – something Emiid, for all his personality, doesn't necessarily seem to be. This team will either remain very good or ascend to great and contend with Toronto and Boston, and it feels like the difference will come down to how much Simmons grows. If he asserts himself as a leader and diversifies his scoring game, Philadelphia becomes a contender.
4. OG Anunoby (Toronto Raptors)
New addition Kawhi Leonard is the most interesting and best Raptors player, and if he's healthy we know exactly what he'll be: the best perimeter defender in the league, and possibly the best two-way player overall. What we don't know is how well OG Anunoby can match him. In his rookie season, despite coming off of an ACL tear, Anunoby showed flashes of being an excellent two-way player and lockdown perimeter player himself. If he's simply a role player this year, the Raptors are still good enough to be a top-three seed. If he makes a leap however, he and Leonard could become the toughest defensive duo in the league, and the Raptors' ceiling could rise.
5. Kris Dunn (Chicago Bulls)
For me personally the Bulls are about the toughest team in the league to project. They have a bizarre combination of young talent, offensive firepower, injury concern, and defensive futility. The trio of Zach Lavine, Jabari Parker, and Lauri Markkanen looks particularly weird, with the potential to help the Bulls score 120 and surrender 130 in a given night. The Bulls do have some rim protectors in veteran Robin Lopez and rookie Wendell Carter Jr., but Kris Dunn is about the only perimeter defender in town – and he's a good one. Dunn actually made some major strides on offense as well last season, but the tone he sets defensively may be the only thing that can save these Bulls from the high lottery.
6. Eric Bledsoe (Milwaukee Bucks)
On paper, Eric Bledsoe looked like a valuable addition for the Bucks last year. He was supposed to provide some experience and playmaking ability, and the idea of lineups featuring Bledsoe, Malcolm Brogdon, and Giannis Antetokounmpo's six-mile arms sounded appealing defensively. Bledsoe wound up with fairly strong numbers, but it took him a while to get going, and he fell flat as a leader and on the court in the playoffs. This year, Bledsoe has a chance for a fresh start. He'll begin the season in Milwaukee (after forcing himself out of Phoenix early last season), he's healthy, and he has a new head coach in former Spurs assistant and Hawks coach Mike Budenholzer, who should be a revelation in Milwaukee. Bledsoe will have to buy in for things to work out, but if he does – under Budenholzer – he can make a powerful offense out of the best lineup he'll ever have started a season with.
7. Kevin Love (Cleveland Cavaliers)
Tristan Thompson made some headlines this past week by saying the Cavaliers should still be the favorite in the East. He's out of his mind. However, the people counting the Cavs out of the playoff picture altogether might be also. A motivated Thompson can be one of the leading rebounders in the conference, role players like Rodney Hood and George Hill have a lot to prove, and rookie point guard Collin Sexton will make an immediate impact. Most importantly though, the Cavaliers have a Kevin Love who is the best player on his team for the first time since 2013-14, when he averaged 26.1 points and 12.5 rebounds and shot a career-best 50.2% from the field. That's not to say there's been anything wrong with Love's play since. He's perhaps been less consistent, but he also made All-Star teams in each of the last two seasons. If he regains his Timberwolves form, however, he can absolutely lead this team back to the postseason.
8. Trae Young (Atlanta Hawks)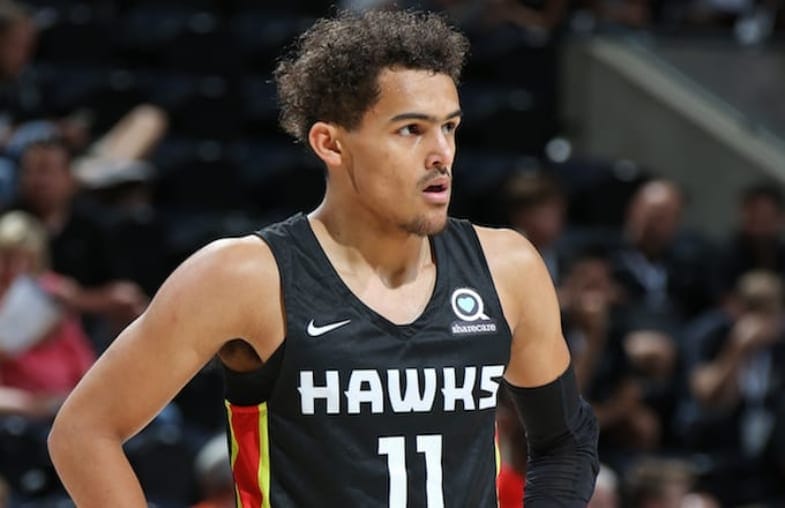 Young is one of the more obvious picks here. The Hawks are more or less openly trying to build a version of the Warriors, and Young is meant to be their Stephen Curry. NBA stardom is far from a guarantee for Young, but he may already be the best passer and scorer on a roster that looks only marginally more NBA-ready than some of Philadelphia's glorified D-League "Process" squads. Granted, John Collins looks like a career starter, Taurean Prince is decent in his role, and Kent Bazemore is a respectable 3-and-D guy, but Atlanta still looks a long way away from playoff contention, which is almost tough to accomplish in the modern East. Young is the only player with the power to change this anytime soon, and if he bursts out of the gate or looks like a star by midseason, it'll make this year worthwhile and the future much brighter.
9. Dwyane Wade (Miami Heat)
It's hard to guess where Miami's headed in 2018-19. Last year's team was streaky, winning 10 of 12 over one stretch, losing eight of nine about a month later, and ultimately settling in to the 6 seed. The Heat aren't discernibly better or worse as things stand, though there's one major difference this season: it's Dwyane Wade's last. The defining player of the Heat's 30-year history will be on a farewell tour, and how he and the team handle that may determine their potential. Wade can still produce, but he'll need to balance his contributions and limitations under the biggest spotlight he'll have seen since the Heatles broke up. If he pulls it off and helps Miami's young core along, the Heat could be solid.
10. Dwight Howard (Washington Wizards)
I thought about going with Dwight Howard here, because adding him to a team with such awful chemistry feels like dropping a lit match into a gas tank – even if he's an across-the-board basketball upgrade over Marcin Gortat. But this team is and has long been about John Wall. The Wizards have steadily underachieved for years now, and in the process Beal and Wall have failed to become much more than a good backcourt duo for fantasy basketball. On talent alone the Wizards should be a 3- or 4-seed in this Eastern Conference. It's up to John Wall, now a veteran point guard in his ninth year, to whip everyone into shape and make it happen.