---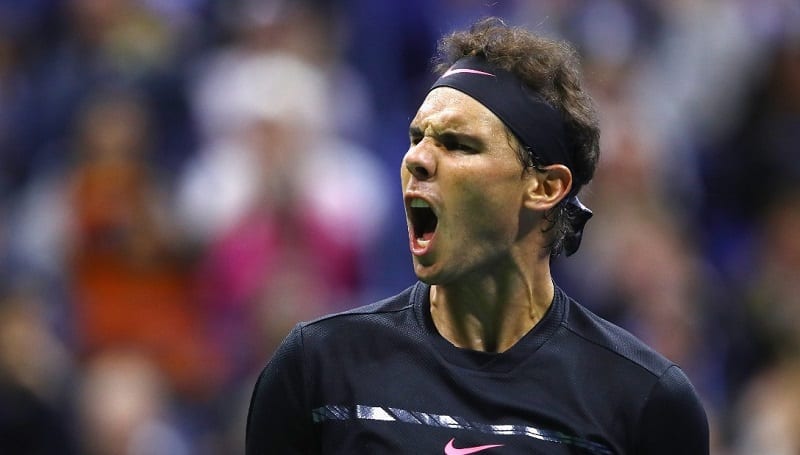 The U.S. Open wrapped up on Sunday, bringing the Grand Slam calendar for 2017 to a close. This year, there's actually still a lot to look forward to. In addition to the World Tour Championships at the end of the year, we'll see the first annual Laver Cup, which will pit "Team Europe" (coached by Bjorn Borg) against "Team World" (John McEnroe) in a series of all-new competitions. That'll take place from September 22-24 in Prague, and should become a major new event on the men's schedule.
In the meantime, however, it's time to look back on a weird and exciting two weeks in New York. Here are ten takeaways from the U.S. Open (in no particular order, because ranking takeaways is ridiculous).
Young U.S. Women Are Ready To Roll
Okay, I'm not ranking takeaways, but I may as well at least start with the most obvious one: Holy cow, young American women! We just saw four Americans make the women's semis at the U.S. Open, and while one was Venus Williams, the elder stateswoman of the WTA, the other three are all 25 or younger. Best of all, CoCo Vandeweghe, Madison Keys, and Sloane Stephens aren't flukes. Keys and Stephens in particular have fairly complete games that should keep them in the mix for a long time. Saturday's final, in which Stephens thrashed Keys, could be the first of many major matches to come.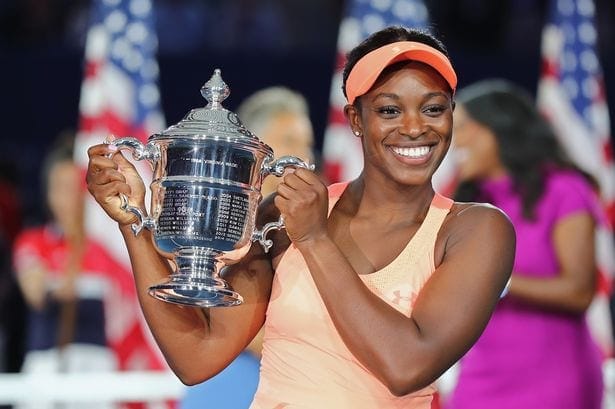 It Was A Tournament Of Comebacks
One of the coolest things at this year's U.S. Open was seeing how players who have dealt with severe injuries and adversity came back on the biggest of stages. On the men's side, it was Juan Martin del Potro dominating this narrative. First, he pulled off one of the most impressive single match comebacks anyone has ever seen in a five-set round of 16 match against Dominic Thiem. Then he defeated Roger Federer to return to a Grand Slam semifinal for the first time since a series of wrist injuries nearly forced him out of the sport. In the women's draw, Stephens was the main highlight, having dropped well outside the top-100 in the rankings due to a foot injury before surging to this title. But Petra Kvitova also deserves a mention here. A matter of months after she was stabbed during a home invasion (her dominant hand being injured in the process), Kvitova made it all the way to the quarters.
Del Potro Brought The Magic
Getting back to Juan Martin del Potro for a second, he probably was the best part of this tournament. Once upon a time, this was the guy who looked capable of stretching tennis's "Big Four" into a Fab Five, and it was a treat to see him back out there hitting his cannon of a forehand once more. He also, remarkably, came as close to inspiring 50/50 crowd support as anyone ever has against Federer, at least at the U.S. Open. Simply put, Del Potro's presence made it a better tournament, even if he knocked off the people's (and my) favorite as he went about his resurgence. Here's hoping the "gentle giant" (as he's commonly and appropriately dubbed) can stay healthy.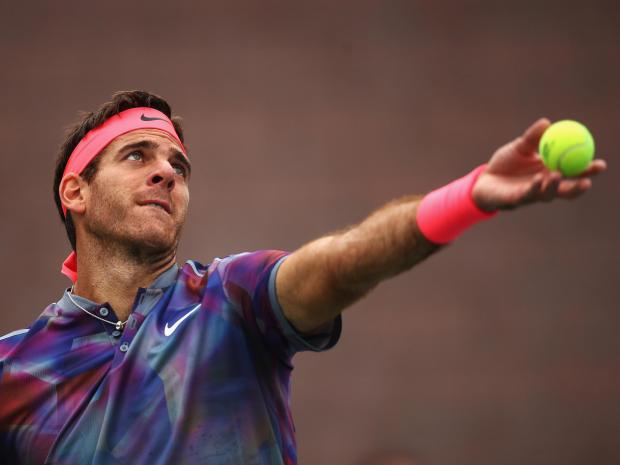 Sharapova Is Good Drama
The nonsense surrounding Maria Sharapova at this tournament was annoying. This was her first Slam back from a suspension for violating the WTA's drug policy, and people had things to say about it. Caroline Wozniacki, for one, complained about Sharapova getting to play in Ashe as an unseeded wild card – a fair point, but one that sounded petty when made only after Wozniacki had been upset on an outer court. Many people also debated whether Sharapova should have gotten the wildcard to begin with. These talking points got old quickly, but Sharapova's actual matches were compelling, and she's clearly ready to be a top-10 player once more. It may be controversial, but having her around seems to be good for tennis, even if for a lot of people it's just because the WTA now has a villain.
Time To Doubt The Men's Middle Generation
The Big Four is maintaining its vice grip in men's tennis; impossibly, we just saw Roger Federer and Rafael Nadal capture all four of the Slams, in 20freaking17. Meanwhile, the younger generation is coming on strong. So what about the guys in the middle? I think the 2017 U.S. Open marks the time at which we should start to seriously question the Slam potential of this entire group. Grigor Dimitrov, Kei Nishikori, Milos Raonic and Nick Kyrgios were supposed to start winning a bunch of Slams once the Big Four aged out. Now it's fair to ask if any of them can win even one. Nishikori and Raonic skipped the tournament, and Dimitrov and Kyrgios had early exits as disappointing as they were unsurprising, in a tournament that was offering them their biggest opportunity yet. If I had to bet, I'd say Raonic may still win a Slam or two. But this whole middle group now looks to be in a pretty fragile state, sandwiched between better generations.
Frances Tiafoe Won The Crowd 
Back in 2000, Proximo told us that he wasn't the best because he killed quickly; he was the best because the crowd loved him. Win the crowd, he told Maximus, who went out and did just that. I couldn't help thinking of this famous line from Gladiator when Frances Tiafoe was going toe-to-toe with Federer in a fifth set in the first round. Tiafoe would have had every right to sulk his way to an easy defeat in this match. A young American trying to make an impact in his home major, he was pitted against the greatest player of all time and given virtually no chance to advance. He responded with an impressive and animated performance that went deep into the night on Arthur Ashe Court – a performance that American tennis fans will remember and love him for. Tiafoe didn't win the match, but he won the crowd for the future, and that made this a very big tournament for him.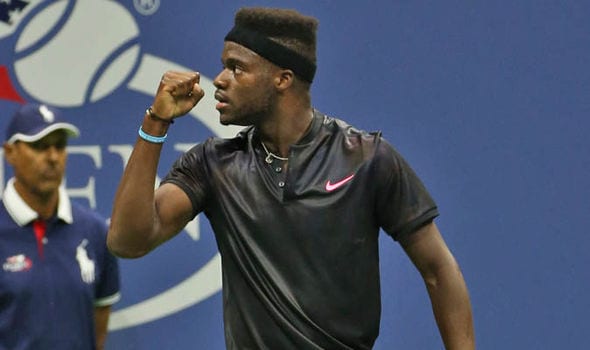 Alexander Zverev Has Work To Do
Zverev is the best of the young, budding stars. I picked him all the way to the final, and while I now have to own that that was way off, it was also pretty conventional. With Zverev surging heading into the Open, and the bottom half of the draw severely weakened by player absences, the young German was a pretty popular pick. But his second round loss to Borna Coric – another youngster who was once tabbed as a future top-10 player – reminded us how inexperienced he still is. Zverev still looks like the surest bet to be the next player who could rack up several Slams, but he's got company in his own generation, and he's going to have to work to lead the way. Side note: maybe letting Pharrell Williams dress him like he was going back in time to win the 1975 French Open was bad luck.
Federer Still Fuels Nadal
Can we doubt anymore that a good portion of Rafael Nadal's success has come because of his relentless drive to catch Roger Federer? I don't mean this as any kind of slight to Nadal's motivation – I actually mean it as a compliment, and I think it's a statement he'd agree with. Nadal was a virtual non-factor for a couple of years on tour, and while we heard he was healthy heading into 2017, we've heard that many times before when it wasn't entirely true. He wasn't really on the radar this year. But look how it all played out. Federer won the Australian Open, Nadal won the French. Federer came back and won Wimbledon, so Nadal won the U.S. Open. I don't think he's out there gritting his teeth (and fidgeting with his face and hair and shorts like he's sending signals from the dugout) thinking consciously that he has to chase Federer. But there's no doubt in my mind that seeing his greatest rival win propels him to new heights.
The WTA Has A New Sister Act
We always hear that people from the same country are the best of friends in tennis, and it's probably overblown most of the time. But supposed best buds Madison Keys and Sloane Stephens were so warm to one another after their final that they delivered a moment almost more sisterly than anything we've ever seen from the Williams sisters. Stephens was about as gracious a winner as you could imagine, and Keys was equally impressive as an undoubtedly devastated runner-up. Their long embrace following the end of the match, and their downright giddy interactions afterwards were just cool to see, and I'll leave it at that.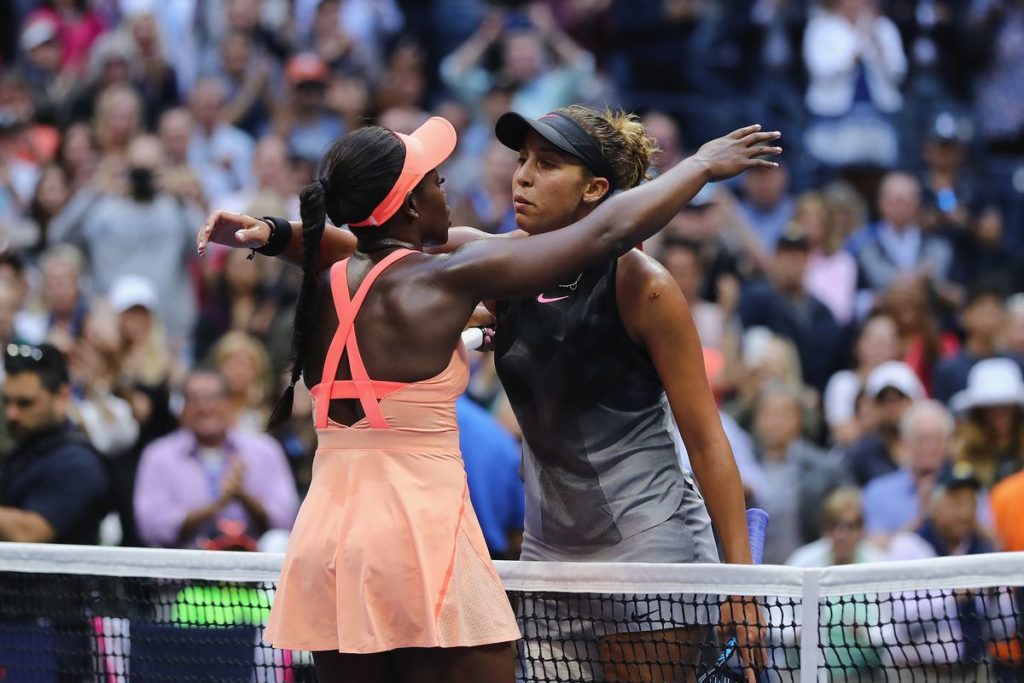 2018 Is A Total Mystery
So, the U.S. Open gave us no clue whatsoever as to how tennis is going to look in 2018. There are some exciting up-and-comers on both sides, but players like Serena Williams, Novak Djokovic and Andy Murray are standing by to knock them back down a peg. Sam Querrey is now undeniably the best American male, but Tiafoe could be gunning for his spot as soon as next year in all but the official rankings. We're no closer to determining a Best Non-Serena Woman, but Kvitova and the young Americans aren't going to let Garbine Muguruza run away with it. We found out Kevin Anderson is pretty likeable, but who's to say if he ever gets back to a major final? And we continue to have serious doubts about whether Nadal and Federer will ever slow down. What the heck is all of this going to look like come next season?
There's absolutely no telling, and that's why the Open probably set us up for the most interesting year of tennis in a decade or more.