---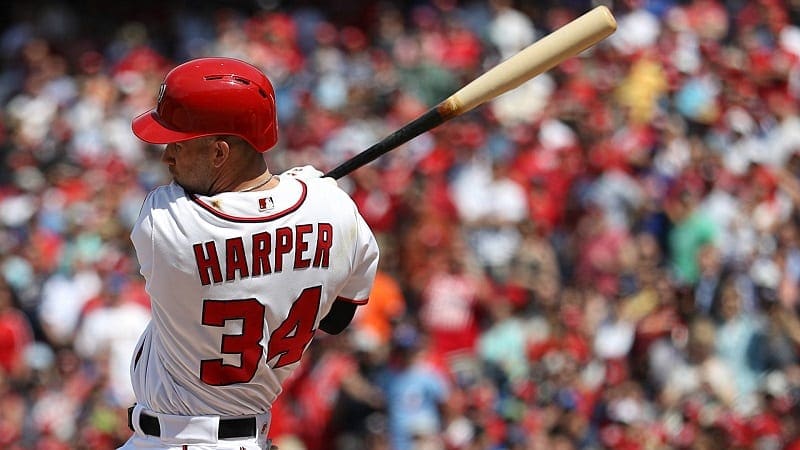 Bryce Harper will be an unrestricted free agent heading into the 2019 season, and it's widely expected that he'll become the highest paid baseball player of all time. He'll make just under $22 million in 2018 and hit the open market as one of the most statistically accomplished 26-year-olds in MLB history. A lot of people believe it's a virtual certainty that he'll end up in pinstripes. But that thinking is starting to look outdated.
Once upon a time, the idea of Harper-to-the-Yankees looked too logical to deny. The Yankees, a few years ago, were beginning to signal an end to (or at least a lull in) their big-spending ways. Still, some believed it was all just a setup for another big spending spree like the one that preceded their 2009 World Series campaign. Gigantic contracts belonging to the likes of Alex Rodriguez, Mark Teixeira and CC Sabathia were set to ease off the books, and the organization looked as if it was going to have financial flexibility that would have made George Steinbrenner blush (just kidding – not possible).
Meanwhile, Harper and others around the game have steadily perpetuated the rumor that he's bound for the Bronx, and some of that freed up money. Long-time analyst Peter Gammons has predicted that the Yankees will sign him; Orioles star Manny Machado has mused about the theory that he and Harper will join New York; and at a young age, Harper himself discussed his desire to "play in the pinstripes" and be considered the greatest baseball player who ever lived. It hasn't exactly been subtle. And while Harper has more recently downplayed the rumor, it sounds more like he's a maturing player respecting his current team than a 24-year-old baseball prodigy who's suddenly disillusioned with the New York Yankees.
The issue with the theory is one that no one could have seen coming a few years ago. It's not that the Yankees got impatient and shelled out money for other players. It's not that Harper has confirmed he wants to play elsewhere, or stay with the Washington Nationals. Rather, it's that the Yankees just don't look like they need him anymore.
That statement would have been flatly ridiculous just a year ago. In 2016, the Yankees' core outfield was comprised of Jacoby Ellsbury, Brett Gardner and Aaron Hicks, with a rotation of fringe major leaguers and DH types occasionally spelling them. Those three collectively averaged a .247/.321/.357 slash line, 43 RBI, and 8 HRs and had a cumulative WAR of 3.3. For his career, Harper averages .286/.387/.518, 70 RBI, 25 HRs and 4.3 WAR (counting this year's WAR to date). Harper also has tenacity that would play well in New York (though the beard would have to go) and an arm that makes Ellsbury's entire musculature seem like misplaced stadium cotton candy. In 2016, even as Harper was having a down year, he was far better than any Yankee outfielder.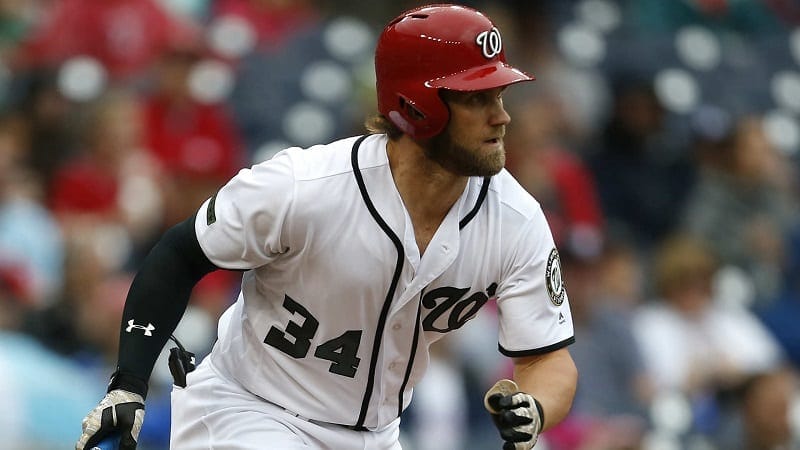 Now, I'm not so sure.
Gardner is still a fixture in the Yankee outfield, and most of his numbers are slightly up from last season. Despite appearing in numerous trade rumors for a few years now, he's still an immensely valuable player thanks to his speed on the base paths, his ability to make big plays in center or left field, and his leadership as the longest tenured Yankee. Gardner is signed through next summer, and if there's no noticeable decline he could well re-up to play left field for the remainder of his career – or at least a good portion of it.
That still leaves two spots to be decided, and that's if Gardner is retained for 2019 and beyond. But throughout 2017, the Yankees have shown they have options.
For one thing, Aaron Hicks has probably been the most improved player on the roster, and is still just 27 years old. From last season to this one, he's bumped his numbers up from .217/.281/.336 to (as of the time of posting this) .231/.314/.369. He's at 3.3 WAR after -0.3 last season, and he has 48 RBI in just 82 games played, after notching only 31 in 123 games in 2016. Hicks has also done outstanding work in center field for the Yankees, including possibly the catch of the year while robbing the Rays Wilson Ramos of a grand slam on Tuesday night (his first game back from the DL). He still needs to prove he can stay on the field consistently, but when healthy in 2017 he's been a borderline All Star-level asset.
Then there's the big fella, Aaron Judge. To paraphrase Mark Twain (incidentally a distant cousin of Yankee great Paul O'Neill), rumors of his demise were greatly exaggerated. After an MVP first half and a sensational Home Run Derby performance, Judge predictably slumped for a while, prompting all manner of smug, over-eager writers to suggest that the MLB had "caught up" to him and that his woeful second half might better exemplify the player he'd become. Well, Judge is suddenly back to being a nuclear bomb with a bat. He answered his critics with his best month yet in September, and with 50 home runs and counting, he now owns the rookie record for home runs in a season. He's a monstrous hitter and a pretty good right fielder who will surely have his ups and downs, but who is undoubtedly the key piece in the Yankees' outfield moving forward.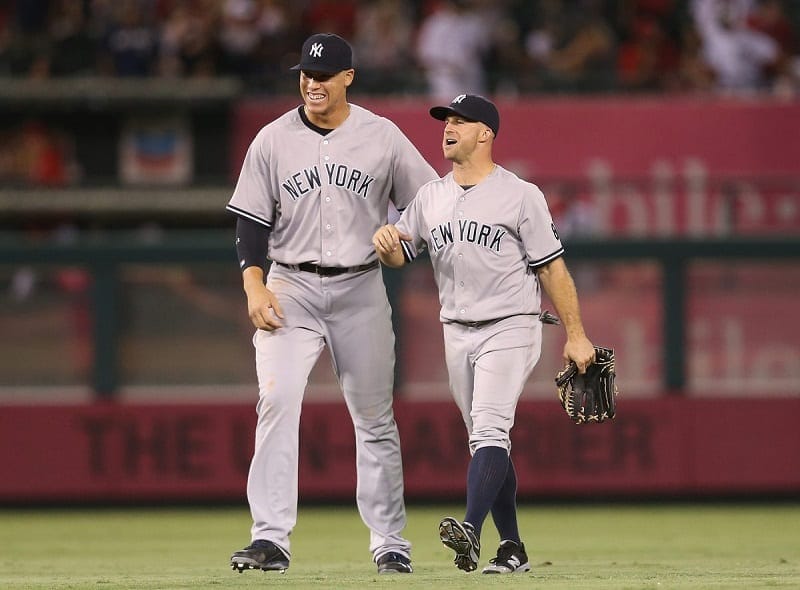 Those three – Gardner, Hicks and Judge – will probably start for the Yankees at the outset of the 2018 season. And alone, they might not stave off the front office's desire to add Harper. Gardner could show signs of decline, Hicks could struggle with injuries again, or the Yankees brass could just be too tempted to pair Harper with Judge for 10 years. But there are two more factors at play. One is that rumors about the market for Harper have suggested numbers as high as $600 million for 15 years, and the club that had to pay Alex Rodriguez for the bulk of human history probably isn't making that kind of guarantee, or anything close to it. The other is that the Yankees have outfield prospects who look major league-ready.
Clint Frazier won't finish the year with gaudy numbers, but he's a highly touted prospect who had a noteworthy burst of production when he was first called up this season. Tyler Austin habitually crushes Triple-A pitching and has had his moments with the big league club, though he's primarily a 1B/DH prospect. Billy McKinney, acquired from the Cubs in the Aroldis Chapman trade last summer, just flirted with a .900 OPS in 55 games in Triple-A. Last but not least, lower level prospect Estevan Florial has impressed the Yankees enough that they dealt one-time blue-chipper Jorge Mateo rather than Florial in this summer's Sonny Gray trade.
None of those guys is the next Bryce Harper. But 2017 showed that the Yankees have at least six players between Triple-A and the MLB who can be productive outfielders, and a seventh on the rise in Florial. Given how well the youth movement in the Bronx is already panning out, it's starting to seem extremely unlikely that they'd ignore this area of strength to pursue a player so expensive his contract is almost guaranteed to look ugly one day. Again, the temptation to pair Harper with Judge could be too great, and the Yankees would then be free to package some of these prospects for an elite arm. But right now, spending Bryce Harper money on an outfield that looks talented, deep, young and (for the time being) affordable seems like a stretch.