---
It's crazy to think that Eli Manning had been written off not too long ago by the old regime in New York. Now, as we head into the 2018 season, it has become clear that Manning still has some gas left in that tank. He certainly gives this team its best chance to win right now, and we have seen him come back from terrible situations, only to put together a string of impressive performances on his way to a Super Bowl.
Giants GM Dave Gettleman fell in love with the thought of drafting Penn State running back Saquon Barkley, and he followed through with his beliefs when he made the young back the second overall pick in the draft. Gettleman was unwilling to even entertain offers of trading back from that spot, because he felt so strongly about what Barkley is, and what he will become in the NFL. 


To his credit, Barkley truly is one of the best (perhaps the best) prospects in league history at the running back position. His last two years in college showed us what he is capable of, as he tallied roughly 1,900 yards from scrimmage in each season. He also had touchdown totals of 22 and 21, respectively. Barkley is going to be a force at the next level, and he will be a major benefit to Manning and the entire offense. His very first run at the pro level (albeit in the preseason) went for a 39 yard gain, after he sidestepped a would be tackler in the backfield, and brilliantly shifted his way through the defensive line on his way to open space on the right side of the field. That vision, decision-making, and ability to take the ball up the field in a flash, are what the Giants fell in love with, leading them to use their second overall pick on the rookie runner. 
With Barkley taking on a three down role from the start of his career, the Giants should feel good entering the 2018 season. Aside from his rushing abilities, he will also be a key contributor in the passing game, which should keep the chains moving for the offense. If the Giants can establish an efficient rushing attack, it will help to take some of the pressure of the receivers as well.
Odell Beckham Jr. has been the target of many double and even triple teams in recent years, and that is highly justified. Sterling Shepard has struggled to stay healthy, and while he has flashed some of his upside and absurd potential, he has yet to put together a consistent season in his first two years as a pro. Beckham's injury-plagued 2017 didn't help Shepard's cause, since the latter was placed in a difficult situation, attracting the coverage of every defense's top cornerback. With OBJ back to full health, and Barkley ready to roll, this team should have plenty of firepower offensively in the coming years.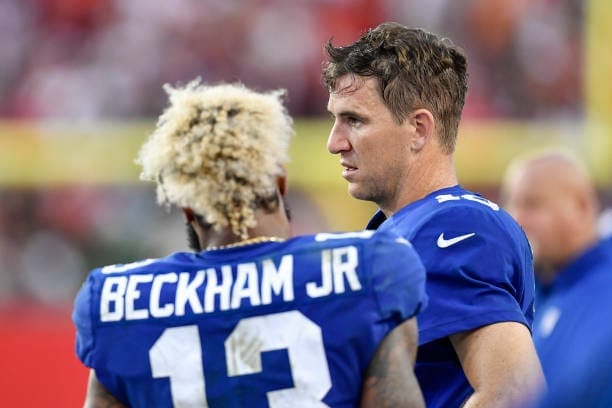 Let's also not forget about exciting second year tight end Evan Engram, who put up solid numbers in his first season, after being drafted 23rd overall in the 2017 draft. The young tight end totaled 64 catches for 722 yards and six touchdowns. It is generally known that rookie tight ends have a very difficult adjustment to the NFL game. Their rookie year stats are always negatively skewed by the daunting tasks of blocking top edge rushers, while also making contested catches in traffic. That's, of course, once they have mastered the playbook and got on the same page and timing as their quarterbacks. Engram's solid 2017 should be looked at as his baseline, and he should easily surpass those numbers in his second season.
It's true that the Giants struggled up front last year, but they went out and made some moves in order to assure that they take some steps forward in that department. New York drafted offensive guard Will Hernandez in the second round of the draft, and he will be called upon to make an immediate impact alongside his fellow rookie Barkley. Overall, this will almost assuredly be a better offense in the upcoming year.
The Giants biggest weakness last season was actually their defense, which ranked 31st in the NFL in yards allowed per game with 373.2. Their biggest issue was the pass defense, which was among the worst in the league. New York permitted a staggering 32 touchdown passes over the course of 2017, which was dead last in the NFL. Giving up an average of two touchdowns through the air per game is a clear recipe for failure, particularly when there isn't enough offensive firepower to compensate.


Whether the team has done enough to improve in that department remains to be seen. They did sign some interesting players in free agency, including linebackers Alec Ogletree and Kareem Martin, and defensive end Josh Mauro. Their secondary has been revamped as well. They brought in safeties Michael Thomas and Curtis Riley, as well as cornerbacks B.W. Webb and Teddy Williams.
The team also used the draft to pick up some potential difference makers. They used both of their third round picks to select Georgia outside linebacker Lorenzo Carter and defensive lineman B.J. Hill out of N.C. State. They then used their final pick in the fifth round when they drafted Florida Gators defensive lineman R.J. McIntosh.
This team still has a long way to go to become one of the top teams in the NFC. But stranger things have happened than a team with this much talent making a deep postseason run. Eli certainly needs to step up his game if they are going to have a chance to keep pace with the defending Super Bowl champions and divisions rivals Eagles.