---
Remember that feeling when you were a child, walking around a store full of sugary goodness? You look over at your accompanying adult, saying "mom, buy me this," or "dad, I want this one." If you were well behaved (and not overly spoiled), the likely response was "ok, but choose just one." It was quite the conundrum, as you so eloquently mull over your options, committed to making the right decision, hoping not to miss out on the obvious choice that will quench your desires. That is what each round of the draft is like for NFL organizations, knowing they have just one shot at getting it right (unless you've picked up another via trade, of course).
A kid in a candy store. That's the feeling among NFL GMs and personnel executives heading into the NFL draft.
It's almost that time. After months of analysis and scouting, the NFL Draft will kick off in just a few days. Each year there is hype surrounding players who later fail to deliver on the field and are eventually classified as busts. However, what can really make a draft go from good to excellent, is finding the gems that are being overlooked, creating an opportunity to gain value where others are not looking.
Let's dive in and take a look at some of the most underrated prospects in this year's NFL draft.
Lamar Jackson, QB, Louisville
This year's draft is top heavy with quarterbacks. There are currently four prospects projected to be selected ahead of Jackson: Sam Darnold, Josh Allen, Josh Rosen and Baker Mayfield. While analysts have mixed opinions regarding who is the best of the bunch, Jackson has been completely left out of the spotlight. The fact that there is not a consensus number one prospect coming into the draft further pinpoints the holes each one of them has in their game.
So what makes Lamar Jackson so underrated? The first point would be his projected cost. Jackson is currently expected to be drafted late in the first round. The possibility that all of the top quarterbacks are off the board early could lead to a team trading up to assure they get him. But should Jackson be relegated to the 5th spot by default? Or should some teams take a chance on a player who has tremendous arm strength as well as incredible potential as a lethal dual threat?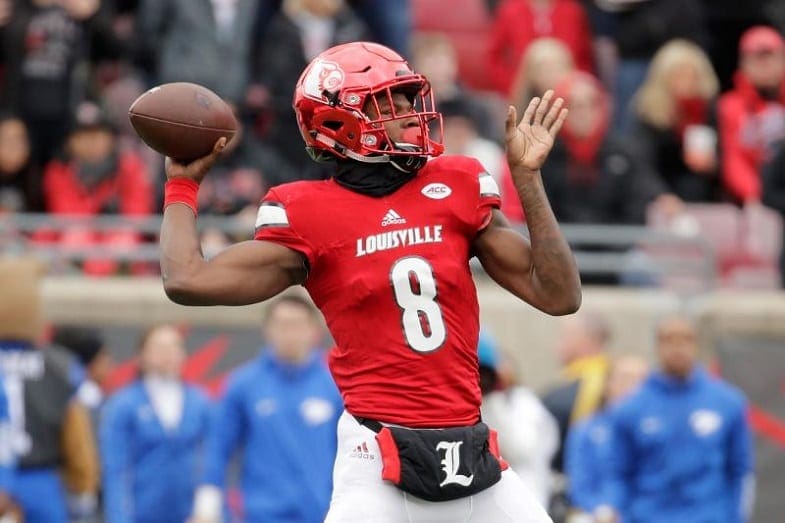 The knack against Jackson is that he is inconsistent, can be inaccurate, and is not a pure enough passer to succeed as a QB at the NFL level. Calls for him to switch to WR seem ludicrous to me, considering Wyoming's Josh Allen is similarly raw coming into the league.
When analyzing players, it is correct to assess their flaws, but it is perhaps equally important to monitor their development. Mobile quarterbacks typically have a tendency to look to run the football, which can be both an asset or a liability to a team's offensive success. Last season at Louisville, Jackson appeared to make strides as a passer. Whereas in the past he would look to run the ball any time he felt pressure or the pocket began to collapse, in 2017 he would often look to move around and reset his feet in order to deliver the ball downfield to his receivers. He has clearly shown his ability to make NFL-level throws.
Jackson improved as a passer across the statistical board. In 2017 he threw for 3,660 yards, completing 59.1 percent of his passes (8.5 YPA), to go with 27 TDs and ten INTs. While those numbers would be very solid for many quarterbacks, what really makes this prospect so special are his unbelievable rushing numbers. Last season, Jackson ran the ball 232 times, for a total of 1,601 yards and 18 TDs. Think that was a fluke? In 2016, he rushed for 1,571 yards, and a whopping 21 rushing TDs. He's had a long run of at least 72 yards in each of his three seasons at Louisville.
Jackson's rushing numbers are up there with the best running back prospects in the nation. Meanwhile, his passing stats are also up to par, if not better than several of the top QB prospects in this year's draft, including Allen, Rosen and Darnold. So why are teams not looking at the facts when assessing this QB draft class? Whoever ends up drafting Jackson will get a steal, and a potential game changing quarterback. Hopefully, he will work hard to mold his game around other prolific dual threats, including Russell Wilson, Cam Newton, and the more recently resurgent Deshaun Watson.
Rashaad Penny, RB, San Diego State
Rashaad Penny is currently expected to be drafted somewhere in the second or third rounds of the draft. If the projection holds true, he would be likely be drafted outside the top five players at his position. While Saquon Barkley is a freak of nature and is justifiably the top RB prospect in this draft (perhaps No. 1 overall prospect), the jury is out when it comes to other hyped players, namely LSU's Derrius Guice, Georgia's Sony Michel and Nick Chubb, and Auburn's Kerryon Johnson.
Penny dazzled the college football world with an amazing 2017 campaign. He broke San Diego State's school record for most rushing yards in a season, with 2,248 rushing yards and 23 touchdowns, adding 19 receptions for 135 yards and two more trips to the end zone. The lofty rushing yards total actually led all runners in the nation.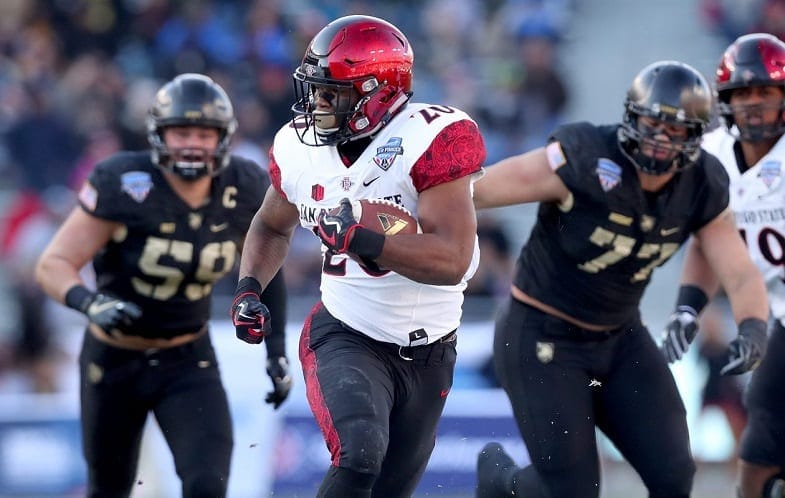 Penny is a prototypical downhill runner, with a solid frame at 5'10, 224 lbs. He is also very fast for a big back, which he clearly demonstrated with a 40-yard dash time of 4.46. When such a large back gets to put on the jets in the open field, he will be difficult for any NFL player to bring down. The icing on the cake is his ability to catch the ball out of the backfield, which provides the offense with the ability to mask their play-calling. Some NFL teams shuffle player personnel based on the situation, but that could provide information to the opposing defense as to their intention. Having an all-around back, with great size, strength and speed combination is any offensive coordinator's dream.
This begs the question: Why is the NCAA rushing leader from last season only projected as a second or third round pick? Well, he has been ridiculed for his inability to learn on the fly, and it takes him time to adapt to changes in the game plan. I get that, but that is something that can be worked on. You can teach a player how to play the game and improve his football IQ. What you can't teach is size and speed. Those are god-given gifts that need to be cherished. Penny is a gem who just needs to be placed in the right situation in order to truly flourish. Hopefully he gets the chance to do just that. Whoever picks him up at any time after round one is getting great value in a player who has the potential to be a true workhorse for an NFL offense.
Equanimeous St. Brown, WR, Notre Dame
Equanimeous St. Brown has the look of a prototypical NFL receiver. Standing at 6'5 tall, and weighing in at 214 lbs., he caters to the needs of any NFL offense, particularly as a dangerous red zone weapon who can tower over defenders with ease. Even at his lofty heights, he runs a 4.48 40-yard dash, enabling him to gain separation from defensive backs. If you watch his game film from Notre Dame, you will see a game-breaking player, with highly polished route-running skills.
This is a player whose 2017 stats do not come close to matching his on-field potential. His final statline for the season was 33 catches, for 515 yards and four touchdowns, leaving a lot to be desired. The reality is EQ was in a difficult situation at Notre Dame, as his quarterback play more than underwhelmed, consistently failing to place him in positions to succeed.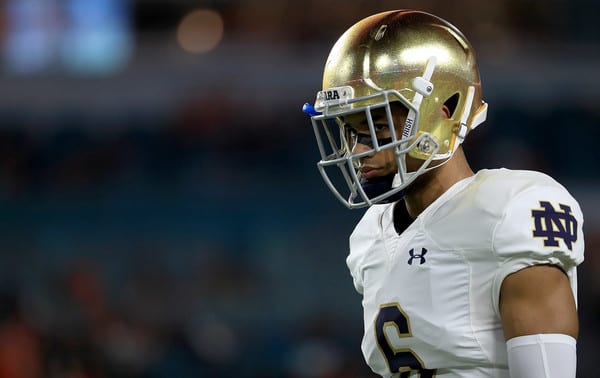 Football is the ultimate team sport, so looking at statistics alone does not fully paint an accurate picture. The QB's play can make or break a receiver's success. That's one reason why Tom Brady's receivers often perform well above expectations and improve dramatically from other teams they played for in the past. Brady is able to put them in positions to do well, with precision ball-placement, and a thorough understanding of the opposing defense. Conversely, no matter how talented a receiver is, the QB still needs to get him the ball.
EQ is currently projected to be drafted somewhere in the second or third rounds. If he was on a team with a prolific passing attack, his stats alone would likely have pushed him somewhere near the first/second round borderline. Teams who are looking for a bargain should look his way, and they could see results sooner rather than later.