---
We're only about six weeks into the college basketball season, but it's never too early to spot improvement from key players on power conference teams. There are always a few players in between the highly touted freshmen and returning stars who step up to significantly increase their production – sometimes seemingly out of nowhere. These are some of the guys who fit the model early in the 2017-18 season, and who could wind up as the NCAA's most improved players.
Jessie Govan – C, Georgetown
College basketball has fewer undefeated teams than usual at this point, and one surprising survivor is 8-0 Georgetown. The Hoyas will face a far tougher schedule through December (they play Syracuse, Butler and Marquette before New Year's Eve), but it's been an impressive start nonetheless. And the driving force behind it has been Jessie Govan.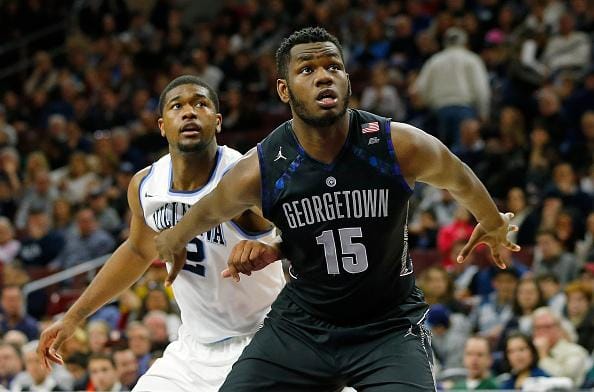 Govan is a 6'10'' center, 270 lbs but fit and agile, who arrived at Georgetown in 2015 as the 67th ranked player in his class. His ESPN scouting report stated that he was "making steady and consistent strides in his game and shows no reason to expect anything else moving forward." It's turning out to have been a prophetic write-up, because Govan has shown strong, steady improvement throughout his three years at Georgetown. He got better in every major statistical category between his freshman and sophomore seasons, and is now doing the same as a junior – though in more dramatic fashion.
Through Georgetown's first eight games, Govan has evolved from a role player into one of the country's most dominant big men. He's scoring 20.6 points on 63% FG shooting (up from 10.1 on 51.2% last season), and his 13.0 rebounds per game is tied for best in the nation. Govan has been an absolute beast, and has Georgetown poised to compete in the Big East and coast into the NCAA Tournament. One can't help but wonder if first year coach and legendary center Patrick Ewing has had a positive impact on the young big man's development.
Tra Holder – G, Arizona State
Arizona State has had a start every bit as surprising as Georgetown's, only with better wins. Both teams remain undefeated, but while the Hoyas are only just entering a challenging stretch, the Sun Devils have already fought through one. They have quality wins over Kansas State and St. John's and earned a strong victory over Xavier at the Las Vegas Invitational. Most recently, Arizona State knocked off then-second ranked Kansas at Allen Fieldhouse. The Sun Devils are serious, and virtually no one saw it coming; they're up to #5 in the latest AP poll.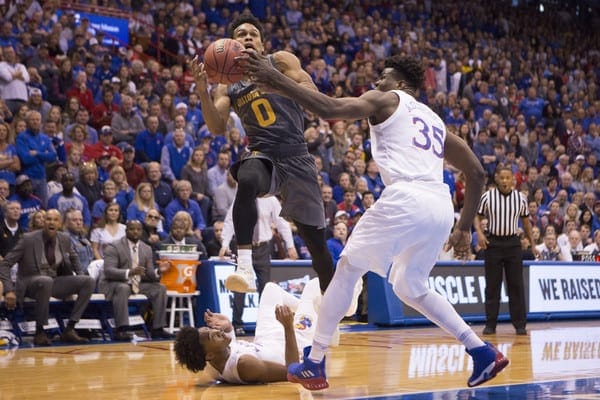 Head coach Bobby Hurley, a point guard legend himself, has a pair of senior guards leading the way in Shannon Evans II and Tra Holder. But it's Holder who's made the biggest leap. The numbers speak for themselves: 21.2 points (up from 16.2), 5.6 rebounds (3.2), 5.2 assists (3.2), 1.4 steals (0.9), 46.4% FG (43.4%), and 46.3% 3P (36.8%). He scored 40 and 29 in his team's two biggest wins (against Xavier and Kansas, respectively). Those kind of improvements represent the almost mysterious jump that so many senior point guards seem to make, when it looks as if they just figure out how to slow the game down and have their way – only this has been an extreme version of the phenomenon. Tra Holder has transformed himself from just another veteran guard on a would-be middling team to a Cousy Award frontrunner leading a contender.
Luke Maye – F, North Carolina
There's a chance Luke Maye was actually a tad underrated before he hit the biggest shot of the Tar Heels' run to the 2017 National Championship. That shot came against Kentucky in the Elite 8, sending North Carolina to the Final Four and turning Maye into a household name (and a hero in Chapel Hill). Even before that, however, Maye had shown flashes as a very capable spot-up shooter. Granted though, he looks more like a promising role player than a budding star.


Maye has raised the bar in 2017-18, taking advantage of the largely vacated UNC frontcourt to become the Tar Heels' latest double-double machine. Think about this: in 2007-08, Tyler Hansbrough scored 22.6 points, grabbed 10.2 rebounds, and shot 54.7% on his way to a chest full of player of the year honors. So far this season, Luke Maye is averaging 19.9 points, 10.5 rebounds, and shooting 57.1%. Maye might just be seizing an opportunity on a Carolina team that lost a lot of frontcourt talent, but in doing so he's improved as dramatically as anyone in the country. The interesting question is whether he'll be able to keep it up against tough ACC opponents. Maye shot just 2-7 and was held to 8 points and 6 rebounds in the Tar Heels' toughest game so far (and only loss) against Michigan State.
Jordan Murphy – F, Minnesota
Minnesota has actually been disappointing early, given that a lot of people thought Richard Pitino's squad was ready to be a top-10 team. It's still early and this is perfectly possible – Minnesota is a talented, veteran team – but a 9-3 record through early December isn't a great start. A loss to Miami (now ranked #6) was forgivable, but losing at Arkansas and Nebraska was less than ideal (even if neither loss is particularly disastrous on its own).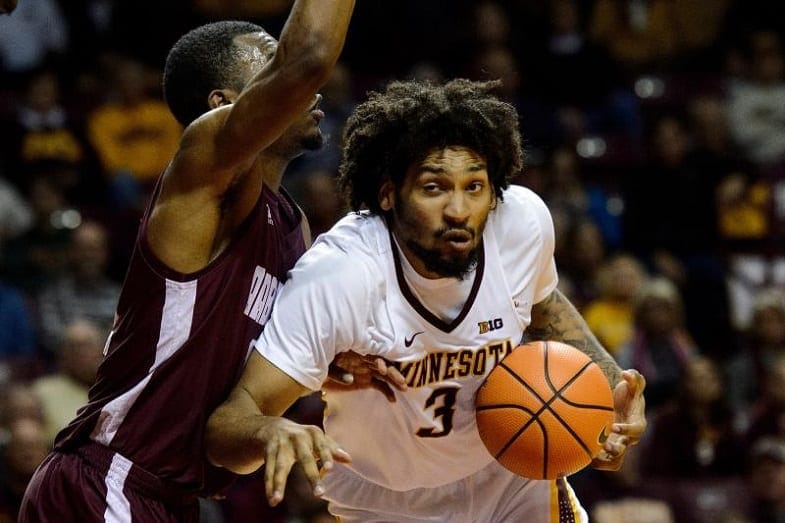 If the Golden Gophers have underperformed, however, it's been by no fault of Jordan Murphy's. The junior forward has made statistical strides not unlike those of Jessie Govan, raising his scoring average from 11.3 to 20.3 points per game, and in fact matching Govan's NCAA-leading 13.0 rebounds per game. The difference is Murphy is grabbing that many boards at just 6-foot-6! He also happens to have opened the season with 12 double-doubles in as many games – the same number he recorded during the entire 2016-17 season. To be clear, Murphy's improvement hasn't come out of nowhere; he had 56 points and 45 rebounds over a three-game stretch in conference play last year. But the consistency he's shown to lead the Golden Gophers this year has been impressive, and without it this team would be lost in the dark.
Tyus Battle – G, Syracuse
Battle is a less dramatic choice for this list because he was always supposed to turn into a very good player. He arrived at Syracuse ranked 35th in the 2016 class, a highly touted defender with a versatile offensive arsenal. Still, in the age of one-and-done players, he's the kind of second-tier recruit who can easily be forgotten – a possible NBA prospect, but a potential college star.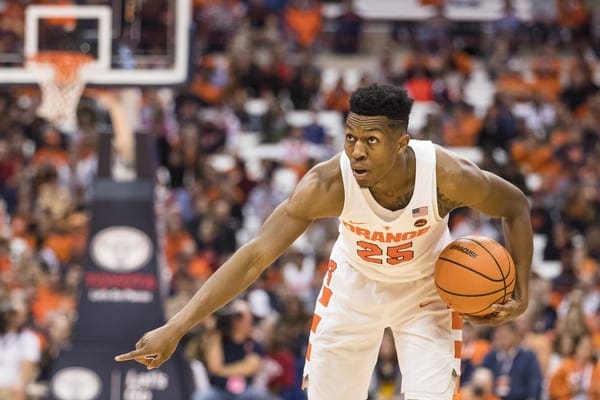 Now a sophomore, Battle has come into his own as Syracuse's top player more quickly than anyone could have expected. His statistical leaps from last season aren't as dramatic as those of the other players on this list, though he has boosted his scoring by more than 10 points, averaging just over 20 points per game this season. Battle has managed 18 or more points every time out this season, save for a game against Toledo in which he sustained a minor back injury, and he's done as much to lead Syracuse's 2-3 zone as one guard can do (even discussing helping the team to rediscover its defensive identity). Ultimately, he's advanced from being a promising freshman to being, unquestionably, "the guy" on a team that at 8-1 has looked better than most expected it would. If he keeps it up, Battle could wind up putting himself in All-Conference discussions in an absolutely stacked ACC.