---
When this NBA season started, there was a massive spotlight on the Philadelphia 76ers. The same could be said of plenty of other teams too, thanks to the unusual amount of intrigue that built throughout an insane offseason. But the Sixers would have been many people's pick as the most interesting team to watch. With 2016-17 rookie sensation Joel Embiid thought to be healthy(-ish), former #1 pick Ben Simmons debuting a year late, and 2017 #1 pick Markelle Fultz ready to suit up on day one, there was a lot to be excited about. Conspicuously absent from that list of names in most preseason commentary, however, was Jahlil Okafor.
Okafor was the Sixers' top pick and the third overall selection in the 2015 NBA Draft. He was one of the first players to show real promise in Philadelphia's now-infamous "Process," and arrived with a reputation as an extraordinarily gifted offensive center. Okafor had just helped lead a young Duke team to a National Championship when he arrived in Philly, and appeared to be in the mix as the Sixers' center of the future.
What a difference a few seasons can make.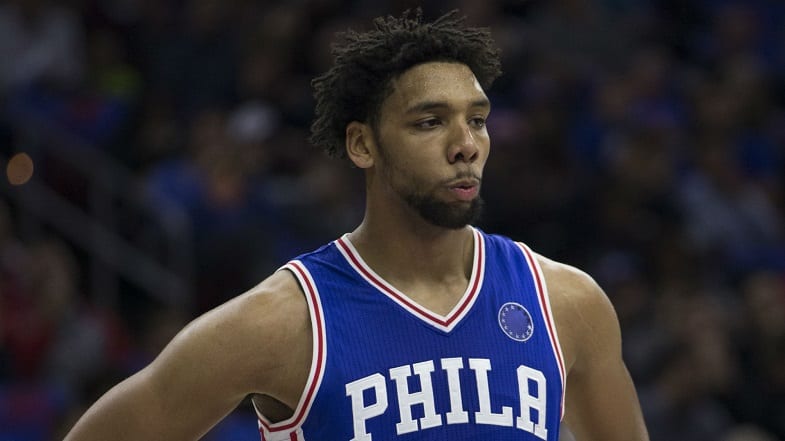 Today, Jahlil Okafor is an afterthought on a 76ers team that's finally trying to compete after several shameless years of tanking. Philly fans and media alike complain about his defense, dismiss his ability, and generally seem to want no part of him. At times, he almost seems to be a scapegoat for two seasons during which the team intentionally lost games. He said as much heading into the season, when he gave an interview in which he admitted to numerous personal struggles and openly questioned whether or not he has a role with the team moving forward. In four games played this season, at the time of this writing, he has recorded three DNPs, with 10 points, 9 rebounds, and 2 blocks in just 22 minutes in the game in which he did play.
Some of this is Okafor's fault. It's certainly true that he can be a liability on defense. It's also fair to say that he had a rocky start to his professional career off the court. During his rookie season, Okafor was caught on an embarrassing and troubling video responding aggressively to a fan who taunted him outside a bar – allegedly one of a few similar incidents. He was also pulled over driving over 100 mph on a bridge. These aren't stories you want to hear surrounding a future franchise cornerstone. But there have been no incidents since, and those who vouch for Okafor's character, including current and former coaches, do so with extraordinary enthusiasm. By most accounts he's a good kid who made a few bad decisions.
But much of it is not Okafor's fault. It is not Okafor's fault that this team acquired three centers in as many years in its quest to gather talent. It is not his fault that he played his first two seasons with a rotation of backup caliber guards. It is not his fault that, as a result of Philly's stockpiling at the center position, he's been the subject of trade rumors since before he ever put on a uniform. And it's not his fault that a fan base asked to put its trust in an organization trying to finish last is still going to look for players to blame for the actual losses along the way. That's just human nature.
The perception is now out there that Okafor is a bust. This is nonsense. Let's look at an anonymous player comparison, based on per 36 minutes stats as listed at Basketball Reference:
Player A: 20.6 points, 11.8 rebounds, 1.9 blocks, 55.9% FG
Player B: 21.0 points, 8.4 rebounds, 1.4 blocks, 51.1% FG
Player C: 15.4 points, 9.6 rebounds, 2.2 blocks, 53.2% FG
Player D: 16.5 points, 11.6 rebounds, 1.0 blocks, 54.1% FG
Can you pick out which one is Okafor? I suspect a lot of people would first look to Player C, who might be the least impressive overall of the bunch. That's actually Brook Lopez – the second highest scoring center in the NBA last year and a former All-Star – during his age 20 season. The next guess might be Player D. That's Nikola Jokic, a popular pick as one of the most promising young players in the league this year, during his own age 20 campaign.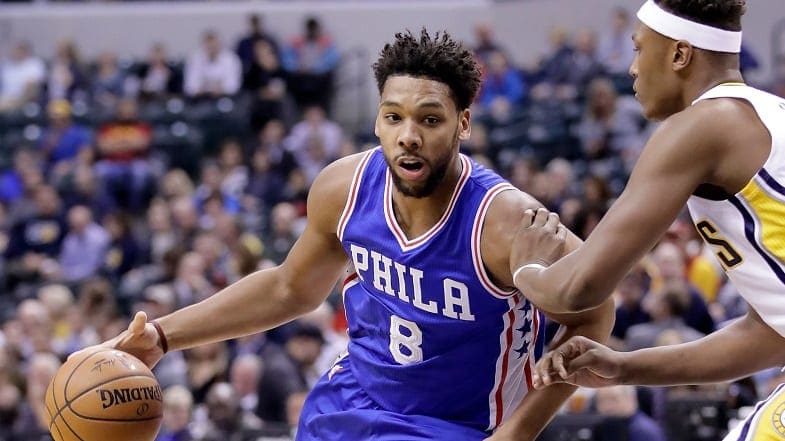 Age 20 Jahlil Okafor is Player B. He averaged 21 points, 8.4 rebounds, and 1.4 blocks per 36 minutes while splitting time with Nerlens Noel for a team with so little talent it lost 72 games. The only player on the above list with definitively better stats, if only by a hair, is Player A. This is age 20 Karl-Anthony Towns. Towns receives a great deal of hype as a future MVP candidate, and at this stage the average NBA fan views him as a vastly superior player to Okafor. But they were very comparable offensive players in their rookie campaigns, and Towns remains one of the few centers in the league who ranks as a worse defender than Okafor. It's just one game, but for what it's worth, Okafor put up 25 points, 12 rebounds and 2 blocks against Towns just 15 games into their respective careers, before everything went downhill; Towns had 6 points, 3 rebounds and 2 blocks.
So – where's that Jahlil Okafor? Literally, the answer is that he's sitting on Philly's bench wondering when he'll finally get the call that he's been traded to an organization that still believes in him. But for all intents and purposes, Okafor currently exists on the fringe of the league. His talent has been forgotten, his contributions ignored, and his quiet demeanor (admittedly but understandably mopey of late) has been eclipsed by the never-ending antics of Joel Embiid. Okafor's presence in the league has been comprehensively minimized by the entire Philadelphia 76ers community, from the fans and media to the front office and head coach.
I understand that in some ways basketball has swiftly passed players like Okafor by. He's attempted only six three-pointers in his career in an era when big men are shooting more and more from outside. He's not the sort of facilitator a Nikola Jokic or Marc Gasol is, nor the sort of defender an Anthony Davis or Rudy Gobert can be. Today's big men are more dynamic, and Okafor more traditional. He's also not as gifted as Embiid, though it's hardly a given that Embiid can play even half a season's worth of games. But can we really expect Okafor to have developed more versatility when his organization has shown so little faith in his usefulness? If you were competing against multiple young centers trying to establish yourself early in your career, wouldn't you stick to what you know you can dominate with and work on the rest later? The truth is that Okafor never had much of a chance to diversify or experiment with his game, and it's largely because of his team's agenda.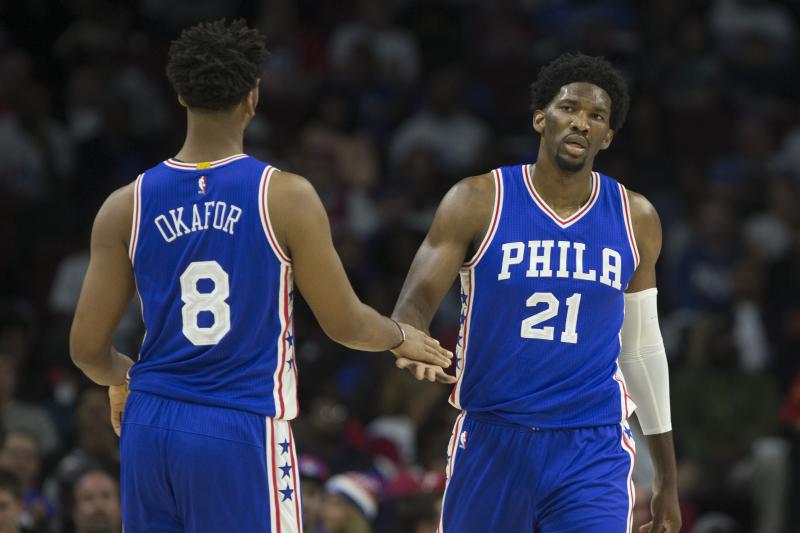 The biggest trick the 76ers played these last several years was not gaming the system to secure high draft picks, or leveraging the fact that they didn't want competitive players to rope in more assets via trade. It wasn't making particularly brilliant picks (they've generally selected the guys they were expected to) or persuading useful veterans to come aboard (which didn't happen until this season).
The biggest trick was that the organization successfully branded losing. In voluntarily descending from the playoff tier to subterranean depths – and essentially bragging about it – Philly somehow turned itself into the pre-2016 Chicago Cubs in the eyes of its fans. Losing was almost cool because it represented a unifying identity, and because it meant winning must surely be around the corner. The difference, of course, is that Philly didn't earn this point of view like the Cubs did with 100-plus years of championship futility. Trying to lose with competitive young players chomping at the bit to kick off their careers poses a gigantic challenge to those players to stay motivated and engaged. Guys like Embiid and Simmons didn't have to deal with this problem, because they were missing entire seasons due to injury anyway. Dario Saric didn't have to deal with it either, because he was stashed overseas for a while. And Noel only had to handle it until he was dealt to Dallas.
Okafor alone among the Sixers' top picks was asked to suck it up and play through the losing, and Okafor – the guy who won a high school state title, three FIBA gold medals, and then an NCAA Championship before landing with the most determinedly awful team in recent league history – likes to win. His reward for serving his time in the Process was constant criticism (despite Rookie of the Year caliber numbers in his first season), and ultimately a spot on the bench behind an ultra-talented center in Embiid – incidentally a guy who's perhaps most famous for wholeheartedly endorsing the Process he never truly had to toil through. When you think about the fact that Embiid has even embraced the nickname "The Process," it really doesn't make any sense; Philly adores Embiid because he's The Result.
Maybe the Sixers should show a little more good faith in the guy who really went through the Process while they crawled toward this point. Because right now they're destroying the game, reputation, and value of a player who has the talent to match the game's best young big men. It's time for the Sixers to let Okafor go and accept the fact that because of their own handling of his first two-plus seasons, they're not getting much in return.
It's time to free Jah.