---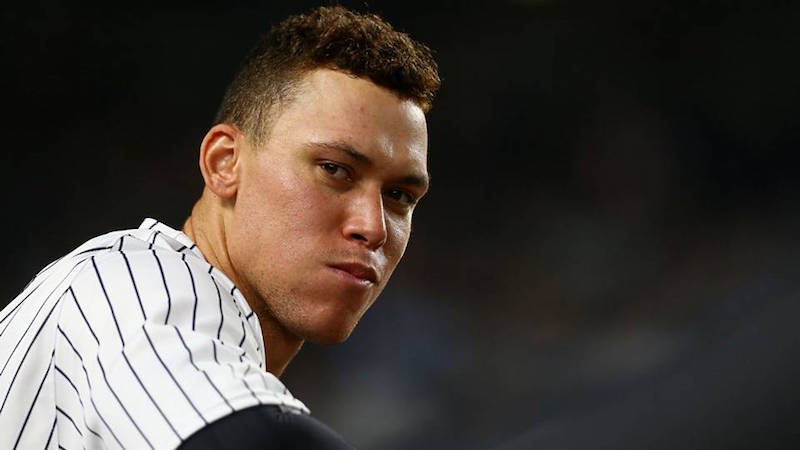 If you've been paying attention to baseball this season you don't need a formal introduction to Aaron Judge, the New York Yankees rookie phenom who keeps finding new ways to impress.
His latest feat: major league leading home run no. 29.
On Wednesday, Judge hit his 29th long ball of the season off of Blue Jays pitcher Marco Estrada in the bottom of the fourth. A two-run shot. His homer didn't just widen the gap between him and the next guy on the list (George Springer of the Astros, who currently has 25 home runs), it also tied Joe DiMaggio's record for home runs during a rookie season. And we haven't even reached the All Star game.
---
Watch Judge hit home run no. 29:
---
But the number of home runs he's hit isn't the only impressive stat. No. 29 came just a day after Judge dented a door encasement in left-center field of Yankee Stadium. They're flying out of the park with speed and power.
As he continues making his case for Rookie of the Year, and even AL MVP, here are six stats you should know about the 25-year-old's season so far:
495 ft
We already mentioned his power, and if denting Yankee Stadium wasn't enough to convince you of his Hulk-like strength, maybe some of these statistics will. According to MLB's Statcast, on June 11th, Judge hit a 495 foot home run off of the Orioles Logan Verrett, the longest homer so far this season. The long ball had an exit velocity of 118.6 mph, somehow not his fastest of the 2017.

121.1 mph
If we're already talking about exit velocity, Judge is leading the league in this category too (he's actually leading the league in every category for batters on MLB's Statcast). Judge's home run off of Chris Tillman on June 10th had an exit velocity of 121.1 miles an hour. In fact, when it comes to exit velocity, he hold the top four spots on the leader board. His next three were a single with an exit velocity of 119.8 mph, another home run clocked at 119.4 mph and he rounds out the top four with a double at 119.0 mph. Judge also leads the majors with an average exit velocity of 97.3 mph.  
.331/.449/.697
If there is one category Aaron Judge doesn't lead in, you'll find it here. According to MLB's statistics leaderboard, Judge has the third best batting average in the league, behind Daniel Murphy and Jose Altuve. But the rookie more than makes up for it with a .449 OBP and .697 slugging percentage, leading the league in both categories. He also leads the majors in walks (59) and runs (74) and comes in second in RBI with 65 (just one less than Paul Goldschmidt).
36
According to the YES Network, Aaron Judge has successfully reached base in 36 consecutive starts. The streak is the longest by a Bronx Bomber rookie since the 1940s.

2
With his 29th home run, Aaron Judge tied for the second most long balls by a rookie before the All Star break. The man leading the list is Mark McGwire, who in 1986 hit 33 home runs before the Midsummer Classic. But hey, Judge still has three more games before the break, and according to Baseball Reference has hit two home runs in a single game in three times this season.
79
The New York Yankees still have 79 games left this season, which means that Aaron Judge's statistics for 2017 could nearly double and he could even hit 60 home runs. Only five other players in MLB history have hit 60+ home runs in a single season: Barry Bonds, Mark McGwire, Sammy Sosa, Roger Maris and Babe Ruth.
Hey, he may even be able to win the Triple Crown.
And let's be honest, we're all waiting to see how far and how hard he hits the ball during next week's home run derby.