---
In my own bold predictions for the NBA season, I wrote that "the Warriors are so far ahead of the pack it feels like the end result of the coming eight months is already determined." My point wasn't that watching the NBA this season would be pointless – just that we would be looking for things other than a contender to challenge Golden State. With an unprecedented number of major players moving to new teams over the summer, I thought the fun of this season would just be seeing how teams and players adjusted to new circumstances.
What I didn't see coming was that all that player movement seems to have resulted in something the NBA hasn't known much of for a while: parity.
Are the Warriors still strong favorites to win another championship when it's all said and done? Absolutely. But it looks at least a little bit less like a foregone conclusion. The Warriors started the season 2-2, and as of writing this on November 6th are 7-3. That's a pretty good start, but it falls well short of expectations considering a lot of people thought this team could challenge its own 73-win record. Furthermore, if you take out one 30-point blowout over the Mavericks (a team so bad Mark Cuban might bail and run for president), Golden State's average scoring margin is just +7.1, compared to +12.0 last season. The Warriors are now on pace to go about 60-22, which would be a very ordinary season for a team near the top of its conference.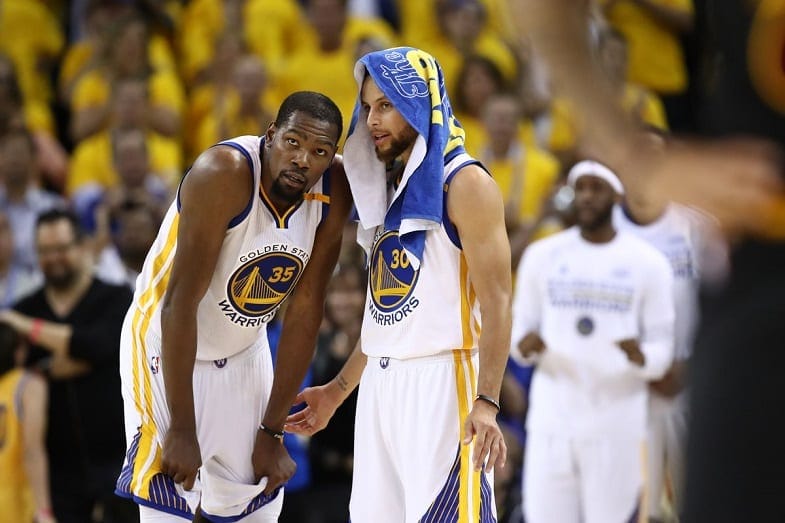 But this isn't just about the Warriors. It's about the whole league exhibiting top-to-bottom competitiveness that frankly seems to have come out of nowhere. At the time of this writing, there are 14 teams in the league within one game of .500 in either direction: eight in the East and six in the West. Per Basketball Reference, on November 13, 2016 – roughly an equivalent point last season, when most teams had played about 10 games – there were only seven teams within a game of .500: four in the East and three in the West.
The teams at the top of each conference aren't as far out in front either. Currently, the combined record of the top-three teams in both conferences is 43-18. On November 13, 2016, the combined record for teams in the same positions was 46-11. These numbers aren't as drastic, but a seven-loss difference is fairly significant when we're talking about teams being 10 games into the season.
Now, it's still very early, and the standings will continue to shuffle moving forward. We could start to see more separation at the top, and the middle could divide more clearly into playoff contenders and lottery-bound teams (some of which will start to tank given that this is the last season before lottery reform). But right now, the NBA is in an unexpected and highly entertaining state in which most teams seem equal-ish, and just about every game seems worth watching. This whole thing is just about inexplicable. But I want to explain it anyway, so let's look at a few (possible) underlying reasons for the NBA's newfound balance.
The Cavaliers Are Terrible


I know we've been here before. In fact, it seems like we're here again just about every season: LeBron's team has a stretch of regular season futility, he's forced to address it in one way or another, and eventually everything seems fine again and we're all pretending we never doubted a LeBron-led team. But something about the 2017-18 Cavs feels different so far, and I'm with Jackie Moon on this one.

The Cavaliers are 4-6, near the bottom of the East, and dead last in the NBA in defensive efficiency. Four of their losses have come to the Nets, Pelicans, Pacers, and Hawks, who have a combined record of 15-24 (which, granted, is skewed heavily by Atlanta's 2-8 record) – and those losses came by a combined 46 points. Head coach Ty Lue, the same guy who brilliantly tried to run with the Warriors throughout the Finals, changed the starting lineup about 47 times in the first week of the season; Dwyane Wade wound up accepting a bench role; and Jeff Green is currently the team's fourth leading scorer (something that will never be written about an NBA Finals team).
Seemingly fed up with this start, and undoubtedly looking to send a message to a Wizards team that has to feel like it has its first legitimate shot at the Finals, LeBron played one of the best games of his career the other night. He went 23-34 for 57 points with 11 rebounds and 7 assists in D.C. The Cavaliers won by just eight points, then promptly turned around and lost to the Hawks. I don't doubt that this can get turned around, and betting against LeBron to make the Finals is simply foolish at this point, but for the time being the Cavs' horrendous play has brought a little more balance to the East – it's one fewer dominant team, and a few more wins for everyone else.
Traditional Tankers Are Trying
Three teams in particular that haven't been trying to win are showing up this season. The first and most obvious is the 76ers, who are finally making use of at least some of their talent after years of tanking. While the team has completely botched the Jahlil Okafor situation and The Saga Of Markelle Fultz's Possibly Injured Shoulder & Ruined Shot is becoming the ugliest rookie storyline since DeAngelo Russell's unofficial TMZ internship, Joel Embiid and Ben Simmons are playing regularly. Simmons in particular looks terrific, and a supporting cast led by Robert Covington and offseason acquisition JJ Redick is helping him get the job done.


Orlando is also making a move toward competition, though no one really saw this one coming. Frankly, the Magic's recent tank jobs have looked less effective (and possibly less intentional) than Philly's, and heading into the season their roster still made very little sense. But with Evan Fournier and Aaron Gordon both having career years (they're combining for about 11 more points per game than last season), the Magic are suddenly a tough team to beat. They'll almost certainly come down to Earth a little bit, but for the time being they're 6-4, and they've strengthened the middle of the conference.
The Suns, too, appear to want to compete, though in this case the decision may be ill advised. Armed with an 0-3 start, a fired coach, and a point guard seeking a trade out of town, Phoenix looked like an absolutely ideal tanking candidate. Since that point, however, and with interim coach Jay Triano in place, the Suns have gone 4-3. They're not going to impact the playoff picture out West, but they're one more team that's suddenly trying to compete.
It's also true that the Nets are trying harder than usual, though we can't actually say they've been tanking in recent seasons because they haven't owned their own picks. Still, Brooklyn has been caught in a no-win situation without picks, assets, or talent for quite a while now; they haven't been trying to lose, but they haven't been visibly seeking improvement either. That changed with the Brook Lopez-for-DeAngelo Russell swap, and the Nets are no longer an automatic win for their opponents.
Other teams are already looking like tankers this season. But with these four teams showing markedly improved effort and capability, it's no wonder the middle of the league is more competitive.
Experience Is Holding Its Ground Out West
With all the player migration that occurred this summer, most of the talent went (or stayed) West. It looked like a conference full of superteams, and it may still look that way by season's end. But at least in the early going, we're seeing some of the more experienced groups holding their own against the influx of talent.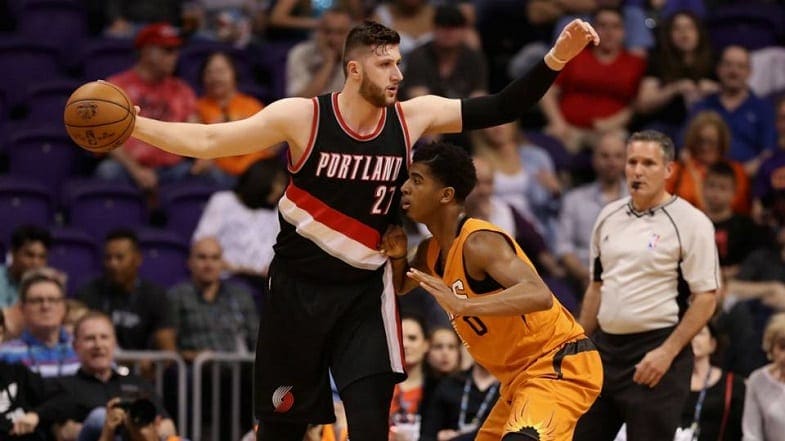 The Grizzlies, Blazers, and Spurs – none of whom brought in star players over the offseason – are all 6-4. These teams have all made some changes. The Grizzlies seem to have miraculously restored Chandler Parsons to decent health, and rookie Dillon Brooks is off to a solid start, averaging 8.1 points and 4.0 rebounds a few weeks into his career. The Blazers have fully adjusted to Jusuf Nurkic, for whom they dealt late last season. And the Spurs are getting good minutes from Rudy Gay and Dejounte Murray while they wait for Kawhi Leonard and Tony Parker to get healthy (though Murray will probably stay ahead of Parker in the rotation). But all of these teams are relying on established cores to stay competitive.
Meanwhile, teams dealing with major changes, while potentially more exciting in the long run, are still making adjustments. The Thunder have at times looked like an incredibly dangerous team with their new "Big 3" of Russell Westbrook, Paul George, and Carmelo Anthony – but the team is currently 4-5. The Pelicans seem to be getting more comfortable with the Anthony Davis-DeMarcus Cousins core that was pieced together on the fly last season, but are only 5-5. The Jazz lost Gordon Hayward and added Ricky Rubio and are 5-5, and the Clippers replaced Chris Paul with half a roster's worth of players, and are 5-4.
In time, we'll probably see the most talented teams rise to the top of the West. When Leonard returns the Spurs will get out ahead of the pack, and the Thunder in particular are playing well below their potential. For now, however, the balance of experience and talent out West seems to be responsible for some of the parity we're seeing.

Oh, and the Knicks and Lakers are 5-4 and 5-5 respectively, which is too weird to fit into a category.