---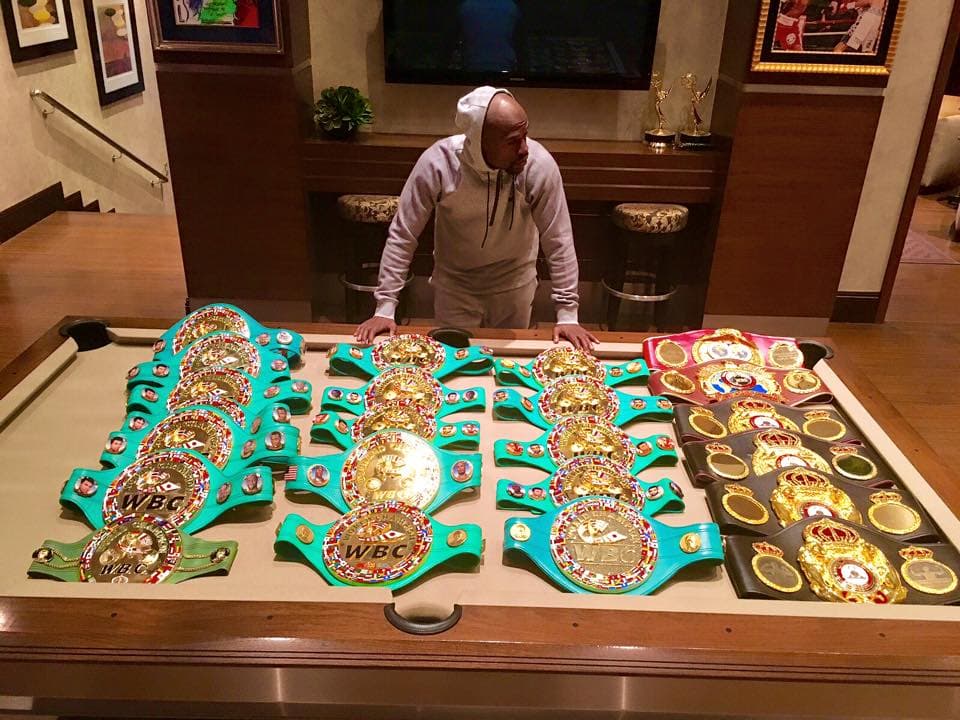 Floyd Mayweather Jr. won 15 world titles in five weight classes, and ruled boxing's welterweight division at a time when it was stacked with talent and rich with Pay Per View (PPV) money. Mayweather beat rival Manny Pacquiao in May 2015 in what is known as the richest bout in boxing history. The fight never lived up to its expectations, but Mayweather convincingly took down his rival and earned some $200M in doing so. The victory over Pacman upped Mayweather's record to 48-0 and put him on the brink of tying one of boxing's most hallowed records.
Legendary heavyweight boxer Rocky Marciano retired as a champion with an unequaled record of 49-0. Fighters like Larry Holmes, Roy Jones Jr., Chris John and Paul Spadafora tried to match Marciano's feat, but they all lost their 49th bout, haunted by the Curse of Marciano. Mayweather, however, was too good for the curse to hold him back, and he was too good for opponent number 49. On September 12, 2015, Mayweather easily beat Andre Berto and earned his place beside Rocky Marciano. But tying Marciano wasn't enough, Mayweather always referred to himself as TBE – the best ever. And so on April 21, 2016, even after retiring from boxing, Mayweather filed for trademarks 'TBE 50' and 'TMT 50,' presumably to chase that iconic 50th win.
With Mayweather's return imminent, the big question was who he would be fighting. Rumors of a run back with Manny Pacquiao floated, but that rematch was already dead before their first fight even ended. Current champs Keith Thurman, Danny Garcia and Kell Brook each called out Floyd Jr., but Mayweather never showed interest in risking his unbeaten slate against those young, hungry lions. Even former opponents Miguel Cotto and Canelo Alvarez threw their hats in the Mayweather sweepstakes. But not a single one of them convinced Mayweather to put the gloves back on.
Meanwhile, a brash Irishman captured the imagination of the MMA world with his powerful left hand and uncanny ability to predict the outcome of his bouts. Conor McGregor broke MMA records, from PPV to gate receipts and fighter salary, en route to winning the UFC Featherweight title in 2015. Like Mayweather, McGregor possessed the unique gift of gab. Not to mention the ability to draw millions of fans.
And so it was born, the crazy idea of matching two of the biggest icons in combat sports.
Since last year, the rumors of McGregor crossing over to boxing to fight Mayweather have captured the world's imagination. From its infancy stage in 2016, the story has developed. On March 11, 2017, Mayweather announced that he is coming out of retirement and is ready to fight McGregor in June.
Then Las Vegas' T-Mobile arena was reportedly reserved for June 10 in anticipation. The ball kept rolling: next UFC President Dana White, who opposed the idea and said the fight would never happen, finally announced that he would no longer get in the way. McGregor is targeting a September date, while Mayweather is talking about fighting in Russia.
The rumors and plans are still floating, but despite these exciting details, many still have their reservations. Are these two really negotiating a fight? Is everything just a publicity stunt by two superstars who love the attention? Is McGregor trying to bait a bigger pay? Is Mayweather trying to stay relevant in the news? Those and many more questions linger in everybody's mind. But then if we look at it closely, Mayweather's motives are splattered on the wall.
For Mayweather, the McGregor bout is too enticing not to take. Financially, the numbers should be good enough for Floyd to return. He countered McGregor, demanding $100 million for the fight, and with so much interest and intrigue here, that may not be a problem. Beating McGregor also means win number 50 and separation not just from Marciano, but from the rest of humanity. TBE, finally? Maybe not, but he'll have a good case.
Boxing Conor McGregor would be a walk in the park for Floyd Mayweather Jr., with all due respect to Mac's legions. Put them in a cage with four inch gloves and it will be a different story. But inside the squared circle where Mayweather has danced away from the greatest of rivals and where McGregor can't use his leg kicks to set up his left hand, it's a no-contest really. So with an opportunity to make more money and a chance to easily secure his legacy with the coveted 50th win, you think Mayweather isn't coming back? That's hitting two birds with one stone. Money Mayweather is too smart not to realize that.