There are many eccentric personalities in the world today, and one of them goes by the name of Mark Cuban. Have you ever heard of him? We'll pretend like you haven't, because the amount of accolades that this man has to his name is truly extraordinary, and we will they all deserve repeating. But even after we talk about the big things that he's done, there will still be other things that you may not have heard about – that's how long the list goes.
Perhaps the thing that Mark Cuban is best known for is his ownership of the Dallas Mavericks, a basketball team in the NBA. You also may know him well as one of the "sharks" on the ABC hit reality entrepreneur series, Shark Tank. There are many ways that you may have heard about Mark Cuban, but whichever way it is, there is one thing we're sure of: You can bet your bottom dollar that you haven't heard about everything there is to know about him.
---
---
For anyone that lives under the public spotlight, there is only so much that wades its way through to the public. Even though media news outlets and journalists do everything they can to try and bring you all of the information possible, there will always be a large amount that gets lost midstream, and falls by the wayside. For this reason, we want to give you everything that you may have possibly missed about this guy – because believe it or not, there is a lot to tell regarding the history of this man. Some of it is truly inspiring, and some of it… Well, let's just say being under the spotlight isn't always beneficial to certain people.
Cuban is also the chairman of the television network AXS TV, and the co-owner of 2929 Entertainment, a music and film production company. As we said, the man has spread his wings into many different avenues of revenue stream. That being said, we think you'll be very interested to know about Mark's humble beginnings, what he was like as a child, and what it was about his character then that helped him become one of the richest people in the world.
Mark actually wrote a book called How To Win At The Sport Of Business in the attempt to give over to his fans a few nuggets of wisdom. And while we're sure that there is a lot value to be gained by reading it, we should also say that there is more to this man than meets the eye. Things aren't always as they seem, and soon enough, you'll see what we mean.

Upsetting remark
There is no doubt that being the owner of an NBA team can get stressful – we want our team to succeed, and there are so many things in the league that can threaten that. But it's important to remember that there are many different ways we can react towards things – so when Mark Cuban wasn't happy about the quality of officiating that happened during a game, he didn't have to make a negative comment about referee Ed Rush, potentially hurting his feelings in the process.
Intolerable comments
Clearly upset over Ed Rush's officiating, Cuban said that "Ed Rush might have been a great ref, but I wouldn't hire him to manage a Dairy Queen." This comment is insulting to multiple individuals – the referee, and the entire Dairy Queen organization. The NBA recognized his comment as being in poor taste, and gave him a $500,000 fine. Negative comments like that are untolerated in the NBA, no less by an owner of one of the teams.
In their shoes
But this wasn't the only payment Mark had to pony up due to his inappropriate comment – the Dairy Queen organization also wanted him to apologize. So they had an idea – they invited Cuban to come and work behind the counter of a local Dairy Queen for an entire day – and Mark accepted. The hope was that perhaps if Mark spent a day in the shoes of the average people that worked there, he wouldn't be too quick to scoff at the establishment.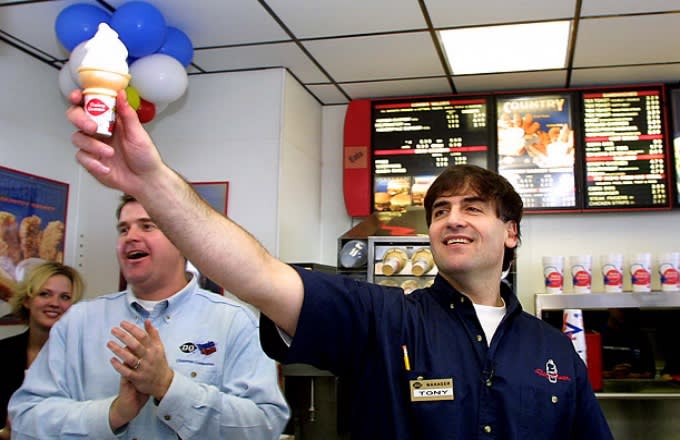 Atypical owner
As you can see, Mark likes to be very close to the action when the games are going on – to the point where he can even fight with the referees if he pleases. This is something that truly separates him from other owners in the NBA – he stands on the sidelines during the games, as opposed to sitting in well-cushioned box seats. According to Cuban, NBA authorities felt that "it wasn't fitting for an owner to sit there."
Close your mouth
Hey there, we have a question for you – what grinds your gears? Is there something in the world that truly gets on your nerves? Mark Cuban was asked a very similar question, and he gave a very interesting answer. When asked what drives him absolutely crazy, and answered: "People who eat with their mouth open." Well, we're certainly glad he told us that before our upcoming Sunday brunch, because now we know exactly what not to do. Not that we did it before… Don't judge us!
Alleged misconduct
In March of 2018, a Willamette Week article reported that that was an alleged incident with Cuban and a female staff member at a bar in Portland called the Barrel Room. She has recently said that he engaged in inappropriate misconduct with her while they took pictures. Cuban has since denied these claims, and although she sent in a number of pictures in attempt to provide proof, but the Portland police didn't see any real evidence. That said, the NBA announced that they would review the matter.
New investor
You don't become a successful businessman in this day and age without ruffling a few feathers, and Mark Cuban is certainly no exception to that rule. Back in 2004, Cuban made a large investment in a search engine website company called Mamma. He was their largest shareholder, and they considered him to be someone they could confide in – so they decided to let him know about a new PIPE strategy that were working on. But Mark wasn't too happy with this strategy.
He wanted out
Mark realized that this new PIPE strategy was essentially forcing him to buy more shares, because if he didn't, the value of his current shares would drop. He wasn't on board with it, and he decided he wanted out. By getting out quickly, he was saving himself $750,000, so we can't blame him. The issue was that the CEO of Mamma said that he wasn't allowed to back out because he had been given confidential information – and Cuban had divulged it to the public in the process of leaving.
Unsavory culture
Very recently, in February of 2018, there have been reports made that a number of individuals in the Mavericks organization were involved in inappropriate behavior towards members of the opposite gender. This was based on an article written in Sports Illustrated magazine by Jon Wertheim and Jessica Luther, who said that the inappropriate behavior was due to the overall culture in the Mavericks front office, and although no fingers were pointed toward Cuban – he was blamed for not firing anyone involved.
The culprits
The actual people that were put under the microscope were former Mavericks CEO Terdema Ussery, Mavs.com beat writer Earl K. Sneed, and Buddy Pittman, the senior vice president of human resources. All three of these members were accused of numerous engagements in inappropriate intimate misconduct, and Mark Cuban was asked why he hadn't done anything about it. He claimed to know nothing about it, and fired Pittman and Sneed right away (Ussery had resigned three years prior).
Cute woman at the gym
How much do you know about Mark Cuban's love life? Meeting your soulmate is never easy in this crazy world, so we want to tell you exactly what happened with Mark when he tried to find himself a nice woman. Three years before Mark had purchased the Dallas Mavericks for around $280 million, he was working out at a gym in Dallas when he saw a lovely young lady that caught his eye. Her name was Tiffany Stewart, and she was a salesperson at an advertising agency.
Barbados wedding
Soon after, Mark and Tiffany started dating, but it took them quite a while to officially tie the knot. Getting married to anyone is always a huge commitment, so the fact that they dated for five years before finally getting married is understandable. And that's exactly what happened – in 2002, the pair finally got hitched at a beautiful beach in Barbados. But there's another interesting fact about Mark and Tiffany's relationship we haven't yet mentioned.
Age is just a number
Something you may find interesting is that Tiffany is actually 14 years younger than Mark. Considering they met in 1997, he would've been in his late thirties and her in her mid-twenties, but obviously there was a chemistry there that couldn't be denied. Everyone looks at age differently when it comes to dating – while some people think the age gaps should be smaller, we applaud Mark and Tiffany for allowing their love to outshine any external opinion.
Mr. Big Yacht
When you're as wealthy as Mark Cuban, you're then given the luxury to buy all kinds of things that most people don't have the ability to buy – such as the marvelous yacht you see here. At a whopping 288 feet, Mark named it Fountainhead, based on a book that inspired him when he was younger to follow his dreams. One of the coolest things about it is that it has its own basketball court – pretty appropriate for an NBA team owner, don't you think?
Private jet
Another fact you may not know about Mark Cuban is that he is actually in the Guiness Book of World Records. How did he make his way in there, you ask? When he had already accumulated a large amount of wealth, Mark was able to comfortably afford a Gulfstream V private jet – and he spend $40 million on it – breaking the record for the large single e-commerce transaction. And that, friends, is how you make it in the Guinness Book of Records.
Successful website
So we've discussed a lot of the different luxurious items Mark has bought, thanks to his substantial financial wealth, but how did he get to be so wealthy? When he bought his $40 million jet in 1999, it was right after he had sold his company, Broadcast.com, to Yahoo for an extraordinary sum of $5.7 billion. Mark certainly worked hard in the 90s, and it paid off in extremely high dividends – but he's been working this hard his whole life.
Child salesman
Let's go back to his childhood for a little bit – when Mark was only 12 years old, he went around door to door selling trash bags, because he wanted to buy an expensive pair of basketball shoes. There is something innately commendable about the nature of who he was even at this very young age. Even then, he understood the value of hard work, and was cultivating this character within himself that has stayed with him to this day.
Making rap cameos
We all know Mark Cuban as an owner of a basketball team, but did you know that he also made an appearance in a rap video? We already knew that he was no stranger to the camera from his antics on the hit reality show Shark Tank, but showing us his dance moves in a rap video was unexpected. The rapper was Lil Dicky, who has also had various NBA players appear in his videos, such as Kevin Durant of the Warriors and Russell Westbrook of the Thunder.
Disco dance master
It turns out that his ability to get his groove on, like we saw in the rap video he appeared in, is not something that is foreign to the Mavericks owner. In fact, when Cuban was in college, he was able to pay for his tuition partially in thanks to money that he earned by teaching dance lessons, as well as hosting disco parties. He charged students $25 an hour for lessons – and not just any students, but pretty sorority girls.
Dancing with the stars
He brought these dancing skills with him into the current day as well. Not everyone knows this, but Mark Cuban actually was an avid participant of the ABC reality series Dancing With The Stars. If you thought that he was an amateur dancer in college, and that the lessons he gave weren't the real deal, perhaps you should watch the season that Mark appeared on the show, because it was then that the world saw that his full blown dancing skills were actually pretty darn good.
Loving father
There is no doubt about it, Mark is an interesting person – he may be not your typical NBA team owner, but doesn't that just add to his mystique? The man is not just a successful businessman, but also a loving family man. A devoted husband to his wife Tiffany, the couple have happily raised three beautiful children, Alexis, Alyssa, and Jake. Mark says that he's very "fortunate", and that he spends as much time as he can with his children.