---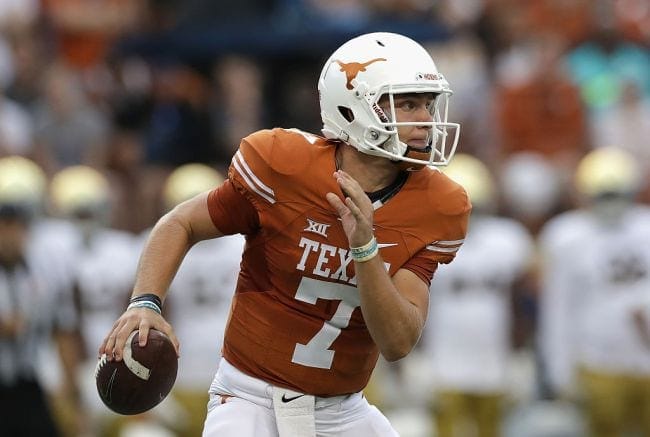 Traditionally, the Big 12 has belonged to either Texas or Oklahoma. From 1999-2010, they represented the South Division in the Big 12 Championship game. Oklahoma won it in seven of the eight games they played in; Texas won in two of their four. But then things began to change following the 2010 season when the conference lost two members. Without 12 teams, they couldn't have a conference title game anymore.
This change meant the conference champion was whoever had the best record at the end of the season.
Since then, the Big 12 has been won by five different teams. But in each season, the same two have been expected to compete for top honors by season's end—Oklahoma and Texas. It hasn't mattered whether the program did well the year before or not. If they didn't, there was always a prevailing belief that the team would rebound and do well the following year.
While that never worked out for Texas, the Longhorns are under new leadership this year. Tom Herman has fans excited once again, and people are expecting him to bring the program back to prominence sooner rather than later.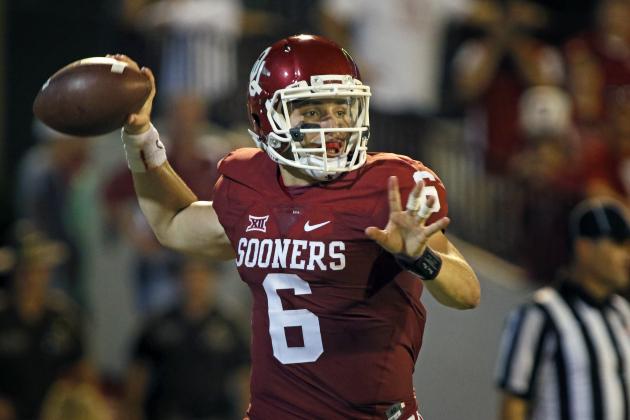 For the first time this millennium, the Oklahoma Sooners are under new leadership as well. While the change will likely not have too much of an impact this season thanks to quarterback Baker Mayfield, the team will need a lot of young players to step up and fill some important roles this season.
What does all of this mean for fans of the Big 12? Will this be the year for Texas? Despite their lack of success in recent years, voters saw fit to rank them 23rd in the preseason Coaches Poll. Odds makers still favor the Sooners (-120; Texas is +500). But they also like Oklahoma State (+300) and Kansas State (+600).
While Vegas isn't too high on TCU (+1200), West Virginia (+2000), or Baylor (+3300), there is talent on each team opponents would be wise not to overlook. While Kliff Kingsbury has had trouble winning games at Texas Tech, he knows how to make the most of an offense. The odds are against the Red Raiders (+5000), but it would not be shocking to see them pull off an upset and completely upset the balance of power.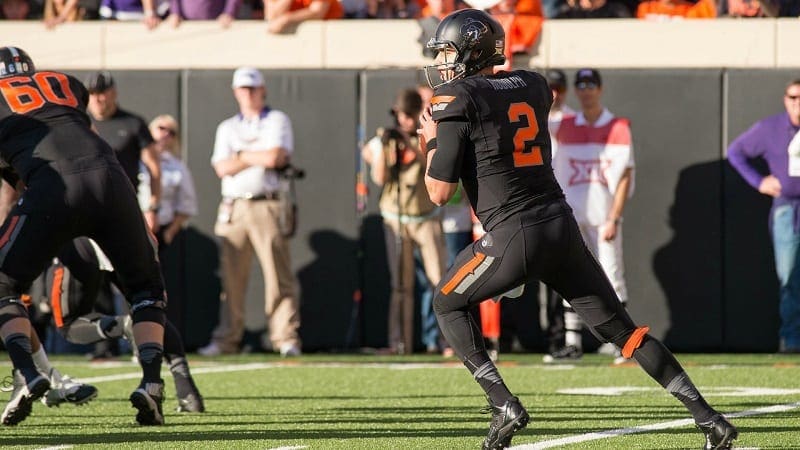 So—who's going to win the Big 12 this year? Do the odds makers have it right or will someone come from the middle of the pack to take the title?
The Contenders
Texas: The Longhorns had a solid offense last season and will see most of the pieces come back this year. Quarterback Shane Buechele is a star in the making and should thrive under Tom Herman. Having four offensive linemen back and running back Chris Warren will certainly help. The key for Texas will be the defense. Charlie Strong's units were horrible. Herman brought defensive coordinator Tom Orlando with him from Houston. Under his guidance, the Cougars had the No. 13 overall defense in the nation last year.

Oklahoma: Bob Stoops may be gone, but he handed the team over to offensive coordinator Lincoln Riley. But Stoops will still have a significant impact on this season. Having Baker Mayfield back makes the Sooner an immediate contender, but he lost both of his star running backs and his best wide receiver. But even if a few playmakers emerge, they need the defense to be better. The front seven wasn't great at putting pressure on the quarterback. If they are going to beat Ohio State this year and not lose to Oklahoma State, TCU or Texas, it would certainly help.

Oklahoma State: Their non-conference schedule will hurt their CFB playoff chances, but they should be able to run the table in the Big 12. Mason Rudolph is the second-best quarterback in the conference next to Baker Mayfield, but he has more weapons. Rudolph will have two talented, veteran receivers to throw to in James Washington and Jalen McCleskey. The running game, led by Justice Hill, will keep teams from focusing on the passing game too much. On the defensive side, they were good enough last year against everyone but Oklahoma and Central Michigan. That is probably the most they can hope for this year from the unit.
Everyone Else
Baylor: the defense will be better this season and the run game will be just fine. But the Bears have a huge question mark at quarterback. For the first time in years, the team does not have someone in the wings just waiting for his chance to start. If Anu Solomon, Charlie Brewer, or Zach Smith can step up, the Bears will be competitive once again. If not, it's going to be a long season in Waco.

TCU: The Horned Frogs have the talent on offense, but it will not matter if quarterback Kenny Hill can't be more consistent. He must cut down on the interceptions and re-establish TCU's deep passing game. If he can do that, and the front seven can do a better job against the run, the Horned Frogs will make some noise.

West Virginia: The Mountaineers will need to be carried by their running game until Florida-transfer Will Grier can get on the same page with his receivers. He will have his work cut out for him with a rebuilt offensive line. The defense has some talented players, but not a lot of experience. They could be in trouble if someone doesn't fill the void at cornerback. Dana Holgorsen is a good coach, but he'll have his work cut out for him this season.

Kansas State: Bill Snyder's Wildcats will be able to run the ball well again this year behind a talented offensive line that will feature four returning starters. But if they are going to contend, they need to figure out how to pass the ball better. Jesse Ertz only threw for 1755 yards last season. In the Big 12, a team must pass better than that to win.

Texas Tech: Kliff Kingsbury gets his top four wide receivers back, but he must replace Pat Mahomes. He may have his guy in Nic Shimonek, but he will not know for sure until the team takes the field in Week One. Whatever the offense does will matter little if the defense can't stop anyone—and it stopped no one last year.

Iowa State and Kansas: Let's not waste time—neither of these guys has a chance.
And the winner will be…
The Oklahoma State Cowboys! They have way too much talent returning on offense not to get the job done this season. Oklahoma will give them a serious run for their money but will be undone in the conference rankings by some early season struggles as they look for playmakers to emerge. Texas will be better but is likely a season or two away from being a contender.