---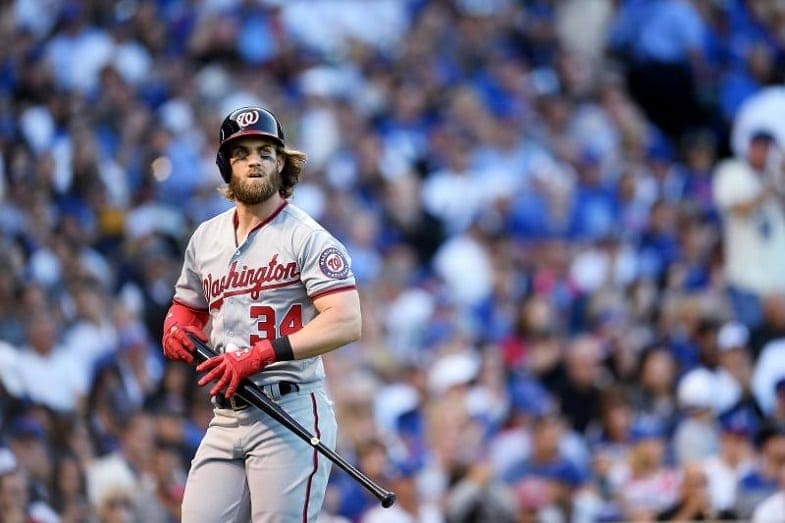 Washington Nationals outfielder Bryce Harper is one of the lucky ones. He knew what he wanted to be at a very young age. Harper took the steps he needed to take to make it happen, and it has. He has yet to reach the ultimate goal for every baseball player, which is of course winning a World Series, but he has accomplished quite a bit on an individual level.
In six seasons in the Major Leagues, he has been named an All-Star five times, won Rookie of the Year (2012), the NL MVP (2015), NL Hank Aaron Award (2015), and the Silver Slugger Award (2015). He's a career .285 hitter with 150 home runs to his name (prior to the 2018 season)—and he's only 25 years old.
There is no reason to think he is going to slow down anytime soon. At his age, that could mean at least a decade of 20-plus HRs a season in him. In the right lineup, he could easily knock in over 100 RBIs a season as well (career high is 99 in 2015).
He could very well be the ultimate offensive weapon and a pretty decent outfielder. The prevailing thought is, being such a weapon, he could become MLB's first $400 million man when he becomes a free agency at the end of this season (or $40 million man on a per season basis).
Per ESPN's Jerry Crasnick, there are at least six MLB front-office executives that think Harper could easily command such a salary. One general manager told ESPN's Eddie Matz that $400 million could be the low-end of what Harper could be in for:
"He is going to get paid. Like, paid paid … Four hundred million is light. It's going to be more than that. If you could sign him to a 15-year contract, you do it. I would say something in the range of $35 million a year, maybe closer to the high 30s. It could approach 40 million dollars a year."
At the least, Harper will top the $325 million, 13-year contract the Marlins signed Giancarlo Stanton to in 2014.
Yes, the least.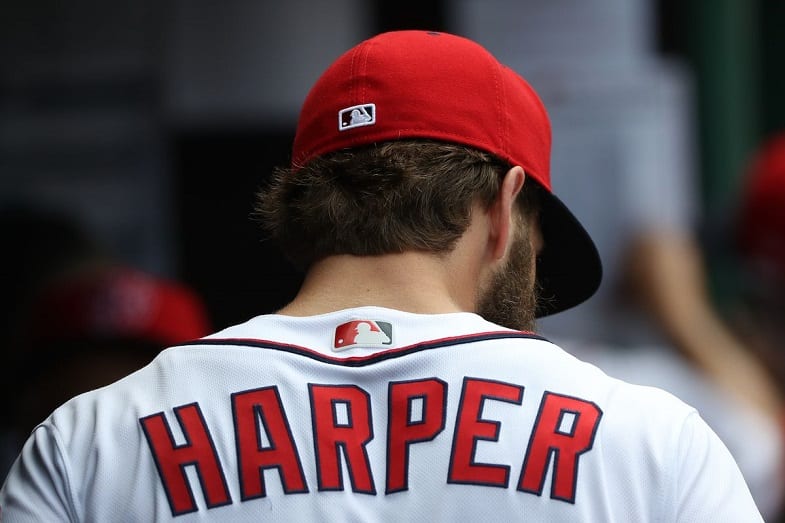 That makes the 2018 season the contract year to beat all contract years for Harper. But can he live up to the hype and expectations?
They were super-high after he became the youngest player ever unanimously named MVP for the National League in 2015. Had he followed that up with another strong season in 2016, we'd probably be talking about him making half a billion dollars in the near future. But instead, all his numbers took a significant dip.
While he played in 147 games, there have been reports of health issues as well as frustration at the plate.
But then he did what a superstar is supposed to do the following season—he bounced back. Despite the injury issues he had in 2017 (played in 111 games), he still managed to hit 29 home runs and record a pretty nice stat line: .319/.413/.595/1.008.
That must mean whatever ailed him in 2016 is behind him—right?
An American League GM said Harper's 2016 season was "forgotten." Telling ESPN that,
"Last year, he still had the classic walk rate, so you know things were happening positively for him, and you know there was something happening on the injury front. For two of the last three years, if he hasn't been the best player in the National League, he's certainly on the shortlist. He's one of the best players in the world. He's one of the youngest players in baseball, and he's one of the most accomplished."
Of course, to truly put his struggles behind him and earn the ridiculous payday he is about to get he needs to have another MVP-like year this season. While it is a little early to call the year an MVP-quality season, it is certainly a nice start.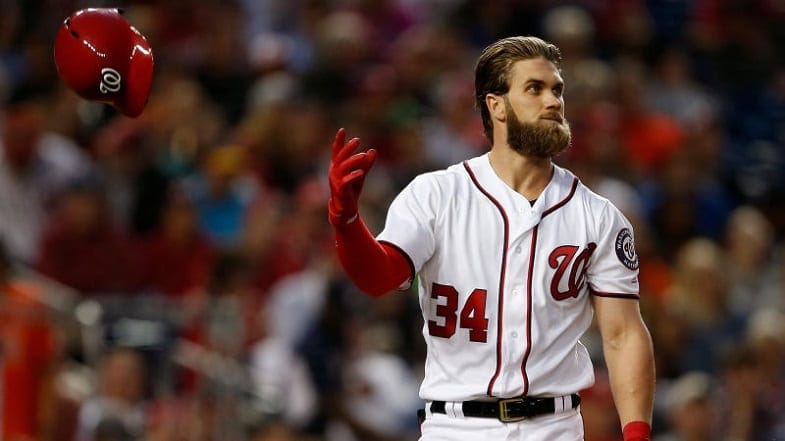 Through the first 17 games of the season, he is hitting .315 with eight home runs (all in April), 17 RBI's, and an OPS of 1.265. He went the first five games of the season without a strikeout (has since struck out 11 times).
It's a pretty good start but he's done better. Last year, he hit .391 in April with nine home runs, 26 RBIs, and an OPS of 1.281. He was looking like a potential MVP yet again. But a knee injury forced him to miss most of August and September.
But good starts appear to be par for the course for Harper. In 2016, he hit .286 with nine home runs, 24 RBI's, and an OPS of 1.121 in April. His start in his MVP season was quiet in comparison (.286, five home runs, 15 RBI's, and an OPS of .985).
With plenty of April still left to play, he is off to another solid start. But what general managers around the league are going to want to see is this: can he can keep it up or will he cool off? His pace isn't so torrid that a significant cool off will undoubtedly happen. But it could.
If it does, how he responds could be vital to his future contract. It could go a long way towards deciding how many teams will compete for his services. Of course, the more teams compete, the higher the price tag is going to get.