---


Football is holding on to it's title of most popular sport in the United States, and it's beating the competition by a lot. According to a Harris Poll from 2016, 33 percent of adults polled said football was their favorite sport. The next sport on the list was baseball, but only 15 percent of adults said the sport was their top choice.
Yet when it comes to popularity around the world, football is still lagging behind. American football ranks between seventh and tenth on several lists of popular sports around the world, way behind Association football (what we know as soccer), which sits pretty at no. 1.
Still, the sport is gaining popularity, and the NFL is making an effort to attract the attention of more fans around the globe.
In 2017, NFL teams are played four games in London, a tradition which started in 2007. 
More than 84,500 fans showed up to watch the Baltimore Ravens take on the Jacksonville Jaguars at Wembley Stadium in London, a game which ended with a score of 44-7 in favor of the Jags. A week later 84,400 fans arrived at Wembley to watch the New Orleans Saints play the Miami Dolphins, which showcased an embarrassing offensive performance for much of the game, especially for the Dolphins who failed to score a single point. Some 74,000 fans showed up to watch the Rams destroy the Cardinals 33-0 on October 22 and the Vikings beat the Browns 33-16 a week later to wrap up this year's London games.
All in all, 26 different teams have made the trip across the pond to play. But this year London isn't the only destination outside of the United States. The NFL also added a game at the Estadio Azteca in Mexico City, featuring the Patriots and the Raiders, which scheduled for this weekend.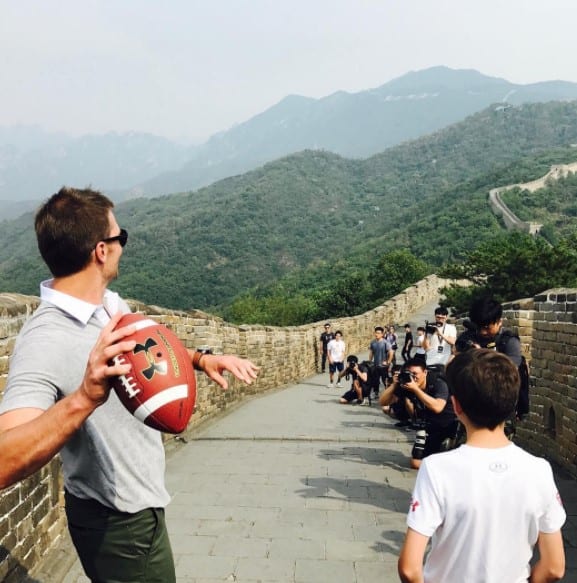 But even before this season's games abroad, players and owners found other ways to promote the sport during during the offseason. In June 2017, NFL owners and players, current and former, were all over the world. New England Patriots owner Robert Kraft visited Israel with 18 Hall of Fame players, and commissioner Roger Goodell joined them on the latter part of the trip. Patriots quarterback Tom Brady did a promotional trip out east, visiting China and Japan. Meanwhile, Cowboys owner Jerry Jones visited the Vatican with six Hall of Famers,  and Julian Edelman and Danny Amendola were in Mexico City.
With all this effort to promote American football globally, it begs the question: can American football become a top sport around the world?
---
---
President of the NFL Hall of Fame David Baker thinks that football can help bring people together on a global level.
"I think it shows that, again, this game, brings a lot of people together," Baker tells Sports Retriever, "They are people of different nationalities, different faiths, different races, and this is what it did in the United States and I think it can help do it in the world."
For others, the love of sports as a whole shows that football can prosper outside of America.
"When you look at how much people love what we call soccer, you call football, there is a love for sport," Hall of Fame quarterback Joe Montana explains. "Once people figure out the difference in the game and understand it, it's very addicting."
As for a team abroad, former wide receiver Cris Carter believes it's a matter of a few years.
"Football is still going to continue to grow, I believe that we will have a team probably in Europe in the next three to five years," he tells Sports Retriever. "But you also have to realize that you have 32 teams in the United States, so if you do have a team in Europe it puts them on an odd team in terms of 33. So they might have two teams.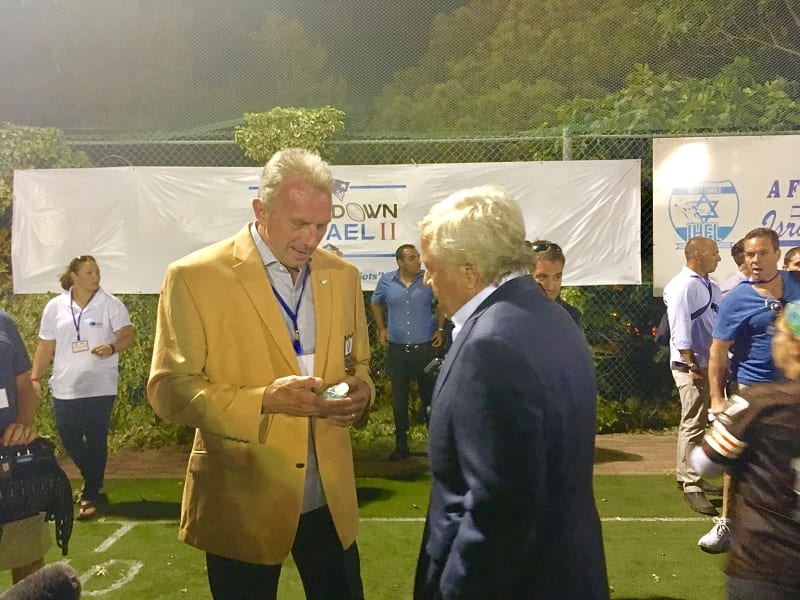 "I know Roger Goodell has been a huge emphasis globally. Looking at football, it is the most popular sport in the United States and is growing around the world, so I look for not only leagues like [the Israel Football League] to continue to grow, younger people in Europe playing more football as they grow up, not only men but young women playing flag football. So I think it's important not that there's a team in Europe, but that the game just continues to grow and the principles of the game we continue to share with young people."
There are plenty of men and women playing around the world. According to the International Federation of American Football, there are currently 71 countries that have federations of their own and there are 33 federations in Europe alone.
These grassroots movements will definitely help build the sport from the ground up, with home grown athletes. But at the moment it seems as if there is still something missing that is stopping the sport from getting over the hump and gaining traction in other countries. It may simply be that all over the world countries have their national sports, and let's face it, it's hard to overtake those. But are there other issues hindering it? We may not know until we see a professional team abroad and whether or not an actual NFL team can get fans riled up and in the stands.