---
Imagine for a moment that one morning this summer New Yorkers passing through Times Square look up and see a new, building-sized advertisement. Its bottom half is dark, save for a giant Nike swoosh and the slogan "Write Your Own Ending." Farther up the darkness gives way to the back of a basketball player in a New York Knicks jersey. The number is 23; the name is James; and New York erupts into sports euphoria.
This is a complete fantasy, and it's almost certain that nothing of the sort will happen. But a month ago that "almost" wouldn't have been necessary. The Knicks have never been among the teams eyed as potential LeBron James destinations this summer – partly because the team has a disastrous payroll, and partly because James has left entire loaves of bread leading to Los Angeles. But when the Knicks hired David Fizdale as their new head coach, they might have eked just barely into the sweepstakes.


James has been publicly affectionate toward Fizdale, which is more than can be said about his relationship with most coaches. The two of them had quite a run together during James's time in Miami, with Fizdale serving as an assistant coach under Erik Spoelstra for all four of James's seasons there. As little as the world's greatest player seems to need coaching (he does a lot of it himself these days), Miami remains the most stable situation he's ever been a part of. And the results speak for themselves.
That doesn't mean the situation in New York would be anywhere near as stable. Spoelstra wouldn't be part of the equation, Kristaps Porzingis may miss most of next season, and James Dolan remains one of the most inane owners in sports. Despite all of that though, James knows he can win with Fizdale. He knows Porzingis is one of the best young players in the game. He plays better at Madison Square Garden than any other arena. And he'll gain a say in the front office anywhere he goes.
None of this matters anyway, however, if the Knicks can't manage a dramatic roster overhaul to make space for James in the first place. As of now, New York has a few albatross contracts and a roster that's far from contention. But there are a couple of ways they could pull it off.
Shed Contracts With No Return
While the Knicks' payroll looks ghastly, they actually have a chance to open up significant cap space this summer. Enes Kanter (set to make $18.6 million in 2018-19) and Kyle O'Quinn ($4.3M) both have player options. Somewhat insanely, Kanter has implied he might opt out, and O'Quinn could conceivably be pressured to do the same. If both players choose to leave the Knicks, the team will be $22.9 million more flexible than it is now. That's not enough for James, but it's within range.
The next step would be trading Tim Hardaway Jr. ($17.3M) or more likely Courtney Lee ($12.3M). Neither contract is an easy sell, but Lee's isn't awful and he could be an appealing veteran for a young team with cap space. The Kings come to mind, and the 76ers could use the shooting depth as well. Either team could absorb Lee without having to give much back in terms of salary. Figure the Knicks could also work out dump-offs for the likes of Trey Burke ($1.8M) and Troy Williams ($1.5M) and they could free up $35-38 million with which to chase James – all without losing key players or the #9 pick in the NBA Draft.


Trade Joakim Noah
Joakim Noah has one of the league's worst contract. He's owed nearly $38M over two more seasons, and at this point he's hardly a functional player. However, the Knicks could still get a deal done if they dangle a pick as a sweetener.
One deal that actually makes some sense would be to send Noah home to the Chicago Bulls. Financially, a swap of Noah and the #9 pick for Robin Lopez and the Bulls' #22 pick works. The deal would save the Knicks about an extra $4 million. The Bulls would get a second lottery pick, which at this point in their rebuild is far more valuable than Lopez.
Following this deal, the Knicks could attempt to flip Lopez to the Dallas Mavericks to cut more salary. Nerlens Noel, who is out of favor with Dallas, could help arrange a sign-and-trade and head to New York as a more affordable exchange for Lopez. (Not for nothing, Noel and James share an agent in Rich Paul.)
Throw in the aforementioned opt-outs and this trade would help the Knicks gain a great deal more flexibility, not just to sign James but to fill out the roster to suit his preferences.
The Pitch
The best case scenario here is that the Knicks could pitch LeBron James on a core of Frank Ntilikina, Tim Hardaway Jr., Kristaps Porzingis, and one of Lopez or Noel. It's not as gaudy a roster as James could construct with the Lakers if he joined alongside Paul George, and it's certainly not as loaded as Houston or Philadelphia would be with James. This hypothetical team doesn't scream instant contention.
At the same time, however, it's a surprisingly good roster in terms of fit. Ntilikina is a defense-first combo guard, which works just fine given James doesn't need a distributor. Hardaway is an overpaid but perfectly competent two-way player. And Porzingis would be one of the most talented teammates James has ever had; the two of them together could function as a better version of Joel Embiid and Ben Simmons.
A lot has to happen, but it's not a bad situation, particularly when you consider what many in NBA media have been admitting lately – that there's no great basketball destination for LeBron James. And the Knicks may just have one small advantage, which is in effect that imaginary advertisement in Times Square.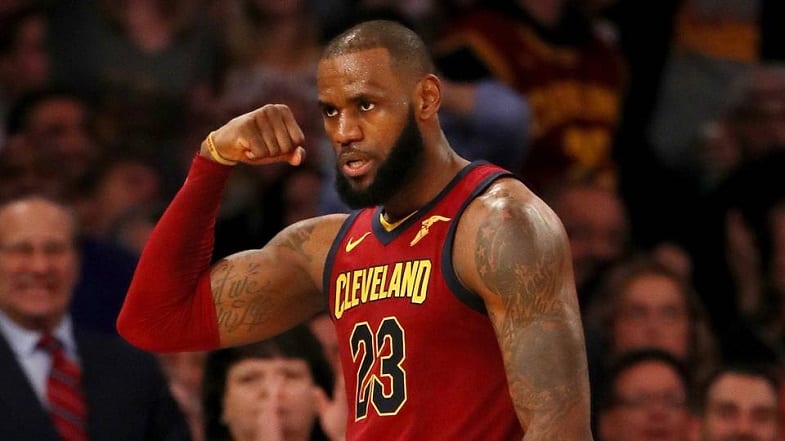 All these years, LeBron James has been telling a story. He graced the cover of Sports Illustrated as a high school junior and was drafted as the prodigal son in his home state. He justified the hype (his most astonishing accomplishment), became the best player of the world, and then shocked us all with an ill-conceived TV drama announcing his move to Miami. In 2014 he constructed a moving tale outlining his need to return home to Cleveland and finish what he started. He then did just that, delivering the city its first professional championship in decades and completing his arc from hero to villain and back again.
LeBron loves a narrative. If he stays in Cleveland, his stays stable. If he goes to LA he'll have merely done what most expect. If he joins Houston or Philadelphia it looks a little too much like title-hunting (and I'm guessing James doesn't want to be the bad guy again), and if he returns to Miami he looks indecisive. The best narrative on the table might actually be a surprise move to Madison Square Garden, where he could pair with a young star and one of his favorite coaches, and where reinforcements would undoubtedly arrive within the year. He could, with a stroke of his pen, resurrect basketball in New York.
It's all wildly unlikely. But NBA summers seem to be getting wilder, and it's a surprisingly decent pitch for Fizdale to make. And what could possibly be a cooler final act for The King?