---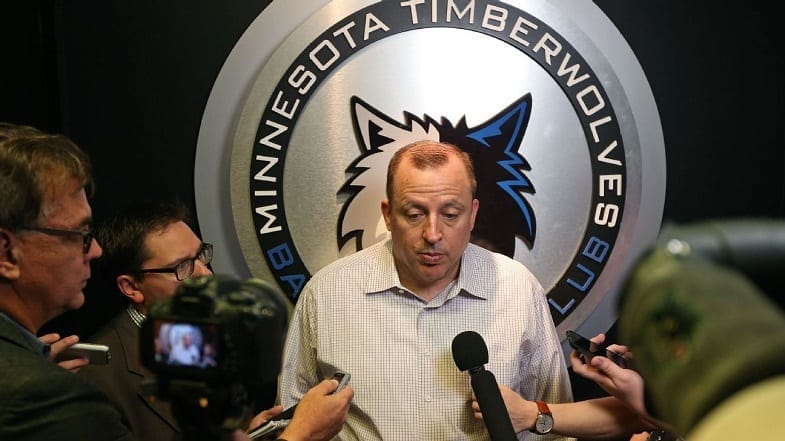 NBA fans take it for granted that Tom Thibodeau is a defensive mastermind. He's earned the reputation over the course of multiple decades coaching professionally, and his record speaks for itself.
The 2000-01 Knicks, for whom Thibodeau was an assistant under then-head coach Jeff Van Gundy, once held 33 consecutive opponents under 100 points. When the Boston Celtics hired Thibodeau as associate head coach under Doc Rivers in 2007, he was hailed as the incoming "Minister of Defense" for the team. Per NBA.com, Boston finished first in the NBA in "general team defense" in the 2007-08 season – Thibodeau's first – when it also won the NBA championship.
Thibodeau was given his first head coaching job when the Chicago Bulls hired him away from the Celtics after three seasons. Again, stories about his hiring revolved around his reputation as a defensive genius, and the possibility that he would restore some toughness to an organization that was flashing a bit of talent for the first time in years. The Bulls ranked first in the NBA in general team defense in Thibodeau's first year, excelling in every defensive category. They finished with a 62-20 record, having gone just 41-41 the season before (and ranked 17th in defense).
Chicago would rank as the league's best defensive team again the following season, and only dropped off thereafter because of serious injury issues. In 2012-13, Derrick Rose (the league MVP in Thibodeau's first season with the Bulls) missed the entire season, and defensive anchor Joakim Noah missed 16 games. In 2013-14, Rose played only 10 games and Luol Deng – the league's original "LeBron-Stopper" and at the time one of the best overall defenders in basketball – played just 23. Even with those concerns, NBA.com ranked the Bulls as the 11th best defense in the league in both of those seasons. They were back in the top-10 in 2014-15, Thibodeau's final season in Chicago.
Again, the record speaks for itself (even if I just sort of spoke for it too). The point is, there's no questioning Thibodeau's past as the driving force behind some of the best defensive teams in recent league history. There might, however, be some reason to question his ability to affect his current team the same way.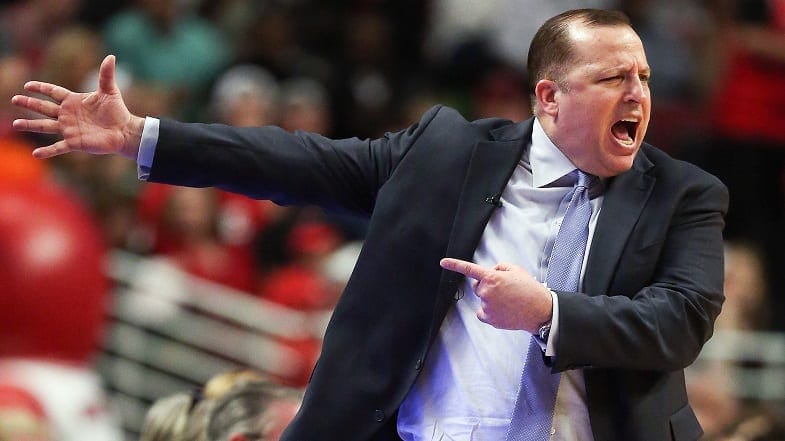 Thibodeau was hired before the 2016-17 season to be the head coach of the Minnesota Timberwolves. The team was widely viewed as having one of the most exciting young cores in basketball, featuring Andrew Wiggins, Karl-Anthony Towns and Zach LaVine. With Thibodeau on board, the team promptly selected Kris Dunn, an athletic guard out of Providence described in his Draft Express profile as having the tools to be a lockdown defender when dialed in. This core of young and athletically gifted players, coupled with Thibodeau, appeared poised to be a scary defensive unit in time.
But at least in the first season, it just didn't happen. The Timberwolves were one of the worst defensive teams in the league in 2016-17, and that young core looked frankly uninterested in playing the hard-nosed, high-energy defense Thibodeau teams have become known for. Per ESPN, Zach LaVine ranked 441st in the league in defensive real plus-minus, at -2.35. Andrew Wiggins ranked 460th (-3.16). And Karl-Anthony Towns, a player league pundits were falling over themselves to anoint the best young talent in the NBA during the 2016 preseason, ranked 383rd overall and dead last among centers.
To some extent, these numbers are impacted by the fact that the Timberwolves just weren't a very good team, and for all their young talent we never should have expected them to compete in the Western Conference – not yet anyway. But keep in mind that real plus-minus is different than the +/- stat you see in box scores. RPM essentially adjusts for teammate and opponent performance to come up with a more accurate representation of how a player is impacting the game, rather than looking purely at how the score changes while that player is on the court. And even if team performance inevitably factors in to some degree, those numbers for LaVine, Wiggins, and Towns aren't just bad – they're embarrassing.
Thibodeau and the Minnesota front office took an impatient but potentially very effective approach to fixing this problem. Over the offseason, the team swung a huge trade for Jimmy Butler, who played for Thibodeau in Chicago and is generally recognized as a very strong defender. The Timberwolves also brought in new starting point guard Jeff Teague as well as Taj Gibson, a prototypical Thibodeau player who can almost function as a sort of poor man's 2008 Kevin Garnett defensively. In making these moves, the Timberwolves also lost Ricky Rubio, a limited point guard who's nevertheless solid on defense, and Dunn, who had a very rocky rookie season but still looks as if he could ultimately be a defensive pest off the bench if nothing else.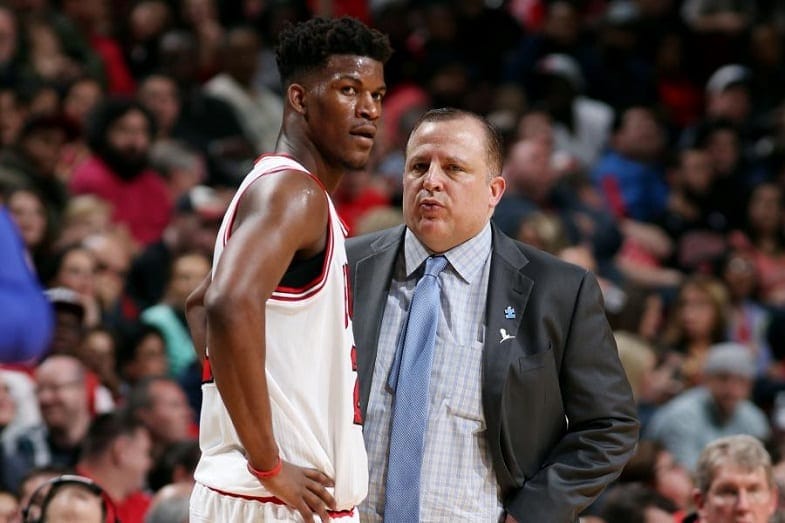 What's left is a roster that should in the long run help the remaining members of the young core find more success. Towns and Wiggins are still Timberwolves, and with Teague and Butler alongside them, among others, they're expected to make the playoffs. But this team's issues in 2016-17 weren't about star power, or even necessarily about being too young. Towns and Wiggins are both immensely talented, and on a given night both can look like potential All-NBA talents; many still believe Towns has MVP-caliber stuff. But neither one of them seems particularly passionate about playing defense, and Jimmy Butler's presence alone isn't going to change that.
Ultimately it's fair to say the 2016-17 Wolves were the worst defensive team Thibodeau has ever started with in the NBA. There was no Kevin Garnett on the team when he arrived – no prime Luol Deng or Joakim Noah. There wasn't a young, do-it-all MVP point guard already running the show. And there wasn't even a Kirk Hinrich, Rose's long-term backup in Chicago and a terrific defender. Thibodeau has done his best to bring in that sort of personnel already. But if this group is going to succeed on the defensive end, it's going to have to be with Towns and Wiggins playing major roles.
That should be, and is, both players' responsibility. But given his reputation in this area, it's also going to be on Coach Thibs.