---
If you look back at the last few seasons of college basketball and pick out the best players, you'll find a lot of names that are relevant in the NBA. Recent All-Americans, tournament MVPs, major conference players of the year, etc., have managed to make the transition to the pro game pretty well for the most part. But this isn't always the case. Inevitably, there are always a few bona fide college superstars who, for one reason or another, don't register in the NBA. Sometimes they hang around the D-League (now called the G-League); sometimes they head overseas; sometimes they seem to drift away from the game altogether.
But it can almost be more fun to look back on these guys' college careers than those of current NBA players, because in a way, they went out on top. We can remember them as stars at the top of their classes, rather than NBA role players. Or at least that's a kind way of looking at it.
At any rate, it's always fun to go back and remember some of these names. So without further ado, here are my All-Forgotten Stars (1st and 2nd teams) for recent college basketball history.
1ST TEAM
F – Wayne Simien (Kansas)
Wayne Simien might not have made much of himself as a pro – he bailed on basketball to start a Christian ministry after a few years struggling on the fringes of the NBA – but he's one of the biggest overachievers we've seen this century. Simien went to Kansas as the 67th ranked player in his class (the one in which Kwame Brown, Eddy Curry and Tyson Chandler were in the top-five), and went on to become Big 12 Player of the Year and a 1st Team All-American during his senior season. Unfortunately, he may be best remembered for seeing his college career come to an end at the hands of the 14-seed Bucknell Bison, who knocked off the Jayhawks in the NCAA Tournament's first round in 2005. Then again, in his brief stint in the NBA, Simien did win the 2006 NBA title with the Miami Heat.
F – Luke Harangody (Notre Dame)
Here's a quick player comparison. Player A: 22.6 points, 10.2 rebounds, 0.9 assists. Player B: 23.3 points, 11.8 rebounds, 2.1 assists. Those are very tight, but you'd probably lean toward Player B, right? Well, Player A is Tyler Hansbrough during his junior year at North Carolina, when he racked up just about every honor in college basketball, including AP Player of the Year. Player B is Harangody during his own junior year, during which he was a 2nd Team All-American. I'm not saying Harangody was better – he wasn't – but this should illustrate that he was an incredible college player, even if he barely registered in the NBA.
G – Acie Law IV (Texas A&M)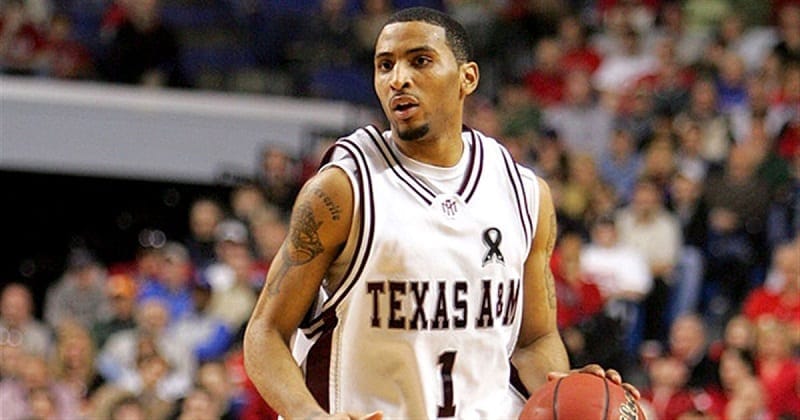 Acie Law IV was a ton of fun to watch during the 2006-07 season. Texas A&M has a largely irrelevant basketball program, and Law briefly turned the Aggies into a team no one wanted to play. He beat Kevin Durant's Texas team on a buzzer beater, led the way to 2nd place in the Big 12, and helped the Aggies come within a point of beating one of John Calipari's Memphis powerhouses in the Sweet 16. That season, Law averaged 18.1 points and 5 assists, shooting 51 percent overall and 45.8 percent from behind the arc. He was a First Team All-American and won the Cousy Award, and actually went on to stick in the NBA until 2011. But if you can remember seeing him in a pro uniform, you've got a clearer memory than I do.
G – Dee Brown (Illinois) 
Every college basketball fan ought to remember this Illinois team fondly. In 2005 (when Dee Brown won Big Ten Player of the Year), the Illini went 15-1 in conference and 37-2 overall, ultimately losing to North Carolina in the National Championship. They were led by one of the best backcourts in the last couple decades, and yet only one of the three feature guards went on to a successful NBA career. That would be Deron Williams, who, for the most part, was actually less productive than Brown and Luther Head during this incredible year. Brown briefly played behind Williams with the Jazz for about a season, but after brief subsequent stints with the Wizards and Suns he was out of the league. 
G – Jonny Flynn (Syracuse)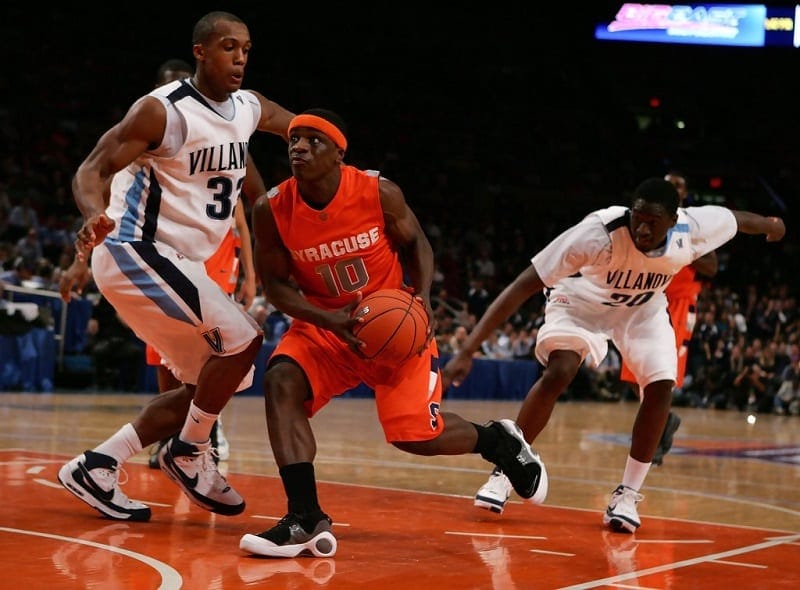 Jonny Flynn had a rock solid career at Syracuse, even if it only lasted for two seasons before he (perhaps unwisely) bolted for the NBA. As a sophomore, Flynn averaged 17.4 points and 6.7 assists, becoming a fan favorite with his open court speed, crafty passing and penchant for big moments. He's probably best remembered for starring in one of the best and most ridiculous college basketball games of all time – a six-overtime mini-series against Connecticut in the Big East Tournament at Madison Square Garden. When the Orange finally won 127-117, Flynn led all scorers with 34 points in a ridiculous 67 minutes played. He was drafted sixth overall in the NBA Draft, but was unable to stick in the league, probably in part due to a hip injury he suffered in 2010. It's a shame, because this guy was a blast.
2nd Team
F – Shelden Williams (Duke)
It's hard to figure why Shelden Williams never carved out a role for himself in the NBA. He's one of only 13 players to have his jersey retired at Duke, having averaged a double-double for two seasons and been named the National Defensive Player of the Year in 2004-05 and 2005-06. He was always a little bit overshadowed by JJ Redick, with whom he played for his entire college career, but he was a college star in his own right. 
F – JaJuan Johnson (Purdue)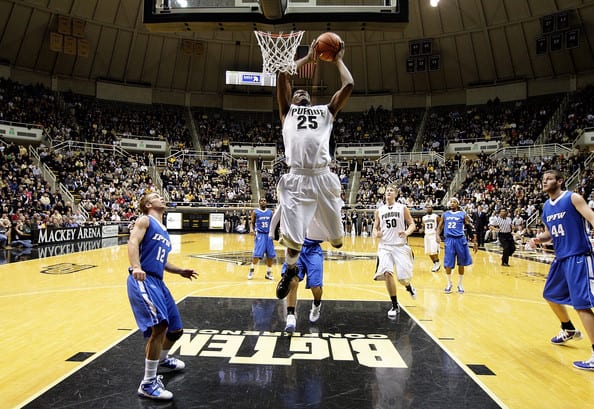 After averaging just 5.4 points as a freshman, JaJuan Johnson put together an awesome career at Purdue. By the end of his senior season (2010-11) he was averaging 20.5 points, 8.6 rebounds and 2.3 blocks per game en route to Big Ten Player of the Year honors. His class, also featuring E'Twaun Moore and Robbie Hummel, may be the best Purdue ever had. Johnson was drafted by the Nets and played briefly for the Celtics, but wound up going overseas (where he still plays in the Turkish league).
G/F – Alando Tucker (Wisconsin)
If you don't remember Alando Tucker, do yourself a favor and go watch some of his highlights. He was one of the more electric college players in recent history – the kind of guy who seemed to want to keep running while dunking, and who occasionally launched and hit an erratic three-pointer just because the time seemed right. Tucker wasn't just a wildcard though. He averaged 20.6 points for his college career, and in his redshirt senior season in 2005-06 his 24.3 points and 6.6 rebounds per game made him a Wooden Award finalist and a First Team All-American. Tucker barely popped his head up in the NBA, perhaps because he was already "old" when he got there, and teams were less forgiving of adjustment time. 
G – Scottie Reynolds (Villanova)
If I just told you that a 6'2'' senior point guard who averaged 18.2 points and 3.3 assists and shot 38.5 percent from three in a power conference went undrafted in 2010, would you even have a guess as to who it was? Scottie Reynolds was awesome in 2009-10, a 1st Team All-American and Wooden Award finalist. He played for a school that already had a recent reputation for turning out solid guards in Randy Foye and, more notably, Kyle Lowry. It blows my mind that he never played an NBA minute. According to ESPN, he was the first AP All-American to go undrafted since the NBA-ABA merger in 1976. 
G – Sherron Collins (Kansas)
I have a little bit of a pet theory that for whatever reason Kansas players don't succeed in the NBA these days, so it's not too surprising to me that a 5'11'' Jayhawks point guard played just one season in the league. But Collins was a terrific college player, handling a supporting role for the 2007-08 national title team as a sophomore, and running the Kansas team for the next two years. He was a 1st Team All-American as a senior in 2009-10, and he's probably the best point guard Kansas has had since 2000. Not bad, given that Kansas is right there with Duke, North Carolina and Kentucky as one of the most successful teams this century.