---
Every NFL team is busy in the offseason trying to do one thing—find the next surefire superstar. In today's NFL that means a never-ending search for elite wide receivers. Everyone wants to have their own Odell Beckham Jr., Antonio Brown, or Julio Jones. They want to have the next Jerry Rice, Randy Moss, or Tim Brown.
It's not hard to understand why. Winning is a lot easier when you have the best players. But Dallas Cowboys quarterback Dak Prescott posed an interesting scenario recently regarding No. 1 wide receivers.
Do you really need one?
"I don't know if any team in the league necessarily needs a No. 1 receiver," Prescott said. "It's about getting the ball out, spreading the ball around, keeping the defense on its toes."
He's essentially talking about the spread offense, a system common in college but not embraced too much in the NFL. But some teams are starting to work in elements of it into their offensive game plans to better utilize the talents and skill sets of their young quarterbacks.
Does that mean Prescott is on to something?
What makes someone a No. 1 wide receiver?
Before it can be decided whether 'No. 1 receivers' are necessary, it helps to figure out what makes a player a No. 1 wide receiver. Technically, every team has a No. 1 receiver because every team is going to have one guy targeted more than everyone else.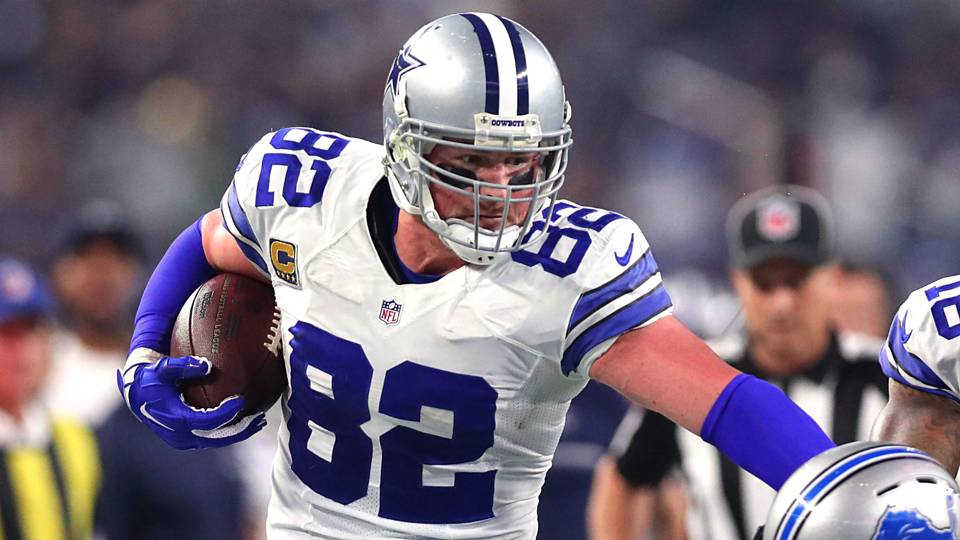 However, by that definition, Cole Beasley was the No. 1 receiver for the Cowboys in 2016, since he was targeted one more time than Dez Bryant was and three more than Jason Witten. But he is not remembered nor was he considered the team's No. 1 receiver that season.
If you go by salary, you see more of the guys that are typically considered No. 1's (i.e., Antonio Brown, DeAndre Hopkins, A.J. Green, Julio Jones, Alshon Jeffrey, etc.). Jeffrey makes the list because his average salary was in the top ten for wide receivers last season. However, while his production led the Eagles in most categories, a player that only had 789 receiving yards is not considered elite.
What makes a player the No. 1 receiver for his team is not his salary or how often he's targeted. No. 1 receivers are elite. They get targeted a lot because they catch a lot. But they don't just make the catch; they do something with the ball after the reception.
"A real No. 1 receiver will force the defense to use a safety or linebacker to help the corner on most downs," a is how one former defensive coordinator in the league explained it to NFL.com analyst Bucky Brooks. "Despite facing brackets and double-teams, he will still find a way to impact the game, particularly when the game is on the line and everyone knows that he's getting the ball."
In a nutshell—they produce regardless of the circumstances.
Who wouldn't want such a guy on their team? What quarterback in his right mind would tell his team not to pick up such a player if they can?
Where a problem arises is when the guy perceived to be the No. 1 wide receiver because he's been that guy, quits playing like that guy.
Dak Prescott and No. 1 Receivers
Dak Prescott's only experience with a No. 1 receiver has been Dez Bryant. He didn't have to worry about targeting him during his rookie season. As a result, the Cowboys had three guys with 95-plus receptions, defenses couldn't key on anyone, and the passing game was an effective complement to the run game.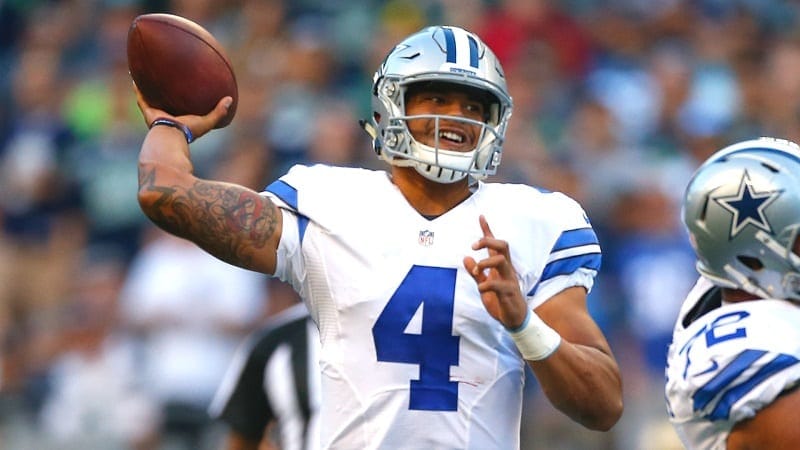 However, in 2017, things changed. It didn't help that the Cowboys lost Ezekiel Elliot for six games. But there was a clear effort to make the passing game go through Dez Bryant—and he didn't produce. He was targeted 133 times and only made 69 receptions for 838 yards and six touchdowns.
A No. 1 receiver needs to catch more than 51.8 percent of the balls thrown his way.
When you consider his experience in the NFL to date, it's not hard to see why Prescott could care less if the team has a No. 1 receiver. The only one he's known wasn't that good. When he wasn't forced to feed him, the team won 13 games. When he was, they only won nine and missed the playoffs.
The Value of No. 1 Wide Receivers
But there is more to the argument than just a declining Dez Bryant. Last season, of the team's highest-paid wide receivers (top ten), only three made the postseason, Antonio Brown, Julio Jones, and Alshon Jeffrey. While Brown and Jones are considered two of the best in the business, Jeffrey was merely the Eagles No. 1 option.
If you look at the top ten producers, four of the top ten didn't make the postseason (Keenan Allen, DeAndre Hopkins, Larry Fitzgerald, and Marvin Jones Jr.). Having the top two receivers in the NFL didn't help the Pittsburgh Steelers or Atlanta Falcons much in the postseason. Of the top ten receivers, only one made it to the Super Bowl (No. 10 Rob Gronkowski).


The New England Patriots and Jacksonville Jaguars lost their best receivers to injuries early on but saw someone else step up and fill the void. Of the other playoff teams, the Tennessee Titans didn't really have a No. 1 guy, and neither did the Buffalo Bills. The Rams leading receiver was a rookie. Carolina targeted their rookie running back as much as their top receiver (113).
More of last season's playoff teams did not have a true No. 1 wide receiver.
Are elite receivers overvalued?
Absolutely not!
What it means is that it is not imperative to have one if you want to win. It certainly helps since an elite receiver can help make lesser talents look better. When defenses focus on the elite guys, coverage is looser on everyone else.
But if you have a bunch of good receivers, then defenses can't focus on anyone. They will not have any inclination as to where the ball is going because it could go anywhere.