---
Walter Johnson pitches an 18-inning shutout, 1918
On May 15, 1918, the Washington Senators' Walter Johnson and the Chicago White Sox's Lefty Williams put on a pitching show, each pitching for the entirety of the game, a game that went into extra innings.
Johnson pitched a full 18 innings without giving up a single run, outlasting his competitor just enough to win a spot in baseball history. Williams lasted 17.1 innings, giving up a run in the bottom of the 18th, scored by Washington catcher Eddie Ainsmith.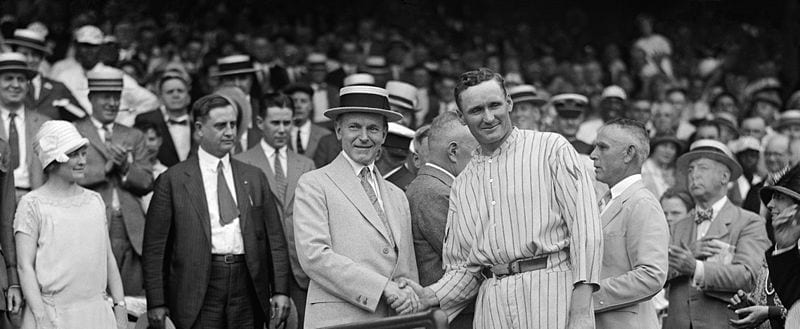 The game, played in Griffith Stadium is known as one of the greatest pitching duels in the history of the game.
Johnson pitched eight shutouts during the 1918 season, and pitched 110 shutouts throughout his career. He leads the all time shutouts list, the next on the list is Pete Alexander with 90 shutouts.
Rocky Marciano KOs Joe Walcott, 1953
On May 15, 1953, Rocky Marciano and Joe Walcott met for a rematch of their fight that took place less than a year earlier. In September, Marciano surprised Walcott, taking away the World Championships.
Walcott didn't wait long for the rematch, perhaps to rebuild his ego. This boxing match didn't take nearly as long as the first bout between the two. Just a few minutes after the two stepped into the ring, Marciano knocked out Walcott, who at first stayed on the ground not sure about what happened or what to do.
Needless to say, Walcott didn't save his reputation or his ego.
Nolan Ryan pitches first no-hitter, 1973
Nolan Ryan had set a lot of major league records. One of his most notable ones: seven no hitters over his 27 year career. On May 15, 1973, Ryan threw his first no-hitter of the seven, a 3-0 win for the California Angels over the Kansas City Royals.
Ryan struck out 12 batters and walked only three in the win that would mark the first of his no-hitters. The legend is still at the top of the all time no hitters list, with Sandy Koufax following him with four.
Throughout his career, Ryan struck out 5,714 batters, and walked only 2,795. He was part of the 1969 World Series winning Mets and is an eight-time All Star.
Ryan was inducted into the Hall of Fame in 1999.
Notable Birthdays:
1953 – Retired Kansas City Royals third baseman George Brett was born in West Virginia
1969 – Retired running back Emmitt Smith was born in Pensacola, Florida
1975  – Former Baltimore Ravens linebacker Ray Lewis was born in Bartow, Florida
1987 – The current no. 1 tennis player in the world, Andy Murray, was born in Glasgow, UK