---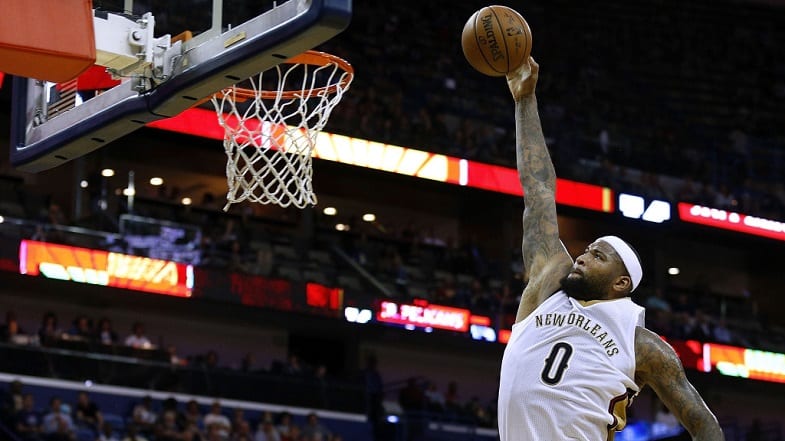 DeMarcus Cousins had a night to remember on Monday, as the New Orleans Pelicans defeated the Chicago Bulls at home 132-128 in double overtime.
The 27-year-old All-Star posted arguably one of the greatest stat lines in NBA history: 44 points (including 13-14 from the line), 24 rebounds, ten assists, a block and four steals. All in 52 minutes on the court. He shot 44.8 percent from the field overall, and almost all of his points came from the paint, beyond the arc and from the line.
He scored the same amount of points as Chicago's two leading scorers in last night's game (Jerian Grant and Robin Lopez scored 22 a piece).
Not only is this one of the best performances we've witnessed so far this season. Boogie's night ranks among the greatest performances of all time.
According to NBA Stats, the last player with a 40/20/10 stat line was Kareem Abdul-Jabbar, who recorded 44 points, 24 rebounds and 10 assists against the Phoenix Suns in February of 1972.
DeMarcus Cousins tallied 44 PTS, 24 REBS & 10 ASTS in the @PelicansNBA win tonight.

The last player in @NBAHistory to put up at least 40 PTS/20 REBS/10 ASTS in a game was Kareem Abdul-Jabbar on 2/26/1972 (44 PTS, 20 REBS, 11 ASTS). pic.twitter.com/cLM9FG2QYR
— NBA.com/Stats (@nbastats) January 23, 2018

In fact, such a performance is so rare that Boogie's night was only the tenth time in NBA history that a player put up a stat line of 40 points, 20 rebounds and 10 assists. The other eight? (Cousins and Abdul-Jabbar not included.) Wilt Chamberlain, Oscar Robertson and Elgin Baylor.
Chamberlain recorded six 40/20/10 games throughout his career. His last such game was in March of 1968, when he tallied 53 points, 32 rebounds and 14 assists in a 158-128 win over the LA Lakers. It was also his best performance of the six.
Robertson's 40/20/10 game was on January 9, 1965, when he recorded 42 points, 21 rebounds and ten assists against Baltimore. Cincinnati won 128-119.
Last but not least Elgin Baylor, who was the first to record a 40/20/10 night. Baylor scored 52 points, pulled in 25 rebounds and dished out ten assists on December 13, 1961, a game the LA Lakers won 137-136, beating St. Louis in overtime.
Abdul-Jabbar, Chamberlain, Robertson and Baylor are all four members of the Hall of Fame.
Not bad company, eh?
Here's another DeMarcus Cousins fun-fact for this season: according to NBA stats, the big man is the first player since Moses Malone to record three games of 40+ points and 20 rebounds in one season. Malone did it in 1981-82. Cousins, who is averaging 25.6 points and 12.9 rebounds per game, still has 36 games left this season.
Twitter went wild for Boogie's stat line, and even the King James chimed in:
Yo @boogiecousins chill out man!! Sheesh!!! Super sick stat line

— LeBron James (@KingJames) January 23, 2018

Oh, and just so you know, Anthony Davis scored 34 points and tallied nine rebounds, five assists and two steals, but Boogie's night completely overshadowed his All Star teammate (who has had his fair share of the spotlight as of late), and rightfully so.