---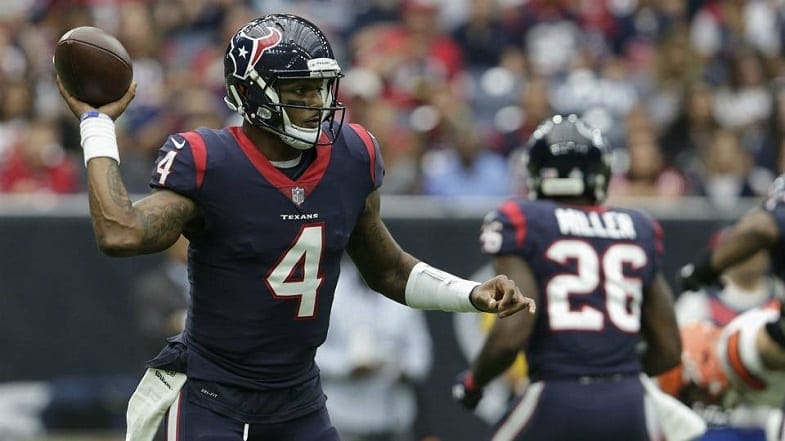 Fans of the Houston Texans have been dying for their team to get one thing since the team's inaugural season—a legitimate franchise quarterback. When the team traded up in the 2017 draft and selected Clemson quarterback Deshaun Watson, there was a ton of hope he could be the guy.
But he didn't earn the starting job to start the season. When he did play, he didn't look too great—at first.
Something clicked after his first start (Week Two vs. Cincinnati Bengals). Since then his game became reminiscent of the one that led Clemson to a national title, and he had the stats to prove it. In fact, he was producing so well that he seemed to set a new record almost weekly.
Then the promising young rookie tore his ACL in practice leading up to Week Nine's game against the Indianapolis Colts. Just like that, he's out for the season.
Of course, at this point, his record-setting days on the field are done and over with for the season. But that doesn't necessarily mean he is done making history this season.
The Records
After going 12-23 for 102 yards, a touchdown, and an interception in the second half of the season opener, it didn't look good for Watson. When he struggled to complete passes in his first start the following week against the Cincinnati Bengals (15-24 for 125 yards; five carries for 67 yards and a touchdown), it appeared as if the Texans had chosen a dud.
But in seven games, he completed 61.8 percent of his passes (126-204) for 1699 yards, 19 touchdowns, and eight interceptions. On the ground, he ran the ball 36 times for 269 yards and two more touchdowns. His numbers may not be mind-blowing in their entirety, but if you break down how he accumulated them they become record-breaking.
His 19 touchdown passes in his first seven games broke the record (18) previously held by Kurt Warner.

With 400 yards passing, four passing touchdowns, and 67 yards rushing against the Seahawks he became the first player in league history to record 400+ yards passing,  55+ yards rushing, and four touchdowns in a single game.
He is one of only four rookie quarterbacks since the merger to have four games with three+ passing touchdowns.
When he recorded four passing touchdowns and a rushing touchdown against the Titans, he became the third rookie and first since Fran Tarkenton to accomplish the feat.

With five touchdowns against the Titans, he tied the mark for second most touchdowns in a single game by a rookie (Gale Sayers holds the record at six).

No other rookie has ever recorded seven+ passing touchdowns and two+ rushing touchdowns in his team's first four games of the season.

With five passing touchdowns against the Kansas City Chiefs, he tied the record for most in a single game by a rookie.

In October, he set the record for most passing touchdowns in a calendar month by a rookie quarterback (16).
"He's the exact opposite of a selfish person," Texans coach Bill O'Brien said via the Houston Chronicle. "He's all about the team, and really all he cares about is winning when it comes to football. He just wants the team to win. He doesn't care about stats. We've learned that about him from the day we met him."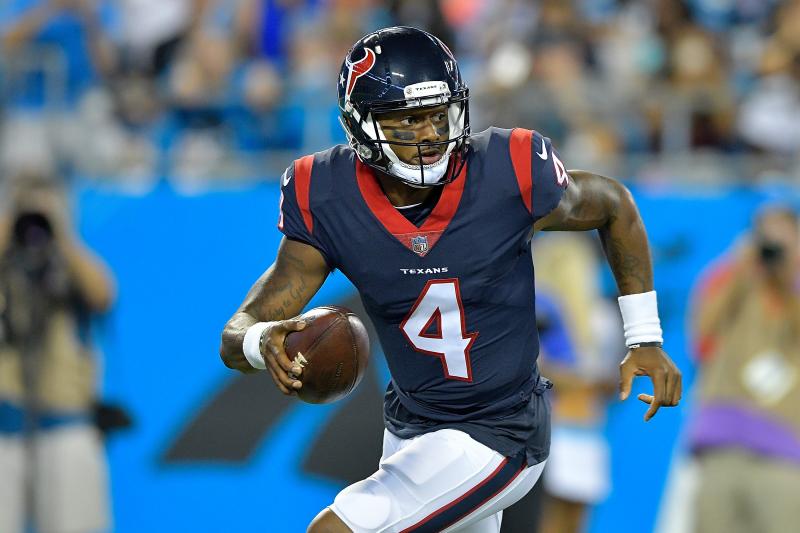 More History?
His season is over, and he is obviously done accumulating stats. But there is an outside chance that Watson could set another mark this year. Before his injury, he was widely considered the runaway favorite for Offensive Rookie of the Year.
Depending on how the season plays out, maybe he should still win it.
The obvious argument against the notion would be that he didn't even play half of the season. How can a player that played in only seven games of a 16-game season be named the Offensive Rookie of the Year? Well—it wouldn't be unprecedented.
There are former players who had played less than Watson will have by season's end and still won OROY honors.
The 1987 OROY was Miami Dolphins running back Troy Stradford. He only played in 12 of 15 games and started in only five. To further put how much he played into perspective, he had 145 rushing attempts that year; 35.5 percent of the team's total.
A decade earlier the award went to Dallas Cowboys running back Tony Dorsett, even though he only started four games (he played in all 14). Like Stradford, he wasn't the team's primary running back for much of the season. Of the 564 rushing attempts the Cowboys had that season, Dorsett only carried the ball for 208 of them (36.9 percent).
With 26 quarters under his belt this season, Watson has played in 40.6 percent of the team's games. Players have played less than Watson and still won it. So, why not him?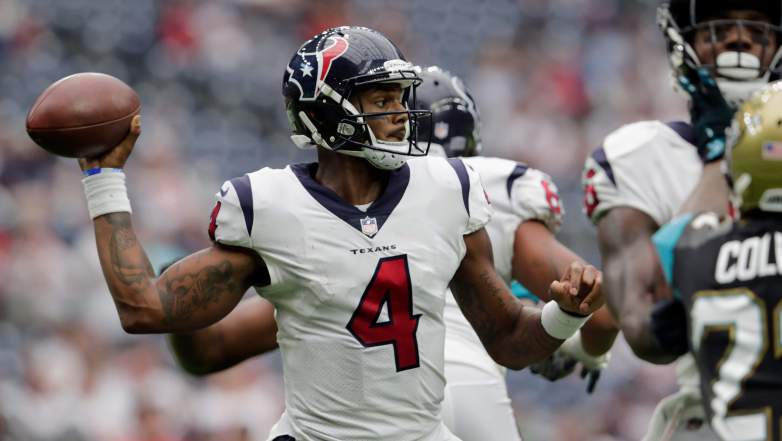 What about the other guys?
The answer to that question is obvious—because there are still two good candidates playing. Kansas City Chiefs running back Kareem Hunt is playing well with 873 yards rushing in his first ten games. Jacksonville Jaguars running back Leonard Fournette isn't doing half bad either (740 yards in eight games).
However, Hunt started the season at an award-worthy pace with 609 yards in his first five games. But over the next five, he gained only 264 yards. He hasn't run for a touchdown since Week Three. At his current pace of 52.8 yards a game (over the last five), he is going to finish the year with 1189 yards.
Is that a good season? Of course, it is. But is it award-worthy? Eh.
Fournette's production has been all over the place. He started the season with a 100-yard game against Houston (3.8 yards/carry). But his game against the Los Angeles Chargers in Week 9 was his worst yet (17 carries for 33 yards; 1.9 yards/carry). In between, he had a three-game stretch where he gained 185 yards and averaged just 3.4 yards/carry. But then he also had a 181-yard game against the Steelers and a 130-yard game against the Rams.
He's had some good games, but he's had more not-so-good games so far. Is that award-worthy? No.
If neither Hunt or Fournette go on to have extraordinary seasons should the award go to Watson? Or should one of them get it anyway because they played more than Watson did?
We'll find out at the end of the season.