---

When the Dallas Cowboys signed wide receiver Dez Bryant to a contract worth $70 million over five years ahead of the 2015 season, he was worth every penny. In the previous three seasons, he had made 273 receptions for 3,935 yards and 41 touchdowns. He was the team's primary weapon and had certainly earned a substantial pay raise.
But fast forward to the end of the 2017 regular season, and it is hard to say he still deserves to be paid like an elite wide receiver. Maybe– just maybe — he has become more of a problem for the team than anything else.
His production has been lackluster when he's been healthy enough to play. He has not had a 100+ yard receiving game since Week 10 of the 2016 season. In the three years since signing his extension, he has just four 100+ yard games (out of 38 games played).
He had four 100+ yard games in 2014 alone.
To be fair, injuries are a part of the game and shouldn't be held against him. While a finger could be pointed at him for the dip in production, along with battling injuries, he had to deal with lackluster quarterback play in 2015 and a brand-new quarterback in 2016.
However, when he was healthy enough to play and did make the catch, he didn't do much himself. In 2014, he averaged 4.9 yards per reception after making the catch. The following year that number dipped to 4.1 yards, and in 2016 it plummeted to 2.84 yards.
It climbed back up to 4.1 yards per reception after the catch in 2017. But to be considered an elite receiver a player has to do more than just make the catch. He needs to be able to do something with the ball once he does complete the catch—and he doesn't do that very much anymore.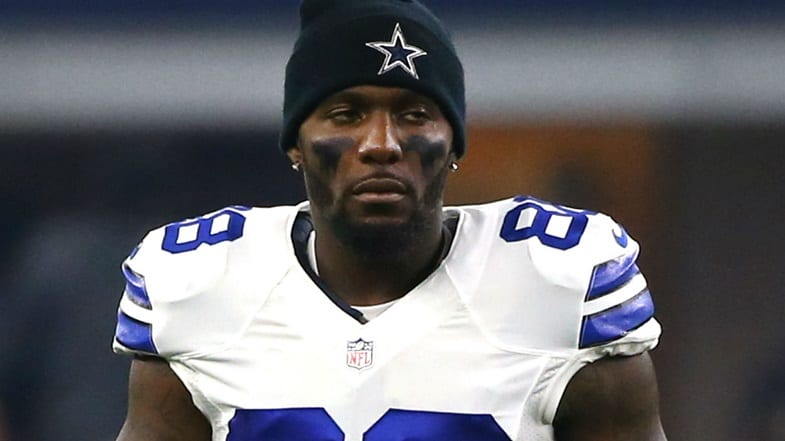 Prior to signing his extension, he was among the league leaders in big plays (receptions of 25+ yards). But that is not the case anymore. He's had 13 total the last three seasons. In the previous three, he had at least 11 in each (38 total).
So, his production has dipped; it happens as guys get older. It doesn't mean he is not a good wide receiver. He still produced enough to rank among the top 30 in receiving yards in 2017 (28th; 838 yards). He just might not be an elite receiver anymore.
But there is a difference between underperforming and being a problem.
Many like to point at his sideline antics when he had appeared to be yelling at people or complaining about the lack of opportunities coming his way. Of course, exactly what he said during most of the rants caught on camera during games has not been made public. As far as he or the team has let on, he is just a passionate individual that demands the best out of himself and his teammates.
There is no proof that he is a locker room issue or even a sideline one. However, where he could be a problem is if there is any truth to the perception that he has complained about not getting the ball enough.
Many expected him to have issues with not getting the ball as much in 2016. But he always said the right thing; that he just wanted to win—and win the Cowboys did and without the kind of contribution typically expected from Bryant. He was third on the team in receptions (50), second in yards (796), but first where it matters most – touchdowns (eight).
What was unique about the Cowboys passing game in 2016 wasn't Bryant's production. No, it was how Dak Prescott spread the ball around. Three guys were targeted 90+ times (Cole Beasley- 98; Dez Bryant- 97; Jason Witten- 95). Terrance Williams was targeted 61 times, and Brice Butler saw 32 thrown his way.


Of the Cowboys' 483 pass attempts in 2016, Bryant saw roughly 20 percent of them. In 2017, his total jumped up to 27 percent of the team's pass attempts. The next highest percentage belonged to Jason Witten (17 percent).
Clearly, Bryant saw more targets come his way this season. Whether that was because he demanded it or another reason, only a few select people within the team know.
But if there was a concentrated effort to get him the ball, well—that could be the issue the Cowboys had in 2017. In 2016, they didn't show preference to any one player, and the offense thrived. Yes, having Ezekiel Elliot running the ball helped. But he barely carried the ball 50 percent of the time in 2016.
If anything, Elliot missing six games this season should have given Bryant a chance to shine—but he didn't.
Does this mean he is a problem? Do the Cowboys need to see if they can trade him? Should they let him go?
It doesn't necessarily mean he is a problem. But he is getting older and getting to a point where his skills could be deteriorating. He can deny it all he wants. But unless he produces, the media, fans, and Jerry Jones will likely come to another conclusion.
Jones has already made it clear that he needs to see more out of Bryant next season. If Jones doesn't get more from Bryant, and Bryant refuses to take a pay cut next season, it would not be shocking to see him get cut.