---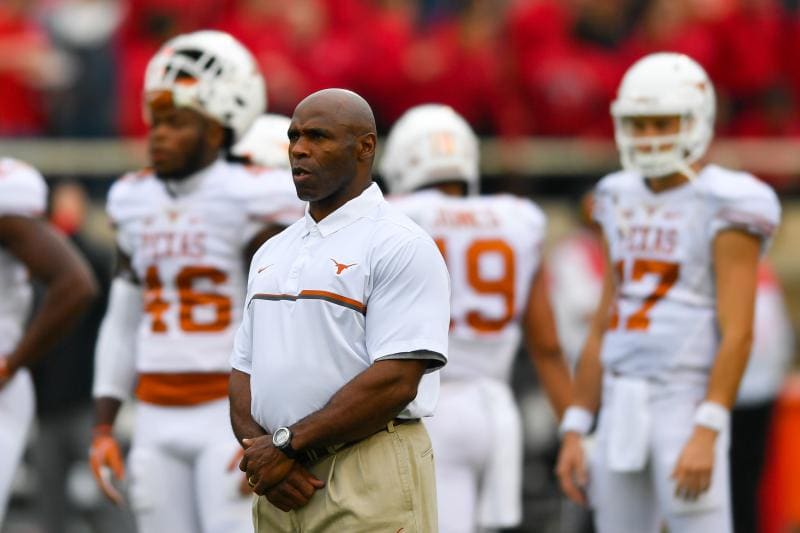 When the University of Texas decided to hire Charlie Strong away from Louisville back in 2014, the Texas football program was five years removed from greatness. In 2009 the Longhorns played for the national championship. Maybe if Colt McCoy had been able to play, they could have won it. But he didn't, and they finished the season as the second-best team in the nation.
The downfall of the once-proud program began the following year in 2010. Texas struggled, especially in conference play, and fell to 5-7, the first losing record for the team under head coach Mack Brown. The school gave Brown three more years to get the program back on top. In those years, while they were good (8-5; 9-4; and 8-5), they were not great.
In Texas, good football is not good enough. So, while he was a living legend in Austin, he had to go. But they had to replace him with someone who could get the program back on top sooner rather than later. In Charlie Strong, they saw a guy who took a 4-8 program (2009) and turned into an 11-2 one in just three seasons (2012).
If he could do that for the Cardinals, just imagine what he could do with the resources that come with being the head coach at a school like Texas. Surely, he could get them back on top within three years.
But he didn't.
Instead, his tenure was one of disappointment. His Longhorns failed to finish with a winning record, going 6-7, 5-7 and 5-7. To make matters worse, they lost more conference games with each passing season as well (5-4; 4-5; and 3-6).
They gave him three years, nothing appeared to change, so they fired him and brought in the latest up-and-coming head coach, head coach of the University of Houston, Tom Herman. Maybe where the defensive-minded Strong went wrong, the offensive-minded Herman could go right.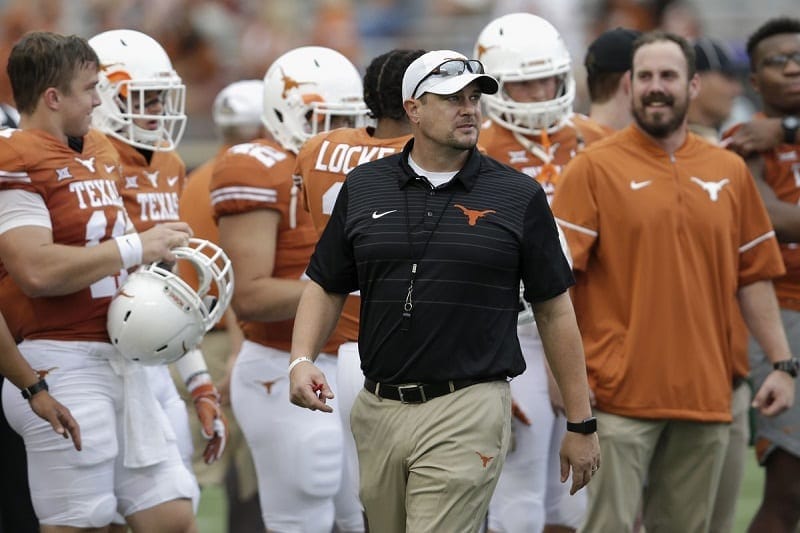 Five games into his first season he has the Longhorns at 3-3 and with a single loss in conference play (2-1). They suffered an ugly loss to start the season (41-51) at the hands of the Maryland Terrapins. They followed that game with an easy win over San Jose State and then a tough loss to USC.
No one likes to lose, but the Longhorns gained confidence following the loss to the Trojans (who were expected to trounce them). Since then, they have defeated two conference opponents. To be fair, these teams (Iowa State and Kansas State) are not top-notch squads, but they aren't bad either. But this past weekend they fell 29-24 to Oklahoma.
So, it is hard to say whether Herman has the Longhorns back on track just yet. At this point in the season they played against only one of the Big 12's top teams. They lost to Oklahoma, and could easily lose to Oklahoma State and TCU. Baylor has been playing better of late and could be competitive as well.
Following the November 4th game against TCU, the 3-3 Longhorns could easily be 3-7 with tough games against West Virginia and Texas Tech still to come. Should that be the case and fans happen to notice how Charlie Strong's South Florida Bulls are doing, they may begin to ask a question.
Did we get rid of Charlie Strong too soon?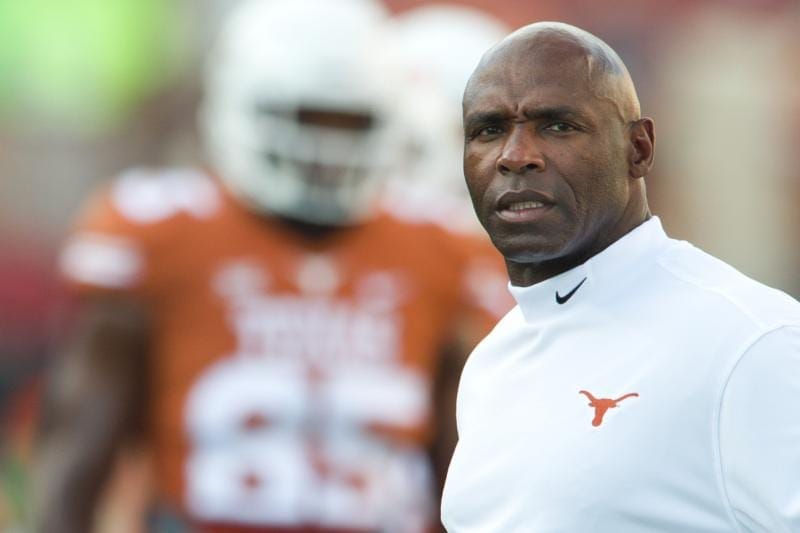 Strong's Bulls were undefeated heading into last weekend's game against Cincinnati. They were ranked No. 18 in the nation and held the Bearcats to just three points, winning 33-3. They now hold the longest winning streak in the nation, with 11 in a row. Strong's offense is one of the most productive in the nation (10th in total yards; 5th in scoring and rushing). His defense is pretty tough as well (15th in total yards allowed; 2nd against the run; 1st in turnover margin and passing defense efficiency).
Herman's Longhorns are playing better than they ever did under Strong, but how much of the credit does Strong deserve? Most of Herman's best players are kids recruited during Strong's regime. Most of what they know comes from what Strong and his staff taught them.
Then why wasn't the team better under Strong? Did he just need one more year for his vision to become a reality? Had he stayed, could the Longhorns be 5-1 or even 6-0? Could Texas be a top-25 team?
Maybe.
It is easy to look at what Strong is doing with South Florida and assume he could be accomplishing something similar with the Longhorns. But the reality of the matter is he is doing well for one simple reason. It just so happens to be the same reason Herman's Longhorns are doing well.
Strong, like Herman, inherited a good team.
When Willie Taggart took the job at South Florida back in 2013, the Bulls were a 2-10 squad. Four years later, when he moved on to Oregon, they were a 10-2 squad.
Strong didn't have the Longhorns in as good shape as Taggart had the Bulls, but he had them on the right track. Maybe all the Longhorns needed was a fresh set of eyes and a new perspective to complete the transformation.
So— will Texas fans end up regretting letting Charlie Strong go?
No, not even a little bit. Strong is doing well with a better team than what he inherited from Mack Brown against weaker competition. Tom Herman may not have it right this season, but he'll get it right.