---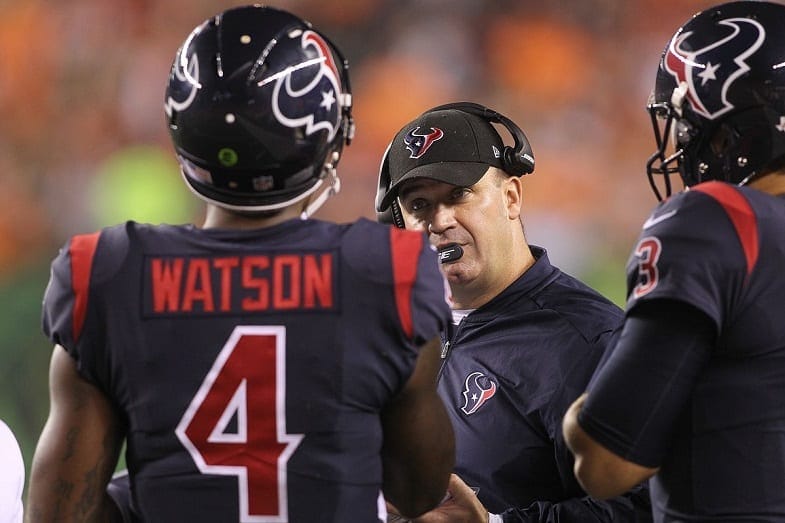 Bill O'Brien inherited a good team when he took over the head coaching job with the Houston Texans following the 2013 season. Yes, they had just gone 2-14 and finished with the worst record in the NFL—but they were a good team. They just needed a quarterback that would throw touchdown passes to his own team and a halfway decent running game.
Four years later, the team appears to have finally found a quarterback but still doesn't have much of a running game. The defense is struggling through injuries this season but otherwise has remained one of the top units in the NFL.
But after going 9-7 for three consecutive seasons under O'Brien, they are going to finish 2017 with a losing record. The issues and problems that arose this season have many wondering if Bill O'Brien is the man the franchise wants to lead the team into the future.
Combine the team's struggles with the longstanding rumors of his issues with the franchise's front office and you have the recipe for a divorce in the offseason.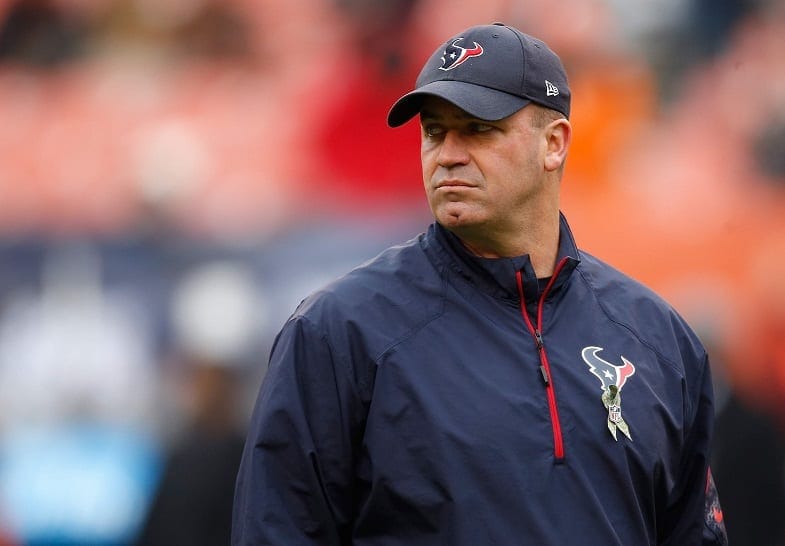 If the team was interested in holding onto him, a contract extension would have been offered by now. He has one year left on his current deal, so if they are going to keep him, they'll likely offer an extension soon.
But is that a good idea?
O'Brien has done good work. Maybe the team hasn't improved much during his tenure, but the Texans are not a bad team (despite their record this season). Do they really want to start over with someone new? They finally have a quarterback. If they draft well, pick up a couple free agents, and if the defense can get healthy, they are in a position to succeed next year. A new head coach could complicate the whole process.
So, is it worth it to cut O'Brien loose? Yes—but only if they pick up the right guy.
The strength of the Houston Texans has been the defense, so they will need to make sure whoever they select will be able to maintain the status quo of the defense if not make it better. But while defense wins championships, the team still needs enough offense to win games. They have the primary pieces in place in Deshaun Watson, DeAndre Hopkins and Will Fuller.
But they need someone who can move Watson's development further along. That person will also need to mold the offense around Watson and his talents, not try to make him fit into a system.
O'Brien appears to be doing all of that. So, why get rid of him? Maybe because the team's success early on in 2017 had nothing to do with O'Brien, it was all Watson. All O'Brien did was not hold Watson back. Some would say that is a sign of a good coach. But O'Brien also thought Tom Savage was the better quarterback coming out of training camp.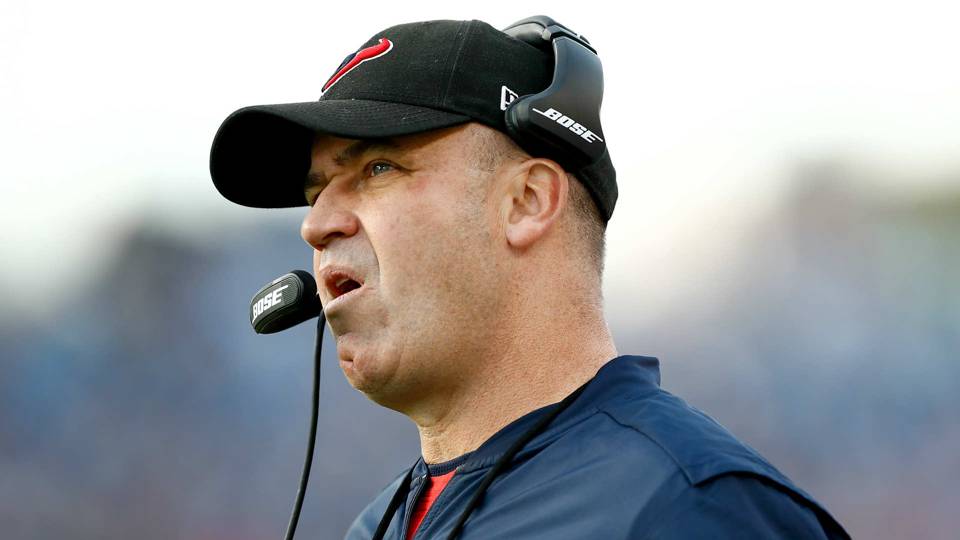 But he isn't bad. So, unless they are sure they are getting someone better, the Texans should not let him go.
The Candidates
However, there are plenty of excellent candidates out there ready to take advantage of the opportunity a roster like the Texans provides.
Romeo Crennel: As the current assistant head coach, he will be considered for the job if O'Brien is let go. However, in the past he has not done well as a head coach. He seems to do his best work as a defensive coordinator. But if they were to give him the job, they would have to hire an all-star offensive coordinator.

Mike Vrabel: The first-year defensive coordinator of the Texans is getting a lot of press for his perceived potential as a future head coach. But the team should try to just retain his services as a coordinator for now. He's only been an NFL coach since 2014. It's a little soon to make the jump to head coach.

Josh McDaniels: His first stint as an NFL head coach didn't go well. But he's had more time to learn how to be a better head coach under Bill Belichick. He has certainly proven over the years he knows how to get the most out of an offense with the ever-changing cast of role players in New England. The question will be whether he wants to leave the Patriots for another shot or wait for Bill Belichick to retire.

Jim Bob Cooter: He has done a stellar job with the Lions since taking over as offensive coordinator in 2015. Cooter could get the passing game moving in the right direction but hasn't done much for Detroit's run game. He'll be a popular candidate among teams in the hunt for new leadership. But he may not be the best choice for Houston.

Harold Goodwin: The best way to describe Goodwin's potential is to consider how Cardinals head coach Bruce Arians described him:
"You're not hiring a play caller," Arians said of Goodwin back in February. "You are hiring a leader of men. You're not hiring a play caller, you're hiring a head coach. He will hire a play caller, but you're looking for a man to lead your team and lead your organization. There are a few us that call plays, very few, so don't hire an offensive coordinator. Hire a head coach."
John DeFilippo: The focus of the next head coach is going to involve quarterback development. In that case, the Eagles quarterback coach may be the best man for the job. Carson Wentz's progress is proof of that. The Eagles liked him enough to block the Jets from interviewing him last year.
For now, Bill O'Brien remains the head coach of the Houston Texans and plans on remaining in the position. He has already stated that he has no intention of quitting or resigning. But do we really expect him to say anything different?
But if the rumor mill is right, he may not get a choice in the matter.