---
As the latest group of college superstars go under the spotlight ahead of the NFL draft, it is not hard to wonder who is going to be next. It's one of the things that is beautiful about the college football game. As one set of superstars moves on, there is always a new group ready to step up and fill the void.
Of course, not all of last season's superstars are  moving on to the next level. Yes, guys like Sam Darnold, Josh Rosen, Saquon Barkley, Baker Mayfield and J.T. Barrett will be wearing NFL uniforms next season. But some are coming back like Trace McSorley, Kelly Bryant, Nick Bosa, Bryce Love and Jarrett Stidham.
However, we already know all about those guys. What we don't know is who will be emerging from the shadows. Who are the new superstars going to be?
The Players
Justin Herbert, quarterback, Oregon
Herbert was well on his way to having a great season last year when he went down with an injury against Cal in Week Five. The Ducks went 4-1 with him (including the Cal game). But they went 1-4 without him. He wasn't as sharp when he returned for the last two games of the season, but he was able to lead the team to wins and and ensure they are bowl eligible.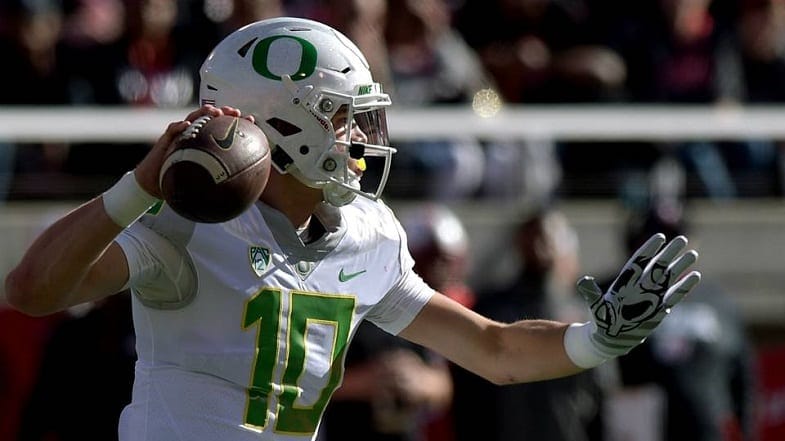 With a full season at the helm of the Ducks, there is no telling what he can do. He'll have a new head coach in Mario Cristobal, who is offensive minded. So, if anything, that should only help Herbert shine.
Sam Ehlinger, quarterback, Texas
Tom Herman has an unusual problem in just his second year with the Longhorns. Does he go with the more athletic and dynamic player at quarterback in Sam Ehlinger or does he go with the better passer in Shane Buechele? Herman has had pretty good luck working with dual-threat guys in the past, so chances are Ehlinger will get the nod going forward.
How do we know he can succeed? Well—in his first start on the road he took the mighty USC Trojans to double overtime. It will help in 2018 if he doesn't have to be the team's leading rusher as well. But we'll have to wait and see what kind of rushing attack the Longhorns can muster.
Dwayne Haskins, quarterback, Ohio State
J.T. Barrett had to leave Ohio State eventually. But it appears as if the Buckeyes could have their next superstar waiting in the wings in Haskins. Most of the nation probably didn't see his most significant playing time last season (vs. UNLV on 9/23; he completed 15 of 23 passes for 228 yards and two touchdowns and an interception). However, the nation did see his play against Michigan (6-7 for 94 yards; three carries for 24 yards).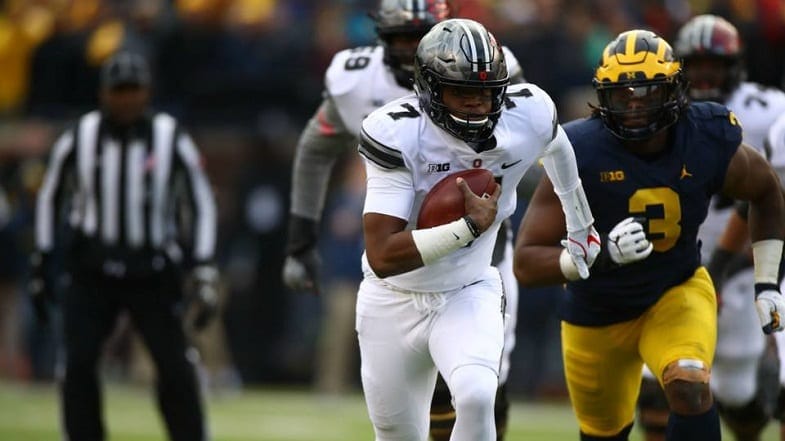 It remains to be seen if he can be the dual threat that Barrett was. But he appears to be a much more accurate passer (70.2 percent in very limited action; 40-57). With J.K. Dobbins running the ball, the Buckeyes may not need him to run.
Khalil Tate, quarterback, Arizona
He didn't really see significant time until the Colorado game in early October when he set a new FBS-single game rushing record for quarterbacks with 327 yards. He ended up rushing for 1,411 yards, passed for another 1,591, and accounted for 26 touchdowns—and he barely played in the first month of the season!
The offense shouldn't take a step back with new head coach Kevin Sumlin who has no problem featuring his quarterbacks and utilizing the tools they have. Many college football fans may not have seen much of him since he plays on the West Coast. But his games are certainly worth staying up to watch.
D'Andre Swift, running back, Georgia
With guys like Sony Michel and Nick Chubb in front of you, playing time is going to be hard to get. But the Bulldogs coaches knew they had something special in D'Andre Swift, so they figured out how to get him the ball. As a freshman, he carried the ball 81 times for 618 yards and three touchdowns.
With four offensive linemen returning and no one in front of him on the depth chart, the sky is the limit for Swift.
Joshua Kaindoh, defensive end, Florida State
A five-star recruit and the top high school defensive end in the country in 2016, Kaindoh had a good freshman year. He only played part-time but still had 17 tackles, 6.5 TFL, four sacks and one forced fumble. With Josh Sweat and Jalen Wilkerson having moved on, he'll be getting as many reps as he can handle. College football fans will hear his name a lot in 2018.
Sorry, NFL. You'll have to wait another year.
Kyler Murray, quarterback, Oklahoma
Texas A&M would have loved to have kept the high school legend in-state, but things didn't quite work out. Now he's going to get his chance to shine for the Sooners with Baker Mayfield moving on to the NFL. With his speed and elusiveness, he is certainly going to bring something to the table Mayfield didn't as a runner.
However, it will be interesting to see what kind of passer he is. He only completed 59.5 percent of his passes (72-121) in limited playing time for the Aggies. But in even more limited time with the Sooners, he completed 85.7 percent of his passes (18-21). He will not be that accurate as a starter, of course, but if he can improve even a little bit off his Texas A&M numbers, the Sooners will be happy with him.
Miles Sanders, running back, Penn State
Losing a player like Saquon Barkley is never an easy thing to handle. But the Nittany Lions may have another stud running back waiting for his chance to play in Sanders. He's a former five-star recruit and the top running back in his high school class. But he sat behind Barkley the last couple of years and hasn't played much. But when he did play—he could run!
As a running back, he has only had 56 carries for 375 yards. But he was also the team's primary return man in 2016 (688 yards on 33 returns). It will certainly be exciting to see what he can do now that he'll get a chance.