---
The new MLB season will start on March 29 this year, the earliest start date ever (excluding international events). For the first time since 1968, every team will play on Opening Day. On that day, every team will begin a journey with the same destination in mind—the World Series.
Everyone's game plan for getting there will be different, but the same. Every team will lean on its veterans to provide the team with some consistency. Each team will hope their youngsters will continue to develop their respective games. To fill any voids that may be left, they'll hope a rookie can step up and make an impact.
Aaron Judge certainly did for the New York Yankees last season as did Jordan Montgomery. Los Angeles Dodgers fans are undoubtedly happy with what they got out of Cody Bellinger. The list could go on and on, and it's one of the great things about baseball.
There is never a shortage of exciting young talent ready, willing and waiting to break out. This season should be no different.
The Players
Ronald Acuna, OF, Atlanta Braves
After being named Minor League Player of the Year last season, the general thought hasn't been if he'll make the big club roster this season, but rather when he will make his major league debut. The Braves could certainly use a guy that hit .325 with 21 homers, 44 steals and a .374 on-base percentage in the lineup. But he's not just an offensive weapon. He has the speed to cover a lot of ground in the outfield and the arm to make the big throws.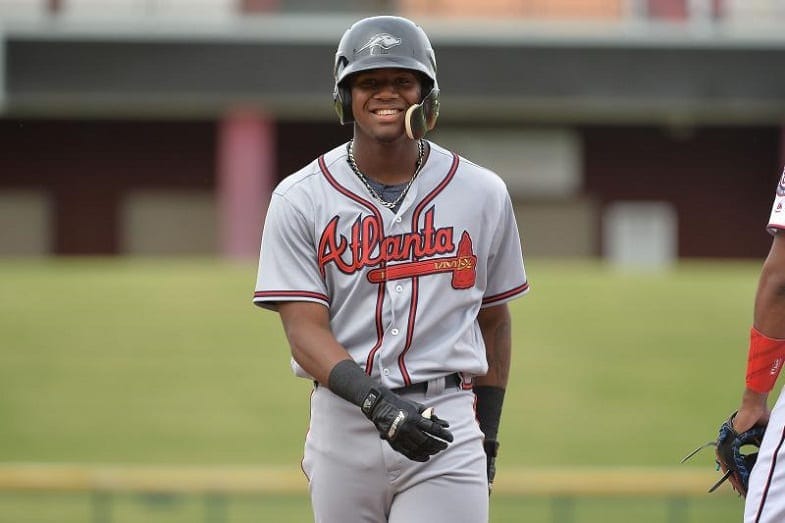 However, he is only 20 years old, so it wasn't too shocking that the Braves decided to demote him to minor league camp. But since his numbers have just gone up every step of the way in the minors, he may continue to impress from the minors and get the call sooner rather than later.
Shohei Ohtani, RHP, Los Angeles Angels
He hasn't had the best showing this Spring Training and has been incredibly shaky. But regardless, the rookie sensation from Japan was named to the Angels Opening Day roster. He'll reportedly make his debut as a DH even before he takes the mound.
His career history probably has a lot to do with that. Over his last five seasons with the Nippon-Ham Fighters he recorded an ERA of 2.52, a WHIP of 1.076 over 543 innings, and struck out 624 batters. That alone is reason enough to get excited about this kid (yes, kid—he's just 23), but there is so much more to him.
Injuries limited him to just 228 at-bats last season in which he hit .338 with eight home runs (had 30 home runs over the previous two seasons). In 2016, he led the NPB in OPS (1.004) and came in fourth last season (.942).
So, he can pitch and hit—and he's only 23 which means he can get even better.
Victor Robles, OF, Washington Nationals
The Nationals have been a fantastic regular season team in recent years but can't get it done in the playoffs. To get over that hump, they are going to want to make sure they have the absolute best players possible at each position. That will mean eventually turning over center field to Victor Robles.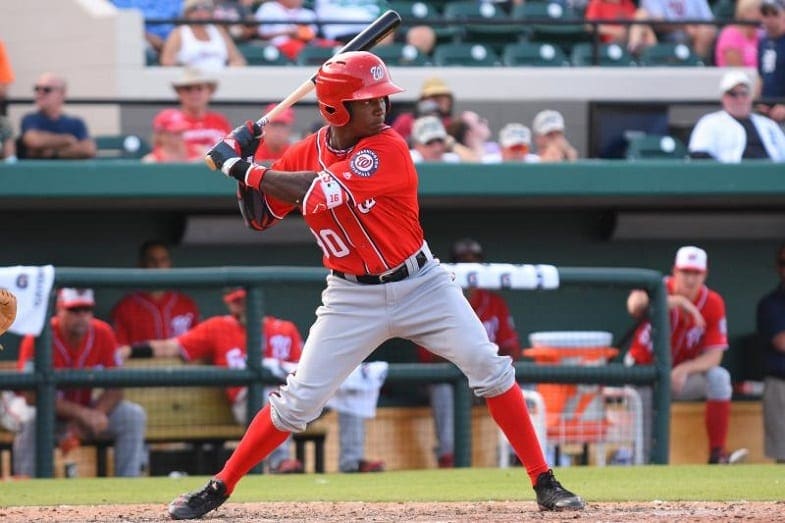 With his speed and natural talent, he makes playing center field look easy. If his batting line before getting called up last year (.300/.382/.493 with ten home runs and 27 steals) translates to the big leagues, he is going to be a heck of an offensive weapon as well. He is certainly better than the team's other two options (Michael Taylor and Brian Goodwin).
The only question may be when the team decides to trust him and give him the job.
Gleyber Torres, SS, New York Yankees
After recording a 1.158 OPS in 2016, he was named the No. 3 prospect in baseball. He was on track for a potential call-up in 2017 with a .309/.406/.457 batting line in 23 games. But an injury brought his season to an early end. Otherwise, he may have been called up last year.
He's played shortstop during his time in the minors but is expected to play third when the Yankees call him up. The bigger question may be where he hits in the lineup. He's not a power hitter (23 home runs in 1,349 minor league at-bats), but his speed could be an asset (60 steals in the minors). They will not risk him getting thrown out if he bats early in the lineup (and before Aaron Judge and Giancarlo Stanton).
Willie Calhoun, OF, Texas Rangers
Texas will need a lot of things to contend with the Houston Astros; Calhoun gives them one of those things—more offense. His defense may be cringe-worthy from time to time, but he'll make fans cheer when he steps up to the plate. Last season he hit .300/.355/.572 with 31 home runs.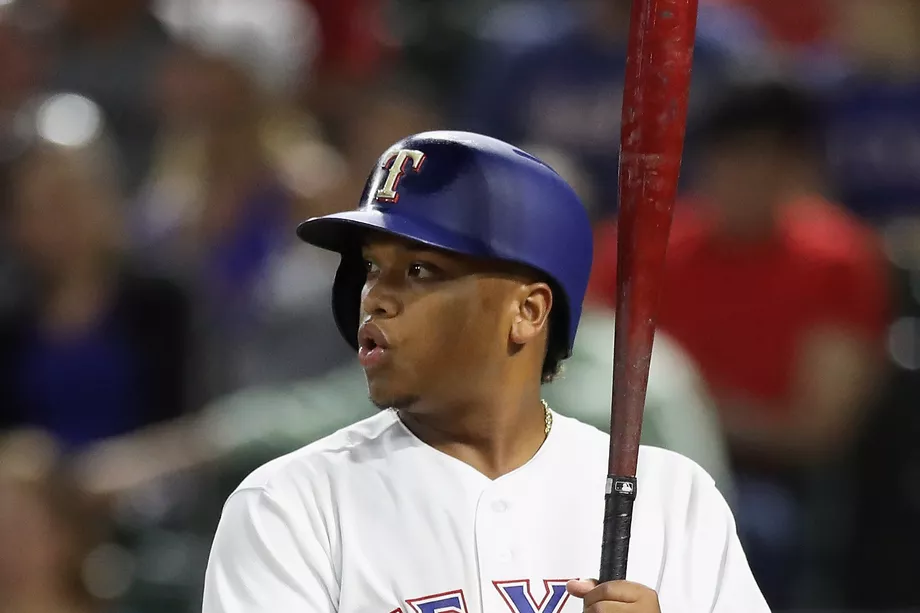 But here's the best part—he struck out only 61 times! He isn't just a power hitter, he's more of a complete, well-rounded hitter.
Calhoun was optioned to the minors in mid-March, reportedly to improve his outfield work. So maybe we won't cringe as much when he finally makes his debut.
Lewis Brinson, OF, Miami Marlins
There isn't going to be much to get excited about in Miami this season, but Brinson could be one of the few bright spots on an otherwise lousy team. His batting line was far from impressive when the Brewers called him up last season (.106/.236/.277 line with two homers). But, to be fair, he only had 47 at-bats.
Given a chance to find his groove and adjust, great things could happen. With Miami, he'll get that chance. If he can come close to what he did in AAA-ball last season (.331/.400/.562; 13 home runs and 11 steals in 299 at-bats), the team and fans will be happy. It will certainly be interesting to see what he can do with a full season of at-bats.
Alex Verdugo, OF, Los Angeles Dodgers
The Dodgers were one of the best teams in baseball last season, but they missed one thing. While they had a lot of power in the lineup and one of the best pitching staffs in the game, they struggled to get guys on base sometimes—which is where Verdugo will come in handy.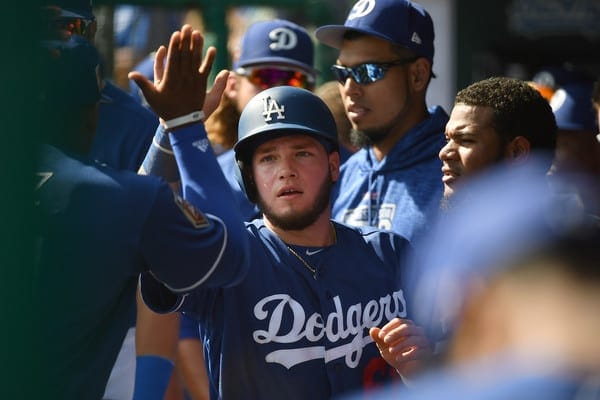 Over his career in the minors, he's hit .305/.362/.438. Last season, in AAA, he hit .314/.389/.436. Along with being good at getting on base, he doesn't strike out a lot. In over 1,600 at-bats in the minors, he only struck out 200 times (Cody Bellinger struck out 146 times in 480 at-bats last season). But he'll start this season in the minors.
Francisco Mejia, C, Cleveland Indians
The Indians were one of the better all-around teams in baseball last season. They had a good offense (fifth-best batting average at .263) and the best pitching staff in the game (3.30 ERA). But when push came to shove, their offense failed when they needed them most. In the playoffs they scored 13 runs in their first two games but only five over the final three (including one shutout; all losses).
Like most teams, they didn't get much out of their catchers. But defense is more critical for catchers than hitting. If a team can get a catcher that can hit—fantastic. Last season Yan Gomes hit .232, and Roberto Perez hit .207. Mejia hit .297/.346/.490 in the minors along with 14 home runs and seven steals.
He will start the season in AAA, but once the Indians get tired of the offense under-performing, they'll call him up.