---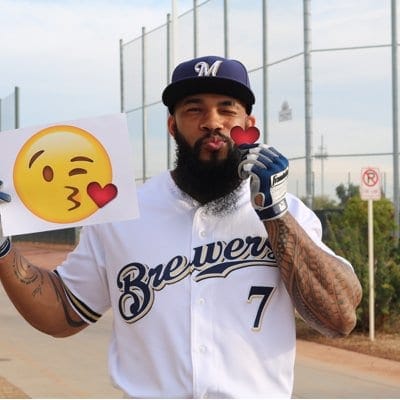 If you look at Eric Thames' Baseball Reference page it's a mess. The guy has been playing for nine seasons, but has bounced around from the minors to the majors and back again, another stint in the majors and back again to the minors, all the way to Korea and back to the majors.
There are so many letters and acronyms you get lost just looking at it. So who is the guy who is leading the league in home runs, with 11 so far, and who already submitted his second random drug test since the beginning of the season after hitting number 11?
Thames was drafted by the Toronto Blue Jays in the 7th round of the 2008 draft, at no. 219 overall. He spent time in AAA, AA and Fall League before he made it to the majors in May 2011. During his first stint in the MLB with Toronto, Thames batted a .262 with just 12 home runs in 95 games. He finished the season with the Blue Jays and opened the following season in Toronto as well, but was sent back down to the minors for two months before he joined the Mariners for the remainder of the season.
But this stint in the majors didn't last long either, and Thames found himself in the minors again in 2013.
Then the took his talents overseas. In 2014, Thames began his career abroad, as a member of the NC Dinos in South Korea. Thames batted a .343, .381 and .321 and hit 124 home runs during his three years with the Dinos. Yoo Jee-ho, a sports writer in the English news department at Yonhap News Agency in South Korea, who covered Thames while he played for the Dinos, thinks Thames' success in Korea was mostly due to his work ethic.
---
Listen to Eric Thames' home run song in Korea:
---
"His former [Korean Baseball Organization] manager, Kim Kyung-moon, was recently asked about Thames' success in the majors," Yoo tells Sports Retriever via email. "Kim just marveled at Thames' work ethic, how he took extra batting practices to hone his skills, and how he never took a day off. Other coaches have said Thames wasn't just the most talented player they saw; he was also the hardest-working guy on the team."
But it's not only that, Yoo says Thames made mental and physical adjustments while playing in Korea.
"He was really a free swinger in his first stint in the bigs, and he became a much more disciplined hitter in Korea. He started drawing more walks. Obviously, pitchers here don't throw as hard as major league pitchers, but they throw more off-speed and breaking pitches in Korea — even in counts when hitters wouldn't necessarily expect one in MLB."
As for adapting mentally, Yoo remembers interviews with Thames in which he spoke about enjoying the process rather than worrying about the results. He says he was able to let go and learned not to put as much pressure on himself.
"I think he came to Korea at a time when he was maturing both as a player and a person, and when he was determined to take the next step as a professional ball player, regardless of where he'd be playing," Yoo continued.  
During a recent SportsCenter interview, Thames said stretching properly also helped improve his game. "I learned how to stretch, for an hour, an hour and a half, two hours everyday, especially as the season goes on," he said. "I just started to learn that I have to be mobile, I have to be able to move to be able to be a good athlete, and it's paid off."
If it's stretching that really helped him reach these numbers, then maybe it's something the whole league should follow, considering Thames went on a tear in April in a Milwaukee Brewers uniform. He is leading the league in home runs, and is ranked fifth in the NL for batting average, currently at .370. His start to the season is so explosive, that after hitting number 11, Thames was asked to do a second drug test (because in this day and age it's unfortunately hard to believe that anyone can do this without help).
But the first baseman is ready for any and all curveballs thrown at him. "This whole thing is surprising me, as well," he said. "I really have no goals for this year. I wasn't trying to break any records or set anything. I just wanted to apply what I learned in Korea to see how it would fare here. I'm shocked at all the results. I'm just here to play ball, and do my best to stay healthy, and stretch as much as I can.
"So, yeah, if people keep thinking I'm on stuff, I'll be here every day. I have lots of blood and urine."
While Thames' name is becoming a household name in the US baseball world, his fans back in Korea are still following their man, whom they nicknamed "God," a label used in Korea for a star player.
"Korean baseball fans are going crazy," Yoo says. "He's getting pretty substantial coverage in Korean papers. Korean media translate U.S. articles about Thames, and basically devour every little thing he says about Korea."
Always time for @NCdinos_fan @ncdinos_cast fans. pic.twitter.com/CawUjxFBd5

— Eric Thames 테임즈 (@EricThames) April 26, 2015

For the fans across the world it's also a testament to the level of play in Korea.
"I think it was deemed important that Thames do well in the majors (more so than other players that have gone before him) because he was such a huge star, an MVP, over here and his success in MLB would validate the quality of the KBO, at least in the minds of some people here," Yoo explains. "The KBO is generally being seen as somewhere between Double-A and Triple-A, or maybe even between Triple-A and the bigs. And here's a guy who absolutely went berserk in three years here, and he's doing pretty much the same in the majors! Fans are enjoying this ride, for sure."
Korean fans aren't the only ones enjoying the ride and keeping an eye on Thames. Everyone is. If Thames continues at this pace for the duration of the season, he could hit 89 home runs in 2017, which would destroy Barry Bond's 73 home run record.
---
Watch fans go crazy when Thames hits a home run

---