---
Only eight teams remain in the MLB Playoffs and now we're back to the good old-fashioned division series. The Wild Card games are fun in their own way, but they still feel like a little bit of a speed bump between the regular season and the postseason. So now that we've moved past them, we can take a look at the true playoff bracket.
ALDS MATCHUPS
BOSTON RED SOX VS. HOUSTON ASTROS
Red Sox Overview: These Red Sox looked like a Wild Card team back at the All-Star Break, and then lost 8-of-13 out of the gate. But a spark from 20-year-old rookie Rafael Devers seemed to wake the team up in late July, and the Sox got hot. An 18-9 August helped propel them to an eventual division title, and a 17-10 September was hardly worse. Add the Red Sox to the list of teams (which includes almost everyone in the playoffs) that finished the season at a blistering pace. Sox fans will be concerned that club ace Chris Sale played poorly enough to (likely) blow his shot at the Cy Young down the stretch, but this is a well-rounded team.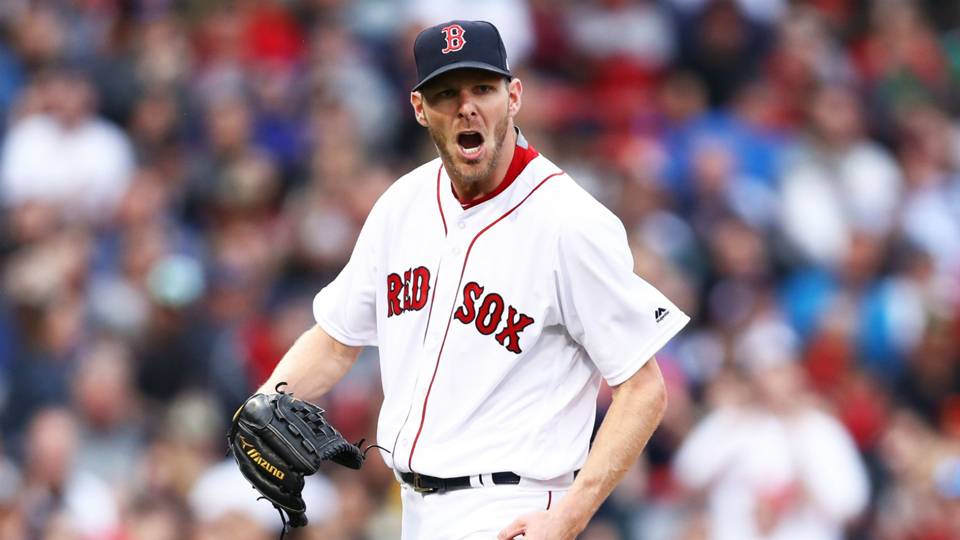 Player To Watch: Chris Sale. It's a boring choice, but Sale was brought in to lead this rotation to postseason success. He's one of the scariest pitchers in the game when he's on, but that hasn't been too often lately.
Astros Overview: For much of the season, the Astros seemed to be dueling the Dodgers to see who would get to 100 games first. They looked like one of the best two teams in baseball. The Indians' 22-game win streak stole the spotlight a little bit, however, and Houston's amazing 101-win finish was only second best in the American League. Nevertheless, this is the team that spent most of the year as the class of the AL. Dallas Keuchel and Charlie Morton make for a scary 1-2 punch in the rotation, and late-season acquisition Justin Verlander provides postseason experience (and has pitched really well). Potential MVP Jose Altuve leads a lineup as good as any in the league, and there's also the emotional edge to consider. This team will be trying to win one for a city that was recently devastated by Hurricane Harvey.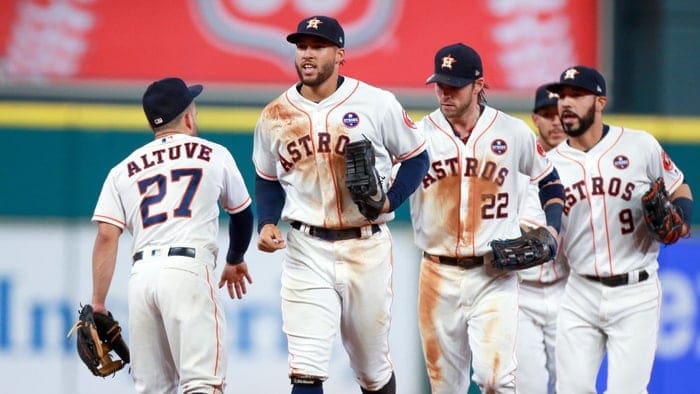 Player To Watch: Ken Giles. If Houston has a weakness it's the bullpen, and as the closer, Giles hasn't inspired much confidence of late. While he's blown only four saves on the season, he was rocky down the stretch. The Astros will get leads, but Giles will have to protect them – and Boston has been good late in games.
Prediction: The Red Sox have a young core that will keep them in contention in the coming years, but with Chris Sale struggling of late, they don't have the arms to subdue this Houston lineup. Astros in 4.
CLEVELAND INDIANS VS. NEW YORK YANKEES
Indians Overview: The Indians came tantalizingly close to a World Series title in 2016 and have only gotten better since. Their record-breaking 22-game win streak was probably the story of the season. Cleveland boasts a fringe MVP candidate in Jose Ramirez and an ace in Corey Kluber who has allowed four earned runs in his last four starts against New York. And if that isn't enough, Cleveland also has an ace up its sleeve: a population of Lake Erie midges known to like the taste of Yankee pitchers.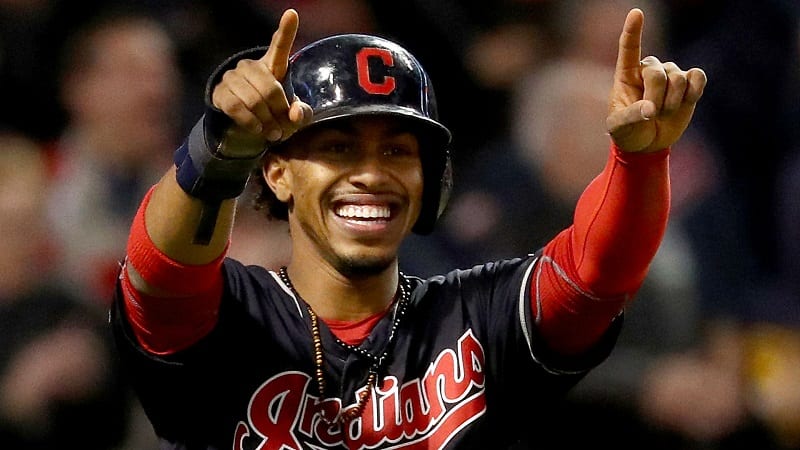 Player To Watch: Francisco Lindor. The Cleveland shortstop might not be quite the hitter Jose Ramirez or Michael Brantley is, but he kills the Yankees. Per ESPN stats, he has a .339 average, 4 HRs, 10 BBs, and a 1.021 OPS against current Yankee pitching.
Yankees Overview: The Yankees just look like the kind of team that goes on an October run. That might sound vague, but baseball fans will know what I mean. Sometimes you can just see it: a special joy and electricity that settles on a team and propels them through October. These Yankees – these "Baby Bombers" who were supposed to be a season or two away – have it in spades. Their dramatic Wild Card win was punctuated by home runs that made new Yankee Stadium look and sound like the old one (which is to say it was a madhouse). That kind of buzz, coupled with a potentially legendary bullpen and a hot lineup, make them a tough out even for these Indians.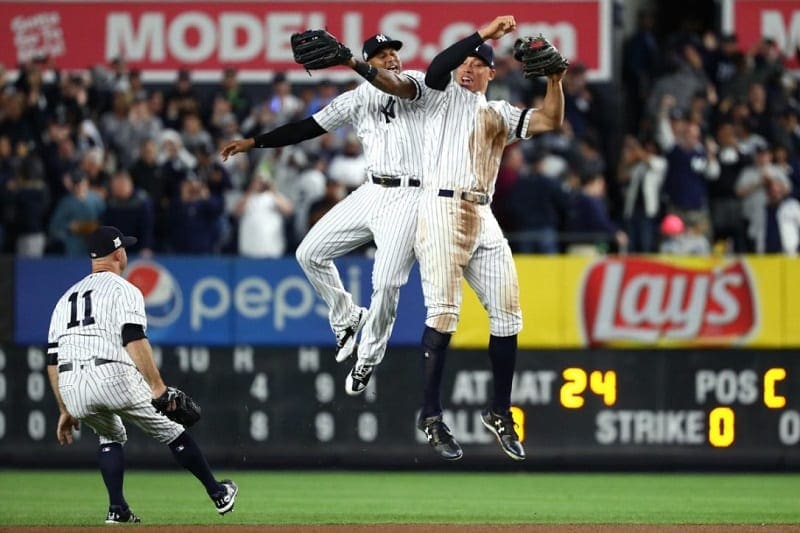 Player To Watch: Sonny Gray. With Luis Severino pitching (and pitching horribly) in the Wild Card game, Gray is in line to start Game 1, and possibly pitch twice in this series. He has been good but not great since being traded to New York, and the pressure will be a lot to handle.
Prediction: The Indians' decision not to start Kluber in Game 1 (presumably so he can pitch Games 2 and 5 on normal rest) is getting things off to a bizarre start, and more or less eliminates any advantage Cleveland could've taken from the Yankees having to burn their number one starter in the Wild Card game. It feels like weird karma, and with the Bronx rocking like it hasn't in at least eight years, I like the upset. Yankees in 5.


NLDS MATCHUPS
CHICAGO CUBS VS. WASHINGTON NATIONALS
Cubs Overviw: It's still strange to think of the Chicago Cubs as defending World Series champions, but here we are. That's the reality, and the Cubs did just what they were supposed to do in the role: they won their division with ease, finishing six games out in front. But the playoffs will be harder this time around. Chicago now has a target on its back. Its starting pitching was weaker this season, and Aroldis Chapman is no longer around to anchor the bullpen. Still, this is yet another playoff team that finished the season red hot, going 15-4 down the stretch. The talent is there, and if any or all of Kris Bryant, Anthony Rizzo, or Javier Baez gets hot the lineup could easily catch fire.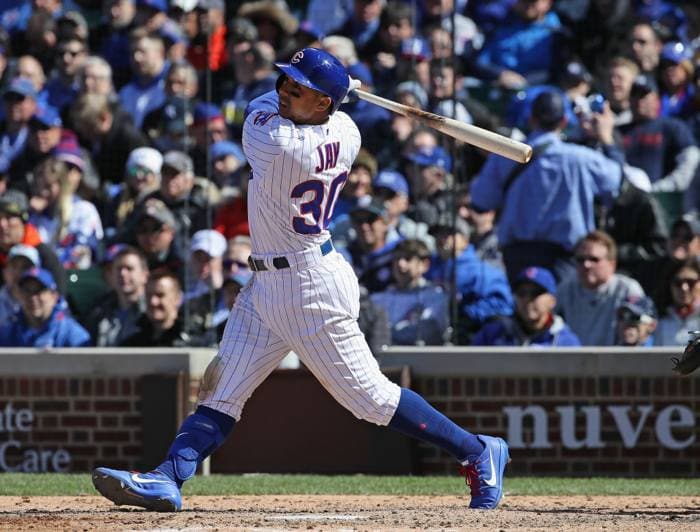 Player To Watch: Jon Jay. He's not as big a name as those in the middle of the Cubs' lineup, but Jay just hit .321 for the month of September and could be an X-factor. He also happens to crush Gio Gonzalez and Edwin Jackson, both of whom may start for the Nationals in this series.
Nationals Overview: This may be Washington's best team yet. Despite limited playoff success, this has been a consistently strong team for years now, but 97 wins is near a franchise high, and a 20-game division lead at the end of the series makes them that much more intimidating. The Nats may well have the best lineup in baseball, and a rotation led by Max Scherzer, Stephen Strasburg, and Gonzalez can go toe-to-toe with anyone. Washington even bolstered its bullpen at the trade deadline, so while relief is still the main weakness, it isn't a huge one.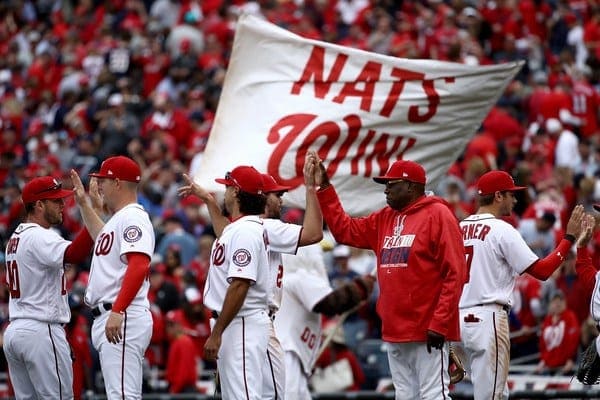 Player To Watch: Daniel Murphy. In case you haven't noticed he, not Bryce Harper, has been Washington's best hitter. And if Jon Jay finished the season hot, Murphy was hotter, with 25 hits for a .333 average in September.
Prediction: I actually think the Nats are the better team, but as ludicrous as it sounds, postseason history favors the Cubs. They're the defending champs going up against a team that's been entirely unimpressive in three playoff appearances in recent years. Consider also that Scherzer's health is a little bit of a question mark, and it gets easy to trust Chicago's magic to get it through one more series. Cubs in 5.
LOS ANGELES DODGERS VS. ARIZONA DIAMONDBACKS
Dodgers Overview: Not so long ago this team was historically good. Through mid-August, they looked to be on pace to win about 700 games. But then they followed up their nearly unprecedented start with an equally remarkable losing streak, dropping 11 games straight, 16 out of 17, and 20 out of 25. That spell of misery cast serious doubt on this group's ability to succeed in October. So while the roster is still supremely talented, the Dodgers are perhaps the most unpredictable team heading into the playoffs (and they haven't exactly been postseason studs in recent years).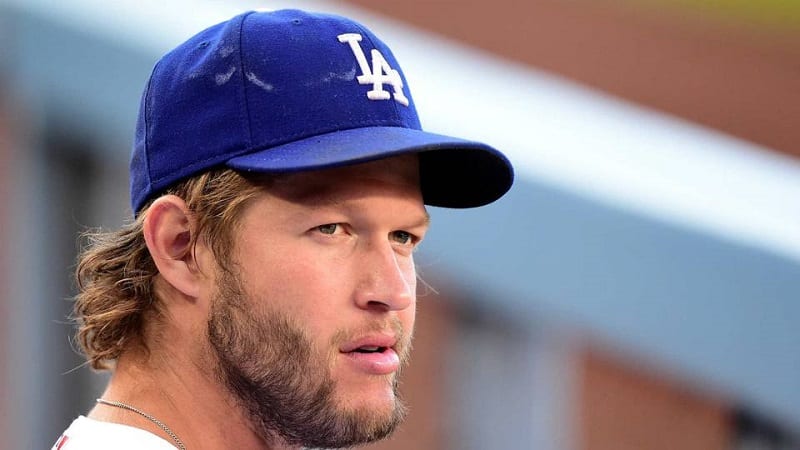 Player To Watch: Clayton Kershaw. Baseball's best pitcher has a postseason ERA more than two full points higher than his career ERA. That's probably not going to get the job done in the NLDS.
Diamondbacks Overview: Like the Yankees, the Diamondbacks were an almost unusually strong Wild Card team. They were overlooked most of the year because of how far ahead the Dodgers were in the NL West, but they're a good hitting team that won 93 games and has a bona fide stud in Paul Goldschmidt. It's actually slightly worrisome how much Arizona relies on him – he leads the team in every major hitting category – but it's not as if the rest of the lineup is no good. The D-Backs made it into the NLDS by virtue of a wild, high-scoring Wild Card win over the Rockies, and will look to keep the momentum going against the suddenly-beatable Dodgers.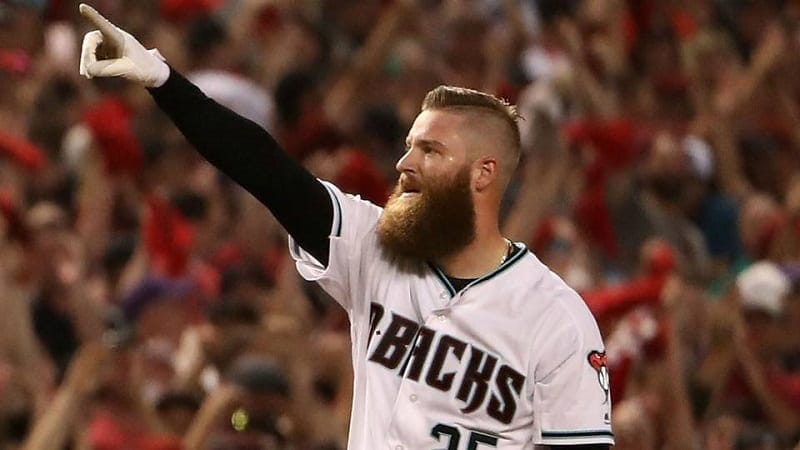 Player To Watch: Archie Bradley. The Diamondbacks had to burn two starters (Zach Greinke and Robbie Ray) in the Wild Card game. Bradley, meanwhile, was both the workhorse and probably the best pitcher in their bullpen this year. If they pull off this series, it'll be with a lot of help from Bradley.
Prediction: It's just hard to trust the Dodgers after their late season swoon. The Diamondbacks may be the worst team left in the playoffs, and they're at a disadvantage with their pitching staff after the Wild Card game. But they also beat these Dodgers six times in a row barely a month ago. Diamondbacks in 4.