---
Like it or not, the one-and-done rule still lords over college basketball. The best freshmen don't necessarily propel their teams to titles – in fact, we've seen veteran upperclassmen triumphing in the last couple of years – but they do dominate the headlines. Accordingly, as the season approaches and teams around the country gear up for their "Midnight Madness" (or similar) events, there's a whole new group of likely one-and-done freshmen we all need to get to know.
That group is pretty big. While it doesn't carry the same reputation the 2016 class had, this class has a lot of very promising players. So to avoid simply listing the ESPN 100, I'm going to use this space to focus on five guys near the top.
Marvin Bagley III – F, Duke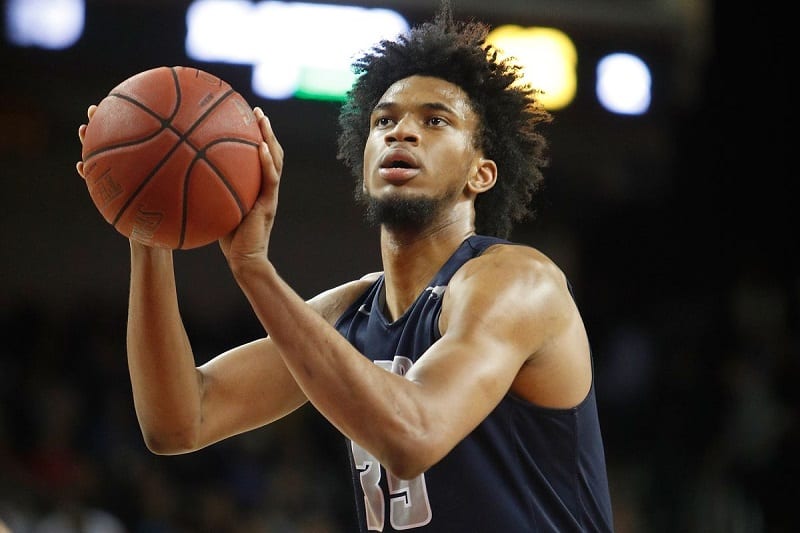 f
The latest addition to the 2017 class may also be its best player. Marvin Bagley used to be the top rated 2018 prospect. But, able to complete high school this summer (and no doubt seeking the quickest path to the NBA), he reclassified at the last minute. Bagley then chose Duke, vaulting the Blue Devils to the top of most preseason rankings and forcing college basketball fans to scramble for the answer to a simple question a year early: how good is this guy?
I think I've found the answer, if you can stand a hot take: Bagley is extremely good. It says a lot to begin with that he instantly became the top ranked player in the 2017 class. Bagley has been called the most complete prospect to come out of high school since Anthony Davis. He joined a fairly exclusive club of guys who have earned .99 ratings at 247Sports, and he's garnered comparisons to Chris Bosh. He also had 18 points and 20 rebounds in a Drew League All-Star game with NBA players on the floor, prompting multiple analysts to say he was the best high school talent they'd seen at the event.
It's gotten a little bit cliché to talk up top recruits as if they're the best we've ever seen, and we tend to have short memories about when we're wrong. Just last season, for instance, Duke had a (somewhat) similarly heralded prospect in Harry Giles, and he barely made an impact on the court, though that was due to his prolonged recovery from multiple knee injuries more than any flaw in his ability. Still, it goes to show that you never know what's going to happen. By every conceivable measure or analysis, however, Bagley looks like the real deal. He's an electric, do-it-all forward who's going to light up the NCAA if all goes according to plan.
Michael Porter Jr. – F, Missouri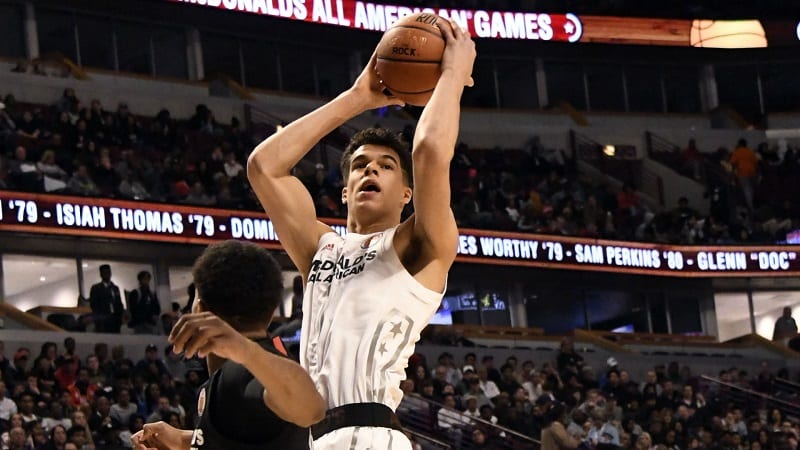 Before Bagley got the go ahead to reclassify and play this season, Michael Porter was the biggest name in this class. He too had a little bit of an odd recruiting journey, having originally committed to Washington before then-head coach Lorenzo Romar was fired. (Part of a series of events that highlighted the importance of the relationships between coaches and recruits.) In the end Porter wound up at Missouri, where he'll look to lead a middling basketball program to the NCAA Tournament.
I mentioned that Bagley had joined an exclusive club by earning a .99 rating at 247Sports, and Porter, too, is in that club. He's been a big name on the recruiting circuit for years now, and is billed as a can't-miss star with a bright NBA future. At 6'10'' with a versatile game and a lanky build, he gets a few Kevin Durant comparisons. That's a lot to put on him, however, and for now Rudy Gay might be the more accurate name to bring up.
Porter will be in an interesting position this year in that, perhaps more than other top recruits, he'll be judged on how his team performs. Past players in his position – highly regarded prospects who chose less prestigious basketball schools – have by and large failed in the NCAA. In the last two seasons, Markelle Fultz and Ben Simmons failed to get Washington and LSU, respectively, to the tournament. Of course, both players went on to be top NBA draft picks anyway – but if Porter can do better than they did, the hype will escalate. Personally, I think he will do better because the Tigers are a little more talented than those Washington or LSU teams. But Porter is also the one player on this list whose hype, I believe, may be a little overblown.
DeAndre Ayton – C, Arizona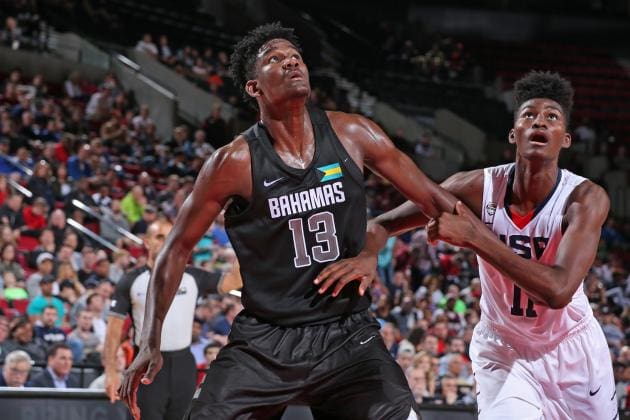 DeAndre Ayton is a 7'0'', 220 lb (at least) behemoth who will suit up for Sean Miller at Arizona this year, so long as the NCAA recruiting scandal don't further disrupt the program (Arizona assistant coach Emanuel Richardson was arrested in connection to the scandal). He's the number three player in his class and the top center, having been compared to the likes of DeMarcus Cousins and Karl-Anthony Towns.
The fact of the matter is that there are only so many guys this size, so someone out there is going to compare Ayton to just about every successful big man. Having had the chance to see him play live, I actually think he might be closer to resembling Joel Embiid than Cousins or Towns. Ayton is a fluid and versatile 7-footer who just looks a little bit more comfortable in his body than he probably should at his age. He's clearly already spent time working on his outside shooting – almost a necessity for a modern big man – and his athleticism, at his size, can be absolutely commanding.
The questions that surround Ayton basically come down to motor; it's been suggested that his intensity can lapse. But I'm skeptical that this is a real problem rather than just the kind of critique that can catch on easily. Sure, I'd like to know that Ayton has given 100 percent in every game he's ever played, but it's worth remembering that top prospects these days are playing for high school, AAU, and USA teams at minimum, not to mention in All-Star games, summer leagues, etc. On a high-level college team with a 35-game schedule, I think he'll mostly maintain intensity – and look like an absolute freak doing it.
Mohamed Bamba – C, Texas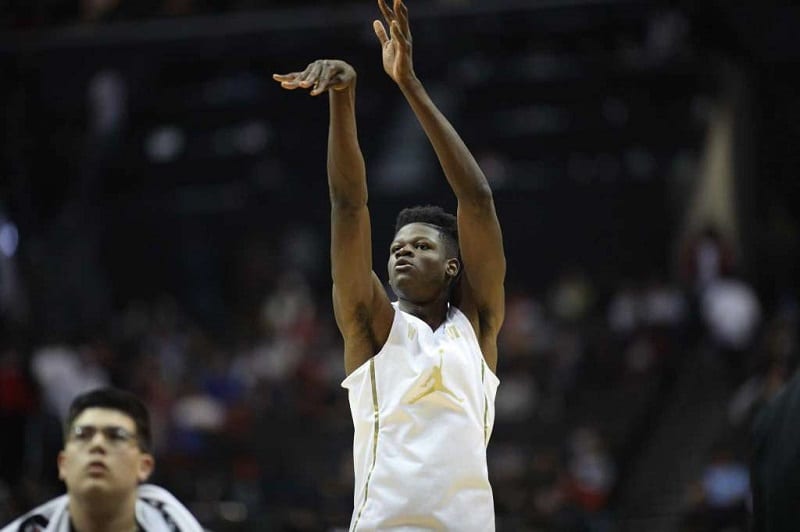 Mo Bamba is 7'0'' and has a 7'9'' wingspan. Yeah: he has a 7'9'' wingspan. To clarify, that's longer than that of Kevin Durant, Anthony Davis, Giannis Antetokounmpo, or, going back just a few years, Wilt Chamberlain. In fact, it's also longer than that of Rudy Gobert, which means it'll be the longest wingspan in the NBA once Bamba gets there. That's really pretty ridiculous to fathom, and watching him doesn't make it any less alarming. You don't just get used to it.
As you might imagine, this means Bamba was coveted mostly for his defense and shot-blocking ability. If you must rely upon comparisons, he's a little bit like the Nerlens Noel to Ayton's DeMarcus Cousins – only he's far more skilled than Noel was coming out of high school. Bamba seems to have great hands and a soft touch for a guy who could be forgiven a little bit of Bambiness. His shot isn't a disaster. And he's predictably terrific catching and converting lobs, because he barely has to jump to do so.
The most interesting thing about Bamba this year will be that he's going to play for a coach who's known for intense defensive systems. Shaka Smart will bother anybody with relentless swarming guard play – but he's not quite as well known for having a true defensive anchor in the paint. Bamba will fill that role, and if everything clicks he could give the University of Texas one of the toughest defenses in the country. Also, he has a 7'9'' wingspan.
Collin Sexton – PG, Alabama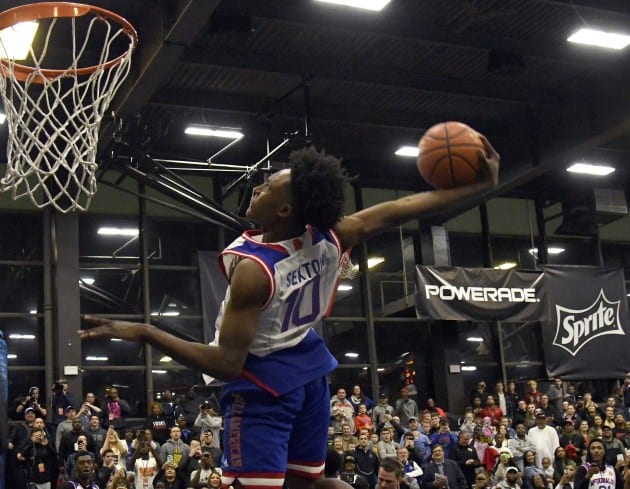 So far I've gone down the line of the ESPN 100 rankings, because those top four are pretty clear-cut. If I were to keep going this way the next players up would be Wendell Carter and Trevon Duval, both of whom are Duke-bound. But in the interest of spreading things out a bit, I'm skipping those two and jumping to Collin Sexton, a small streak of lightning who's taken human form to play point guard for Alabama.
Sexton might best be described as being in the mold of a Kentucky guard. His style – fast in the open court, quick from step to step, always pushing and sometimes erratic – pretty much fits how we looked at John Wall and De'Aaron Fox in their lone college seasons. He's also similar to those two in that despite being wiry, he's not actually that small (standing 6'3''). Sexton isn't the best shooter among the guards in this class, and he'll probably have a few ugly performances in which he pushes too hard to win a game by himself only to discover he can't. But he's incredibly talented, and a ton of fun to watch.
Like Porter, Sexton will be trying to lead a team that isn't a lock for the NCAA Tournament. He has a chance to be one of the best players in the SEC from day one, however, and with Alabama also bringing in five-star SG John Petty, they'll have a good chance to build on a 19-15 season last year.
Again, this is a pretty talented class, and limiting it to five guys seems almost unfair. But these are five of the players who seem most likely to make headlines all season, and seem like some of the surest bets for lottery draft selections. They're the ones you should get to know.