Alabama proved something to the world during last season's national championship game. It's something that most football fans already know. It is nothing that is specific to Alabama football, but a concept that is generally considered a given at every level of the game.
Quarterback is the most important position on the field.
He can't do it alone, and that is not to say that the other positions are of less importance. But starting the right quarterback can make all the difference in the world. Jalen Hurts had led the Crimson Tide to the championship game. But he was ineffective against the Georgia defense.
Nick Saban recognized this, made the change at halftime, and the rest is history.
As a result, with the 2018 college football season drawing near, Saban is going to have to decide. Does he go with the guy, Jalen Hurts, he's had behind center for most of the last two seasons? Or does he go with the youngster, Tua Tagovailoa?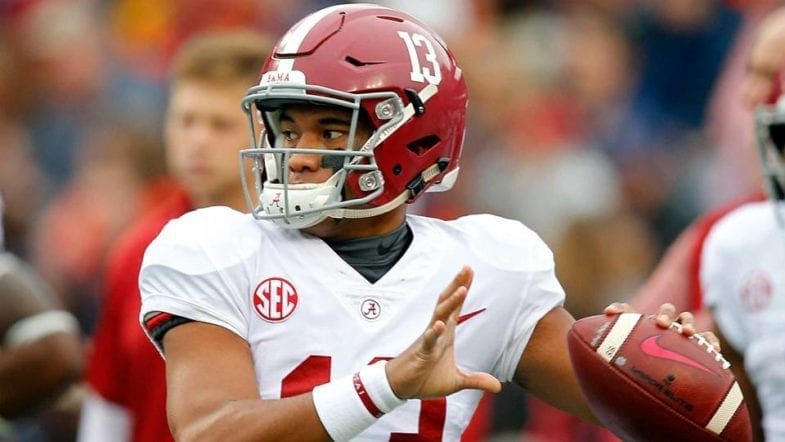 Does he go with the guy who has played well for the last two seasons or the one that happened to play two great quarters during the biggest game of the year?
How Saban answers that question could have a significant impact on the college football playoffs this season. Pick the wrong guy and lose a couple of game early on and they could find themselves out of the playoff picture.
Saban is not the only head coach with a quarterback quandary on his hands. There are a handful of coaches with quarterback issues heading into the season. Pick the right solution, and they will likely be in the hunt. Choose the wrong one, and they could be watching the championship game—not playing in it.
Alabama
No quarterback competition will be watched and dissected as much as this one will be. Many are already assuming that Tagovailoa will get the job based off his performance in the championship game. But playing well in one game doesn't mean someone's ready to start. Cardale Jones and his short time as the Ohio State starting quarterback is proof of that.
Yes, he played well and showed that he has a lot of potential. Tagovailoa may be a better passer but Hurts completed 60 percent of his throws last season (62.8 percent in 2016), so he isn't a bad one. Where Hurts could gain an edge is with his legs and ball safety.
Tagovailoa didn't appear to be anywhere near the scrambler that Hurts is. Hurts is more likely to make something of a broken play than Tagovailoa. As for ball safety, Hurts played most of the season and threw just a single interception. Tagovailoa played two quarters and had a lot of mop-up duty and threw two.
On the one hand, it looks like Saban may be in a win-win situation. Both appear to be excellent quarterbacks that will win games for him. But what he has to figure out is which one can handle adversity; which one can beat the tougher competition.
Georgia
The Bulldogs started the season last year with a quarterback quandary hanging overhead. Jacob Eason got the nod, but then a knee injury opened the door for Jake Fromm. Fromm ended up keeping the job and taking the team to the national championship game.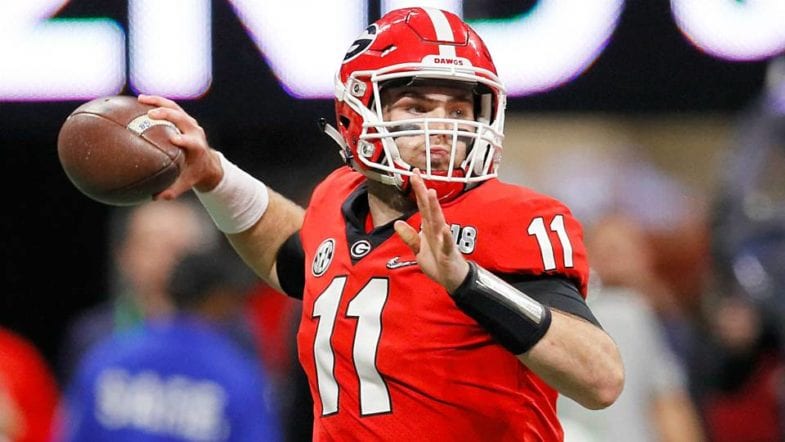 For most teams, that would make him a lock to keep the job. But the Bulldogs have another highly-touted freshman quarterback, Justin Fields.
Like Fromm (and Eason), Fields is a five-star recruit. But Fields wasn't just any old five-star player. He was the N0. 1 dual-threat QB in his class and the No. 2 ranked player in the country. During the recruiting process, the experts couldn't gush about him enough. At times, Georgia head coach Kirby Smart sounded pretty taken with him.
How Smart handles this could have a significant impact on his time at Georgia. No one wants to play for a team that has a history of benching players after they have good seasons for the flavor of the month.
Clemson
Kelly Bryant had the unenviable task of replacing Deshaun Watson last season. He wasn't as dynamic as Watson, but he did an admirable job. Bryant was a capable passer (65.8 percent completion percentage) and a decent runner (665 yards, 11 touchdowns). He led the team to a 12-2 record, an ACC championship, and a berth in the college football playoffs.
But he may still lose his job to an incoming freshman, Trevor Lawrence.
Why could he take Bryant's job? Well, while Georgia's Fromm has to fend off the No. 2 high school recruit in the country, Bryant has to fend off the No. 1 high school recruit in the country. At least one oddsmaker has Lawrence as one of the front-runners for the Heisman this season (+900). Bryant's odds are a lot lower (+2000).
Clemson head coach likes what he sees in Lawrence, but he hasn't given any indication that he is displeased with what he's seen in Bryant. But when you have a talent like Lawrence can you afford not to play him?
Michigan
Jim Harbaugh has turned the Wolverines back into a good program, but they have been far from great. There are many reasons why, but also one that sticks out—he has not had a dynamic playmaker at quarterback. He's had some guys that were good and capable. But he has not had someone that could win the game; just guys that probably wouldn't lose it for him.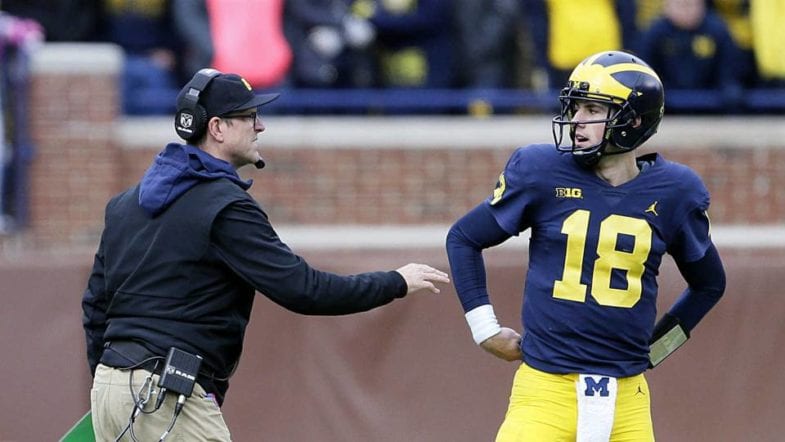 But this year, he has some options. He could go with Brandon Peters who wasn't bad when he played last year—but he also wasn't good. He could run with incoming freshman Dylan McCaffrey. The little brother of Carolina Panthers running back Christian McCaffrey is ranked as the No. 6 dual-threat quarterback in his recruiting class and the No. 114 player in the country (good—but not great).
Or he could run with former Ole Miss quarterback Shea Patterson. His season ended early last year because of a knee injury, but he looked good during his time on the field. Due to NCAA sanctions, he opted to transfer after the season ended but doesn't have to sit out for a year like transfers usually do.
Patterson has played well against some of the best competition in the country (SEC). But will he take to Harbaugh's coaching style? Or will one of the other guys be more impressive?
Ohio State
Urban Meyer has a great run of good luck when it comes to quarterbacks during his time at Ohio State. But for the first time in years, he doesn't have an obvious starter on the roster. Dwayne Haskins played a little last year and looked good when he did play— but it was only a little. He is going to have some serious competition in Tate Martell.
Martell, a former five-star recruit, No. 2 QB and No. 26 high school player in the country, has the credentials fans like to see. But can he handle the pressure of starting so early in his career? If he can or if Haskins can the Buckeyes will be back in the hunt this season.
Other QB competitions worth watching include:  Texas, Shane Buechele vs. Shane Ehlinger; Florida State, Deandre Francois vs. James Blackmon; Miami, Malik Rosier vs. Jarren Williams vs. N'Kosi Perry; USC, Matt Fink vs. Jack Sears vs. J.T. Daniels.