---
Fans of every NBA team start the season hoping that this season will be the one. This season their team is going to win the championship. Of course, to even have a shot at living the dream means making the postseason. Sadly, that is where reality sets in for many. For one reason or another, their team hasn't been good enough to make the postseason let alone win a championship– and still isn't.
But just like all good things must come to an end, the same is true for bad things. Eventually, a team is going to make the right personnel decisions, retain the right coaches, and win enough games to earn a seat at the playoff table. They may not be good enough (yet) to win it all, but at least they'll have a shot.
Such was the case for the Buffalo Bills and Jacksonville Jaguars in the NFL this season. Buffalo last made the playoffs in 1999. Jacksonville's layoff wasn't as long (2007), but for fans of the team, it had certainly been long enough.
In the NBA, with over half the league (16 of 30 teams) making the postseason it is less likely teams are going to have droughts that last as long as the Bills. But there are several NBA teams that haven't been to the postseason in years.
Which ones could be like the Bills and Jaguars and bring an end to their playoff drought?
Minnesota Timberwolves: length of drought— 13 seasons
The last time the T-wolves were a playoff caliber team Kevin Garnett was the NBA MVP, Flip Saunders the head coach, and Kevin McHale the GM. As good as he was, Garnett wasn't enough to get the team past a Lakers team that included Kobe Bryant, Karl Malone, Gary Payton and Shaquille O'Neal in the 2004 Western Conference Finals.
Thirteen years later they appear poised to make the playoffs and possibly even make some noise once they get there. The trade for Jimmy Butler gave them the dynamic offensive weapon they've been lacking.  You could even say that the combination of Butler, Karl-Anthony Towns and Andrew Wiggins gives Minnesota a 'Big Three.'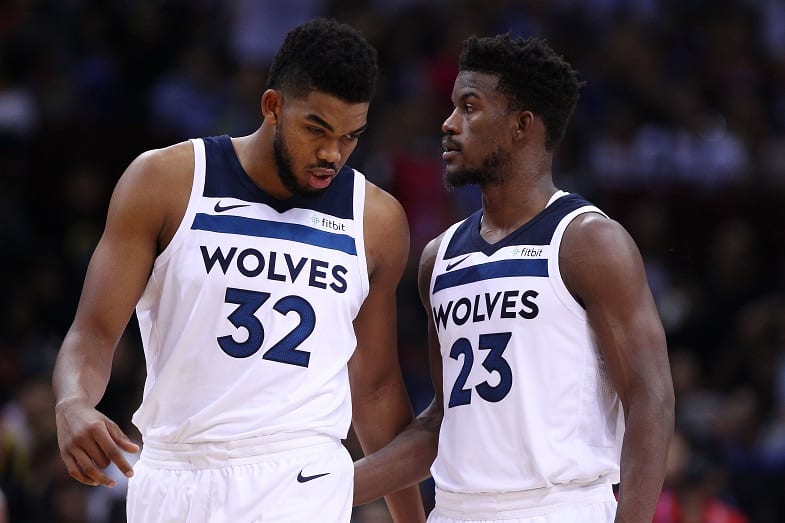 Along with help from some of the other additions the T-wolves made in the offseason (i.e. Jeff Teague, Taj Gibson, Jamal Crawford and head coach Tom Thibodeau), Minnesota has become one of the better scoring teams in the league (109.1 points a game; sixth). With that kind of scoring prowess, it is not hard to imagine them as a threat in the playoffs.
With their loss to the Golden State Warriors on Thursday (January 25) their record stands at 31-20. Had the playoffs started today (January 26), they would have been the No. 4 seed in the Western Conference.
Philadelphia 76ers: length of drought— five seasons
Five seasons may not seem like a very long drought, but to fans that suffered through each year of 'The Process,' it was an eternity. But after winning just 10 games during the 2015-16 season, they started to see some improvement. Last season they won 28 and lost 54. It was still bad enough to finish among the worst teams in the NBA.
But for a team that won just 28 games the last two seasons combined, it was a step in the right direction. They just needed to figure out how to get most of their young core of talented players healthy and playing together.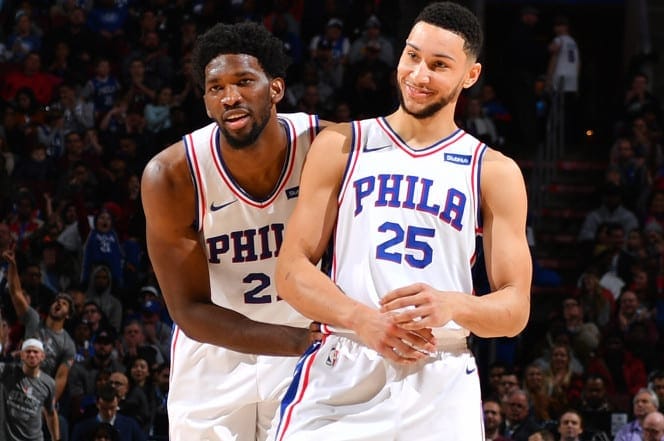 Rookie Markelle Fulz has had injury issues. But Joel Embiid and Ben Simmons have been relatively healthy.
So far, things are on track for the 76ers to end their drought this season. Their offense has gone from being one of the worst in the NBA last season (25th; 102.4 points/game) to one of the better ones this season (seventh; 108.3 points/game).
However, to insure they make it, the defense needs to improve a little more. They are allowing 107 points/game this season (down from 108.1 last season). A point differential of +1.3 means they are losing a lot of close games. That is something you can't do if you want to make the playoffs.
With a 115-101 win over the Chicago Bulls on January 24 they improved to 23-21. Had the playoffs started the next day, they would have made it in as the No. 7 seed.
New York Knicks: length of drought— four seasons
It almost seems hard to believe that it has only been four seasons since the New York Knicks were in the playoffs. With all the drama and dysfunction that has surrounded the team in recent years, it seems like it has been decades since the Knicks were a playoff caliber group. After getting rid of Carmelo Anthony, it seemed like a foregone conclusion it would be another year before the Knicks made it back to the postseason.
Anthony's departure meant that it was now Kristaps Porzingis's team. But while the 22-year old Latvian plays like a superstar, he can't do it all on his own. The team paid a hefty price for Tim Hardaway Jr. (four-years, $71 million) but otherwise didn't try too hard to improve the roster. Enes Kanter, who they got from Oklahoma City as part of the Carmelo Anthony deal, is averaging a near double-double (13.7 points, 9.9 rebounds a game).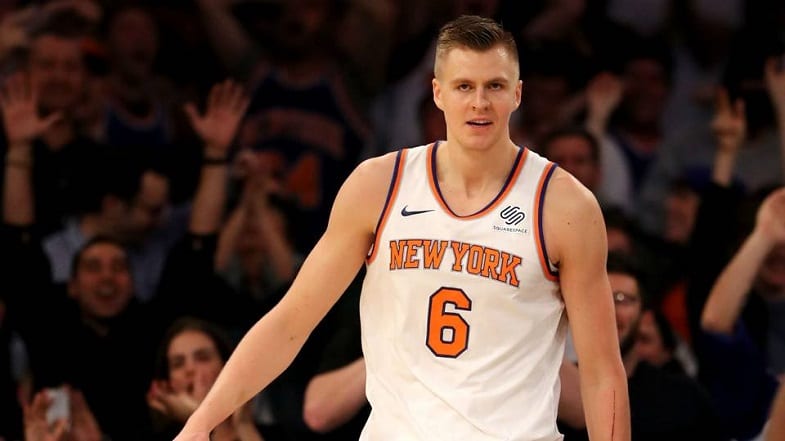 Other new acquisitions like Jarrett Jack, Michael Beasley and Doug McDermott have also turned in quality minutes.
For them to make the playoffs this season, it would help if they could acquire some offensive or defensive help. After 49 games they have a point differential of -1.6. They need that number to at least be in the positive if they are going to overcome the deficit and slip in as the No. 8 seed.
As of their 130-118 loss to the Denver Nuggets on January 25, their record is 21-28. If the playoffs had started today, they would be tenth in the East and 4.5 games out of the playoffs.
So, if they are going to make it in, they have some work to do.
Denver Nuggets: length of drought— four seasons
The drought nearly ended at three seasons last year but too many late season losses they couldn't afford forced them to miss out by a single game. Portland took the No. 8 seed with a 41-41 record; the Nuggets had a record of 40-42.
This season, they would like to not have it come down to the wire like that. But the only significant additions they made to the roster were Trey Lyles and Paul Millsap. They aren't bad players, but they aren't good enough to elevate a borderline playoff team to where it wants to be.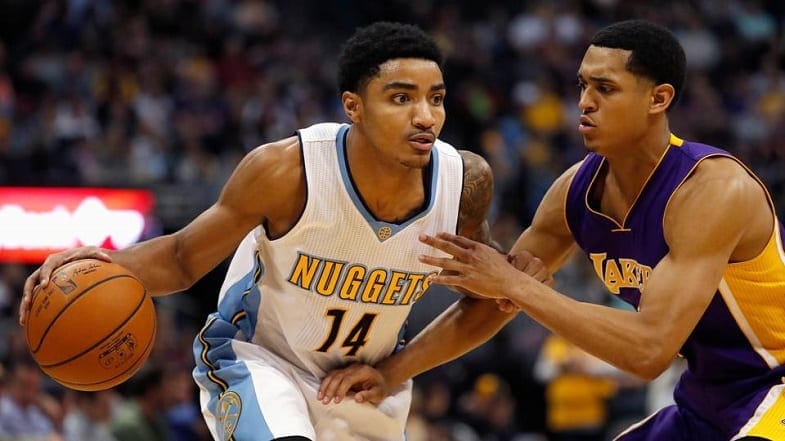 Last season their point differential was just +0.5; this season it's +0.6. So, just like last season, they are playing in a fair amount of close games. If they want to make the postseason this year, it wouldn't hurt for them to acquire someone that could help on either side of the court. Otherwise, they are going to be left hoping the Los Angeles Clippers, New Orleans Pelicans, or Portland Trail Blazers can lose more of the close ones than them.
As of their aforementioned win over the New York Knicks on Thursday, their record stands at 25-23. Had the playoffs started today, they would be the eighth seed in the West, with a game and a half advantage over the LA Clippers.
The following teams have not been to the postseason in at least four seasons and do not appear to have a chance of making it this season (length of drought): Sacramento Kings (11 seasons), Phoenix Suns (seven seasons), Orlando Magic (five seasons), and the Los Angeles Lakers (four seasons).