---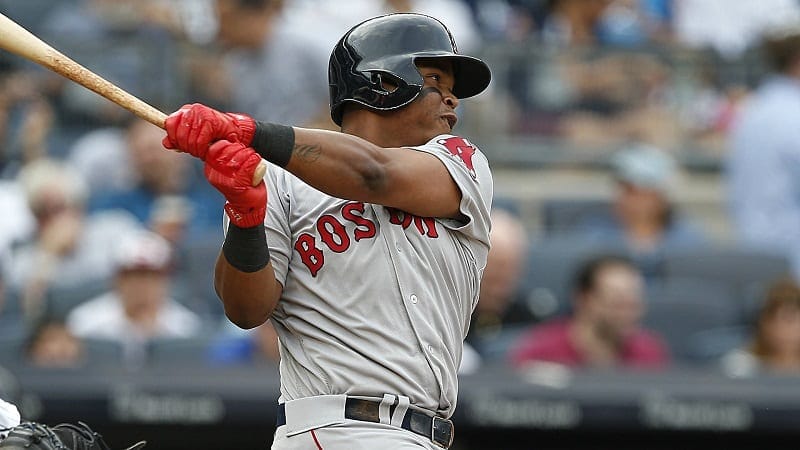 There are plenty of reasons to remember this MLB season for years to come. From Giancarlo Stanton's home runs to the unstoppable Dodgers and of course, the rookies. Aaron Judge has lost his momentum in the second half of the season, but had already excited baseball fans across the 50 states and set a new record for home runs by a Yankees rookie. Cody Bellinger has held his own on a record-breaking Dodgers team, with 34 home runs and 100 hits in just 98 games.
And now we have the latest rookie to claim the sport's attention: Boston Red Sox third baseman Rafael Devers. The Sox took a gamble when they called up the 20-year old from Double A (who only took 38 at bats in Double A) instead of trading for an experienced 3rd baseman. And boy has it paid off so far.
Devers has only played in 18 games and has had just 69 at bats, but it's been enough to captivate baseball fans. Here are four things you need to know about the latest rookie sensation:
He's hitting .348/.416/.667
As mentioned, Devers has only played in 18 games so far, yet the 20-year old is already hitting .348/.416/.667 with 24 H, 13 R, 13 RBI and 6 home runs. As of writing this, on August 17th after only 69 at bats, his OPS stands at 1.082. That puts him in exclusive company. According to The Big Lead, in the history of the league only nine players under 21 years old have notched an OPS of 1.000 or higher during their first 50 at bats. That includes names such as Ted Williams and Albert Pujols.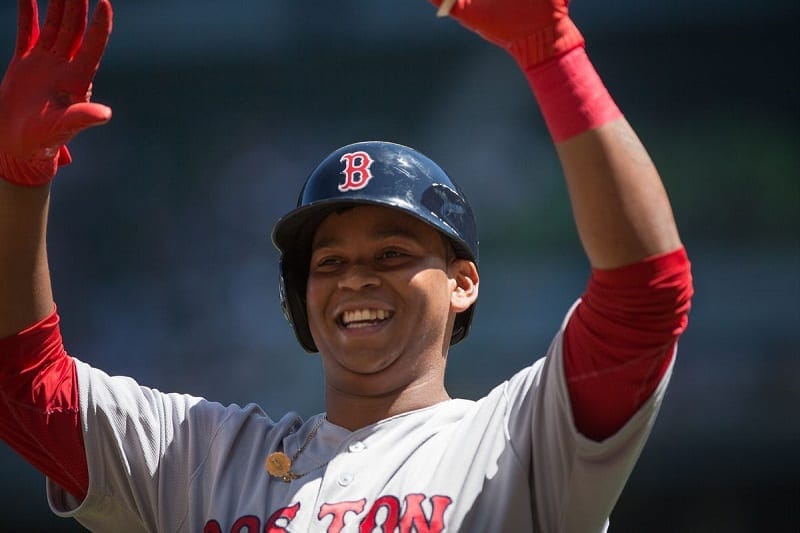 He hit a home run off Aroldis Chapman
It's the top of the ninth inning on a Sunday night. It's the Yankees and the Red Sox, arguably the sport's greatest rivalry. The Sox are down 2-1 when Devers stepped up to the plate to face Yankees closer Aroldis Chapman. No pressure, right?
Right.
Devers hit a home run to deep left center field, becoming only the second left-handed hitter to hit a home run off the closer. The last time a left handed batter homered off  Chapman was in 2011, and he'd only give up 19 home runs in his career entering Sunday night.
Devers's home was also one of only two home runs the closer has allowed so far this season. Oh, and the Sox won in extra innings.
What else? He's already breaking the hearts of Yankees fans. One such fan recorded his reaction to the home run, which went viral. Devers, who watched the video multiple times, said he wants to meet the fan. The Sox head to the Bronx again on August 31st, but will the fan agree to meet him? We hope so.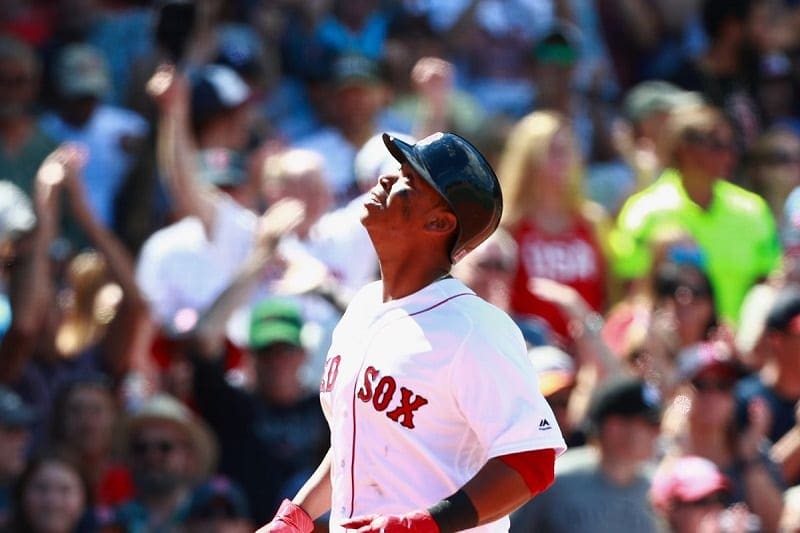 He's already being intentionally walked
After only three weeks in the majors, Rafael Devers has already established himself as enough of a threat to be intentionally walked. On August 15th, the St. Louis Cardinals decided to intentionally walk Devers in the bottom of the fifth inning. The Sox were already up 3-0 with two men on base. The walk filled the bases.
Devers was no longer a threat as a hitter, but unfortunately for the Cardinals, the next batter up, the slumping Xander Bogaerts, singled to left. St. Louis was already in trouble, and found themselves in a 9-0 hole by the end of the inning.
He triggered the first Red Sox triple play in years
So far we've been captivated by his offense, but Devers has also sparked something with his defense. On Tuesday night he started the franchise's 31st triple play ever.
The Cardinals had players on first and second when Yadier Molina hit a grounder to third. Devers stepped on third for one out, then threw to Eduardo Nunez on second for the third out, who in turn pivoted and made the throw to first to get Molina.
Devers had made four errors during his first 15 games in the Majors. But Tuesday's triple play shows that the 20-year old, who's still learning and adjusting, has a bright future on the defensive side as well.