---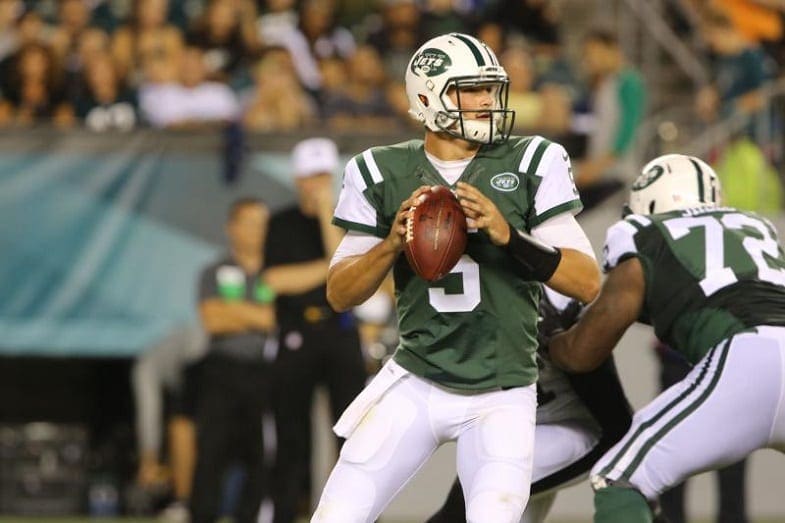 It has been a long time since the New York Jets were considered a good team. Even before their massive player dump, they were not expected to become one this season. But then they got rid of Eric Decker, David Harris, Darrelle Revis, Antonio Cromartie, D'Brickashaw Ferguson, Ryan Clady and Nick Mangold.
No one was sad when they let Ryan Fitzpatrick walk, but then all they did to replace him was sign Josh McCown. Surely, they would resign Brandon Marshall, so McCown (or whoever plays quarterback) has at least one good, veteran receiver to work with on Sundays. But no—they let him walk in free agency.
When a team that struggles to be mediocre lets that much talent leave, it is easy to assume what their intentions are—they're tanking.
What ended up transpiring once the season started depends on your perspective. Cynical Jets fans are probably cursing their team's inability to tank properly. The rest of us are wondering if the Jets might be a decent team.
They didn't look great in losses to Buffalo and Oakland. But then they rattled off three wins in a row and played well against the Patriots to improve to 3-3. However, the Patriots loss was followed by one to the Dolphins and Falcons. Then they dominated the Buffalo Bills in Week Nine to improve to 4-5.
Even with their recent loss to the Tampa Bay Buccaneers, it is safe to say the narrative has now changed. The Jets are clearly not tanking. But it will take a minor miracle for them to make the post season.
Winning the AFC East is out of the question. The New England Patriots will not allow that to happen. So to make the playoffs, it will have to be as a wild card. Since 2002, at least one of the AFC's wild-card spots have had a record of 10-6 or less in all but three seasons (2005, '08, and '10).
So, it is safe to say they probably need to finish 10-6 to earn a wild-card spot. That means they have to go undefeated the rest of the season. To do so, that means taking down the Carolina Panthers, Kansas City Chiefs, Denver Broncos, New Orleans Saints, Los Angeles Chargers and New England Patriots.
Not a chance.


Or is there?
The Chargers and Broncos are not playing well. They have their moments, but not enough to be viewed as good teams. Carolina will be tough, but if they can shut down the running game (like they did against Buffalo), it is possible. But with how the Panthers have looked the last couple weeks, that is unlikely.
To overcome the Chiefs, the Jets will need to hope Kareem Hunt is still struggling to get back on track. They will still need to take the deep ball away from Alex Smith, and the defense will have to limit Tyreek Hill and Travis Kelce from gaining too many yards-after-the-catch.
The Saints have been leaning more on their running game and defense to win this season. So, to beat New Orleans, Josh McCown will have to have a great game and put some points on the board. It wouldn't hurt if the defense could shut down the run game and maybe pick Drew Brees off once or twice.
On their best day, the Jets are barely competitive with the Patriots. Their best shot at beating New England will be if Bill Belichick decides to rest people—which he normally doesn't do.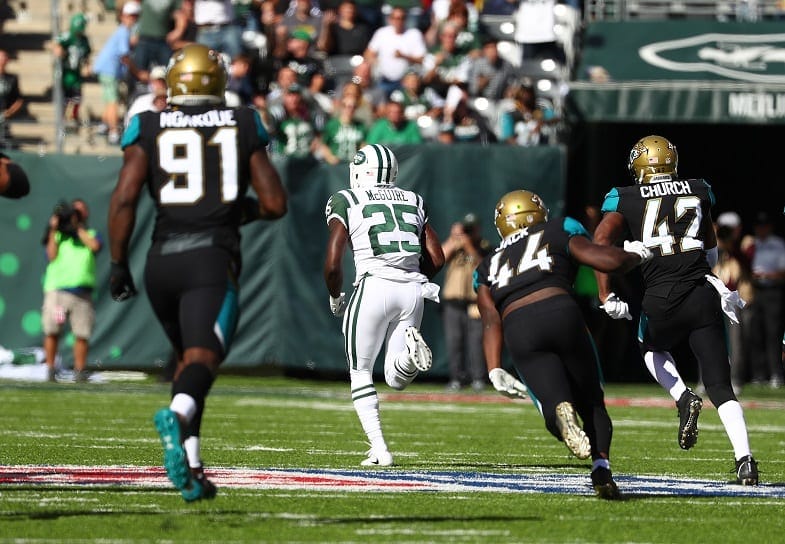 So can they do it?  
If you look at the totality of their work over the course of the season, the answer is no.
The Jets offense is average at best (No. 17 in total yards). They are entrusting a 38-year old quarterback who has never played an entire season to lead the way. They give up more points per game (23) than they score (21.2). It's kind of hard to win the majority of your games when that happens.
However, they are definitely not the same team that was beaten easily by the Buffalo Bills in Week One and the Oakland Raiders in Week Two. Were it not for a fumble on the goal line late in the game they might have beaten the Patriots. Had they not missed two field goals and muffed a punt that led to an Atlanta field goal, they would have beaten the Falcons. An interception led to the game-winning field goal for the Dolphins in Week Seven.
To see how much they have improved, you just need to take a look at their two games against the Buffalo Bills. Buffalo dominated them in Week One and the Jets lost 21-12. They couldn't run the ball, made too many turnovers, and struggled to stop LeSean McCoy. In Week Nine, they ran for 194 yards, forced three turnovers without committing one, and held McCoy to 25 yards on 12 carries.
Night and day. But then they went and played a terrible game against a poor Buccaneers team and lost.
Take away a few missed plays and mistakes and the 4-6 Jets are a 7-3 team. Of course, good teams are the ones that capitalize on the misfortunes of other teams. They aren't the ones that are praying they don't make any mistakes.
As nice as it would be to believe they can make the post season, they don't have a prayer.