---
The last few years have not been kind to Georgetown men's basketball. Despite the program's generally strong stature, the Hoyas have fallen off a cliff since a 2014-15 campaign that saw them finish 22-11 and 2nd in the Big East. The next season they fell to 15-18 (8th in the Big East), then 14-18 (9th in the Big East). Finally, during the 2017 offseason, head coach John Thompson III was let go.
Georgetown then brought in one of its most powerful and popular basketball alumni in Patrick Ewing to patch things up – and for a couple of months it looked like he might spark a fairly dramatic turnaround. Through the end of December this past season, Georgetown was 10-3, with the losses coming in overtime to Syracuse, double overtime (and by two points) to Butler, and at Marquette. The 10 wins came almost exclusively against early season cupcakes, but the losses were respectable; while not exceptional, it was a legitimately promising start.
Conference play brought the Hoyas back down to Earth however, and they wound up with a .500 overall record and an 8th place conference finish. It was a decidedly average campaign, and proved Ewing still has his work cut out for him. But the 2017-18 season did represent at least a modest improvement on the previous year, which is always a good sign in a new coach's first season. And looking at what Ewing is building for the next season or two, there appears to be a real chance that he will indeed turn this program around. That doesn't mean a Final Four run is on the horizon. But even a slight improvement on 2017-18 would make for a decent season, and Ewing has the pieces to get it done.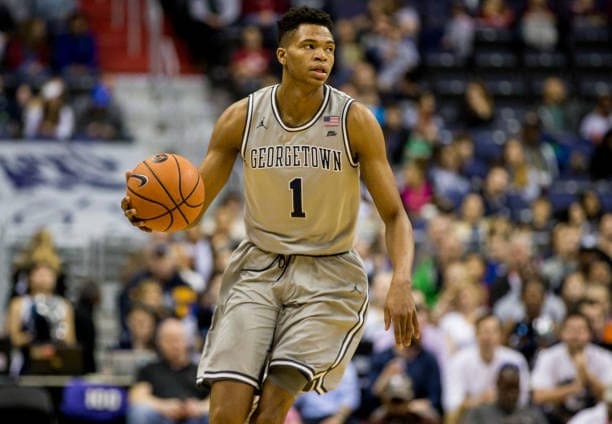 For starters, Georgetown will have several key contributors back. The team took a hit when would-be senior Marcus Derrickson, the team's second-leading scorer and an All-Big East player, hired an agent and committed to the NBA Draft. However, talented big man Jessie Govan elected to return for his senior year after testing the draft waters. As a junior in 2017-18, Govan finished 2nd in the Big East in rebounding, 9th in scoring, and 11th in field goal percentage. He should be 1st Team All-Big East in the preseason, and could even be a Player of the Year candidate (though Shamorie Ponds and Markus Howard might have something to say about that).
Beyond Govan, the Hoyas will also return starters Jamorko Pickett and Kaleb Johnson, as well as key bench contributors Jahvon Blair and Jagan Mosely. Between them, Ewing is actually returning five of his top-six scorers, and a nice mix of upper and lower classmen. Georgetown will also add Greg Malinowski, a senior guard/forward who last averaged a shade under 8 points for William & Mary but sat out last year as a transfer. He doesn't appear to be a game changer, but he'll at least provide some depth.
In addition to this solid core of returning players, Georgetown is also bringing in its best recruiting class since 2014, when Derrickson, Govan, and Johnson arrived together. There still isn't a 5-star in the 2018 class, but the incoming freshmen look ready to contribute from day one.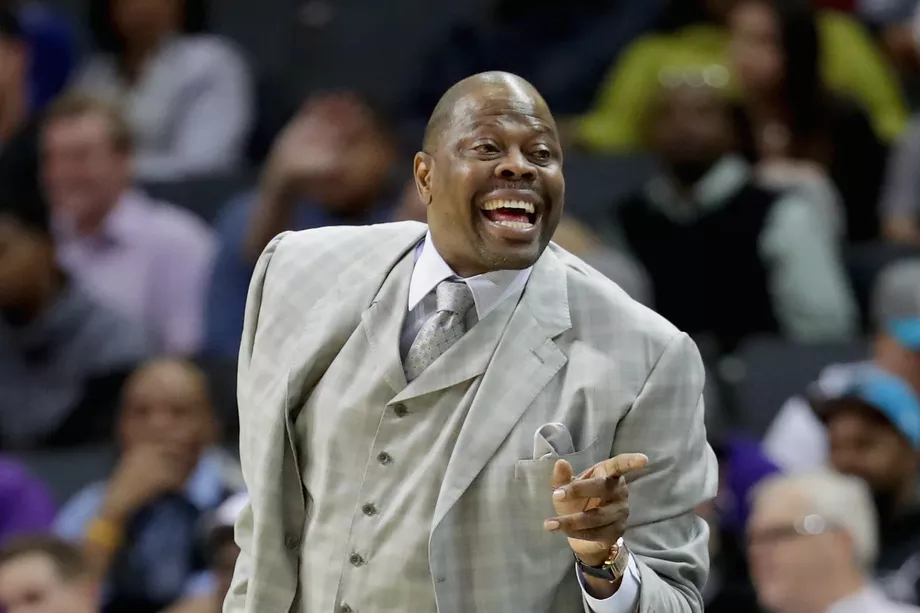 Josh LeBlanc is a 6'7'' forward, ranked 26th at his position by ESPN and known for his high energy play and defensive ability. He isn't expected to make a huge offensive impact early on, but if you watch his highlights you'll see he has some pretty smooth finishing ability when he gets position inside. LeBlanc has arms for days, and though he could stand to pack on some muscle, he looks to be an interesting defensive piece for Ewing to mould.
Grayson Carter, a 6'8'' center with some ability to stretch the floor, is the class's other 4-star big man. He hasn't gotten as much buzz as LeBlanc, and may have less raw talent, so he'll be a little lower on the frontcourt depth chart. But Carter is no scrub, and will add value in his apparent ability to play multiple positions.
There's also something of a wildcard in the Hoyas' 2018 class in the form of Mac McClung, who is undoubtedly the most exciting 3-star prospect you've never seen.
A 6'2'' point guard out of Virginia, McClung has been lighting up YouTube for a while now with mixtapes full of high-flying dunks, acrobatic finishes, flashy handles, long distance shots, and an ample outpouring of swagger. He plays like he can't decide if he's more pissed off at the other team or the rim, and simply put, he looks like a surefire stud. One assumes there are reasons he's only a 3-star prospect, but he looks like a kid who won't take a bench role lying down. Case in point, there's a story that made the rounds online suggesting an opposing coach once taunted McClung by saying he was going to Georgetown to sit on the bench. McClung then scored 44 points.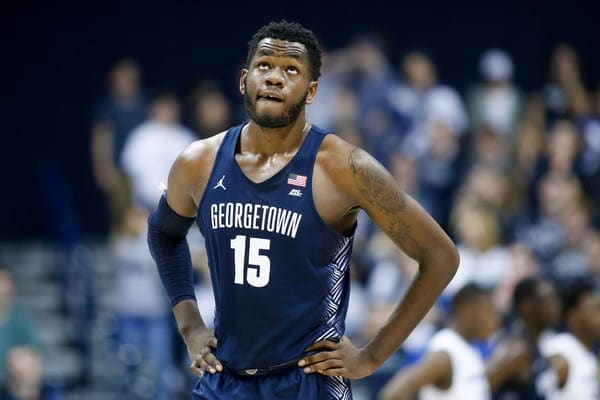 James Akinjo, however, is the big name in the incoming class. Ranked 25th among 2018 point guards, he's a quick, shifty 6'0'' who seems to be able to beat his man at will. Akinjo isn't a renowned distributor, but Georgetown took a team approach in this category last season anyway (ranking 10th in the NCAA in assists despite the highest average on the team being Jonathan Mulmore's 3.4). Akinjo is noticeably undersized but makes up for it by, frankly, being a pest. He also oozes confidence, which may be his most important trait given Georgetown's need to regain an identity and edge. Asked recently if he feels pressure from some labeling him Georgetown's most important recruit in years, Akinjo responded, "I'm still going to look to kill every time I step on the court."
Akinjo is a sure bet to carve out significant minutes alongside Johnson and Blair this coming season, and could well become Georgetown's starting point guard. And don't be fooled by the fact that he's not a 5-star or a top-100 ESPN recruit. Akinjo won the MVP at the Peach Jam just last summer.
Put all these pieces together and there are definitely reasons for optimism. Again, it's not as if Georgetown is Final Four-bound in 2019. But with one of the best players in the Big East, a talented combination of veteran and freshman guards, and most of his top scorers returning, Ewing is poised to make real progress. Consider also that several Big East teams have taken significant hits in player departures, and Georgetown could make a leap.