---
The NFL landscape is constantly changing. With each passing year, there are so many changes that occur across the league. Some teams improve, while others fall apart. We see this all the time. The Patriots might be the only team that consistently beats this pattern. And I'm not sure it will last once Tom Brady hangs it up for good.
This season, there are high expectations for the Giants offense. It's pretty amazing when you think about it. Just in the middle of last season, the team made the decision to bench Eli Manning. Of course, Manning didn't really help his own cause by playing so poorly.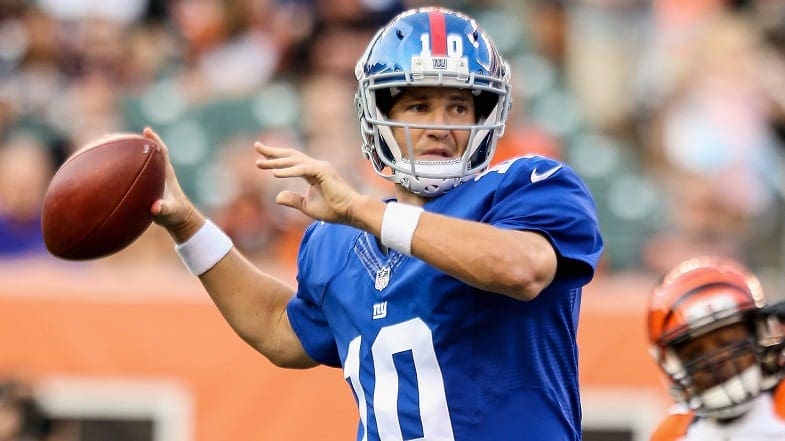 But was he really the cause of their struggles? Or was his lackluster play just another symptom of another, more fundamental issue? The truth is that the Giants really struggled up front. They were unable to get consistent effort from their offensive line. The absence of Odell Beckham Jr., who missed a large portion of the season with an ankle injury, didn't help anyone on that team. Suddenly, Eli was faced with putting the team on his back, without a running game to speak of, and with very limited passing game options. That could be why rookie TE Evan Engram had such an abnormally strong rookie season, which is very rare for first year tight ends.
But this is a new season, with new goals and aspirations. The Giants have made so many changes, that it would be foolish to expect the same results as last year. They rightfully didn't even wait for the season to end, when deciding to fire both Head Coach Ben McAdoo and GM Jerry Reese. His decision to bench Manning, who has led the team to two Super Bowl victories during his career, was clearly the last straw for him with this organization. It would have made sense had the team drafted a young quarterback, and they wanted to get him some live game reps. But benching Eli for Geno Smith? That just doesn't make any sense at all.
With McAdoo out of town, the team immediately reinserted Eli back under center. As the new season slowly approaches, the Giants suddenly have a lot of reasons for optimism. Their decision to not draft a top quarterback with the second pick in the draft is a strong indicator of their confidence in Eli. Not only for this next season, but apparently for the next few years. They did use a fourth round pick on University of Richmond QB Kyle Lauletta, but he is almost a certainty to remain on the sidelines behind Eli, as he attempts to learn all that he can from the two-time champ.
So why should the Giants be so optimistic? First and foremost, they have remedied their biggest weakness from a season ago – the offensive line. Their biggest move ahead of the draft was the free agency signing of ex-Patriot Nate Solder. The addition of Solder will provide a huge boost to the line. Not only will he help to protect Eli, who has been running for his life in recent years, but he will also provide a big presence in the running game. Then, the team used their second round pick in the draft on offensive guard Will Hernandez, who was widely viewed as a first round talent. As an added bonus, the Giants also signed Patrick Omameh, who will also contribute up front. As a whole, Dave Gettleman should be applauded for first recognizing the team's main issue on offense, and then attempting to fix it in such short order. These moves will surely make a huge difference as soon as this season.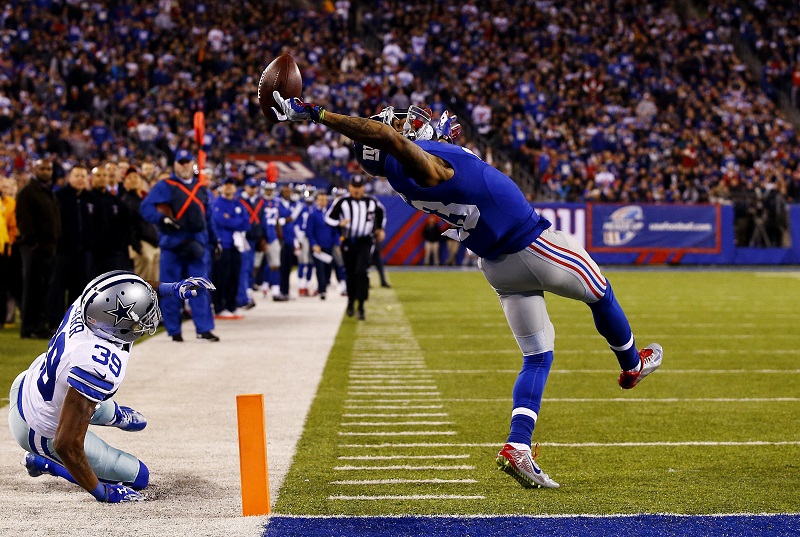 With the offensive line suddenly looking like a strength, the team should see improved efficiency across the board. Of course, it helps they used the second pick in the draft on Saquon Barkley, who is arguably the best running back prospect of all time.
Only time will tell just how successful Barkley will be, but the enhanced line will help him out. Barkley will also provide Manning with another explosive option in the passing game. Barkley is a strong runner, but he is incredible as a receiver out of the backfield, and in space as a whole.The Giants are hoping to field a very strong running attack in 2018. If they are successful, it will go a long way in opening up the field for the rest of the offense. And it helps that part of that includes one of the best wide receivers in all of football. Everyone knows what Beckham Jr. can do. He can take over a game at any moment, and he should be able to find more room, if Barkley and the Giants force defenses to respect the run.
The emergence of Engram and Sterling Shepard are clear. Engram was very impressive last season, hauling in 64 catches for 722 yards and six touchdowns. Shepard has struggled to stay healthy, but he has had some monster games when in the lineup.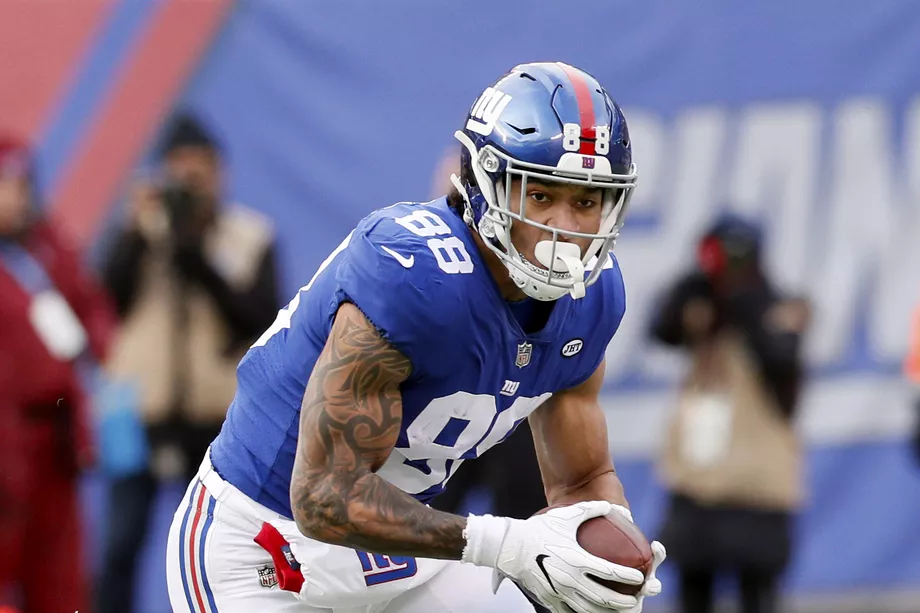 The Giants have many strong pieces in place ahead of the 2018 season. The NFL embraces change, and we are all witnesses to such changes on a yearly basis. The Giants offense will certainly see improvement. But the question is, just how much will they improve? Do they have what it takes to become the best offense in the NFL? The Steelers, Patriots, and Packers will all have something to say about that. And let's not forget that there are many teams that are improved as well. The Saints and Falcons can also claim that title if their quarterbacks improve their play from a season ago. And with the Rams and 49ers finding their franchise quarterbacks, the NFL is full of very good offenses. 
It's always easier to make such claims in hindsight. And with the moves the Giants are making, I think many people wouldn't be surprised if the team is among the league leaders in many offensive categories next season. With new Head Coach Pat Shurmur taking the reigns, the team will focus on running the football. If they are successful, the sky is truly the limit for this offense. I expect to see the Giants improve this year. In fact, if their defense cooperates, they could be a sleeper in the NFC East. Eagles fans will have you think differently, but let's not forget that they were consistently underdogs throughout their postseason run to the Super Bowl.
This team could still be a year away from taking the league lead in offensive production, but they definitely have the talent to reach that achievement.