---
During his last stint in the NFL, Oakland Raiders head coach Jon Gruden developed a pretty good reputation for himself. That kind of thing is going to happen when you become the youngest head coach to lead his team to a Super Bowl win. He was just 39 years old when the Tampa Bay Buccaneers won Super Bowl XXXVII.
That early accomplishment gave him a reputation that stayed with him through thick and thin in Tampa Bay (until they fired him in 2008) and on into his broadcast career (which began in 2009).
Like any other analyst, he had people who loved him and people who hated him. But one thing was clear through the various programs ESPN had Gruden work—the man knows his football (or can really talk the talk).
The Oakland Raiders are certainly banking on that knowledge of the game (and him being able to walk the walk). Raiders owner Mark Davis had supposedly been trying to get Gruden out of the booth for years. He just had to wait for Gruden's desire to compete to build up to the point where he couldn't resist the urge to get back into coaching.
Getting offered a ten-year, $100 million contract probably had an impact as well.
But now that he has him, it is not hard to wonder if luring Gruden away from television was the right thing to do. From some of his comments and a few of his decisions, it appears as if his connection to the players is a bit dated and incomplete.
Being able to talk the talk is one thing, but can he still walk it? Or has he lost his mojo?
The "1998" Comment
A lot has been made about one of the comments he made during some time with the press at the Combine:
"Are you talking about the analytics, the GPS, all the modern technology? Man, I'm trying to throw the game back to 1998."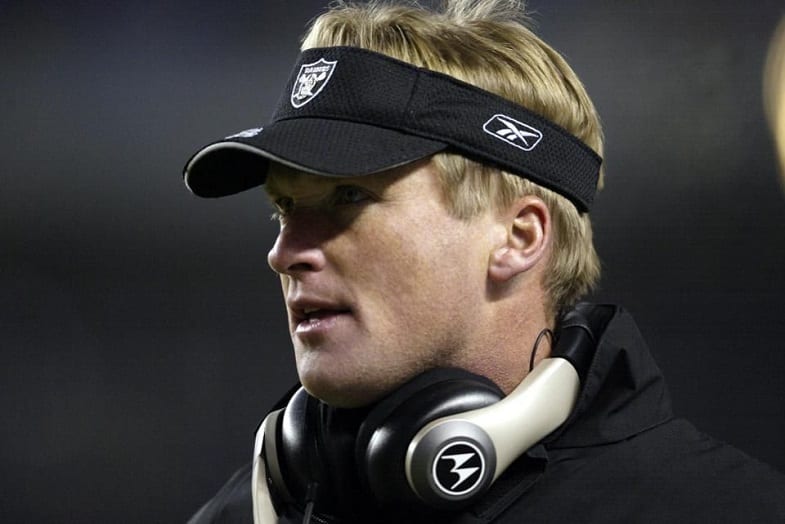 He tried to clarify his comment a little bit by adding: "I still think doing things the old-fashioned way is a good way. We're going to try to lean to kneel that way a bit."
The immediate perception was that Gruden is a dinosaur, that the game had passed him by while he worked in television. Rather than get up with the times, he's going to do things the same way he did the last time he coached.
But as a person who has covered many games over the years and analyzed tons of tape, he should know how much the game has evolved, right?
Gruden has since talked further about his plans for the team and how the 1998 comment was intended. As it turns out, he did set out to do things like he did when he first came to the Raiders two decades ago. He wanted to bring in a bunch of veteran players with a tougher work ethic (which is precisely what he's done).
The problem with older, veteran players is that they are often on the verge of a decline or have already had it. So, even if they do bring the magic for a season or two, the eventual downfall is going to be bad (which it what happened after the Raiders lost to the Gruden-coached Buccaneers in the Super Bowl).
As part of his return to 1998, he has expressed an interest in getting back to smash mouth football. He wants to run the ball more—and between the tackles. This would be great if they had a tough, young running back or two to run the ball. It would also be nice if they weren't paying a quarterback $25 million next season.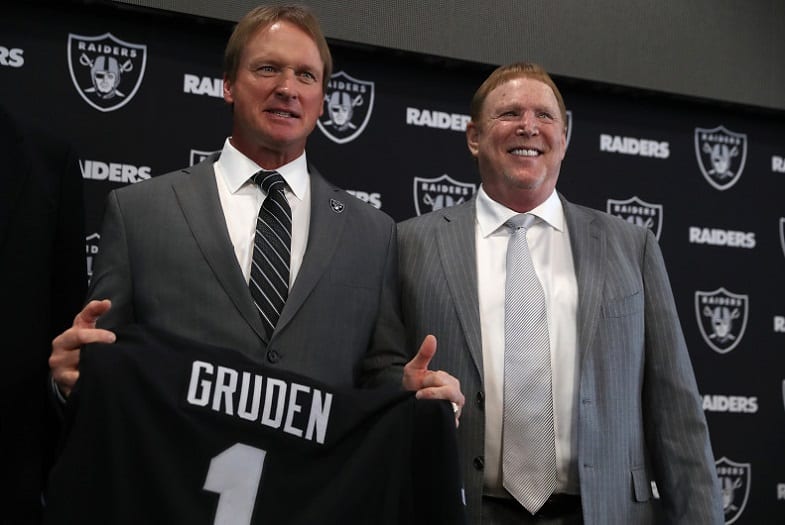 Personnel Decisions
But the issue hasn't just been some of the words that have come out of his mouth. Many of his personnel moves have been questionable, to say the least:
Marquette King: At first, the Raiders tried to sell cutting one of the best punters in the NFL as a salary cap move. But it eventually came out that Gruden didn't like his personality. As if the move itself wasn't shocking enough, Gruden made the decision without meeting King face to face even once.

Michael Crabtree: Okay, so his 2017 season wasn't fantastic. To be fair, no one on the roster had a good season in '17. But over the last three seasons, Crabtree has been Derek Carr's most reliable target (25 touchdowns). Like with King, they tried to characterize it as a salary cap move (they saved $7.7 million).

Jordy Nelson: To replace the 30-year old Crabtree, the Raiders brought in a guy who will be 33 years old next season. For years, Nelson has been one of the better possession receivers in the league. His stats took a huge hit when the Packers lost Aaron Rodgers for the year. But they had already nose-dived with Rodgers behind center. So, there is no reason to think he is going to be an able replacement for Crabtree.

Marshawn Lynch: Many still believe in Lynch and think he has a lot to offer. They think the slow start was just the rust being knocked off; he did average a respectable 4.3 yards per carry. But even if you do believe he still has "it," he can't be trusted. After all, he ran onto the field to get involved in a fight on the behalf of someone from the other team.

Doug Martin: Yes, Mighty Mouse (Martin) was good a few years ago. But he hasn't averaged even 3.0 yard a carry since 2015. There is no reason to think he'll do any better in 2018.

The defense: Last season it ranked 23rd. So far, it is hard to say the roster has improved any, or if at all. The punting unit is unlikely to pin offenses deep this season. With the offense trying to slug it out with two aging, over-the-hill running backs, the defense is going to be on the field a lot. With how little Gruden has done to help the defense, they are not going to be ready.
The Raiders are looking to ride the Gruden magic to victory. But so far, it looks like he is just doing the same thing he did back in 1998. Just because it worked then, doesn't mean it will work now. Maybe if he was aiming to run a more modern offense, there would be a reason for hope.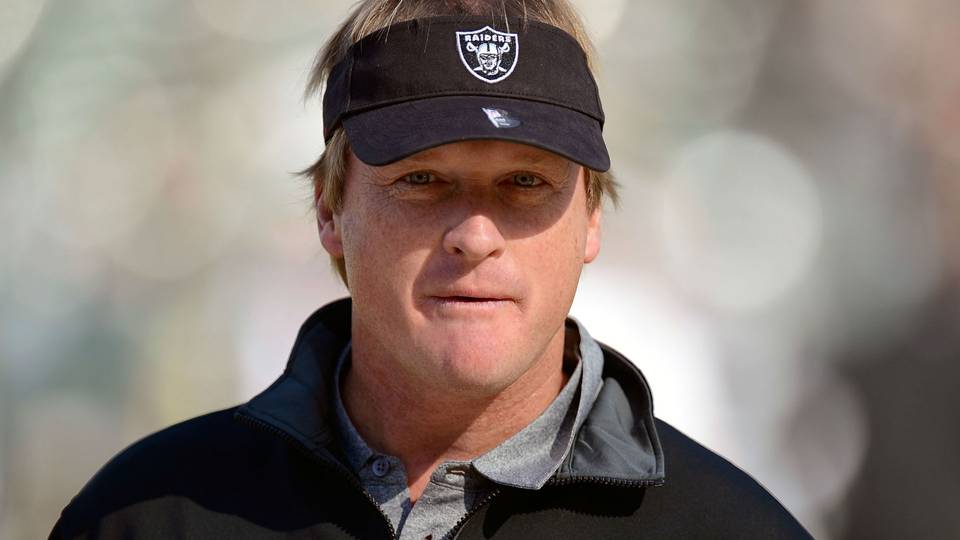 To be fair, he has said the offense will include all the modern bells and whistles. But he is forgetting one thing: his roster is going to be set to play smash mouth football next season. To run the run-pass-options and the other modern plays will require different personnel.
A brilliant draft could still save this roster. But if it isn't brilliant, the Raiders could be in trouble. With what moves Gruden has made, it is hard to see this team running the ball well. There is little reason to believe the defense is going to be any better than it was either.
So, does that mean he's lost his mojo? A case could be made that he never had it.
He didn't really do anything unique with the Raiders. Yes, they improved from 4-12 to 8-8 in his first year. His Raiders made it to the AFC Championship in 2000, but they lost. Otherwise, his Raiders didn't accomplish much.
Okay, so he won a Super Bowl against his former team his first season with the Buccaneers. An argument could be made that he coached a Tony Dungy team to the Super Bowl, not a Jon Gruden team. Beyond the trip to the Super Bowl, his tenure with the Buccaneers was unremarkable.
Has he lost his mojo? It's hard to lose something you didn't have.