---
There are few absolute certainties in the NFL, but one of them occurred a couple of weeks ago. After watching him lead the team on a five-game winning streak to close out the season, the San Francisco 49ers showed Jimmy Garoppolo some serious love. Rather than play hardball with him over his contract extension, they made him the highest paid player in NFL history.
They have been in dire need of a franchise quarterback, and now they've got him. His play alone last season was enough to get players and fans excited for the future. Running back Carlos Hyde, who is set to become a free agent, was excited enough to make a somewhat bold prediction.
"Minus our record, we're a really good football team," Hyde said, per Cam Inman of the Bay Area News Group. "Next year we're going to win the Super Bowl."
But it takes much more than just a quarterback to become a contender let alone a Super Bowl champion. The right quarterback can put things together and make the team better. But to reach the Super Bowl takes more than just solid quarterback play.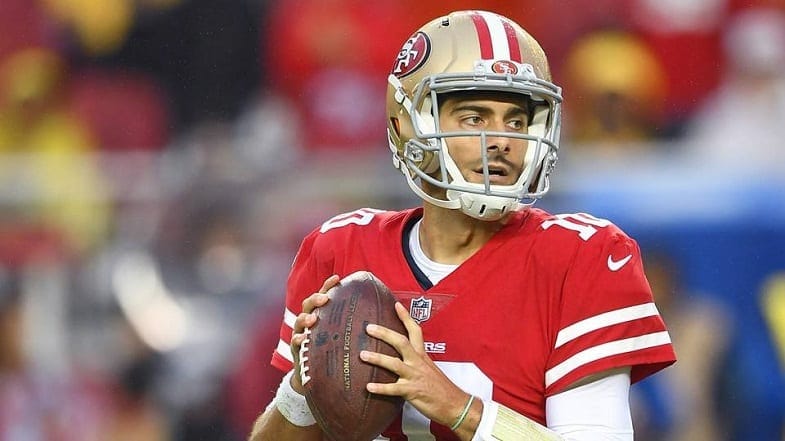 So, then the question surrounding the 49ers is how far are they from becoming a real contender? In other words, what areas need to be better? What must they improve if they are going to have a shot at going all the way in 2018?
Offensive Line
Deciding to pay their quarterback an average of $27.5 million means one thing for the 49ers: they must do whatever it takes to protect their investment. Last season, the 49ers offensive line was not very good at protecting its quarterback. Garoppolo ended up getting sacked eight times, but the line gave up 43 sacks throughout the season (No. 23) and 116 hits (No. 28).
While the offensive line was not great at pass blocking, they were not bad at run blocking. According to Pro Football Focus, they were No. 8 in yards gained before contact (1.73 yards/carry). This meant whoever ran the ball was able to gain almost two yards before getting hit. They were especially effective running to the left (3.07 yards/carry). But not so much over the middle (1.36 yards/carry) or right (.89 yards/carry).
There are few things as frustrating as paying a guy a boatload of money only to see him get a season-ending injury during the first game of the year. Luckily, the 49ers are projected to have $100-120 million in cap space (before Garoppolo's deal). So, between free agency and the draft, they should be able to find Garoppolo some decent protection.
Running Back
Next to a good offensive line, a dependable running back is a quarterback's best friend. Nothing slows down a pass rush quite like the fear of getting gashed for a long run. Rookie Matt Breida showed some real potential but not enough to become an every-down player. Should the 49ers hold on to Carlos Hyde, the two together could be sufficient. They are due to meet with Hyde's agent at the Combine (and Hyde himself made it clear he wants to return).
Wide Receiver
Marquis Goodwin proved to be a smart pickup in free agency last year, but his value is primarily as a deep ball threat due to his breakaway speed. He is not the kind of guy that can catch any ball thrown his way. Trent Taylor showed some potential last season (43 receptions for 430 yards and two touchdowns), but he's certainly not a No. 1 option. Pierre Garcon still has plenty to offer, but he is no longer good enough to be a team's go-to guy.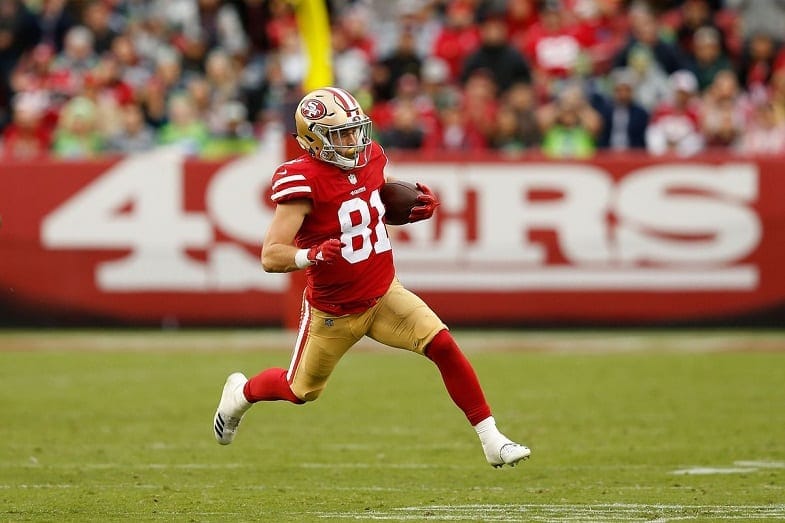 If they want to get the most for the money they invested in Garoppolo, they need to upgrade the weapons they have around him. He can get away with spreading the ball around to a collection of No. 2 wide receivers, his tight end, and the running backs for five games.
But next season he'll need a legitimate No. 1 wide receiver. Otherwise, teams will figure out how to neutralize his lesser talented targets leaving him no one to throw the ball to on Game Day.
The Defense
If they are going to become contenders, they are going to have to win their division—or at least be competitive. Last season they were 1-5, and that win came against the Rams primarily 'B' team in Week 17.
The Cardinals have some rebuilding to do. As long as the Seahawks have Russell Wilson, they'll be competitive. Assuming last season wasn't an aberration, the Rams are going to be tough to beat going forward. If they are going to have a shot at beating them next season, they must upgrade the defense.
The 49ers have some promising young defensive backs in safety Adrian Colbert and cornerback Ahkello Witherspoon. But they could use an upgrade in their secondary if they are going to become competitive sooner rather than later (the team ranked No. 22 against the pass last season).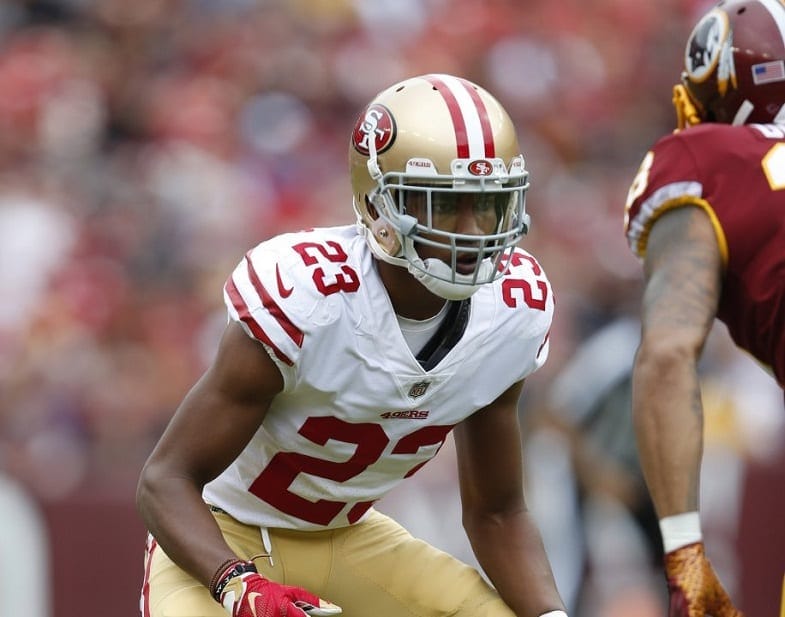 After tying for 26th in the league with just 30 sacks last season, they clearly need to add a talented pass rusher or two. With fleet-footed guys like Russell Wilson on their schedule, a speedy edge rusher needs to be a priority. They can't keep counting on moving an interior guy to the outside and expect him to develop the necessary speed to rush from there.
If you can't stop (or slow down) the other team's passing game, it becomes really hard to win.
San Francisco already needed some better depth at linebacker, but with Reuben Foster's legal issues, they'll need to be ready to replace a starting linebacker for part of the season.
Can they do it?
The Westgate started the 49ers out at 30-1 odds to win the Super Bowl next season. What that means is that they are good enough to be a competitive team and maybe even a playoff one. But as for making or winning the Super Bowl? They have some work to do. With their draft picks and a ton of space under the cap, they could get the work done.
However, with the number of things that need upgrading, they can't afford to swing and miss with any of their decisions.