---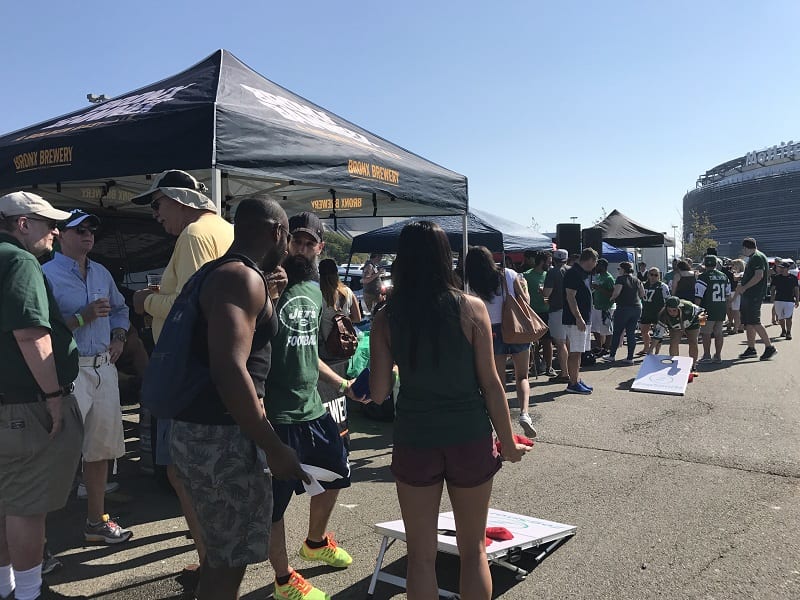 Stephen Eng's Sunday morning starts at 6 am. He's up and out, walking up and down the hotel's floors gathering ice.
It's Week 3 of the NFL seasons and Eng is preparing for his fifth annual Jets home opener tailgate.
By 7:45 he's out the door of his hotel room near MetLife Stadium, at 8 am he's setting up in lot L9, the same spot every year, across from his former boss. Fourteen of his "closest friends" help with the setup process, which each year grows and yet becomes less work.
What started as a fun event for a few friends several years ago turned into a sponsored event with over 100 attendees just by word of mouth.
"People would tell people 'oh this tailgate and game experience is awesome, you should come,'" Eng tells Sports Retriever. "It's something that is relatable to them, that they can enjoy, they can expect something that is genuine and they're not getting ripped off.
"All they have to do is just show up basically. That's what people want to do sometimes, they want to just wake up, make their way to the stadium, and just enjoy themselves."
Eng believes what he does is special because other tailgates aren't as engaging and aren't as much of a community. Part of what he does with his tailgate is try to "bring people together," so everyone has a chance to make new friends. Which is why he opens it up to anyone, not just Jets fans.
According to Eng, only about 20-30 percent of the people who make their way to the stadium every year for his tailgate are actually Jets fans, most people come for the camaraderie rather than this specific team.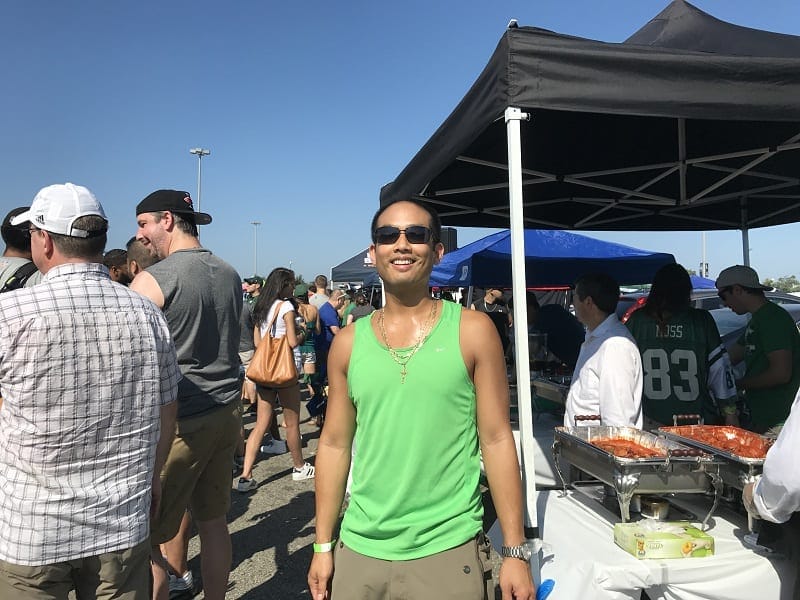 He points out one guy who isn't from New York, but is wearing a Jets t-shirt because his girlfriend is a fan. Others wear Jets gear just to show some support. Eng says they show up because "they get to enjoy a tailgate that they couldn't do for their own team, whether it's the Giants, Patriots, Falcons or whatever."
Eng is even hosting a few Dolphins fans, the team the Jets are facing, something other tailgates and tailgaters may not be too open to. But Eng says he ensures "no one gives them trouble" and they are respected at his tailgate. But that doesn't mean no one will tease them, all in good fun of course.
For Darnell Wilson, one of the 14 friends who helped set up (and an actual Jets fan), the fact that not everyone is a fan, but they all come, is the best part. He says you don't have to be a Jets fan to enjoy yourself, "but it definitely helps."
"What makes our tailgate great is it's many people, it's not one group coming out here to support the Jets, it's several groups," he says. "You can hop between groups and get to know new people."
Wilson met Eng at Zog Sports, a "social sports community," and has been helping him out for the last few years. They're both part of the Covenant of Blue, a NY Rangers supporters club that helps plan events before Rangers home games, also founded and run by Eng.
This year about 120 people showed up for Eng's tailgate, an affair that costs $85 for a bracelet that includes drinks, food, a ticket to the game (Eng reserves seats for everyone in the same section) and for the first time a live DJ, one of only a handful of Jets tailgate that have a DJ. It's the second year in a row that Eng has sponsors for the event, and the first time he's brought in catering.
"I try to give better food than you get at a backyard barbecue," he laughs.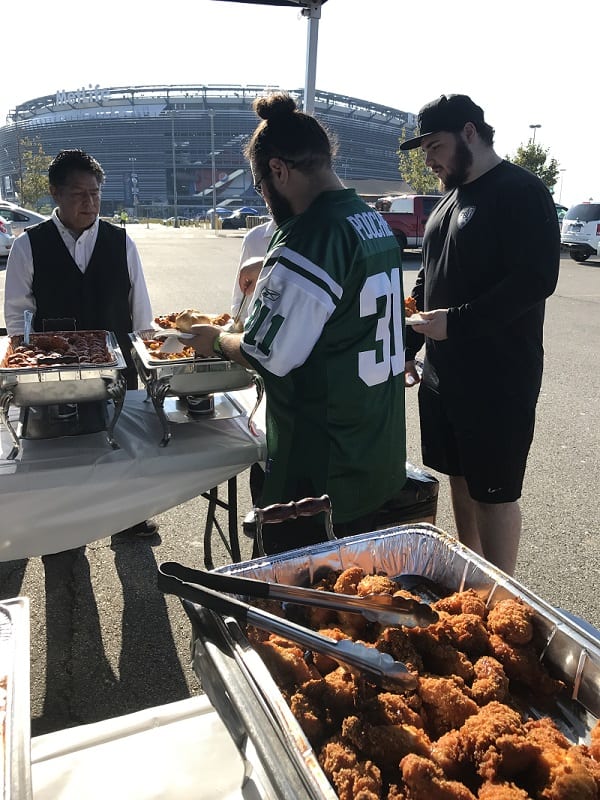 The previous years he cooked the food himself, but says he was cooking the entire time and never got to enjoy the tailgate with 100 of his friends. This year he's running around between games and groups, king of the tailgate.
Eng has made enhancing the fan experience a big part of his life. Aside from working in marketing and training for this year's New York City Marathon, Eng spends about six to 15 hours a week planning events like the Jets tailgate, pre-game activities with the Covenant of Blue and events before Yankees games. He even started his own company to plan these events called  Seventeen Plus Planning.
At the moment, Eng views these events as a pastime, but it could turn into much more.
"Down the road I would love to have a sports event planning business. It's a side hobby for now and [if] it keeps progressing to the point where I need to concentrate on it fully, I will definitely do so."