---
It has been an incredible year for Washington Nationals outfielder Juan Soto. It started out with him playing Single-A ball; not an unusual spot for a 19-year old prospect to start the season. He quickly made the move to Single A-advanced and then AA. But he was only in AA for eight games. Injuries to several players created a spot, so the club decided to give him a shot.
When they made the call, the Nationals likely hoped he'd play well enough until someone got healthy. Instead, he's not only become a reliable contributor, but there is a chance that he will be the second 19-year old to win NL Rookie of the Year for the Nationals (the first being Bryce Harper).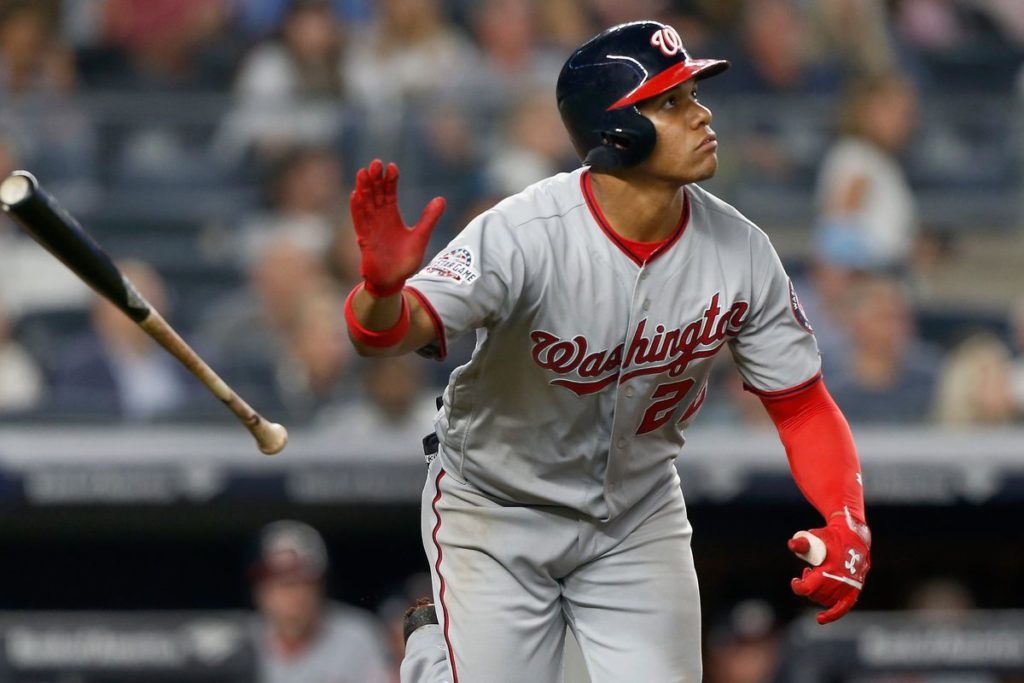 He has certainly presented voters with quite a compelling case. Through 82 games he is hitting .291 with 15 home runs and 45 RBIs. He's leading all rookies in OBP (.413) and OPS (.932). His slugging percentage (.519) is third only to Ronald Acuna (.566) and Miguel Andujar (.523).
It is safe to say that he is having a great season. But is he is a lock to win NL Rookie of the Year? Probably not.
Every voter has a reason for voting how they do. Some prefer only guys on winning teams. Others prefer only players that started the season with their respective clubs (no guys called up). It varies from one voter to the next.
There are a handful of good candidates other than Soto:
Ronald Acuna, OF, Atlanta Braves: He's just a little older than Soto (20 years old) and was called up sooner, but has spent some time on the DL. While he has played in fewer games than Soto, his stats are comparable. He has 19 home runs and is batting .286; Soto has 15 home runs and is hitting .298. Acuna has 44 RBIs (as of August 23), just one RBI less than Soto.
Walker Buehler, SP, Los Angeles Dodgers: He played a little in 2017 and didn't impress. But when the team needed him to step into the starting rotation this season something clicked. When he's been healthy, he's pitched well. With appearances in 16 games (15 starts), he has an ERA of 3.19, a whip of 1.04, 93 strikeouts, and only 21 walks.
Brian Anderson, 3B/OF, Miami Marlins: The only good thing about a young guy on a team as bad as the Marlins is you get to play a lot. You may not win much, but you will not ride the pine either. But if things work out in your favor, you also get the chance to prove your worth and Brian Anderson (.278 BA with nine home runs and 54 RBIs) has certainly done that.
Christian Villanueva, 3B, San Diego Padres: In his limited 2017 debut, he showed the Padres something teams really covet these days—power. He took just 32 at-bats and had 11 hits—four of them home runs. This season, he is not hitting as often (.236). While he isn't hitting home runs as often, he is still hitting a lot of them (20; tied with Acuna to lead all rookies).
Acuna is coming on strong in recent weeks (batting .342 with eight home runs from August 1 through August 23) and helping his team maintain a lead in the division. He's playing great baseball when it matters most. Soto, on the other hand, is hitting .206 with just two home runs in the same timeframe.
Soto may be the favorite to win right now. But if Acuna keeps blasting away for the division-leading Braves, he'll soon become the favorite.